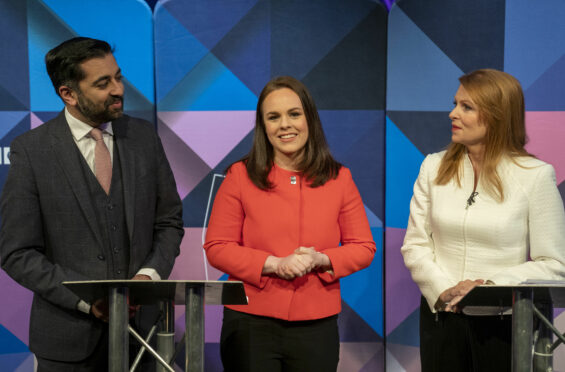 US president Franklin D Roosevelt's rush to action after being elected set the 100-day benchmark for new leaders, a window of opportunity to grip the most important issues and trigger transformative change.
Here, Mark Aitken and Stephen Stewart ask a range of expert Scots what our new first minister should do first.
The opposition
Anas Sarwar would set about tackling the NHS crisis and easing the soaring cost of living on his first day if elected first minister.
The Scottish Labour leader said NHS waiting times and the cost of living crisis squeezing household budgets to breaking point must be addressed first.
He said: "The in-tray for the next first minister is piling up to the sky. The relentless focus has to be on the twin crises facing our nation – the NHS crisis and the cost of living crisis.
"We have to urgently get our NHS waiting lists down and then we have to do the hard work to reshape, remodel and rebuild our NHS so that it is fit – 23 years too late – for the 21st Century and prepared for the 22nd Century as well.
"For the cost of living crisis, we are going to do everything we can to help bring people's bills down and create economic growth in this country so we can strengthen the economy, create better-paid jobs and increase our tax take to allow us to do all the important things we want to do around social policy and get our country facing outwards rather than the inward-facing government we've had now in Scotland for 15 years."
Sarwar said the next first minister would likely spend much of their first day appointing their new Cabinet. He added: "I'm less interested in which personality carries on the decline in any individual portfolio. What I want to know is where is the plan to rebuild every single Scottish institution, which is all the weaker after 16 years of SNP government.
"Let's get ourselves back into the education international league tables and redouble our efforts to make Scottish education the best in the world.
"Let's confront the drug crisis that makes Scotland the drugs death capital of Europe and let's rebuild our criminal justice system so everyone can feel safe and secure."
Despite the SNP calling for a general election during the Conservative leadership turmoil last year, the three leadership candidates have said they do not favour an immediate Holyrood election.
But Sarwar said one must be called after the new first minister takes office. He explained: "We need an election right now so we can let the Scottish people decide who's got the right priorities and the right plan to take Scotland into the future."
The nurses
The new first minister should immediately delay the launch of the National Care Service, according to the Royal College of Nursing.
Colin Poolman, director of the RCN in Scotland, says there are serious and widespread concerns over the proposals to centralise care services across Scotland.
MSPs have previously raised the alarm over the plans, having described it as a "monumental risk" with estimated costs of more than £1 billion.
Poolman said: "The Scottish Government must address the ongoing level of investment that will be required to tackle nursing vacancies and ensure that health and care providers can meet their safe staffing duties.
"Long-term health and care workforce plans, based on demand and population need, are required to ensure long-term nursing supply.
"RCN Scotland is also calling for the National Care Service (Scotland) Bill to be paused. We share the desire to improve the quality and consistency of social care and health services across Scotland but it is entirely unclear how the current Bill will achieve this or address the serious challenges within a sector that is in crisis. We are calling for the Scottish Government to take the time to engage with stakeholders – including staff working at all levels within the social care and community health sectors – and develop detailed plans for reform prior to taking forward legislation.
"Ultimately, the next first minister and Scottish Government must ensure nursing is seen as an attractive and rewarding career.
"I hope they will commit to working with RCN Scotland to protect the future of nursing and build a sustainable workforce to meet Scotland's needs."
The roads
The new first minister must fix the nation's potholes and deal with the growing road repairs backlog, according to a leading transport expert.
Neil Greig, IAM RoadSmart director of policy and research, said road repairs had to be top of the schedule for the new leader of the Scottish Government.
He said: "The top roads priority for any incoming first minister has to be potholes. Will extra cash be allocated as in England and will they commit to a long-term plan to eliminate the estimated £1 billion backlog in road repairs?
"Next up must be clarification of their support for new road building. New roads save lives, reduce congestion and allow for active travel options to be built in from the beginning, but recent announcements on the A9 and the A96 suggest that schemes may be cancelled or delayed.
"We also need the go-ahead for improvements at the Rest and Be Thankful to ensure Argyll never gets cut off again.
"Less expensive, but equally important for road safety, I would also like to see speed awareness courses established in Scotland and an easy-to-use 'dashcam portal' set up for reporting bad driving and riding to the police."
Revealed: £3m compensation paid out by Scottish councils to casualties of potholes
The courts
One of Scotland's most respected lawyers has revealed that the new first minister faces "burning issues in criminal law".
Frances McMenamin KC, the most senior woman at the Scottish Bar, said various legal moves could potentially threaten democracy and the right to a fair trial.
She voiced concerns over attempts to have juryless trials in serious sexual offence cases. McMenamin, a member of the Scottish Government's Governance Group on the Management of Sexual Offences, said: "I would hope one top priority would be to ensure a halt is called to any attempt to have juryless trials in serious sexual offence trials. I would also like assurance to be given that the presumption of innocence isn't eroded any further and an assurance that words like 'victim' and 'survivor' in the context of sexual offence cases are only used once guilt has been established.
"And, if it's too late to reverse the decision to abolish the Not Proven verdict, then they must prioritise a review of jury size and, more importantly, the simple majority required for conviction."
The unions
The incoming first minister will have a busy in-tray, according to Roz Foyer, STUC general secretary.
She said: "First, we need to see a resolution to the outstanding pay awards for our public sector workers. That's before we talk about the derisory public sector pay strategy, announced just this week, confining salary increases to a miserly 3.5% whilst inflation runs rampant at 10.4%. This must be urgently revisited.
"Scotland stands at a crossroads and a new first minister can make real progress on developing a wellbeing economy. This means prioritising Fair Work – a shared ambition that creates fairer, more democratic workplaces – making Scotland the world's first Fair Work Nation by 2025.
"The pursuit of social justice and eliminating poverty should be the defining mission statement of any progressive government. To achieve this, the Scottish Government should accelerate and expand its plans to offer universal free school meals to all, including secondary pupils, giving every pupil a fighting chance to eliminate the attainment gap."
The schools
Scottish education is stagnating and the main reason is the so-called Curriculum for Excellence, according to Lindsay Paterson, professor of educational policy at Edinburgh University.
"It was introduced to make learning more enjoyable, to focus on skills, and to encourage pupils to make links between subjects. These are admirable aims, but not if they neglect rigour and knowledge. This curriculum suffers from that neglect," she said.
"Linking subjects needs subject knowledge to start with. Truly useful skills need rigour as much as any other kind of learning. The fullest enjoyment comes only from the satisfaction of attempting difficult tasks.
"So there needs to be fundamental reform. But yet another revolution would leave teachers demoralised if it was imposed from above. So what should happen now is imaginative experiments. Schools that want to try out better ways forward should be encouraged to do so.
"There are already many schools that are trying to keep hold of a knowledge-based curriculum, despite the official push in the other direction.
"For example, networks should be encouraged across the country where innovative schools can share experiences independently of the government, of local authorities and of inspectors. These experiments must then be properly evaluated so that the whole system can learn from them."
Speech crisis: Therapists say lockdown damaged children's language and communication skills
The GPs
The new first minister can "set the tone for health care in Scotland" during the first 100 days of their reign, according to Scotland's GPs.
The Royal College of General Practitioners Scotland said a fully funded, resourced and staffed general practice service was a matter of urgency.
It said: "Within the first 100 days, the new first minister should kick-start a national conversation to manage public expectations of what general practice can realistically be expected to deliver with current resources, and to improve understanding of the multi-disciplinary team and pathways to care.
"Honesty is sorely needed regarding the progress or lack thereof towards achieving the Scottish Government's target of recruiting 800 additional GPs by 2027.
"Rising levels of distress and illness are crippling the wellbeing of our population. The next first minister should reverse the trend of real-terms cuts to mental health budgets in primary care and should instead increase investment in mental health care."
The social issues
In the first 100 days of the new first minister's term of office about 12,000 children will be born in Scotland. Official statistics suggest that children in a household with a baby are about 50% more likely to be in poverty than the average, says Chris Birt, associate director for Scotland at the Joseph Rowntree Foundation.
He said: "Our Poverty in Scotland 2022 report also showed that four in five parents with babies suffered a decline in their mental health due to the cost of living crisis. One mother also told us she was delaying weaning her baby as she was scared about how she would afford food for them.
"If the new first minister wants to make their mark in their first weeks in office, they should set out to end these experiences. We know how crucial the early years of a child's life are and while things like the baby box are welcome, they are no substitute for a reliable and decent income. That's why I think the new first minister should commit to the promised Minimum Income Guarantee being rolled out first to families with babies and as soon as possible."
Landmark investigation exposes how health inequalities driven by poverty are killing men, women and children in our poorest postcodes
The commerce
The new first minister must focus on economic growth and listen to enterprise leaders during the first 100 days of their tenure, according to the nation's leading business group.
Liz Cameron, chief executive of the Scottish Chambers of Commerce, said: "Scotland needs a credible economic growth plan which must be a top priority for every department in the Scottish Government. That can only be delivered if the next first minister makes economic growth its driving mission and works in an honest and open partnership with the business community.
"There are serious challenges in every sector of the economy. Businesses can't source and find the skills and talent they need to deliver and grow.
"Upfront costs are mounting up, new regulations are eroding our ability to stay in business keeping the staff we have, transport and digital infrastructure is lagging comparative nations and business confidence needs to be restored if we are to invest for the future.
"We need you – backed by a Cabinet with business expertise and experience – to work with us to remove anti-growth policies and build a globally competitive economy."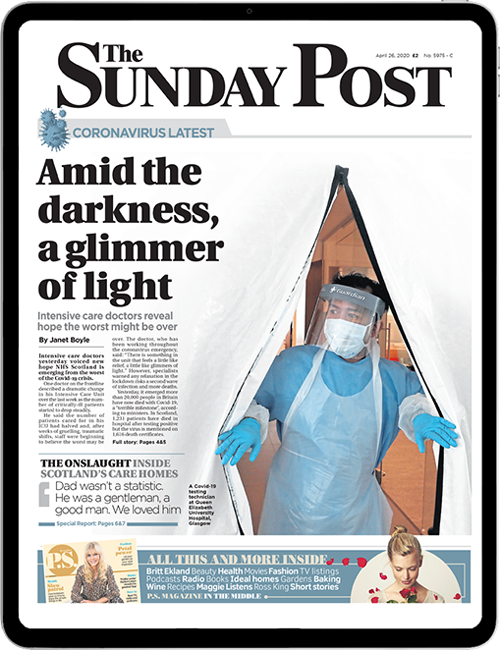 Enjoy the convenience of having The Sunday Post delivered as a digital ePaper straight to your smartphone, tablet or computer.
Subscribe for only £5.49 a month and enjoy all the benefits of the printed paper as a digital replica.
Subscribe