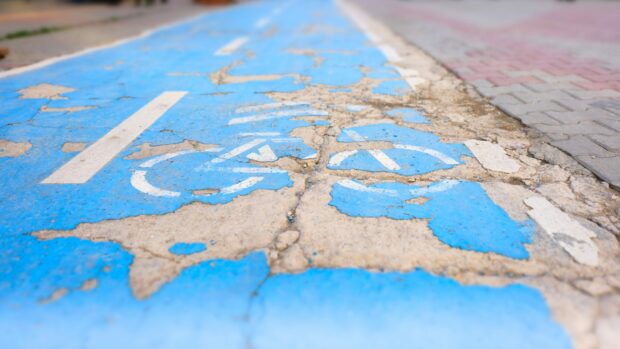 Scottish councils have paid out more than £3 million in compensation for injuries caused by potholes in the past five years.
More than 1,000 personal injury claims from cyclists, pedestrians and drivers have been settled as health charities warned injuries caused by potholed roads can be life-changing.
Motoring and cycling organisations say Scotland has a pandemic of potholes with half of drivers said to be worried about the disrepair.
Jim Densham, Cycling UK's campaigns and policy manager for Scotland, said the situation posed a genuine risk to cyclists – and was likely to get worse.
He said: "Far too many roads across Scotland are covered in potholes, which poses a real risk to many. Hit a pothole when driving and it could be an expensive trip to the garage but if you're cycling you could end up in hospital or worse.
"Budget cuts to local authorities risk further underinvestment in local road maintenance and means already poor roads will only decline further.
"Local roads are essential for everyone, especially people cycling for short, local journeys so they need to be prioritised and maintained."
Nick Simmons, chief executive of road crash victims charity RoadPeace, said: "The poor condition of the country's roads is completely unacceptable. Many of our members have been bereaved or suffered life-changing injuries as a result of crashes caused by potholes.
"The impact on vulnerable road users such as cyclists and pedestrians, as well as drivers, can be devastating and the money local authorities are having to pay in compensation could be used so much more effectively."
Roads to anger, confusion and danger? Older people and disability charities warn traffic layouts are changing too much, too fast
Figures obtained from 27 councils by The Post using freedom of information legislation reveals 1,040 personal injury claims in relation to potholes and other defective road surfaces between 2017-18 and 2021-22 and a total compensation bill of £3.3m.
Earlier this month the AA said Glasgow had the highest number of pothole damage claims in the UK while the RAC warned last month's combination of rain and freezing temperatures would open up surface cracks and make the problem worse.
Jack Cousens, head of roads policy for the AA, said: "The fact that more than 1,000 claims were settled means that Scottish councils either didn't repair the pothole within their own targets, or they give it an incorrect grading upon inspection. Either way, taxpayers will be unhappy that £3.3m wasn't spent on fixing the road. Roads are arguably a council's biggest asset yet years of underfunding have been obvious to all. Sadly, that doesn't look like changing any time soon."
The RAC said its patrols were seeing a sharp rise in pothole-related vehicle breakdowns. Road safety spokesman Simon Williams said: "Potholes really are a driver's nemesis, leading to unnecessarily uncomfortable journeys and expensive garage repair bills. But the risk they pose to cyclists is even higher – hitting a pothole could result in serious injury or even worse.
"It is a ridiculous state of affairs that councils are paying out millions of pounds to road users to compensate them for damage or injury they've suffered due to the poor standard of the roads, and the governments of Holyrood and Westminster should take note. As we have argued for years now, councils should be given the certainty of long-term funding that allows them to do a proper job in resurfacing the roads they're responsible for rather than just forever patching up potholes."
The Sunday Post asked Scottish councils how much they paid in out in compensation to cyclists and other road users injured by potholes or defective surfaces in each of the past five years.
Glasgow City Council paid out the most compensation, settling 82 claims at a cost of £437,344. Midlothian Council settled 10 claims by cyclists and paid them £49,474 in compensation. It settled 63 claims by other road users and paid £355,547. Dumfries and Galloway paid out £301,217 for road defects injury claims over five years. Scottish Borders Council settled 11 claims and paid £262,225. However, East Renfrewshire Council said it had 16 claims and paid out just £408 over the five years.
According to figures obtained by the Scottish Conservatives earlier month, only one in six claims for damage caused by potholes were compensated by councils last year.
Edinburgh City Council received 1,100 claims for compensation for damage to vehicles caused by potholes over three years and paid out a total of just over £26,000. Earlier this month the local authority urged people to stop moving traffic cones into potholes. Campaigners have said people were taking action to help people avoid potholes but the council has said only those with "relevant training and authority" should amend traffic management.
The £100m money pit: Communities isolated by A83 Rest and Be Thankful closures call for an urgent replacement for Scotland's road to nowhere
Meanwhile, a protest at the condition of Glasgow's roads was held outside the city council's headquarters yesterday, organised by Facebook group Potholes Make Glasgow.
The Scottish Government said: "Maintenance of the local road network is the responsibility of local authorities and it is up to individual councils to manage their own budgets and allocate the total financial resources available to them on the basis of local needs and priorities.
"The Scottish Government's settlements from the UK Government have suffered a decade of austerity with average real terms cuts of over 5%, equating to a loss of £18 billion.
"Despite this, we have listened to councils and are increasing the resources available to local government in 2023-24 by more than £570 million."
'We are sick of it. do something'
This is the main A850 road at Skeabost, on the Isle of Skye. We are sick of it. @HighlandCouncil do something. @radio_skye @bbcnaidheachdan @BBCScotlandNews #isleofskye #A850 #pothole pic.twitter.com/kpiFsOoGx6

— Katie Mackay (@CeitidhMacD) January 21, 2023
Highland Council vowed to repair potholes on Skye after images showing the shocking state of the roads went viral on social media.
Solicitor Katie MacKay's video of the pothole-ridden A850, driven on by thousands of tourists each year, was viewed more than 114,000 times on Twitter.
The solicitor, who travels around 20 miles a day on Skye, said the road had been in a bad condition for a year and had deteriorated even further due to recent adverse weather.
She said she had reported the damaged roads to the council but felt she was "banging her head against a wall". S
he tweeted: "This is the main A850 road at Skeabost. We are sick of it. Highland Council, do something."
After the video went viral, Highland Council said repairs would take place on Wednesday adding that the work would have started earlier but recent weather caused more damage and also made tarring impossible.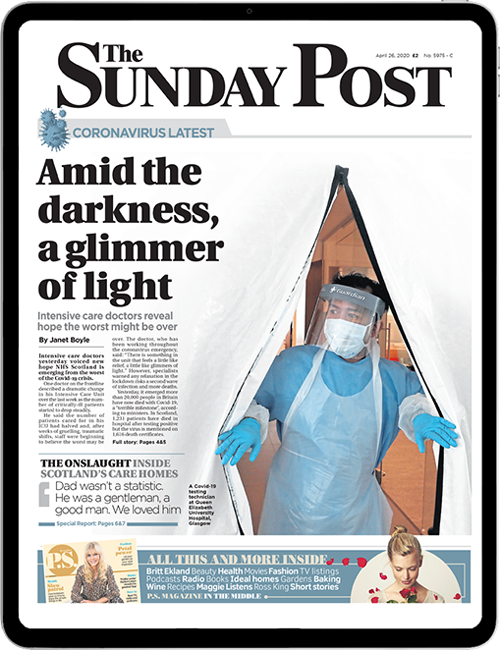 Enjoy the convenience of having The Sunday Post delivered as a digital ePaper straight to your smartphone, tablet or computer.
Subscribe for only £5.49 a month and enjoy all the benefits of the printed paper as a digital replica.
Subscribe