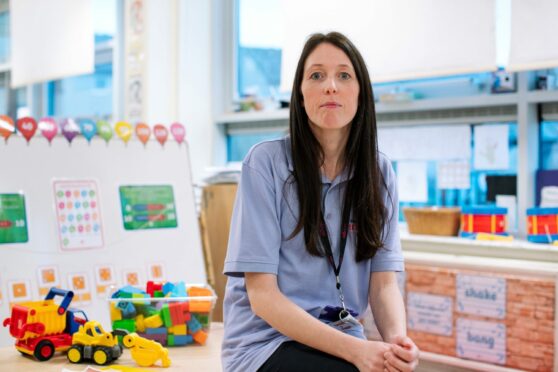 Children have lost crucial language skills during lockdown, we can reveal, as therapists warn of a communication crisis.
A survey of nursery nurses by the Royal College of Speech and Language Therapists reveals almost 90% have seen a rise in the number of young children struggling to talk or understand basic language since the start of the pandemic.
There is deepening concern over how lockdown damaged language skills – potentially sabotaging the life chances of children – after preventing infants from socialising with other children and their extended family.
The Royal College now warns of a postcode lottery leaving some of the young Scots needing support most urgently waiting up to 18 months for specialist help.
Almost 250 early years practitioners across Scotland were asked if more children are struggling to communicate since the pandemic and 89% indicated there was either an increase or a significant increase in the number of infants, aged two to four, experiencing difficulties.
Glenn Carter, head of Royal College of Speech and Language Therapists in Scotland, said children are starting school with the language skills of three-year-olds or younger and urged emergency action: "We're facing a spoken language crisis in Scotland," he said.
"As we have emerged from the pandemic, we have seen a significant increase in children presenting with communication difficulties. To many, the pandemic seems in the distant past but the effect and the scale of the problem of those suffering from difficulties as a result of Covid is only beginning to become clear.
He said: "We have kids coming to school with hardly any spoken language skills at all. They have very limited vocabulary."
Carter said teachers have reported children starting school with the language skills of three-year-olds or younger.
He added: "There are number of factors which caused this. One is a reduction in the number of interactions kids are exposed to. Parents working from home while home schooling and looking after children, coupled with the stress of the pandemic, that impacts on the number of interactions.
"Their world became very small. They no longer had access to grandparents or peers or indeed experiences outwith the home, which is really important to speech and language development.
"The lack of access to educational settings was also critical to this. Lockdowns essentially shrunk their world right down. And there was an impact from face masks. Children rely a lot on nonverbal communication and they weren't seeing a lot of facial expressions."
Carter, who has been a speech and language therapist for 23 years, is concerned the problem will limit the life chances of thousands of Scottish children unless there is effective investment in therapy.
A report on children's speech and language therapy services in Scotland published in December 2021 said there were approximately 275,000 children and young people in Scotland with a predicted speech, language and communication need but in areas of the highest need there was the lowest level of speech and language therapy resource.
Another report released in April last year by the Scottish Government advisory sub-group on education found Covid restrictions meant children were at particularly high risk of wider and long-term social, educational, developmental, and wellbeing harms and the report included concerns about learning, and speech and language development.
Carter said: "We have excellent research that has tracked young people's communication needs right through and there's good evidence that it's so important for their future life chances and wellbeing. We know kids with poor speech at the age of five are six times less likely to reach their expected levels for reading and writing.
"We know kids with poor communication skills are twice as likely to be unemployed as adults. We know that 81% of children with behavioural difficulties have speech and language needs that were previously undiagnosed. We know that at least 60% of young people who come into contact with the justice system have speech and language needs, often previously undiagnosed.
"So, there are all these implications for learning, employment, behaviour and that's why I'm saying it's a crisis. This isn't just an early years problem. But the support you get depends where you live. The areas with highest need seem to have the lowest level of provision. There are some services with 18-month waiting times, which is a very long time to wait for a pre-schooler.
"I'm worried that Scotland doesn't have the resources it needs to serve the population. There is so much unmet need and there is an awareness of that need but we're not increasing the number of speech and language therapist across Scotland.
"We're pulling a very limited resource from one place to another and we're not filling the gaps in the workforce. Pre-Covid we would have had lots of applications but even in the central belt we are struggling to fill vacancies."
There are just under 1,000 public sector speech and language therapists in Scotland but more than 100 unfilled vacancies which equates to a 10% workforce gap, according to Carter. He added: "To avoid harm to Scotland's children and young people we need to urgently increase the supply of speech and language therapists in Scotland, address the significant vulnerabilities in funding for speech and language therapy services, and develop a national delivery plan for children and young people with communication needs."
Concerns have also been raised by Early Years Scotland, a specialist organisation that supports children from birth to five years old.
Chief executive Jane Brumpton said: "The Covid pandemic has had a significant negative impact on so many young children across Scotland. The study highlights an evident increase in the number of young children now experiencing speech, language and communications difficulties in nursery settings and unfortunately, this rise doesn't look to be stopping any time soon.
"Staff in nurseries and childminders work hard to support the needs of all children and would benefit from additional resources post-pandemic to support the ever-increasing communication concerns. We need to act soon to create an overarching strategic plan of action, otherwise we run the risk of missing key developmental milestones for young children's communication skills."
---
We see a huge impact on speech and social skills
Speech therapist Kirsty Dawson fears the impact of lockdown and the damage done to children's language skills is only now becoming apparent.
A speech and language therapist at Indigo Childcare Group, which has centres in Castlemilk and Garrowhill in Glasgow, she said: "In the nurseries we're seeing such a huge impact on speech and language skills. The lockdowns and pressures of the pandemic on families has led to poorer speech and language outcomes in children.
"We are seeing high numbers of children that are behind in their language milestones. These are the lockdown babies born in the first lockdown or who were very young at the time and missed out on a lot of opportunities for social interaction.
"We all know that during lockdown children spent a lot more time in front of screens than they would have if they were able to get out to the park, or soft play or playgroups and all these places that children socially interact.
"Their parents' mental health would also have been affected in a big way in that key stage – the first year of a baby's life. That will have an impact on bonding and social interaction with their child. We're now nearly two years on and we're still seeing the impact.
"First of all, the lockdown babies are taking a lot longer to settle in at nursery because they are not used to being away from their parents. They also have difficulty interacting with peers because they haven't had the opportunities to do that.
"In terms of their language and communication skills, we are seeing gaps not just in vocabulary but in their understanding of language. It is frustrating for them but if we can identify it and target it in the early years, we know we can have a big impact for the rest of that child's life, with the right support.
"Improving language and communication outcomes for children is so important because the gap just widens as they get older. That has an impact on education opportunities, employment, relationships and mental health."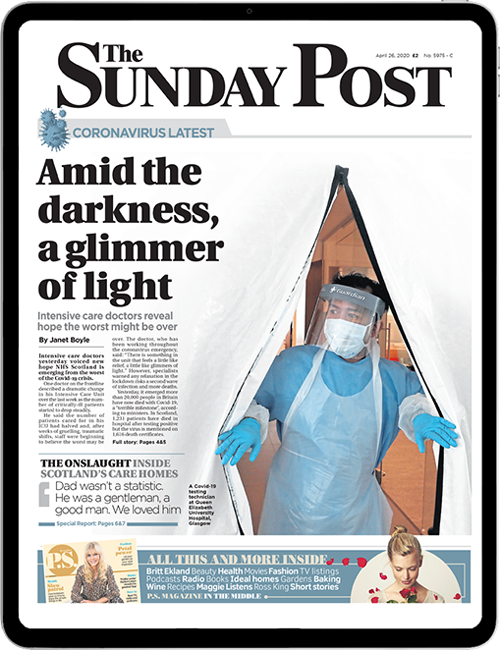 Enjoy the convenience of having The Sunday Post delivered as a digital ePaper straight to your smartphone, tablet or computer.
Subscribe for only £5.49 a month and enjoy all the benefits of the printed paper as a digital replica.
Subscribe