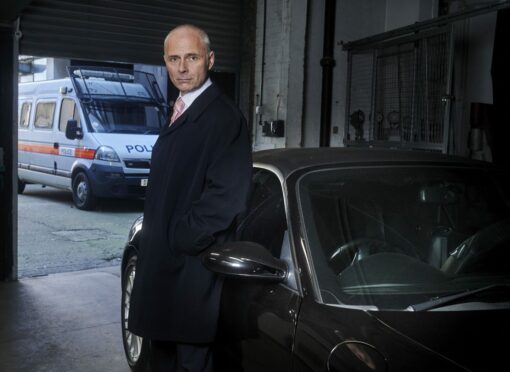 He already seems to be the hardest-working man in showbusiness but we'll be seeing even more of Mark Bonnar in the weeks ahead.
The busy and acclaimed actor, star of Catastrophe, Line Of Duty, Guilt, Humans, Shetland and many, many more in recent years, has more screen time coming up but there is another role he has been looking forward to all year which begins today.
"I'm going to be building shelves. I'm going to be cleaning out my garage. I'm going to be going to the dump," says Bonnar, with a grin at the thought of embracing a few weeks of domestic bliss with his wife and two children. "I'm going to be doing all those brilliant things that I haven't been able to do for months. It seems like this whole year I've been away from home pretty much working."
Given he's seemingly never off our screens, it's no surprise Bonnar has let his chores slip. Next week the 54-year-old will be seen in yet another prime-time role, in Litvinenko, as one of the real-life detectives who led the investigation into the assassination of former Russian spy Alexander Litvinenko in London in 2006.
Bonnar, speaking in the wake of a well-earned cup of tea ahead of the final day of filming the remaining scenes for series three of Guilt, brings an intensity to his roles with only his piercing stare sharper than his cheekbones.
Yet in conversation he is genial and jocular; he makes a joke about his pals being sick of the sight of him on telly before pondering why he takes on so much work. Like cleaning out the garage, it's a domestic consideration as much as it is an artistic one.
"My policy on saying yes has always been, if it's a story or part that I want to play, then I say yes," he ponders.
"If I'm lucky enough to be offered something or if I audition for something, I'll always consider what it is I'm auditioning for, of course.
"But if you're going to spend time away from home, which is as hard as anything in the first place, then it should be something that you believe in. If you're going away for a long period it's difficult for all concerned.
"If it's only because it's money, those reasons aren't very…wholesome. It has to be something else. There has to be artistic fulfilment, for want of a better phrase."
Being away from his actress wife Lucy Gaskell and children Martha and Samuel for weeks at a time is, he admits, tough. "That's the most important thing in my life: my family," he said."Unless I'm sure I'm doing it for the right reasons, or if they say I can't get away for weekends or extended periods to see my family, I won't bother."
Although with his children becoming aware that their dad is an actor, perhaps he would consider doing a role they could enjoy?
"If they're making a Harry Potter then yes, feel free to give them my number," he says, straight-faced.
Bonnar plays detective Clive Timmons across all episodes of Litvinenko but fellow Scot David Tennant, who plays the ill-fated Russian who was poisoned with polonium, only features in the first, for obvious reasons. Tennant's performance, almost entirely bed-bound as the stricken victim, is singled out by Bonnar.
"Everyone on set was talking about it. What he does, given he doesn't move from bed, or move at all really, is remarkable. The nuance and the detail he gave was incredible," Bonnar explains.
Lying down on set all day? Tennant, probably the only actor who works more than Bonnar, had it easy in comparison to him, surely?
"Ach, when I'm not working my life is like that anyway…" he jokes, before adding, "Who am I kidding? I've got two kids…"
Litvinenko's widow, Marina, is played by Margarita Levieva in the ITV drama, and Bonnar met her in London a few weeks ago.
"I met Marina at the screening. It wasn't intimidating but I hoped she'd be pleased with the show. It's a great honour to tell the story of what happened to her and her family," he says. "I remember the story from the time, but perhaps didn't realise the severity of what happened.
"I'm sure many people didn't because a lot of it was probably kept from people for fear of starting a panic. But when you're telling a story that's as important as this and deals with the subject matter that this deals with, you want to make sure that you dot every I and cross every T."
The series explores the investigation which took British detectives to the heart of Russia, and the blockades they faced; it was, according to the officers who travelled to Moscow, a grim, dirty-tricks campaign.
Ultimately, British intelligence believe, as Litvinenko alleged in his final hours, that Russian President Vladimir Putin ordered his assassination because of his criticisms of his leadership.
Recent events, and not just the invasion of Ukraine, are worth bearing in mind when watching Litvinenko, according to Bonnar.
"Given the revelations of the Tory Party donors, and it's not just the Tory party; given Boris Johnson's sojourns to Italy without a security team when he was foreign minister; given the slow drip-feed of news about interference in elections and referendums, given everything that's been happening in our country for the last few years; given the corruption we're experiencing; I think Putin is at the epicentre of a lot of it," says Bonnar. "London is called Moscow-on-Thames for a reason."
Litvinenko, he says, isn't just another role for him. Bonnar describes himself as left-wing and is not reluctant to reveal his politics in conversation. Even his rakish tracksuit top is from TUFAC, the Trade Union Football and Alcohol Committee – an anti-fascist, or antifa, clothing company. We talk about how there's been a backlash against left-wing activism, with people describing themselves as anti-antifa.
"So they're just fascists, then?"
The second series of Guilt, also starring Jamie Sives, Sara Vickers, Stuart Bowman and Rochelle Neil, won a series of awards at the Scottish Baftas last month and Bonnar admits to being a little emotional as filming concludes on the third, and almost certainly last, series.
"Tomorrow's my last day. So I'm getting a little…not maudlin but just wistful," he says, "thinking, 'oh my god, I can't believe this is coming to an end and it's one of the best jobs ever', you know? And I think it's given me so much, this job, but I feel it's given everybody that's worked on it a lot.
"It felt like it shifted something in Scottish drama, or comedy drama, or drama drama, whatever genre you want to call it, whatever genre you can fit it into.
"All those kinds of ingredients sort of hadn't existed before, so it felt like we invented something. And it really kind of captured the zeitgeist, if that's the right term to use. And I'll be sad, sad, sad to see Guilt go."
He also believes in what is called the golden age of television, and that the Scottish industry is in a good place at the moment. The critically acclaimed Disney+ TV Star Wars spin-off series Andor at times resembles an episode of River City given there are so many Scottish accents in evidence, including David Hayman and Alex Ferns, and Bonnar is visibly excited to talk about acting opportunities for Scots.
"There are a load of Scots in it, isn't that great?" he adds. "I was really chuffed to see that. My only complaint is, why haven't David Tennant or I been asked…"
'Putin? The West helped give rise to this monster'
The widow of Alexander Litvinenko accuses the West of ignoring his warnings over the Kremlin's appetite for war and encouraging Vladimir Putin to pursue his brutal ambition in Ukraine.
Marina Litvinenko said her husband, who she called Sasha, had, just days before he was fatally poisoned, called for Putin to be stopped, having exposed Moscow corruption.
"I don't blame anyone for not listening to Sasha at the time, because it was a different situation, but for me it makes me even more proud of him," she said.
"He was trying to save not only his country, Russia, not only his family, us, but the world.
"In an article he wrote in 2006, just a few days before he was fatally poisoned, Sasha wrote: 'If you don't stop this monster, he will start a war and millions of people will die.' Now, finally, it is happening."
Litvinenko, who continues to fight for justice for her husband, told Metro: "What makes me sad is that Putin's regime has been allowed to grow stronger over the last 22 years.
"He has been allowed to build up this image of being the strongest, most ruthless person in the world and the West helped to give rise to this monster. There were all these discussions about comforting him and negotiating with him.
"The attitude was, 'it was very bad this killing by polonium' in London, but the West needed Russia as a big business partner'. It needs to be stopped."
Litvinenko was pleased to see her husband's story being adapted for a new ITV drama, starring David Tennant, saying she was grateful his voice was still being heard to this day. She is played in the forthcoming series by Margarita Levieva. The drama shows how her husband helped police with their investigation from his bedside.
"Sasha's name is still in the memory, it is shown in the dramatisation and in articles," said Litvinenko. "Even with what has happened in Ukraine, people have remembered what Sasha tried to say about Putin and his politics.
"While Sasha is not physically alive his voice is still alive. Sasha asked me not to be silent."
Russia has always denied any involvement in the death of Litvinenko.
---
All episodes of Litvinenko available to stream on ITVX from December 15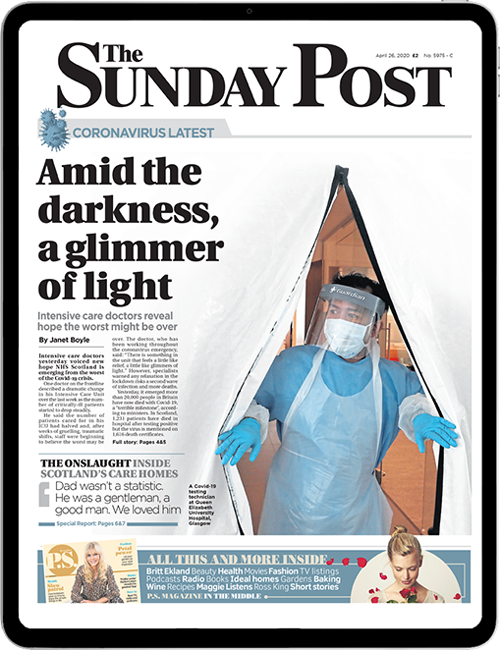 Enjoy the convenience of having The Sunday Post delivered as a digital ePaper straight to your smartphone, tablet or computer.
Subscribe for only £5.49 a month and enjoy all the benefits of the printed paper as a digital replica.
Subscribe