VIDEO: Stars of Amazon's The Rig reveal all about the North Sea oil drama at Edinburgh premiere
By
Ross Crae
December 7, 2022, 4:39 pm
Drawing on the real-life science of the climate crisis, the brutal isolation of a North Sea outpost and a touch of the supernatural, new drama The Rig aims to pull viewers in to one of the world's most extreme working environments.
The mystery thriller, which comes to Amazon Prime in the new year, follows the crew of the Kinloch Bravo oil rig as they battle for survival in a crisis that also threatens their families back home on dry land.
Amid a strange fog, they're cut off from communication with the shore and are left to fend for themselves with rising tensions on board, system failures and the peril of the North Sea.
Writer David Macpherson said he wanted to explore the power and complexity of nature and ask what comes next as we face the ravages of the climate crisis.
In an introduction to the show, he notes: "Before writing The Rig, I worked for a Scottish Government climate change program; and I know perhaps more than I would like about the likely scale of damage we and future generations face if we don't find the answers we need soon.
"With the standard of public debate so polarised, I hope that through fiction I have found a way to express some of the nuance that is often missing from discussions; the dignity and justifiable pride in the dirty work that for now still powers much of our society; and the threat we all face if we do not find an alternative future."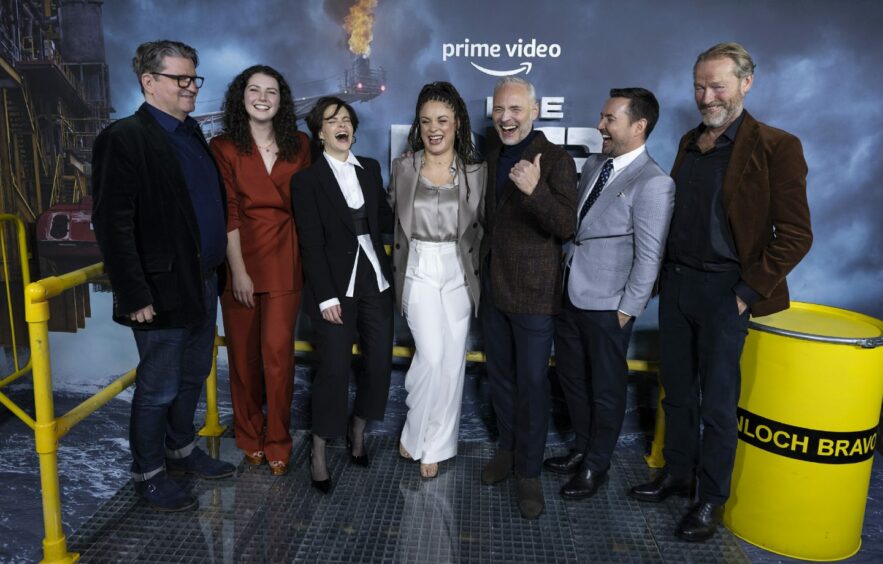 In what resembles an Avengers of Scottish acting talent, the series sees Game of Thrones star Iain Glen, Line of Duty's Martin Compston, and Guilt pair Mark Bonnar and Emun Elliot take major roles.
Amid the highly masculine environment of the rig there are also strong female characters led by the Canadian star of Schitts Creek, Emily Hampshire, Line of Duty's Rochenda Sandall, and newcomer Molly Vevers.
Also starring are Calvin Demba, Owen Teale, Richard Pepple and Stuart McQuarrie.
On the red carpet at the Everyman Cinema in Edinburgh for the show's premiere, the stars told of their admiration for the script and the unique setting for a drama fraught with danger and pressure.
Glen, who plays the rig's leader Magnus, said: "The rig itself is central to it. You think of that environment, it's a very, very extreme environment. You're in the middle of nowhere, you're very isolated, it's dangerous.
"When things go wrong on a rig, they go very wrong and that's where our drama goes.
"It's also got a strong ecological message, it's very much a thriller and functions as such but there's a message I think is relevant for today about how we look after our planet and whether we should be trying to think a little bit more about that and that theme comes really strikingly through in the course of the story."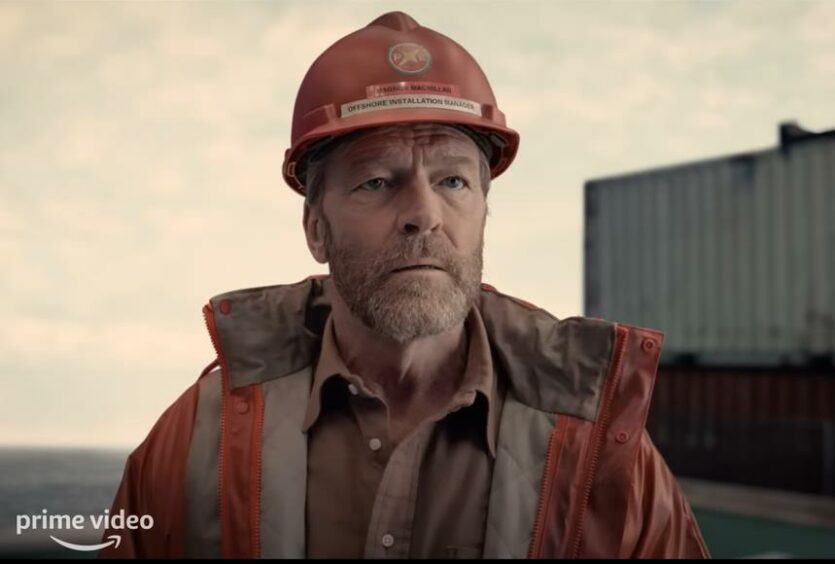 Compston, who plays communications operator Fulmer, believes the script balances the clear need for a seachange when it comes to the environmental impact of the industry, while also paying respect to the men and women who rely on it.
"I think that's what David Macpherson's script does really well," he said. "The world is changing, climate change is here, it's not up for debate, the industry has to evolve.
"But the feats of engineering and what we've achieved out in the North Sea is nothing short of incredible. What these men and women have done out there and their trades, it's part of our history we should be really proud of."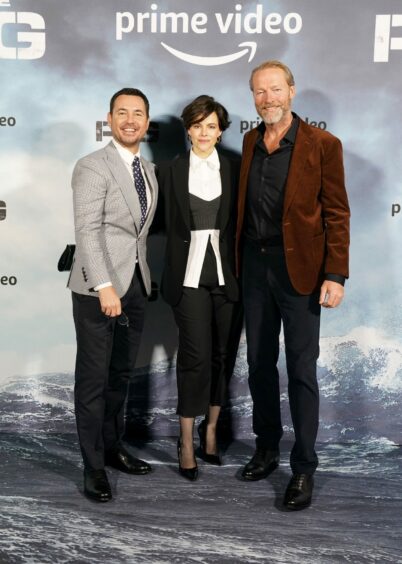 Hampshire plays Rose, a company rep and one of the North Sea's best geologists, and has to navigate her relationship with Fulmer while being one of the few women on the rig.
She said she was drawn to the project by the message it was portraying.
"[David's] dad worked on an oil rig, he loves that industry, he respects the people who work in oil and we all use oil, but he went to school in environmental science and worked at a sustainable charity.
"He knows that the future is in sustainability so what I love is that the environmental story at the core of this is not preachy or punishing to oil, it's just: this is the future.
"I also love that it's supernatural but my character is a geologist and the science is real that it's based on, so it could happen."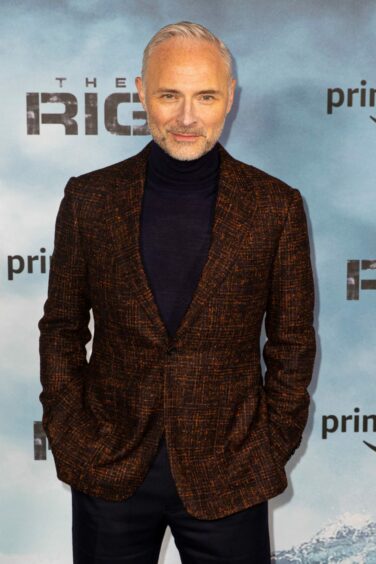 As soon as he read the first few pages, Bonnar, currently starring in ITV drama Litvinenko, was hooked on the script by the balance of the supernatural and human elements.
"It was a real treat to work on a script that's so wonderfully structured and put together," he said. "The characters are so well drawn, but it also has this supernatural element to it, which I've been a fan of since I was knee high to a grasshopper. That's right up my alley.
"As soon as I read the first few pages and realised what was going on, I was in. It not only addresses these environmental problems that we're all facing, and the problems that the planet's facing, it has a domestic storyline, it has real people at its core, and that's the most impressive thing about it.
"It gives you the question, it poses all these juxtapositions and gives it to you, so you're left to make up your mind and decide what we should do."
The Rig: Writer on childhood inspiration behind North Sea drama as filming starts at Scotland's first studio
Scotland on screen
The Rig has been hotly-anticipated as a trailblazing production in Scotland, mainly filmed in Edinburgh.
A replica rig was built in Leith, and other scenes were shot in the capital's First Stage Studios. It's the first Amazon Original production to be filmed entirely in Scotland.
Compston said: "You can tell Amazon are really getting behind it and I'm just chuffed to be on something with such ambition.
"It's filmed here in Scotland, our industry's absolutely thriving at the minute and it seems to be getting better and better and hopefully this is just another notch on that upward trajectory we're on. I'm chuffed and just excited for it to get out there now."
Macpherson also hoped that it would help pave the way for future projects in Scotland.
He said: "I'm really, really proud that we managed to make it all here and with such a great Scottish cast and showing that Scottish TV can compete with anything that's world class and that's what we want to do."
Molly Vevers, for whom The Rig is one of her first screen roles, brought her mum to the premiere, having grown up just along the road in East Lothian.
She said: "To be here, 40 minutes from where I grew up, doing something on this scale is just amazing and feels like a nice kind of full circle type thing."
The rig as a character
Across all the cast, what shines through is an appreciation of the central role that the environment of the rig plays in the show.
Kinloch Bravo is such a unique setting for story-telling that it almost becomes a character in itself.
So much so, the usual red carpet for the Edinburgh premiere was replaced by corrugated metal, and oil barrels and boiler suits were dotted around the city's Everyman Cinema.
"The great thing about the rig is that the whole facility is dominated by pressure, that's what you're there to manage and that makes great fuel for stories," Macpherson explained. "It's a perfect precinct."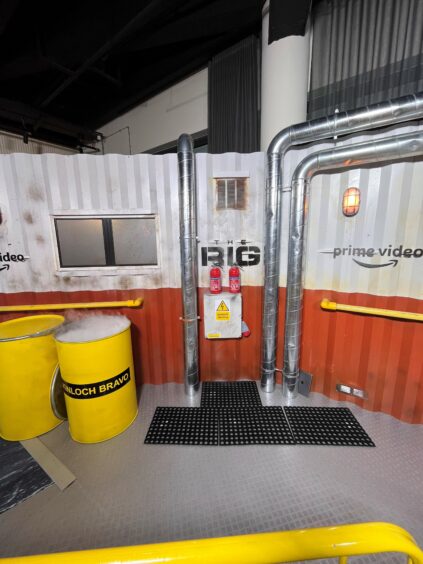 Compston recalled reading a line in the stage directions that said the rig "rose like Dracula's castle" out of the ocean.
"It really does look like that," he said. "Even without everything that goes wild, all the supernatural elements, it's just a great place for a drama. It's really claustrophobic, there's a lot of tension, and if you don't like somebody on there you're going to see them a lot of times during the day wherever you are.
"It's a great place for that anyway but I think the left turn this takes, not many people see it coming."
Realism
Macpherson grew up just outside Alness near the Cromarty Firth, gazing out on rigs being built and repaired, and his father told him tales of working offshore.
Former real-life Offshore Installation Manager Derek Anderson acted as an advisor, and many of the cast ended up learning a lot about the industry while filming scenes.
Rochenda Sandall, one of a number of former Line of Duty stars in the cast, also learned some extra first aid in her role as rig medic Cat.
She admits she's got some "gruesome videos" in her WhatsApp messages from the on-set medic Pam, who taught her how to do intravenous drips and other minor medical procedures.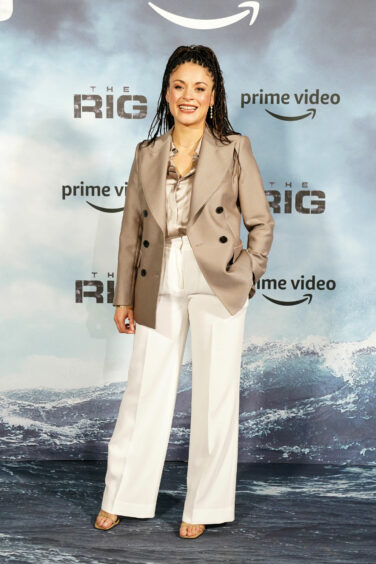 Sandall said: "I got her to whisper in my ear, she taught me how to do all the medical stuff even to the point that one of the fellas on set got really cold and nearly got hypothermic and she was saying 'check his temperature, get him wrapped round in a foil blanket' and stuff like that.
"My character's ex-military so she kind of slotted in quite well to the masculine kind of surroundings. There's very few women who work on the rigs so there's quite an interesting story to follow-up and have a look at how they deal with being on the rig so it's quite a fascinating thing."
When it airs
The series will be available to watch on Amazon Prime from January 6.
All of the cast are excited to see what people make of it, especially Compston, whose dad worked on the rigs.
"I've still got some pals working out there," he said. "I've no doubt they'll have some comments to put me right on anything we've got wrong. They're all excited to see it as well and it's nice when you can draw on personal things like that.
"I can't really put it into a genre in the best possible way, there's so much going on with it. I wish people could have seen it the way I read it. John never gave me any other notes on it other than it's set on an oil rig. By the time I got to episode two, I was like: 'what the hell's going on?' It's wild. It's definitely not boring, it'll get people talking."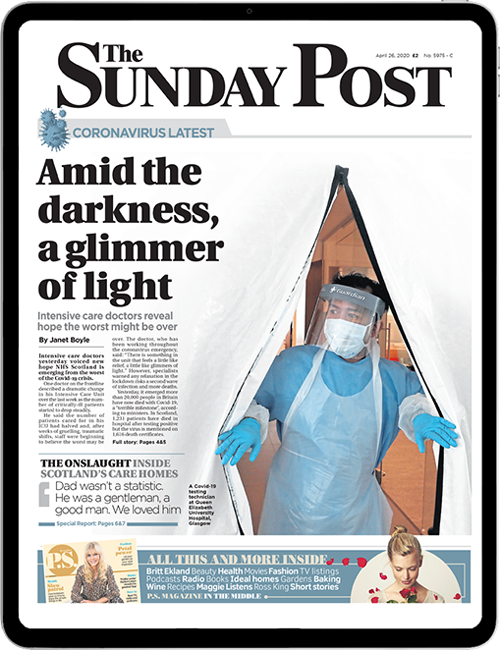 Enjoy the convenience of having The Sunday Post delivered as a digital ePaper straight to your smartphone, tablet or computer.
Subscribe for only £5.49 a month and enjoy all the benefits of the printed paper as a digital replica.
Subscribe