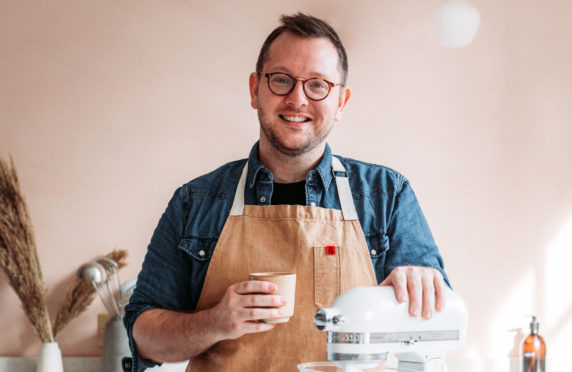 If you could have been stuck in any house over the past few months, Edd Kimber's would've made a lovely haven.
While the rest of us have been scrapping over who ate the last biscuit, or who forgot to put French fancies in the online shopping basket, baker and food blogger Edd has been deluged in cake.
Any hint of a sweet craving and he can just "pop into the kitchen, as there's 17 different things I could have," he casually points out.
Kimber has been baking professionally for a decade now, since winning the first series of The Great British Bake Off in 2010, and has, over that time, "realised the amount of questions you get about equipment is very high".
Most food writers or bakers, he says, overestimate what home bakers have in their cupboards – and so his latest cookbook, One Tin Bakes, only requires either a short rummage for a single version of the classic and ever popular brownie pan, or a small investment in one. It means whatever level of baker you may be, you won't need to "go out and buy 300 different types of bakeware".
As we speak, Kimber has a tin of the book's tahini babka buns ("A modern take on a cinnamon bun") in the oven, and is just as regularly found cooking up a batch of his turtle brownies (a rye brownie with caramel, pecans and dark chocolate), or the oatmeal raisin cookie bar with a caramelised white chocolate ganache on top. One Tin Bakes also features grand treats, like a giant Portuguese custard tart, a slab of Eccles cake, and entire tray of Basque burnt cheesecake.
Kimber, 35, says his time is usually spent 50% in the kitchen, 50% writing things up, but during the last few months of lockdown, he reckons he's "probably baked more than I ever have done in my life".
And yes, in the early days, when flour was basically gold dust and bananas were left in fruit bowls to gather bruises, he got involved in the sourdough and banana bread phase – even combining both lockdown obsessions by using discarded sourdough starter, usually thrown away every day, to make said banana bread. It's a trick he uses to make sourdough chocolate chip cookies too.
Kimber has now moved on from those pandemic baking clichés but has continued to recipe-test, all the while continuing to be aware of cutting waste. Normally, he'd be plying friends with all these surplus creations – but this hasn't been possible with the restrictions in place. Instead, Kimber, who lives in London, has been helping support a local restaurant via cake.
"I could tell it wasn't the most fun time for them," he says, "and I've got all this baking I can't get rid of, so most days I wander down with a random assortment of things."
For someone whose life revolves so much around home baking, how does he feel about shop-bought cake?
"Sometimes there's nothing wrong with those because they have a real nostalgia factor. It's what we all had growing up," he says with feeling. "When I was a kid, we always used to have a Mr. Kipling Battenberg. Something like that you will just always, always have a sweet spot for, because they just remind you of something, or they really take you back."
That said, any solid memories of eating a Colin the Caterpillar cake do seem to elude him. "I've definitely had a Colin the Caterpillar cake, I must've done! It's funny because I often make my own birthday cake, which is incredibly sad and also controlling," he says with a laugh. "I'm a baker! So I know what I like! If I wanted it, my partner would definitely make one for me, but it's one of the few times I get to bake just for me." This year's birthday, you'll be pleased to hear, was marked with a pistachio and cherry cake.
Talking of 'knowing what he likes', sweets, he says, can be incredibly personal. "Balance is really important, and it's really interesting because people have very differing requirements for what they consider to be balanced," Kimber explains. "Someone commented on a recipe of mine the other day, saying, 'I reduced the sugar by 50% and it didn't work', and I was intrigued because I thought, 'Well yeah, of course it didn't work – you reduced the sugar by 50%'"
It turned out his reader considered it an American-style recipe, which they found too sweet – but it all comes down to an individual's interpretation of what constitutes 'too sweet'.
"I'm not a massive cupcake fan, and there's no reason for that, because if they're made well, they're delicious," muses Kimber. "But I find a lot of times when you buy a cupcake, they're just overly sweet." Not that he won't give them a go, though – Kimber is always willing to have a taste. "I'm not a huge fan of chocolate and raspberry together and find that a little bit awkward flavour-wise, but I'm one of those people that will happily try anything once."
Kimber grew up baking mince pies and scones with his mum, and those scones are still "one of the things that I don't even think about making, I just do". As One Tin Bakes goes out into the world, he hopes it can exist as a similarly ongoing and enduring guide for bakers.
"Say this is the first baking book you ever buy, you will be able to bake from it for years as you get better and better and better, and you're willing to try harder and harder things," he says, enthused. "I like books to be able to live with you for a long time."
---
Brioche buns with espresso cacao nibs (Makes 6)
You'll need
1 batch of brioche dough (see below – made with just 75g unsalted butter)
Plain flour, for dusting
1 egg yolk, beaten, for glazing
For the coffee butter:
150g unsalted butter, at room temperature
1tbsp (heaped) instant espresso powder
For the coating:
100g caster sugar
1tbsp cacao nibs
1tsp instant espresso powder
For the brioche dough:
265g plain flour, plus extra for dusting
25g caster sugar
¾tsp fine sea salt
5g fast-action dried yeast
60ml whole milk
2 large eggs
75g unsalted butter, at room temperature, diced, plus extra for greasing
NOTE: The brioche dough needs to chill overnight, so start this recipe the day before you want to bake it.
Method
Place the flour, sugar, salt and yeast into the bowl of an electric stand mixer with the dough hook attachment and mix briefly. Pour in the milk and eggs and mix to form a shaggy dough then knead for 10-15 minutes on low-medium speed until smooth and elastic. With the mixer running, add the butter, a piece or two at a time, then knead for 10-15 minutes until smooth and elastic and pulling away from the sides of the bowl. Press into a flat disc, cover with cling film and refrigerate overnight.
For the coffee butter, beat the butter in a bowl using an electric mixer or wooden spoon until soft and creamy. Mix in the espresso powder. Draw a 20cm square on a piece of parchment paper and turn it over. Scrape the butter into the middle of the square and spread into an even layer within the lines. Fold the parchment paper over to enclose the butter and neaten with a rolling pin. Refrigerate overnight.
Remove the espresso butter from the refrigerator 10-15 minutes before the dough. Roll out the dough on a lightly floured surface into a 20cm x 40cm rectangle. Place the butter on one side of the dough and fold the second side up and over the butter. Pinch the seams together to enclose the butter. Gently press the dough with a rolling pin to flatten it a little before rolling into a 20cm x 50cm rectangle.
Fold the dough in thirds like a business letter, then wrap in cling film and refrigerate for 30 minutes. Repeat this rolling, folding and chilling twice more, refrigerating for a final 30 minutes. Meanwhile, line the base of the baking tin with a piece of parchment paper.
Roll out the dough into an 18cm x 28cm rectangle. Trim the edges and cut into six even squares. Place the buns into the baking tin, cover with cling film and set aside in a warm place until the buns have almost doubled in size, about one hour.
Preheat the oven to 200°C (400°F), Gas Mark 6. Brush the top of the buns with the beaten egg yolk then bake for 15 minutes or until golden. Pulse the sugar, cacao nibs and espresso powder in a food processor until finely ground. Leave to cool in the tin for 10 minutes, before tossing in the cacao nib sugar.
---
One Tin Bakes by Edd Kimber, Kyle Books, £17.99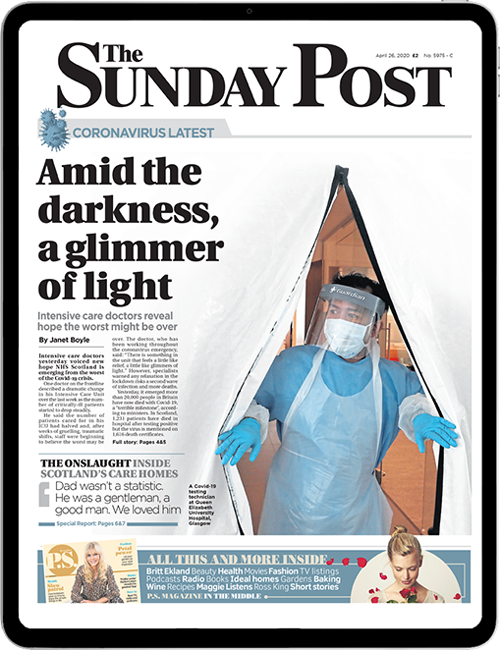 Enjoy the convenience of having The Sunday Post delivered as a digital ePaper straight to your smartphone, tablet or computer.
Subscribe for only £5.49 a month and enjoy all the benefits of the printed paper as a digital replica.
Subscribe