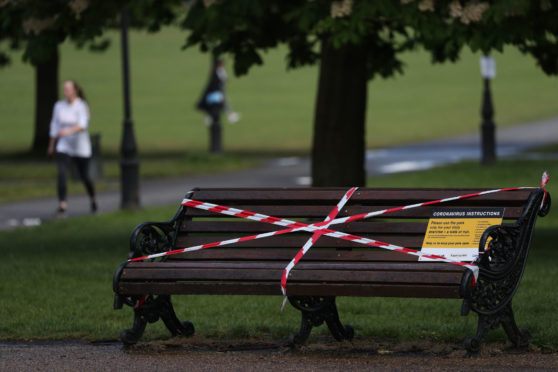 So "we can now see the sunlight" according to Boris Johnson or, in the more circumspect words of Nicola Sturgeon, "we can see the light at the end of the tunnel", at the critical stage in the fight against Covid-19.
One or both of them might be right but, in this frenetic crisis, one or both might be wrong tomorrow.
But one thing seems certain. If the majority of lockdown restrictions are not lifted soon, and our fragile economy is not somehow rebooted, then the damage caused to our nation's mental health and wellbeing may become irreparable.
Instead of looking forward to a promising, prosperous future, our children face many years of uncertainty, their lives in danger of being permanently scarred by these awful events.
You don't have to look far for evidence of the mental damage this enforced lockdown has had already on the nation's psyche. Once calm, rational people seem teetering on the edge of rage and panic, as a trip to the shops becomes a stressful stop-start obstacle course of social distancing, hard stares and suspicion.
From taping up or, in Blackness, removing public benches (I expect to stop outsiders sitting on them), to those who scream at people who have forgotten to wear a mask, or criticise fellow supermarket shoppers for inadvertently standing 1.8 metres apart, rather than the recommended two metres.
Assaults, some serious, on shoppers and shop workers are apparently now on the rise. A close teenage relation of mine, whose part-time job is to monitor and control the numbers of those entering the store he works in, was when he finished work verbally assaulted and then asked for a square go by a 50-something lout.
Or the others who think the best way to social distance on a canal tow path is to walk along holding a stick out vertically at chest height? I nearly ended up in the canal with my bike!
And of course there are those, with gardens, who phone the police to complain about those who do not, but have the temerity to sit in a park, or on a beach, miles from anyone, on a sunny day.
If we are to ever get back to some sort of normality, and live our lives free of fear and anxiety, coronavirus or not, then this divisive and aberrant behaviour, brought about by the lockdown and an obsession with social distancing, has to stop. If not, society's mental health will only worsen. Common sense must prevail and a phased lifting of the lockdown in Scotland, when we all feel it's safe or safer to do so, must take place.
The Prime Minister is today expected to signal some restrictions could be eased from tomorrow; things like visits to garden centres and family trips to country parks may be allowed soon.
By June, Downing Street apparently hopes tennis, golf and angling might be allowed and, if all goes well and there is no second spike, the opening of pubs and restaurants?
Our First Minister is clearly not so sure and, rightly, will ensure Scots are properly protected before following London.
In the meantime, we wait and hope, hope and wait, watching for the sunlight to get brighter and the glimmer at the end of the tunnel to get bigger.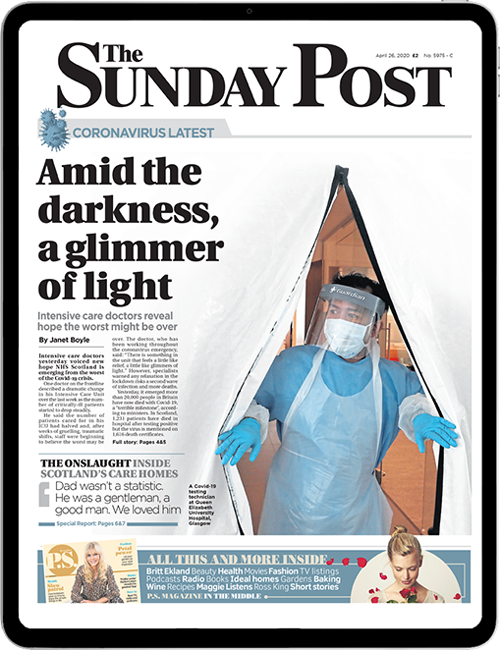 Enjoy the convenience of having The Sunday Post delivered as a digital ePaper straight to your smartphone, tablet or computer.
Subscribe for only £5.49 a month and enjoy all the benefits of the printed paper as a digital replica.
Subscribe