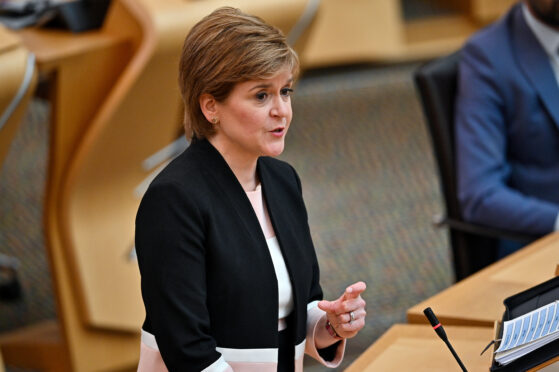 Scots should be careful but optimistic there will no more lockdowns when most restrictions end tomorrow, according to experts.
Government advisers were upbeat about the UK avoiding future lockdowns while warning a return to pre-pandemic behaviour could still lead to a spike in cases of the highly infectious Delta variant, piling pressure on the NHS.
Nicola Sturgeon also sounded an optimistic note yesterday but urged Scots to be sensible.
She said: "The pandemic is not over but we are in a much better position than we might have believed possible at the start of the summer – and if we all continue to take sensible precautions, even as legal restrictions end, we can hopefully maintain that."
The first minister's message was in stark contrast to that of ministers in England who spoke of "Freedom Day" when the last legal restrictions were lifted there last month.
She told MSPs last week she couldn't rule out travel restrictions to control local outbreaks.
Sturgeon has advised home working, social distancing and the legal requirement to wear face coverings indoors continue, with the notable exception of nightclub dancefloors which could be packed with revellers when some venues reopen at one minute past midnight tonight.
Stephen Reicher, professor of social psychology at St Andrews University, who advises the UK and Scottish Governments, said: "If people abandon all caution and behave as if the pandemic is over we will be in deep trouble.
"That's why it's pleasing there is no talk of freedom day in Scotland. There is a stress on the need for caution.
"Before the pandemic we'd have about 12 contacts a week. At the height of the pandemic, it fell to about three.
"It's now about four or five. If we went back to the same level of interaction we had before the pandemic it would lead to a huge spike in infections.
"The caution of the public is what's keeping us safe. If you get rid of that, if you went from four to 12 contacts a week, we would be in deep trouble."
Reicher said a majority of Scots understood the scientific reasoning behind retaining some restrictions: "When you look at the data most people believe that we should maintain safeguards, we should wear masks indoors and we should keep our distance.
"What we're seeing is that people are cautious, which partly explains why infections are going down.
"When people return to schools and universities and people meet indoors more in the autumn when the weather changes we will likely see upwards pressure on the number of infections."
The caution of the public is contributing to sluggish economic growth according to one expert at the Fraser of Allander Institute, David Eisner, who suggested it would be 2022 before GDP returned to pre-pandemic levels.
Reicher said: "In terms of opening up economically, businesses will get more business if they show that their premises are safe – that they are well ventilated and there is mask wearing and so on."
Professor Neil Ferguson, epidemiologist and UK Government adviser, echoed Reicher's note of caution yesterday, saying: "If we increase contacts then we may well reach another point where we start seeing increasing case numbers again."
However, Ferguson added it was unlikely another lockdown would be needed, unless a dangerous new variant of the virus emerged.
Professor John Edmunds of the London School of Hygiene and Tropical Medicine who, along with Ferguson and Reicher, is a member of the Scientific Advisory Group for Emergencies, also suggested the era of lockdowns was over, adding: "The pinch point has always been pressure on the NHS and though it will be awkward for the NHS, so there will be pressure, I very much doubt they won't be able to cope."
Another nine Covid-19 deaths were recorded in Scotland yesterday as the number of people in hospital fell to 359, from 367 the day before. There were 41 people in intensive care, down from 54 on Friday.
The number of cases recorded yesterday stood at 1,386, with 6.3% of those tested returning positive results. The number of people who have received one dose of vaccine has risen to 4,022,914 while 3,305,325 have had two doses.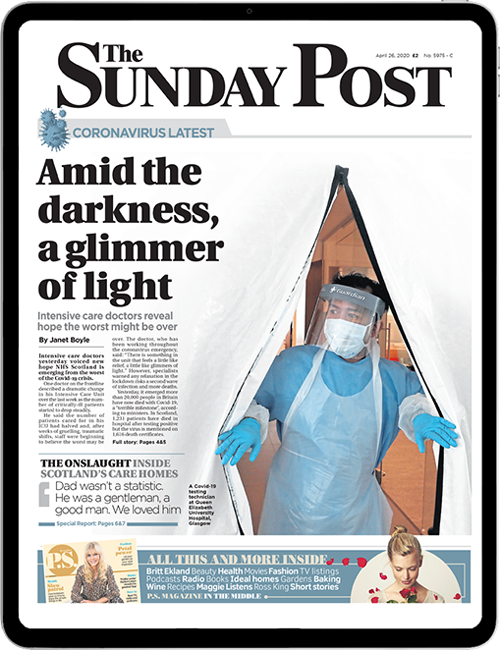 Enjoy the convenience of having The Sunday Post delivered as a digital ePaper straight to your smartphone, tablet or computer.
Subscribe for only £5.49 a month and enjoy all the benefits of the printed paper as a digital replica.
Subscribe