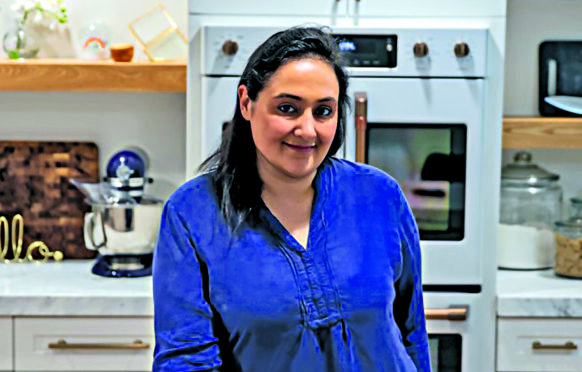 When Sabrina Snyder started her website, Dinner Then Dessert, it was a way for her to keep in touch with former clients.
After years as a private chef, a change in her home life meant she needed to "step away from other people's kitchens and stay in my own" but she didn't want to abandon the people she had spent a decade teaching how to cook.
So, armed with a laptop and countless recipes, she began posting no-nonsense dishes online.
"I was a new mum and I thought it would be a fun escape for me," added Snyder from her family home in Utah. "It was only a few months before things started rolling faster than I had ever imagined."
Within five years of the first post, her website became one of the biggest food blogs in America, with people logging on every day to try everything from slow-cooker stews to clever ideas for leftovers. Today, there are months when more than 10 million people visit the site, but her motivation has stayed – to help people find the fun in food she first discovered as a little girl.
She explained: "Cooking was something I came by when I was really little. I was a kid before the internet so I used to watch Martin Yan and Wolfgang Puck on PBS, and I would keep a notebook by the TV so I could scribble down everything they were saying. Then I would go into the kitchen, which my mum thought was crazy as I was only six!
"It just seemed magical to me that you could take ingredients that just existed on their own and then make something completely different by combining them, sometimes in just a few minutes.
"I remember making Wolfgang's Caesar salad dressing for the first time and being like, 'Wow how did that just happen?'
"Even when I was little, food and cooking always had my heart."
Although cooking has clearly always come easy for Snyder, she knows how overwhelming the process can be for novices, and aims to always keep her dishes simple, with a handful of ingredients.
She continued: "Sometimes the real magic behind cooking is that it can be really easy. When I was a private chef, I used to do 'cooking dinner parties', where I would show people how to make the main dish and dessert. I'd show the diners how to make ganache in one minute, in the microwave, with two ingredients.
"It's just heavy cream and chocolate chips, which you microwave, let sit and then stir. But as they watched me stir, and the ingredients turned into a silky, chocolatey ganache, their minds were blown. You could see the joy come over their faces.
"Moments like that made me realise cooking doesn't have to be hard – you can make it fun and embrace the kid-like joy."
It's a sentiment she has continued with her first cookbook, released this month. Each of the recipes uses just three, five or seven ingredients, all of which complement her chapter on "store cupboard staples".
"When I was cooking for people, I would go through their pantry and cupboard and clean everything out," explained Snyder. "You would be shocked how many ingredients looked like they had been opened for one recipe, never touched again, before sitting there for years after the expiration date.
"So, when I create recipes, I try to pare back what's in the cupboard – if it doesn't earn its space in there, it'll only be a barrier. If you look in your cupboard and everything is old, you don't know how to use it or it has only been used once, it creates a hesitation. So, I always ask, 'How can I make this simple and easy, but still delicious?'"
She added: "Many pantry ingredients can have value in so many different ways. I remember reading an article with someone who talked about their 'pared back pantry' before going on about the six different vinegars they have. Keep things simple and it will be easier for people – that's the hope."
Dishes in the cookbook range from midweek saviours to tempting treats, ensuring there's something for every occasion. But if Snyder had to choose just one, she knows what ingredient will be at the dish's core.
"I'm a sucker for blue cheese," she explained. "Yesterday, I made bacon-wrapped buffalo chicken with a blue cheese stuffing. So, it would be that – or French fries with blue cheese gravy."
---
Recipe: Peanut butter muffins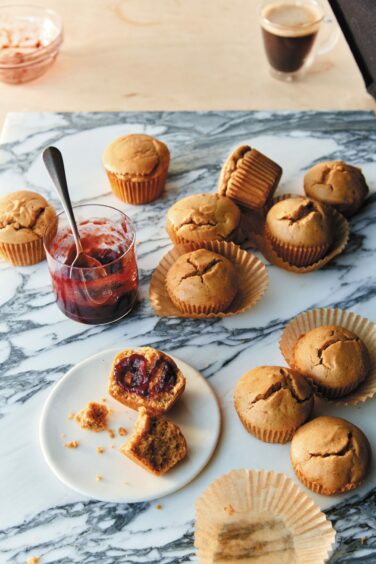 This is one of those miracles of food science. The air incorporated while creaming the butter acts as a leavener, turning just three ingredients into muffins with a souffle-like texture.
However, the creaming step is the most important, so if you attempt to muscle though this with a whisk instead of a stand mixer, you'll end up with a dense, fudge-like consistency – and a sore arm. These muffins are delicious as dessert but with so much protein you can even cut back on the sugar and make them for breakfast.
For a fun twist, add a teaspoon of jam to the top of each one before baking.
You'll need
4 large eggs
150g sugar
180ml creamy no-stir peanut butter (not natural peanut butter)
Method
Preheat the oven to 350F/175C. Line a muffin tin with paper liners.
Put the eggs in the bowl of a stand mixer fitted with the whisk attachment. Beat the eggs on high speed for eight to 10 minutes until they are a very pale yellow colour and have become much thicker and more voluminous.
Add the sugar and continue to beat on high speed for another two to three minutes.
Add the peanut butter to a large microwave-safe bowl and microwave for 30 seconds on half power to loosen.
Add one quarter of the egg-sugar mixture to the peanut butter and fold in gently until the mixture is smooth and there are no visible streaks. Repeat with the remaining egg-sugar mixture in three batches.
Using an ice cream scoop, place 60 ml of batter in each muffin liner.
Bake for 20 to 22 minutes, until a toothpick inserted in the centre of a muffin comes out clean. The muffins will be puffy when baked but deflate as they cool.
Dinner Then Dessert: Satisfying Meals Using Only 3, 5, Or 7 Ingredients, Harper Design, £25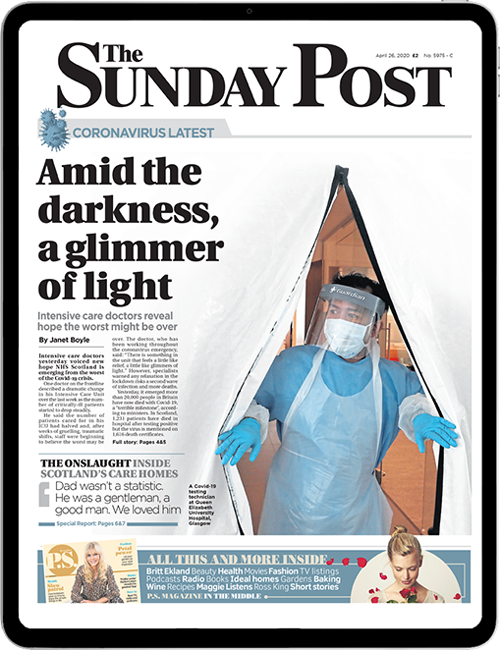 Enjoy the convenience of having The Sunday Post delivered as a digital ePaper straight to your smartphone, tablet or computer.
Subscribe for only £5.49 a month and enjoy all the benefits of the printed paper as a digital replica.
Subscribe