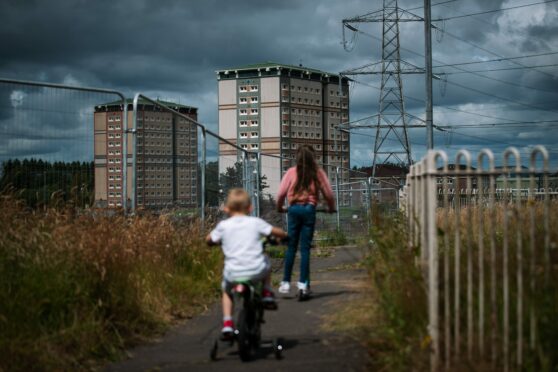 Tower blocks earmarked for Ukrainian refugees seeking sanctuary in Scotland have potentially dangerous cladding.
Two high-rise blocks in North Lanarkshire and a rented cruise ship are to house refugees, according to the Scottish Government, as ministers suspend the "super sponsor" scheme for three months to ease pressure on accommodation and services.
The North Lanarkshire local authority last week announced plans to bring 200 empty homes back into use with £5m from the Scottish Government to reinstate flats in two blocks earmarked for demolition in Wishaw and Coatbridge.
However, we can reveal the exterior of both buildings feature high-pressure laminate (HPL) exterior cladding, which has come under scrutiny since the Grenfell Tower fire tragedy in London.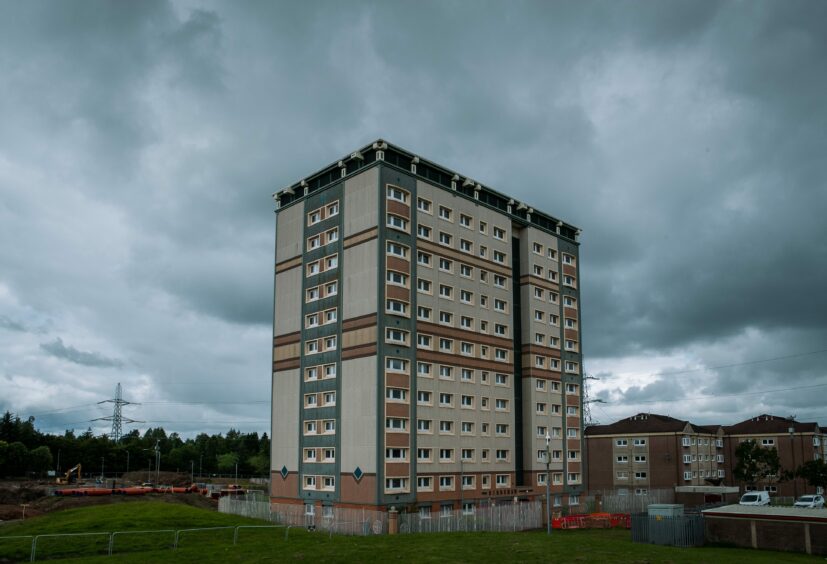 Ten months ago, the Scottish Government said 95 high-rise blocks across six council areas had HPL cladding. It said that type of cladding is not as dangerous as Aluminium Composite Material (ACM) cladding used in Grenfell, when 72 people died in a fire at the 24-storey flats in London in 2017. It said a fire safety risk assessment had been carried out on 52 of the buildings and remedial action was needed in 40.
Yesterday, North Lanarkshire Council could not confirm if remedial action had been requested at either block but said the amount of HPL cladding was small and all fire regulations would be met.
The council confirmed both blocks feature "a limited amount of HPL cladding" and there are no plans to remove it. After The Sunday Post raised the cladding issue, it confirmed that fire safety assessments will be carried out on the two blocks within days. It said all of its towers had the necessary safety warrants and robust fire safety procedures in place, including 24-hour concierge services. One of the two blocks also has a sprinkler system. It said the HPL was used on only a small number of features, and that there was non-flammable material between any panels and the building itself.
Cost of identifying and removing dangerous cladding from homes across Scotland to reach £1 billion
However, Yevgen Chub, treasurer of the Glasgow branch of the Association of Ukrainians in Great Britain, said: "We can't have people from Ukraine escaping one threatening situation and going into another. We need to be sure that these flats are completely safe."
The decision to accommodate Ukrainian refugees in previously-condemned tower blocks and an Estonian cruise ship moored at Leith docks has caused concern among campaigners. Around 7,300 Ukrainians displaced by Russia's invasion have arrived in Scotland with 18,000 more expected.
Naomi McAuliffe, Amnesty International's director in Scotland, said the Home Office's insistence on visas and sponsorship for those fleeing an active war zone has meant the UK response has been "botched" from the start. She said: "There can be no doubt that the UK asylum system is broken, The Scottish Government's efforts to help those fleeing Ukraine have been positive, but the use of temporary accommodation, including hotels, cruise ships, and now previously condemned flats will rightly ring alarm bells for many."
The Sunday Post View: Promises are not enough. Refugees deserve a place of shelter and safety
Opposition parties have expressed dismay. Wendy Chamberlain, deputy leader of the Scottish Democrats, said: "Housing refugees from Ukraine in condemned tower blocks and pokey cruise ship cabins is an inevitable consequence of a Scottish Government which likes photo calls more than it likes the nitty-gritty detail required to make its pronouncements practical."
Gary Christie, head of policy at the Scottish Refugee Council, said the temporary accommodation measures being proposed must only be an emergency response, not part of a functioning asylum system.
He said: "We are seeking assurances the super sponsorship scheme will restart as soon as possible. We understand these are last-resort options that nobody wants to see."
North Lanarkshire Council said: "The safety of our tenants is our priority and robust fire safety procedures are in place in all our towers. The only element of HPL is on external decorative features and lettering on the name of the buildings."
The Scottish Government said: "The temporary suspension of the super sponsor scheme is needed to ensure safe accommodation can continue to be provided to those who have already arrived from Ukraine and those who will shortly be travelling to Scotland. Applications naming the Scottish Government are affected.
"In the meantime, the Scottish Government is taking action to increase the capacity of temporary accommodation and is also boosting the matching system to maximise the number of displaced people placed with volunteer hosts who have completed the necessary safeguarding checks, to ensure accommodation is found as quickly as possible."
It was a great community but just got run down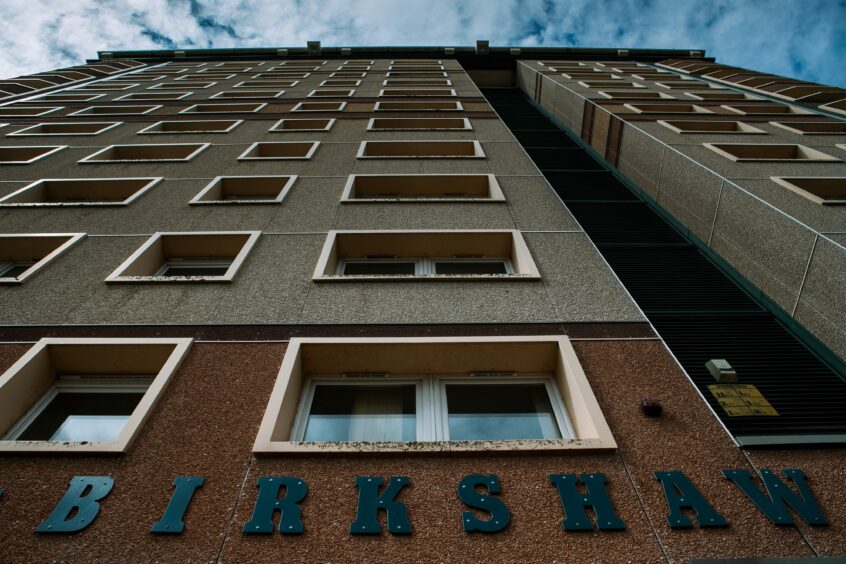 By David Meikle
It had been earmarked to vanish from the heart of a largely deserted council estate.
Yet this 11-storey tower block is set to become home to dozens of Ukrainian families fleeing the Russian invasion.
Birkshaw Tower, which sits in an almost empty housing scheme in Gowkthrapple, Lanarkshire, was to be knocked down but it is to be saved thanks to a £5 million Scottish Government scheme that will see the council transform the almost-empty tower into homes.
Ukrainian families being moved to the area will look out their windows at a rundown former housing scheme where windows have been shattered, flats are boarded up and others are burnt out.
Workmen have already begun repair works and the first families are expected to move in within weeks.
One former tower resident told how the estate had once been a sought-after area but rapidly declined. Jim Bryson, 68, said: "When the estate first opened everybody wanted in because it was a great place to stay. It's a shame because there was a great community but things changed and it just got run down.
"I hope the folk from Ukraine feel safe while they're staying here."
North Lanarkshire Council is also to refurbish the 17-storey High Coats tower in Coatbridge. Jean Smith, 71, who had family who stayed in High Coats, said: "When that tower was open it was absolutely sought after. It was always kept nice to start with but that changed and there started to be vandalism."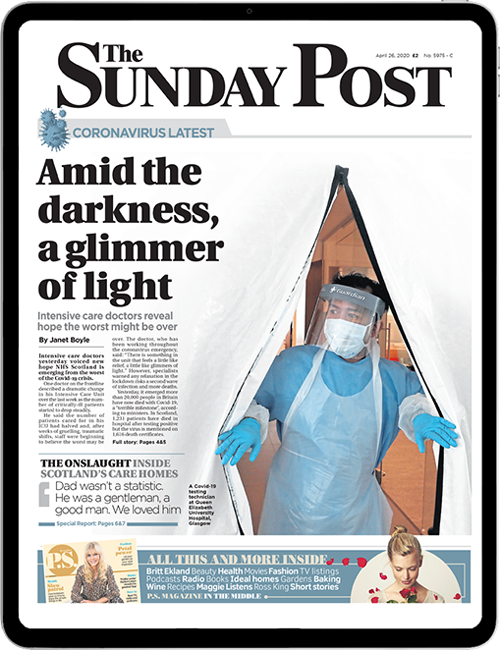 Enjoy the convenience of having The Sunday Post delivered as a digital ePaper straight to your smartphone, tablet or computer.
Subscribe for only £5.49 a month and enjoy all the benefits of the printed paper as a digital replica.
Subscribe