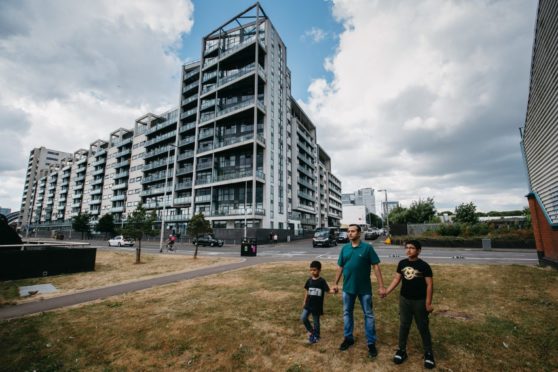 The escalating cost of identifying and removing dangerous cladding from homes across Scotland is expected to reach £1 billion.
Holyrood has so far received £97 million from the UK Government to deal with the crisis, with a further £300m expected, but, based on new estimates, ministers believe the total cost will be more than double that, with developers expected to share the rising burden.
The increasing costs can be revealed just days before the fifth anniversary of the Grenfell disaster in London when 72 people died as fire tore up a tower block wrapped in flammable cladding.
The Scottish Government has been accused of failing to address the crisis with enough urgency, with critics highlighting action already under way in England where work has started to remove cladding and developers refusing to share the costs being threatened with planning sanctions.
Yesterday, the Scottish Government said initial assessment work was progressing along with negotiations with developers, but confirmed: "The total cost of assessment and remediation is estimated at circa £1bn". Around £240,000 has already been spent assessing the risks and work necessary at a number of high-rise blocks but no survey reports have so far been completed with 123 applications for free assessments already lodged.
Housing Secretary Shona Robison said: "This week we will be remembering those who lost their lives in the tragic Grenfell fire in June 2017. We are taking priority action to prevent another such tragedy occurring.
"We have agreed with some of the country's largest housing developers to work together to address cladding issues as part of our new Scottish Safer Buildings Accord, giving affected homeowners a clear path to ensuring their homes are safe. Formal principles for the accord are to be agreed shortly.
"We are committed to providing support and remediation where there is a risk to life due to unsafe cladding systems on external walls. The Single Building Assessment (SBA) programme is carrying out fully funded safety assessments to determine which properties have a fire safety risk. The SBA process will not leave buildings with dangerous cladding."
Ministers have come under pressure for failing to resolve the cladding crisis in Scotland as it emerged that over 400 buildings including high-rises and schools have potentially deadly material on them.
Nearly 300 other Scots buildings, including 244 schools, nine independent schools, five hospitals, one prison, five hotels, and seven care homes were also found to contain high-pressure laminate (HPL) panels which safety experts have raised serious concerns about. It is feared the number of care homes with HPL could be even higher.
Thousands more flat owners in Scotland are also estimated to have had their privately-owned homes made worthless because they are wrapped in flammable materials.
Fire safety experts and politicians said the response to the crisis in Scotland has been too slow and are calling for more action.
The lack of progress here is in contrast to England, they say, where work has started to remove dangerous cladding.
UK Housing Secretary Michael Gove has also announced that developers who refuse to pay the costs of removing unsafe cladding south of the border could now have planning permission and projects blocked under new UK Government plans. New legislation would allow cladding companies to be sued and face fines for defective products.
More than £5.1 billion has so far been earmarked by Westminster to fund the cost of replacing unsafe cladding for leaseholders in higher-risk residential buildings of 18 metres and above in England.
The Scottish Government last month unveiled similar plans to target developers but critics say both administrations should be paying for the safety work up front and pursue those responsible for compensation afterwards.
John McKenzie, regional secretary of the Fire Brigades Union in Scotland, said the work to identify and resolve building safety issues has been "disgracefully slow".
"Holyrood and Westminster need to work together to sort this building safety crisis, including committing to funding remediation works immediately and recovering the funds from those responsible for the problems later," he said. "Until this happens, the public and firefighters will continue to be at risk."
Leading fire safety consultant Stephen Mackenzie echoed the sentiments.
"Developers have deep pockets and deep war chests and we should follow the example of the state of Victoria in Australia that faced a similar cladding crisis," he said. "There, government paid the remediation costs up front then went after the developers, building managers, architects, insurance companies and others deemed responsible to get their money back."
The Scottish Government said that it would get tough on developers who refused to play ball saying: "The accord is being developed in collaboration with developers to ensure we have an agreed approach that works for Scottish homeowners.
"However, we will make full use of the powers that are available to us and, if necessary, legislate, if any developers do refuse to participate."
Homes for Scotland, the body that represents developers north of the border, said it was working hard to resolve cladding issues. It said: "We are committed to working with its members and the Scottish Government to develop a Scottish Safer Buildings Accord."
The Scottish Government insisted its priority was to help homeowners assess their properties free of charge through its Single Building Assessment pilot and said money has now started to be paid out for safety checks.
Scottish Labour housing spokesperson Mark Griffin said: "The SNPs entire response to the cladding scandal has been shrouded in secrecy and void of substance.
"People need answers about what support they are going to get, how long it will take to be implemented and how long things will take to be completed."
Father: We had to leave. How could I risk the lives of my wife and children?
Dismayed by a four-year wait to have the combustible cladding around his flat removed, Abhijeet Kadwe has given up and has moved his family to a new home amid ongoing fears for their safety.
The 39-year-old bought a riverside apartment in Finnieston, Glasgow, in May 2018 with his wife Monica and their two young sons, Kiaan, five, and Advay, eight.
However, not long afterwards he discovered the block was covered in aluminium composite cladding, similar to that used on the Grenfell Tower. He said he and fellow residents paid around £10,000 for an independent survey on the building in 2020 which noted a number of other fire risks, as well as the cladding.
They were told the building would be a priority to have a safety assessment done under the Scottish Government's One Building pilot scheme but said that two years on this has still to be completed even though he has been informed that it will be imminent and that the survey would be funded by Holyrood.
Kadwe, a business analyst, said he'd had enough and pushed his finances to the limit to raise the money to buy a home elsewhere in Glasgow while his apartment is empty.
"I was afraid that another Grenfell could happen at our building and I could never forgive myself if there was a fire and something happened to my wife and kids," he told The Sunday Post. "It is now five years since that disaster yet people in Scotland are still living in dangerous buildings and nothing much seems to have been done about it. It is a disgrace."
Kadwe – who paid just over £210,000 for the property – said residents have been told that they will eventually have the money for a previous survey reimbursed by the Scottish Government but that for some residents, further costs had already mounted up.
He said: "It has cost me an arm and a leg to buy another house but we simply couldn't wait any longer for this cladding to be fixed.
"I have had a few cash offers for the property but I am not prepared to give it away for 20% less than it should be worth."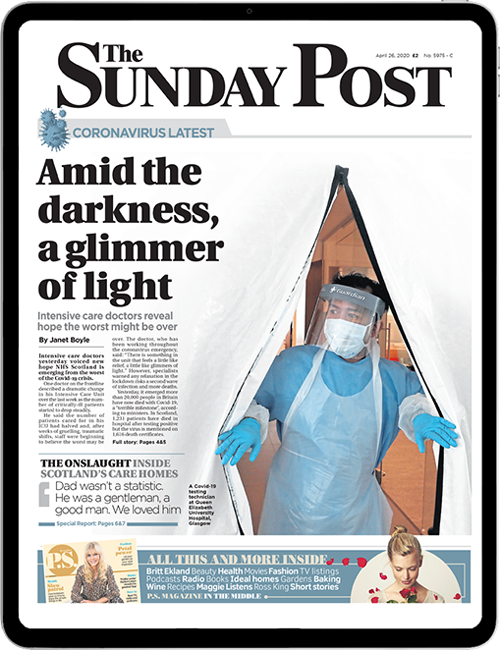 Enjoy the convenience of having The Sunday Post delivered as a digital ePaper straight to your smartphone, tablet or computer.
Subscribe for only £5.49 a month and enjoy all the benefits of the printed paper as a digital replica.
Subscribe