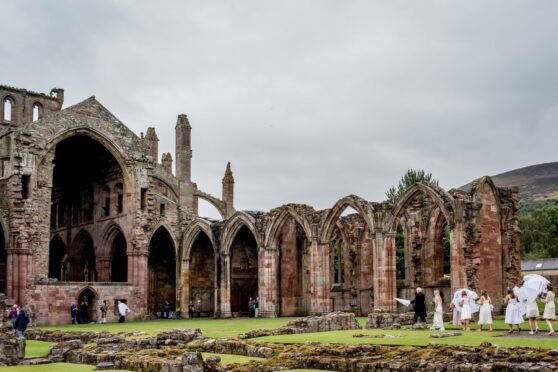 It feels as if the castles and ruins of Scotland are as old as the country itself but experts warn we must get used to the idea that these emblems of our nation were not built to last forever.
As a debate sparks in Scotland's conservation sector about how best to look after these ancient buildings in the face of modern challenges, hard questions are being asked about what should be preserved and what should be left to the ravages of time.
Scotland is home to more than 1,000 castles and almost 50,0000 listed buildings. While many of these structures have become historically and sentimentally important, those who originally built them never intended them to become monuments.
Ian Baxter, professor of historic environment management at Heriot-Watt University, explained how what were originally lived-in spaces became hallowed ground.
He said: "They were built as functional buildings for living or military or defence purposes, and over time have become embedded in the social and historical fabric of the country. There are major events and families and social histories attached to all of these sites.
"In England, they had country houses but in Scotland those houses were more defended and so you have these defended houses and castles, and it comes down to aesthetics. If you put a castle in a glen in Scotland it looks fantastic. They've become synonymous with what we call the 'tourism destination image' of Scotland and the visual appeal of the country."
These buildings might be icons of our heritage but they are now facing 21st Century problems. Warmer, wetter weather due to climate change is accelerating erosion.
Visitors also contribute to the deterioration although a sudden fall-off in visitors can be equally damaging. The pandemic removed much-needed revenue streams from many historical attractions, the profits of which would have normally been partly used for maintenance, preventing certain sites from literally earning their keep.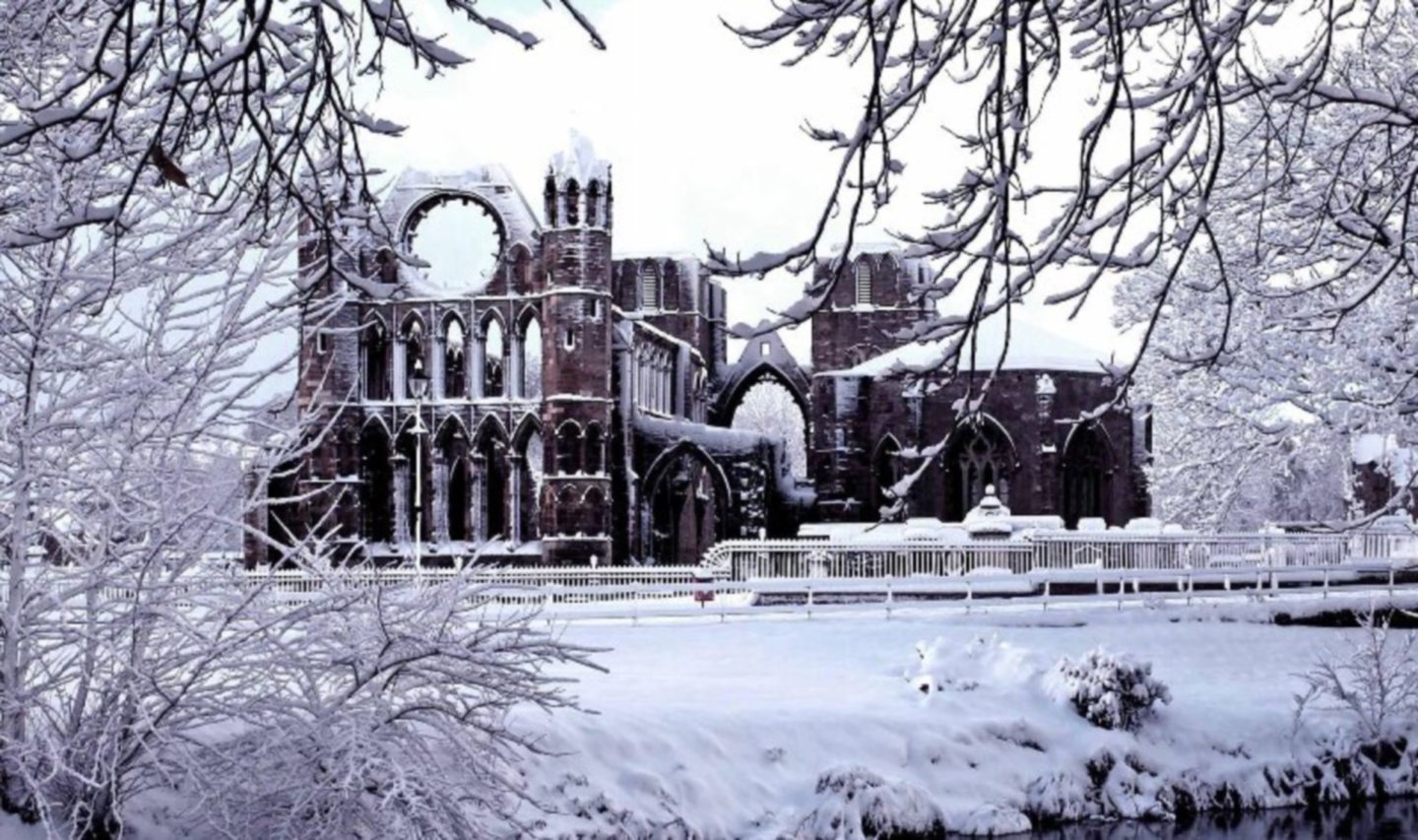 As the UK and devolved governments prepare to tighten purse strings once more, choosing between restoring a historical site or investing in much-needed facilities for modern times, will probably be a tortuous choice for ministers.
Peter Drummond, conservation architect and past chairman of the Architectural Heritage Society of Scotland, explained the predicament faced by decision-makers in government and conservation bodies: "It's about spending money where it makes a difference. Does spending £22 million regenerating the middle of Falkirk, or Kilmarnock or Paisley have better public benefit that spending £22m restoring Dumfries House, for example?
"A government might cut funding in heritage but understandably they won't cut it in education or healthcare. These are definitely difficult decisions to make."
It begs the question how much is too much when it comes to preservation. If the cost of safeguarding the likes of Skara Brae on Orkney from coastline erosion vastly outstrips the cost of a hospital, for example, it is tempting to toy with the idea that we should let such sites fall into the past, as we focus on safeguarding our future. Drummond argues, however, that we cannot understand our country if we cannot see our past.
He said: "Take Elgin. Elgin is there, because the cathedral is there. It is probably built on pre-Christian Pictish land, perhaps a pre-Christian religious site, and may have a history stretching back over 1,500 years. Macbeth killed Duncan I nearby. The Wolf of Badenoch, during his bumpy discussions with the Crown and his neighbours, burnt down Elgin Cathedral, hence its condition today. It's really good physical evidence of his actions. The cathedral is central to the area's history.
"How do you understand that history without the cathedral's ruins? You get buildings that make a genuine contribution to both history and a sense of place – of understanding and living history."
Historic Environment Scotland (HES), a public body that has stewardship over some of Scotland's most iconic historical sites, such as Edinburgh and Stirling Castle, is grappling with the financial reality of maintaining such costly historical structures.
Dr David Mitchell, director of conservation at HES, told The Sunday Post it is about making decisions before it is too late. "People tend to forget that decay is inevitable," he said. "We need to start having discussions about some of the difficult choices we have to make. What is significant, why, and whose history are we preserving?
"These things are all difficult conversations but if we don't do that now, our window of choice will get narrower. So if we don't start making decisions now, we're not going to have the opportunity to make decisions later."
Mitchell is at the forefront of bold new plans from the HES to more effectively manage the maintenance of historical buildings. A new prioritisation tool will assess its sites' cultural and social importance.
Some sites may be closed or partially closed to the public, with new walkways and vantage points developed so they can be enjoyed from afar. Some may even be put into a state of "managed decay" if they are deemed to be beyond repair, ensuring the HES gives them a "good death" rather than abandoning them outright. The phrase "managed decay" might sound alarming but as Mitchell suggested, the good death of one may save the bad death of many.
The devastating Glasgow School of Art fire that destroyed the world-famous Charles Rennie Mackintosh building in 2018 shows what could be at stake if the HES and other conservation bodies spread themselves too thin.
As The Sunday Post reported only a few weeks ago, officials have failed to act on recommendations from the culture committee to assess and prevent the likelihood of fires at each and every A-listed building in Scotland. Bodies like the HES must be realistic about their capabilities to guard against the loss of other beloved historic sites.
Baxter said: "It's a case of prioritising to make sure that we care and protect the very, very special stuff. We're not suggesting we abandon things but when it becomes too much of a challenge, we need to think about how to understand its life course in a different way.
"If we let some sites gently decay and return more to nature, we could discover so much more about them through archaeological excavations, for example. Their lives will be different, but not over."
---
A ruined abbey? A perfect place for our big day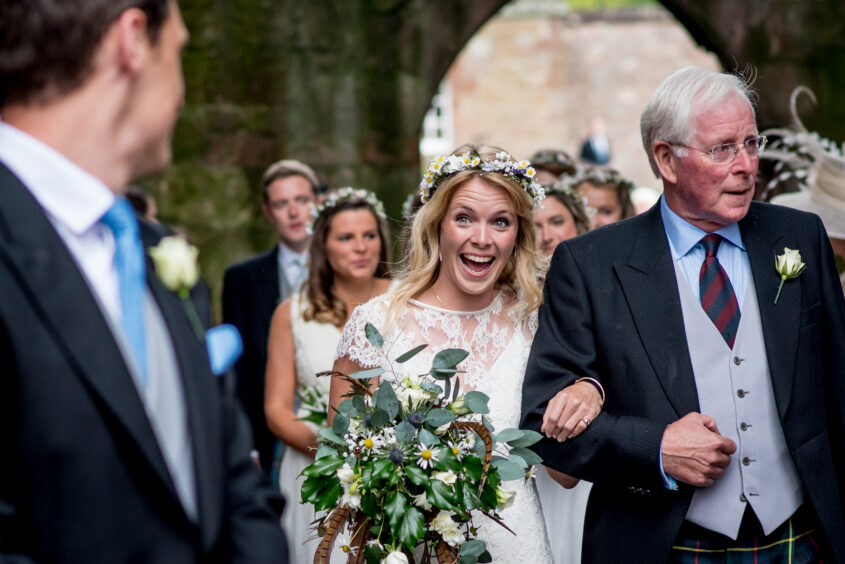 Hattie Roberts, 33, and husband Simon Roberts, 35, live with their newborn in Hampshire, but there was no question that the couple would marry in Melrose Abbey when they tied the knot back in 2016.
Hattie's parents live in the Borders town, and she could see the iconic ruins from her bedroom window when she still lived with them. The ruins were a part of the fabric of their town and therefore their lives, and it made perfect sense to the couple to get married there.
Hattie said: "It was actually my dad who suggested it. He had this vision of what it would be like if we got married there. It just seemed like a really amazing thing to do."
Melrose Abbey is famous for its beautiful ruins, made up of stunning
rose-coloured stones that originate from the 14th Century. King Alexander II is buried there, as well as the embalmed heart of King Robert The Bruce.
Hattie said the atmosphere was indescribable as she walked down the aisle on her wedding day, adding: "A choir from a local village sang The Lord's Prayer in Swahili as I walked down the aisle.
"The sound of it echoing through the abbey was amazing. It was obviously pouring with rain because it is Scotland of course, but it felt so magical we hardly noticed it."
Hattie is disappointed at the news that some Scottish historical landmarks could be closed off, or deliberately left to crumble and decay.
She said: "I think it is very sad, and it is very important to keep something like the abbey. When you think of Melrose, you visualise the abbey, and it is beautiful to see it go through the seasons each year. The community would definitely do everything they could to save it."
The ruins of Melrose Abbey are currently closed to the public after significant decay was discovered in its stonework last summer.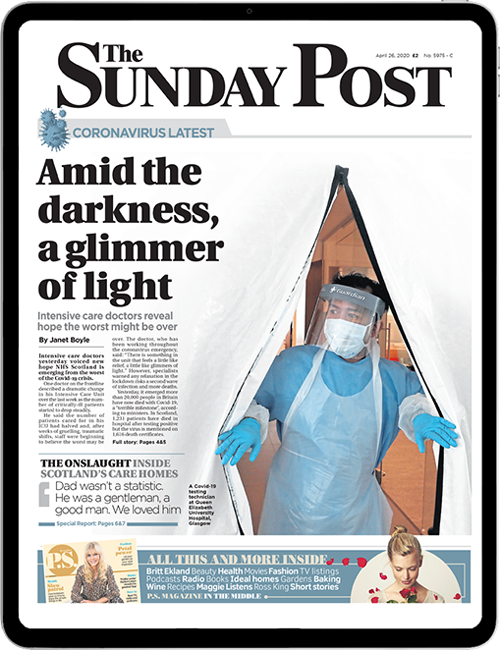 Enjoy the convenience of having The Sunday Post delivered as a digital ePaper straight to your smartphone, tablet or computer.
Subscribe for only £5.49 a month and enjoy all the benefits of the printed paper as a digital replica.
Subscribe