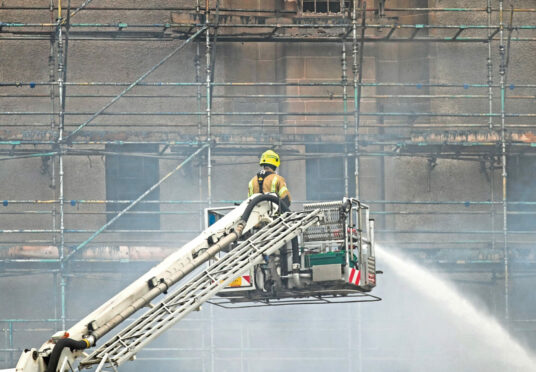 Recommendations made by MSPs investigating the fire that destroyed one of Scotland's most historic buildings have still to be implemented three years on, we can reveal.
The Scottish Government yesterday refused to say if any of the culture committee's recommendations have been actioned four years after a blaze destroyed the world-famous Charles Rennie Mackintosh building at Glasgow School of Art. It was destroyed as a £35 million renovation neared completion after another fire four years earlier.
The committee reported in 2019 when MSPs called for a series of measures, including a judicial inquiry, a fire protection audit and a review of legislation and funding to ensure maximum protection for Scotland's most historic buildings.
After an inquiry that took almost four years, the Scottish Fire and Rescue Service (SFRS) last week reported the cause of the fire could not be determined.
Yesterday, ministers were accused of delaying protection for the country's most precious buildings by waiting for the findings of a much-delayed but ultimately inconclusive fire investigation.
The culture committee had made a series of recommendations to protect Scotland's architectural heritage, which includes more than 3,000 A-listed buildings, in March 2019 in the wake of the fire the previous year.
One key recommendation was a review of A-listed buildings with unique cultural or historic significance to ascertain if any additional interventions might be introduced to mitigate the risk of fire. At the time, then culture secretary Fiona Hyslop responded, saying: "I can confirm that I have asked my officials to take this forward in liaison with Historic Environment Scotland."
However, Historic Environment Scotland yesterday said it had not looked at the audit plan while waiting for the fire service to finish its inquiry.
Former MSP Joan McAlpine, who was convener of the culture committee during its investigation into the fires, said that was disappointing, adding: "The parliamentary committee report revealed that no special measures are in place to protect buildings of national significance from fire.
"We made a number of recommendations intended to address that failing, but none appear to have been taken forward, which is disappointing. The cabinet secretary at the time asked her officials to explore our recommendations for a fire mitigation review of A-listed buildings in public and major institutional ownership – and whether such owners could be compelled to better protect national assets from fire.
"It does not sound like that has been done. The government also promised to explore whether the grant funding system for historic properties of national significance could be adjusted to include fire prevention, and whether Historic Environment Scotland's powers could be extended, to allow them to intervene when an important building was at risk from fire. All of this could have been done before the SFRS report was published."
Writing in The Sunday Post today, she says it is not too late for the recommendations to be implemented, but added: "Unfortunately, it's too late for the jewel in our architectural crown."
The culture committee's recommendations are included its March 2019 report, The Glasgow School of Art Mackintosh Building: The loss of a national treasure.
The 66-page document – almost as long as Scottish Fire and Rescue Service's report published on Tuesday – followed four days of evidence from more than a dozen experts and Glasgow School of Art staff over a period of four months. Hundreds of pages of written evidence from experts and the art school were also considered .
Labour MSP Claire Baker, who was deputy convener of the committee, said there was no reason for ministers to wait on the fire service report: "Recommendations that were relevant to other buildings in Scotland could have been taken forward by the Scottish Government.
"It's concerning that waiting for the report has been used as an excuse not to take forward other actions and not look seriously at issues we raised around ownership, funding and management of buildings of national and historic importance.
"Committees work really hard on reports and come forward with recommendations that have cross-party support, and it's disappointing that the government doesn't really take action on them.
"You get a chance to have a parliamentary debate, but you can't make the government do anything that's in the recommendations. A lot of work has gone into the recommendations, but too often they just sit on a shelf."
Lib Dem MSP Beatrice Wishart, a former member of the culture committee, said: "On this Scottish Government's watch, one of the country's most iconic buildings burned down not once but twice.
"The culture committee's recommendations were designed to ensure our heritage is properly protected but very little seems to have been done to make progress.
"By now there should have been a review of Category A Listed buildings to make sure additional fire precautions were put in place.
"Rather than kicking these recommendations into the long grass, the culture secretary should make sure a tragedy like the art school fire can never happen again. With the report from Scottish Fire and Rescue now in the government's hands, there can be no more excuses for inaction."
Conservative MSP Donald Cameron, deputy convener of the Constitution, Europe, External Affairs and Culture Committee, said: "Rather than kicking the recommendations into the long grass, the Scottish Government must act to ensure the risk of fire to these buildings are mitigated."
At First Minister's Questions on Thursday, Labour's Pauline McNeill asked about independent oversight of rebuilding the art school. Nicola Sturgeon said it was important "all lessons are learned" from the art school fire.
Asked specifically about what action had been taken to implement the committee's main recommendations, the Scottish Government yesterday said it was "too early" to make a decision on holding a public inquiry but "careful consideration" would be given to it. It added: "With regards to the committee's recommendations, we will carefully consider the findings of the SFRS report along with key stakeholders to identify lessons learned as the GSA progresses plans for the rebuild of the Mackintosh building."
Historic Environment Scotland said: "The parliamentary committee has recommended a number of far-reaching changes regarding the use of historic buildings and how they are managed in the planning and building control systems.
"Our review of these recommendations has been dependent on the delayed Scottish Fire and Rescue Service report, which we are now reviewing in detail. In the meantime, we continue to provide our advice and guidance to planning authorities, developers and owners of listed buildings on a case-by-case basis. We also continue to invest in our own incident response and salvage planning across the HES estate."
Scottish Fire and Rescue Service Deputy Chief Officer Ross Haggart said: "We are turning to look at the wider delivery of the recommendations from the Glasgow School of Art report now our investigation has concluded."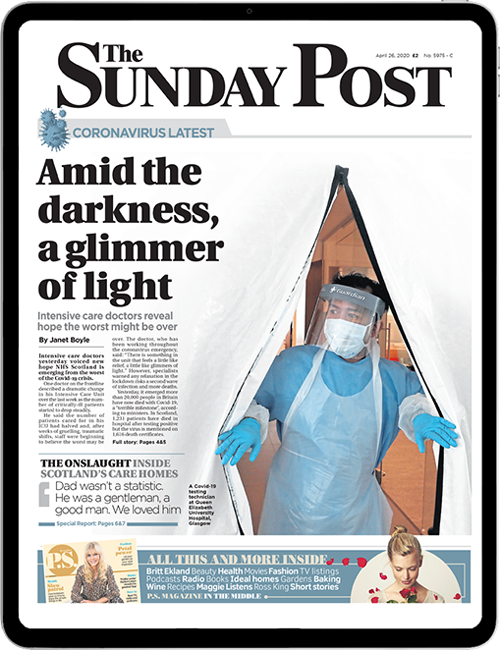 Enjoy the convenience of having The Sunday Post delivered as a digital ePaper straight to your smartphone, tablet or computer.
Subscribe for only £5.49 a month and enjoy all the benefits of the printed paper as a digital replica.
Subscribe