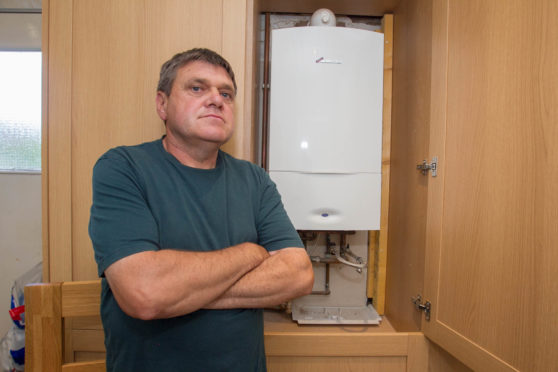 Donald Marquis was promised his new energy-saving boiler would pay for itself.
The Worcester Bosch device would be worth the £7,000 price tag because of the significant savings he would make on his energy bills, he was told.
However, over the past four years the self-employed gardener's bills have risen and he is now saddled with a debt he will not pay off until 2027.
Even more frustrating is that the company he purchased the boiler from – Glasgow-based home improvements finance firm 1North Ltd – has gone bust.
"It means I have no idea who is responsible for the warranty and the maintenance for the boiler," said Donald, 55, from Paisley.
"I am continuing to pay for something that was way overpriced in the first place."
Donald is just one of thousands of homeowners who say they were misled when they signed up to the Government's flagship energy-saving scheme.
Launched in 2013, the Green Deal was promoted as "the biggest home improvement programme since the Second World War".
It promised homeowners solar panels, insulation and new boilers, with no up-front cost. Customers would need to take out a loan, but they were assured the repayments would be no more than the savings they would make on energy bills.
So if a customer's bill was £1,200 a year, they would pay no more than that, and any savings generated would be used to cover Green Deal repayments.
The problem was that this was based on a typical household's energy usage, and many homeowners who used less than average have ended up with higher bills.
Also, the loans were tied to the property, rather than the individual, meaning homeowners could struggle to sell their house in the future.
The multi-million-pound initiative was scrapped by the Government after just two years and was described by MPs as a "complete fiasco".
But the flopped scheme has left a legacy of thousands of households lumbered with high-interest loans they will be paying for years to come. Donald only noticed his Government-accredited Green Deal provider, 1North, had gone to the wall when in April he received a statement of account from the firm via Glasgow-based liquidators Begbies Traynor.
He discovered 1North had gone into liquidation in 2017 but he was angered at being asked to still pay off about £4,500 over the next eight years.
He wanted out of the commitment and wrote to Raw Deal, as he could not find out who was responsible for the ongoing contract for the boiler.
"It is ridiculous a company can go bust leaving customers in the lurch yet we are still expected to pay through the nose."
Donald's energy provider, British Gas, collects his quarterly payments but the company said it was not responsible for any element of the loan.
British Gas suggested if Donald was not happy with the deal, he should complain to the liquidators.
When Raw Deal contacted Begbies Traynor on his behalf we were told that the 1North Ltd customer book and finance agreements were re-purchased by the Green Deal Finance Company Limited (GDFC).
But a spokesperson for the GDFC said it was "not related" to 1North Ltd and "was not involved in the sale or installation of Mr Marquis' boiler".
We were told: "1North Ltd entered into the loan with Mr Marquis and installed his boiler."
For Donald and other consumers who feel they were mis-sold Green Deal products and want to settle their agreements early, the best option is to now appeal directly to the Financial Ombudsman.
"I feel that I have been let down badly by the Government on this one," said Donald.
"They gave the Green Deal scheme their seal of approval but for many of us it has turned out to be an ongoing and expensive sham."