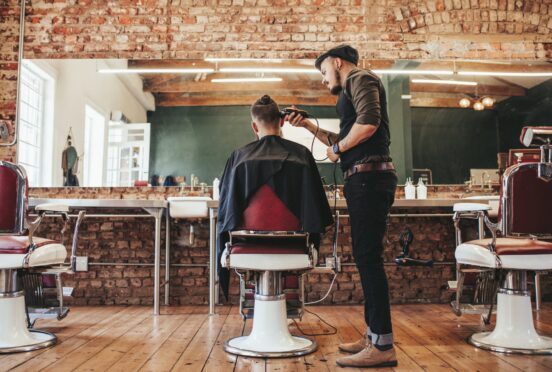 Small talk with the person holding the scissors is a familiar part of the haircut experience for many of us.
But, for some, it extends beyond matters of where they're going on their next holiday to much more serious topics, with a recent study revealing that British men are more comfortable talking to their barber than their GP about mental health struggles.
Now, with public health initiatives increasingly looking to proactively make a difference, the Scottish Violence Reduction Unit (SVRU) and mental health charity Brothers In Arms (BIA) have come together to deliver special training to second-year hair styling and barber HND students at Glasgow Clyde College (GCC).
The course in how to identify warning signs and signpost support had been piloted at Rebel Rebel and a number of other salons in Glasgow before being rolled out to the next wave of workers, many of whom have already identified situations in which they felt unprepared to have such conversations.
"The qualification that they have is great and gives them good skills," explained Claire Glen, Assistant Principal for the Faculty of Health and Wellbeing at GCC.
"When they've got somebody in a chair with them, sometimes it could be for half an hour, sometimes it could be hours. When they go on placement, they hear things in a salon, but don't know how to support somebody.
"The students would feed back to their lecturers that somebody had said something to them and they just didn't know what to say or do, or somebody missed their appointment and they're a wee bit worried about them."
Spotting the warning signs
The course will give students training on how to support clients if they spot any warning signs.
The training, which uses a mix of teaching and role play sessions, educates students on the appropriate steps to take when a client makes an important disclosure, as well as on issues relating to alcohol and drugs.
Using the Time, Space and Compassion approach to suicide prevention, developed by the Scottish Government, students will be coached on how to best assist.
Heather Gray, a hairdressing student who took part in the first session, said the training would help her be more confident to approach and assist in future.
"Nowadays most people have somebody in their lives or know somebody who has been affected by mental health and maybe even suicide," she said.
"Knowing what to say and how to act and provide vital information on services is so important as a lot of people are not aware. I think the training should be offered everywhere that it can be.
"The main things I took away were the stats on mental health and suicide, especially in males.
"It's really shocking and upsetting to know that the numbers are so high and how males feel that they really just don't know where to turn or feel that they can't open up without being a burden or feeling ashamed.
"The training has made me more confident to approach or try to assist someone who may be struggling and hopefully help them by listening and letting them know there is help and where they can get it.
"If it helps one person, then it's worth it."
Skills at the outset
Brothers In Arms, who run a free app for men to self-manage their own mental wellbeing, are heavily involved in the sessions and can provide the aftercare element to any men requiring support. The training is set to be expanded to stylists, beauty therapists, personal trainers and sports coaches.
The charity's Gary Goldie said: "I was a personal trainer and for the past few years the skills that I needed were counselling and listening skills rather than physical.
"It was much more about being able to sit with a person who wants to share a relationship issue with you, an issue from their past, things like that. It would have been fantastic for me to have these skills from the outset.
"It's great for barbers and hair stylists to have it at the front end. Alan, from Rebel Rebel, said he felt like he'd been counselling people for years, but never had any formal training. It's about actually giving them proactive tools and also permission to ask these difficult questions."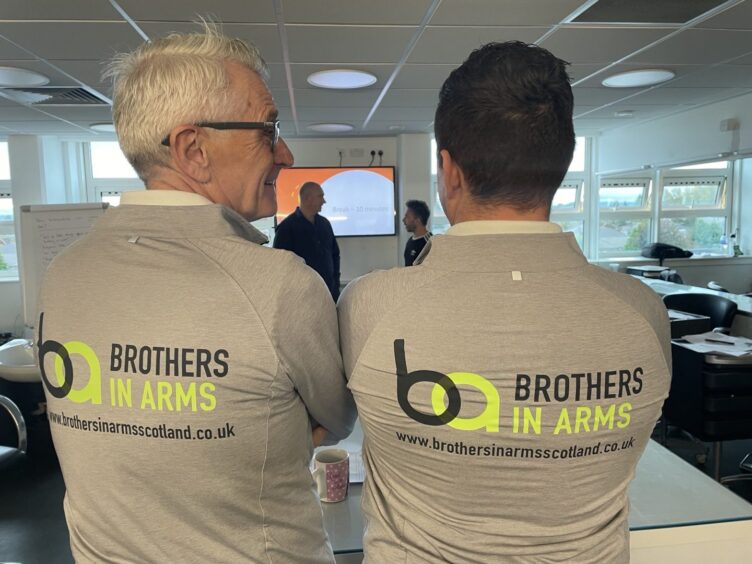 Gary hopes that the initiative can be expanded outwith the education system into businesses and beyond, and has already been in touch with a number of institutions to run training.
"We want to be like a gym for the mind," he added. "It's entirely acceptable to go to the gym and look after your body two or three times a week. Why are we not doing that for our mind?
"So many charities and organisations, and certainly the NHS system, are created to kick in when a man is ready to reach out, the point of saying they're really struggling and actually need some help. To us that's really far too late.
"The most important part about this training is giving people the tools and skills to reach in and be brave. It's quite scary for most people to, for example, ask a man if they have a plan for suicide. We're giving people practise at having that type of conversation."
A positive difference
One third of Scots have reported sleeping less due to stress and suicide rates were up in 2022 from the previous year in Scotland.
The SVRU has identified that male suicide rates are higher than women's rates across the UK, and is looking to tackle this endemic in pioneering ways such as this project.
Kirsty Giles, a project manager at the SVRU, said: "We have been blown away by the support and positive response from the mental health and suicide prevention training day at Glasgow Clyde College.
"The passion, insight and personal experiences shared by these students, college staff and partners had a profound impact on everyone who attended.
"Students also talked about feeling more confident if they had someone disclose lived experience of mental health or suicide to them and knowing what to say and what to do to help."
'Mental health care postcode lottery has to end' as suicide is now leading cause of death for new mums
The project is also part of Glasgow Clyde College's wider nurturing campus initiative to provide greater focus on wellbeing across their curriculum.
"SQA qualifications are why students come, and we're really well set up for that, but what we're finding more and more is that demand for support with mental health and general well-being," Claire said.
"Our counselling service is in high demand as it is in colleges across Scotland. We just can't ignore what we see in front of us."
---
For information and support visit brothersinarmsscotland.co.uk. Call Samaritans for free on 116 123, email them at jo@samaritans.org, or visit samaritans.org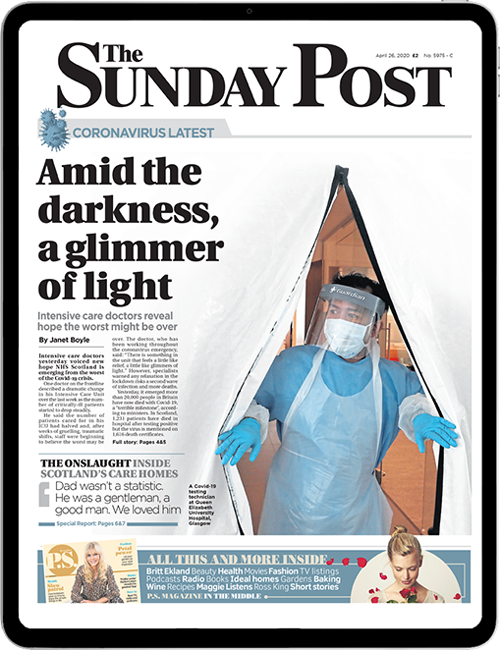 Enjoy the convenience of having The Sunday Post delivered as a digital ePaper straight to your smartphone, tablet or computer.
Subscribe for only £5.49 a month and enjoy all the benefits of the printed paper as a digital replica.
Subscribe