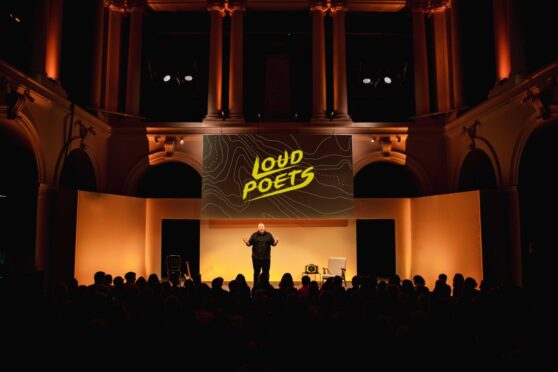 He feels slightly guilty confessing it, but when poet, performer and actor Kevin Mclean thinks back to school, he didn't really like poetry.
Growing up in Livingston with no coast or countryside around him, he found it difficult to connect with the works he was shown in class.
When he found the spoken word scene, however, its accessibility and contemporary, punchy energy enthralled him, showing him there was a place for poetry both on the page, and also the stage.
Now, as creative director of production and entertainment company I Am Loud, his mission is to champion Scotland's spoken word poetry scene and carry on a rich national heritage.
"When I started, I wrote everything in my head. You didn't even need a pen and paper, just a thought and a way to express it.
"I always feel bad saying it considering it's my career, but I hated poetry in high school.
"Seamus Heaney is a huge inspiration of mine now but when I was 14 he just wasn't representative of my existence.
"Spoken word grabbed me immediately because it represented my lived experience.
"Page poetry is meant to be poured over, read and reread and new meaning found, dissected in a way.
"Spoken word lives in the instant, in the ephemeral, it's supposed to be understood in the moment it's being heard, so it requires a very different approach. I think they're doing two very different things."
Loud Poets
Kevin will host Loud Poets showcase and open mic events in Edinburgh and Inverness next weekend, platforming both emerging artists and some of the UK's most established performers, including former World Slam Poetry Competition champion and BBC radio regular Harry Baker.
"I had this conversation years ago, with one of my favourite poets in the country, Jim Monaghan, who said there's no other art form where the top and bottom mix as much as poetry," Kevin said.
"In music, you'd never find Beyoncé in the same room as your local open mic performers. When you have something like that, it's very cool.
"Harry will be up in Inverness and he's arguably one of the best known poets in the UK but we do a format where everyone has the same time. We'll have Beth Godfrey on who's an emerging Scottish voice but has had fewer opportunities. It's important for us to give her the same platform, so it's not like she's here supporting, she's a poet in her own right."
One of Kevin's favourite things about the spoken word scene in Scotland is its make up, with so many different voices taking part in events and finding a safe space to explore subjects ranging from complex and emotional explorations of identity, culture and language, to funny tales and folklore.
"It's a very diverse scene and that is something we massively encourage," he said. "Our slam final in August was incredible. We had people speaking Gaelic, Doric and Scots. You had people doing horror poetry, comedy, some really impactful stuff, and every bit of politics was covered. It was a huge range that I don't think you would see at any other kind of performance.
"We had Angie Strachan doing a poem called The Ayrshire Seagull Massacre, which was about how annoying seagulls are when you're trying to have a romantic chippy. It's a hilarious poem, and then in the next beat you have Rosie Jo Hunter doing a beautiful piece about the trans experience.
"The production and framing of the night allows you to sink into those maybe more introspective, emotional or intense pieces and then always brings the energy back."
Spoken word scene
I Am Loud started in 2014 as a group of friends making their own space for performance. While not everyone wants to be a professional poet, it became both a place for people to perform but also the beginning of an infrastructure to allow a through-line to bigger gigs and opportunities for those taking part.
"A lot of very talented poets would do spoken word for a while and they'd realise there weren't opportunities to continue doing it and would go down a more literary route, or to theatre, music or comedy," Kevin explained.
"Spoken word uses a bit of all of these amazing skills really but then you pick one and leave the body of it. We're trying to create an infrastructure that means you don't have to do that."
The group's increased use of digital spaces has also provided a platform for people's work to flourish and be preserved for the future.
"When you look at the huge amount of work that the National Library does to archive writers, that doesn't exist for spoken word," Kevin said.
"What we're trying to do is create alternatives.
"We have our YouTube channel with hundreds of videos from over the last few years. The aim is to try and create an archive there of what the poetry scene looks like so that you can trawl back through that and see years and years' worth.
"I think when people think of poetry, because of high school they think of it like an educational tool or a historical tool. If you find the right show with the right performer and production, you couldn't find a better thing to watch."
---
Loud Poets is at the Scottish Storytelling Centre, Edinburgh, November 17 and The Bike Shed, Inverness, November 18. Visit iamloud.co/live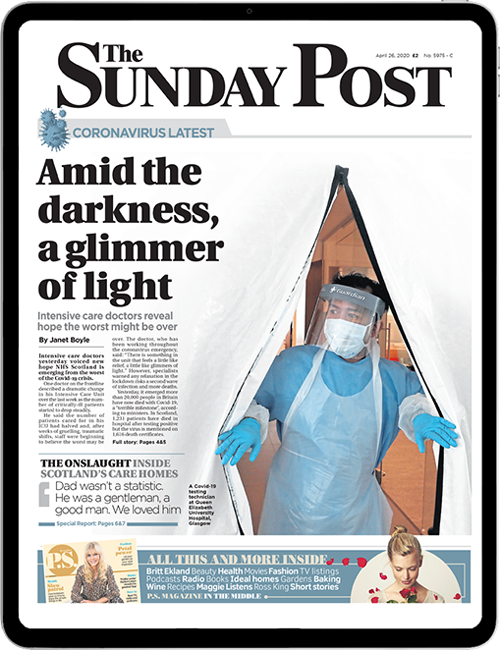 Enjoy the convenience of having The Sunday Post delivered as a digital ePaper straight to your smartphone, tablet or computer.
Subscribe for only £5.49 a month and enjoy all the benefits of the printed paper as a digital replica.
Subscribe