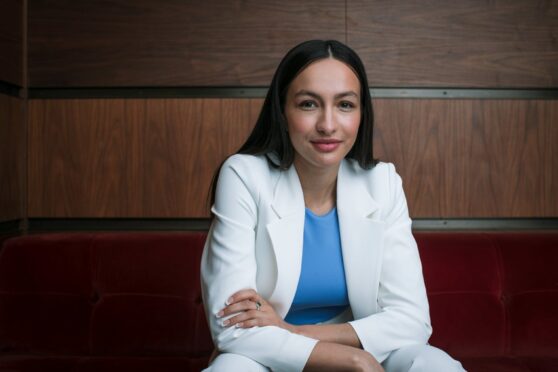 In the opening moments of the third and final series of Guilt, Amelia Isaac Jones runs through the streets of Edinburgh in a tense chase scene.
The breathless sequence proves to be an explosive way not only to introduce viewers to her character, Skye Burns, but also to Jones, as her role in the hit series is her television debut.
While her character's first scenes might have been a race for survival, Jones already knows making it in the entertainment industry is a marathon of endurance and patience rather than a sprint. Rejected by drama schools 14 times before earning a place to study, Jones – who turns 25 next month – remained resolute that acting is what she was meant to do, despite the years of disappointment.
"It didn't come easy at all," she admitted, ahead of Guilt's return to screens later this month. "I applied for four years and received 14 rejections, and then I got into the Manchester School of Theatre. At no point did it come easy but I always had faith it would happen for me."
Jones applied to drama school when she was 16 and 17, and when a gap year failed to see her find a way in, she was forced to go in a different direction, at least temporarily. "My mum said I couldn't take a second gap year and I would need to think about doing something else until I got into drama school," she said.
"So I went to university and did journalism for a year, which I found interesting, but I knew my passion lay elsewhere. After a year I auditioned for drama school again and got in."
Since graduating in 2021, Jones, who lives in Kilmarnock, had been working in theatre but was keen to move into screen work.
"I've been lucky to do some great plays but I wanted to do TV as well. My agent, who is great, kept putting me up for roles and I was never seen for them. I'm impatient and I called him to ask what I could do, and he told me to relax, that there was no problem and my time would come.
"About a week later, the Guilt audition came through. I was sent the first two scripts and they were just incredible. Skye opens episode one and I remember thinking, 'Surely they've sent me the wrong character?' because it was brilliant. I sent off my self-tape and a week later I heard they liked me and then I got an email inviting me to Glasgow for my first-ever TV recall.
"It was me, the director, the producer and the casting director, and I was in and out in less than 10 minutes, so it was hard to tell how it had gone. A week later, my agent called to tell me I had the job. Receiving that call, it felt like my life was about to change."
Hit drama Guilt
Guilt was the first drama commission for the BBC Scotland channel in 2019 and was a hit with viewers and critics alike. Its success was replicated when it was shown across the network on BBC Two and then internationally.
Created and written by Neil Forsyth, whose most recent show The Gold was a Sunday evening success, the series follows two chalk-and-cheese brothers, Max and Jake, whose attempts at covering up a hit-and-run lead them into a criminal underworld.
The series features some of Scotland's best acting talent, including Mark Bonnar, Jamie Sives, Emun Elliott, Sara Vickers and Phyllis Logan, a fact not lost on Jones when she began filming.
Look at these two beauties.

3rd and final series of Guilt:

April 25th BBC Scotland 10pm

April 27th BBC2 9pm

All episodes on iPlayer from the 25th. First two series on iPlayer now. #Guilt pic.twitter.com/Lbgc5uGhp4

— Neil Forsyth (@mrneilforsyth) April 13, 2023
"I was nervous on the first day but everyone was lovely with me and I settled quickly," she smiled. "There were so many pinch-me moments. In the first week, I was filming with Mark Bonnar and I had so many questions. I couldn't believe I was there and asking him for advice.
"Everyone was so funny, too. I had a scene later on with Mark, Emun and Jamie and between takes they were all cracking jokes but the moment 'Action' was called, they switched straight into a serious scene but I was still laughing.
"The director, Pat Harkins, mentored me throughout and I'm really appreciative of him. He knew it was my first job and I spoke to him at the beginning and said I was feeling nervous. For the full 10 weeks, after every take or scene he would give tips or offer words of encouragement."
As series three begins, Max and Jake soon find themselves back in Edinburgh. It isn't long before Jones's character, Skye, who has her own issues to deal with, finds herself caught up in the brothers' troubles.
"Skye is a firecracker," Jones said. "She comes from the rough end of Leith and had a difficult upbringing but is now studying law at Edinburgh University. She's stuck between two worlds of where she came from and where she wants to be and we find her struggling to make the leap across. She's a rare combination of being very academic and also street smart. We find her in a bit of a mess because she's got herself involved in a drug dealing situation and it's because of that she needs help and that's how she ends up meeting Max and Jake."
Jones was born in England and comes from a family of performers – her parents studied classical music and were pianists, while her aunt and uncle were also classical musicians, all studying at music college in London. When her dad retrained as an air traffic controller, the family relocated to Ayr after he got a job at Prestwick Airport.
"We moved here when I was six and when I went to primary school I picked up the Scottish accent, but when I went home at night to my English family I used my English accent. I've been juggling these two accents nearly all my life and it becomes very complicated."
And so it transpired when she was on Guilt.
"When I did my self-tape, I introduced myself in a Scottish accent because it was a Scottish part, and I did the same in the recall audition. When I got the role I didn't want to tell them I was English in case they thought I'd lied to get the part, so for the 10 weeks of the shoot I spoke to everyone in my Scottish accent, which was hard because a lot of the cast and crew were English.
"It was only at the wrap party that I told the producer, who is English. The next time I saw the director, the first thing he said was, 'So you're English?' but he thought it was hilarious, which was lucky."
Early start
Being from a family of entertainers ensured Jones had the bug from a young age. Her grandparents like to remind her of the time she was three years old and in a restaurant. When the music started, she was up and dancing around all the tables.
"It's always been part of my personality – I was the annoying kid at family gatherings who would devise, produce, direct and star in a show, insisting my brother and cousins all joined in. When I was a teenager, I went to the Royal Conservatoire of Scotland's Junior Conservatoire, going up to Glasgow every Sunday for two and a half years for this amazing training from the same tutors who were working on the BA course."
Since graduating, Jones has starred in The Strange Undoing Of Prudencia Hart at the Royal Exchange in Manchester, toured Scotland with another play, The Hope River Girls, and performed in The Climbers at Keswick's Theatre By The Lake.
She's recently worked on a development of Dracula for the National Theatre of Scotland and is now looking forward to Guilt coming back to our screens, not just because she hopes it leads to more work but also because she is a huge fan of the show.
"I feel so lucky Guilt is my first television job, because it's such an incredible show," she added. "I was such a fan of it when it first aired, so to be in it is incredible – almost like I was picked up and dropped into the TV!
"I felt like Guilt was such a refreshing piece of Scottish television, so different from anything else I've watched. The storylines and acting are incredible. I feel very blessed."
---
Caught in a running battle
Although it might only last for a few exhilarating minutes on screen, to film the opening sequence of the new series of Guilt took days of exhausting night shoots.
Amelia Isaac Jones's character, Skye, is chased by a gang through the streets of Edinburgh back to her home in a nerve-shredding beginning to the final series of the comedy thriller.
However, we soon discover there is trouble to be found at her house, too.
"I've watched that scene already because I had some ADR (automated dialogue replacement) to do on it and I was really shocked at how short it is, because we filmed for about five days," Jones laughed.
"We ran through Edinburgh, East Kilbride, Glasgow – I ran and ran and ran, and I'm not a runner at all.
"It came a little later in the shoot, and I'm lucky I live near a gym, so they took me in and trained me up, otherwise I wouldn't have managed it.
"It's also a little nod to the famous Trainspotting scene. It all felt very surreal but it was an amazing thing to do.
"I ran for about five days during the day and at night.
"My little brother, Sammy, is studying sports science at university just now – he would have been much better at those running scenes than I was!"
---
Guilt, BBC Scotland, Tuesday, April 25, 10pm and iPlayer. BBC Two, Thursday, April 27, 9pm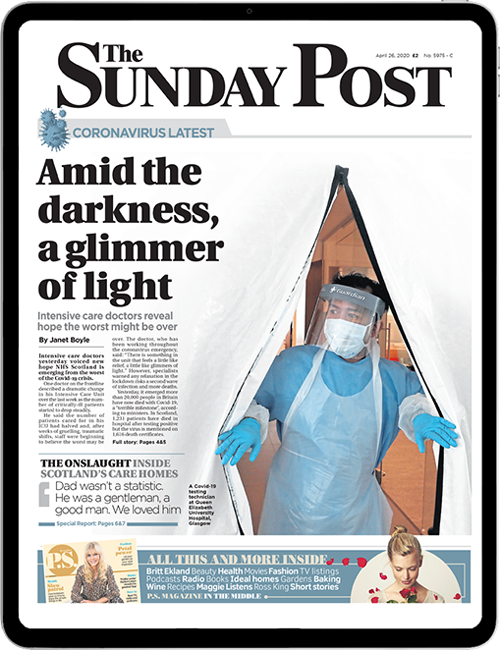 Enjoy the convenience of having The Sunday Post delivered as a digital ePaper straight to your smartphone, tablet or computer.
Subscribe for only £5.49 a month and enjoy all the benefits of the printed paper as a digital replica.
Subscribe