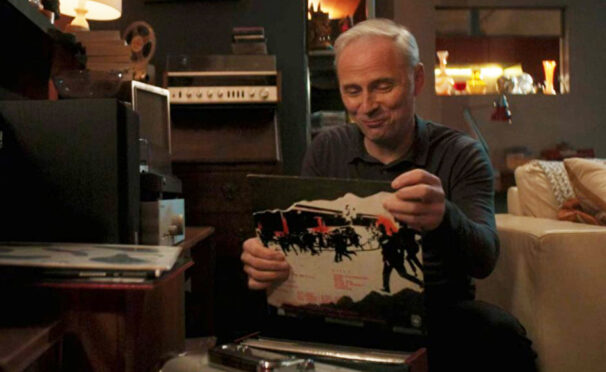 It is a little bit of art, a little bit of science but the perfect soundtrack moment often needs a little bit of luck.
When it works, when the music suits the screen moment and elevates and amplifies the drama, it is hard to forget, from John Travolta walking down the street to The Joker walking down the steps.
Neil Forsyth, writer and creator of hit BBC Scotland drama, Guilt, admits that almost as much time was spent debating the soundtrack as the script in the drama that has been acclaimed after a twisty second series featuring eclectic selections from German experimental rockers Can to The Clash.
"It's something I'm careful with as far as the final sign-off goes," said Forsyth. "It's such a big part of the show, the tone and outlook of it, the feel of it. It's an intrinsic part so we spend a lot of time on it. When it goes to the edit, we sometimes look at more than 100 tracks just to get the right one set against the action.
"It's a committee – myself, the producer Neil Webster, who is also a musician, and directors, Robbie McKillop for the first series and Pat Harkins for the second. I usually make a Spotify list while I'm writing the scripts, Neil will add his thoughts to that, and then in the edit we'll share that with the director and producers, chucking their ideas in.
"Some shows just slap on commercial tracks or ill-fitting scores without thinking about it too much but in my shows it really is a big part. It can lift or enhance a sequence or scene if you get the right track.
"Sometimes I'll write specific tracks into the script, not often, because it can look a bit prescriptive when other people should have an opinion on these things but I do it at key moments, big set-pieces. Usually it's something I've been listening to as I write which I feel fits the mood or the sequence – I write a lot of sequences and montages, often a minute or two without dialogue. If we can't get that specific track, it gives a tonal guide for other music we could try.
"In the first sequence of the second series, as Mark Bonnar's character walks through Edinburgh, Neil Webster suggested F-'oldin' Money by The Fall after reading the script and it fits perfectly. Then, at the end of that episode, I had The Skids' Into The Valley in my head from the moment I wrote the scene, as I thought it would give us that triumphant end point.
"In the first series, Robbie suggested Can, a pretty cult band, and they fitted perfectly. We also thought we'd love to use Van Morrison's cover of Dylan's It's All Over Now, Baby Blue, but we thought we'd no chance. But producer Peter Fincham knew Dylan's manager and sent him a plea, and we got the track for probably the least amount anyone has paid for a Bob Dylan song on TV ever.
"Sometimes it's pulling favours, sometimes we manage to get the rights but it's always a battle and we work hard on the show's music because it's such a big part of it."
While Neil, who also wrote the Bob Servant comedy starring Brian Cox, prefers to work in silence as he plots out an episode, when it comes to writing the scripts he puts together a playlist for inspiration.
"I tend to do a playlist for each project," the 43-year-old continued. "I'm writing a show just now that is set in the '80s and I've done a playlist that I'm listening to while writing. It gets me in the right frame of mind. I need complete concentration when outlining an episode but when I'm writing it's much more creative and free-flowing. I listen to music a lot – it helps my writing muscle. There's two sides to it – the generic inspirational side and finding the music for the mood of what I'm writing.
"When I wrote Eric, Ernie And Me (about the relationship between Morecambe and Wise and their writer Eddie Braben) I spoke to Eddie's widow and she told me his favourite music and what he'd listen to, and I listened to that when I was trying to channel his thoughts."
Choosing the music for Guilt has allowed Forsyth and his collaborators to give a chance to new bands, such as The Lounge Society, teenagers from Yorkshire whose song features in the opening episode of series two. But it has also put him in the firing line from, as he describes them, "even bigger music geeks than I am".
"They'll contact me and correct me – for example, there's a scene in the new series where they put on the first Clash album and play Police & Thieves, which I really wanted to put across the end of the episode.
"But people contacted me to say that it was track four on the record and so it wouldn't have come straight on when they put the vinyl on. There's always someone there to correct me, but it felt right having the Clash, and we also use the band as a plot device."
Growing up in Dundee, Forsyth's music tastes were eclectic from the beginning. He would spend hours in the city's famous Groucho's record shop and just as long trying to push his way into his big brother's bedroom where Alan and his friends would be listening to indie bands like Happy Mondays, Inspiral Carpets, Primal Scream and Carter The Unstoppable Sex Machine.
"I can remember the smell of records and cigarettes in Groucho's. It was a portal to another dimension," said Forsyth. "They sold tickets and put on buses to concerts across Scotland, like the early incarnation of T In The Park. They also sold football fanzines, and I was a big collector."
Forsyth's influences are all over Guilt. The first series introduced viewers to brothers Jake and Max, played by Jamie Sives and Mark Bonnar, whose involvement in a hit and run led to them being caught up in a much bigger web of crime. A second season was commissioned just as the first series aired to critical acclaim but the writer says this didn't affect his approach to the follow-up.
"I put it out of my mind and concentrated on the story, so there wasn't any great pressure," he explained. "I was driven by what I thought the story needed rather than the public perception, otherwise I think bad creative decisions can be made.
"As a TV writer, the vast majority of what you write, you do so in the hope it is produced, so it was a great positive and a motivating tool, it was exciting. There were no niggling thoughts that I was pouring myself into this and it might not see the light of day – if anything, knowing it was going to be made was a great thing."
And Forsyth hopes we will see the characters one more time.
"I'd love to do a final series and get the trilogy, that would be creatively satisfying," he added. "We'll need to wait and see, but it's gone down well, viewing numbers have been brilliant, and the critical reception has been good, so it has a shot."
---
Sound and vision
Guilt creator Neil Forsyth reveals a few of his favourite things from Tony Soprano to Puff the Magic Dragon.
Your favourite movie soundtrack?
I love the music in Drive, how well it fits against the action and mood of the film.
The first record you bought?
Puff The Magic Dragon. I was five and my wonderful mother went to every record shop in Dundee, which must have provoked some bewildering conversations, before finally tracking it down.
Which song lyric speaks to you the most?
Bob Dylan – Visions Of Johanna
Now, little boy lost, he takes himself so seriously

He brags of his misery, he likes to live dangerously
That describes half my life.
Who is your music hero?
Bob Dylan. I spent all my paper round money on secondhand Dylan records from Groucho's Record Shop in Dundee in the early '90s.
What was your first gig?
Carter The Unstoppable Sex Machine at Queen's Hall in Edinburgh. I was 16 and had some fake ID I'd bought from an advert at the back of Viz Magazine. A brilliant night.
Which TV series impresses you the most?
The Sopranos, for the storytelling, the characters, the weaving of humour into the drama and the crystal-clear authorial voice.
Which comedian makes you laugh hardest?
Billy Connolly. I remember rolling about on the carpet in Broughty Ferry in the 1980s watching a video of Billy at the Albert Hall, and then I was at one of his last gigs at the Hammersmith Apollo a couple of years ago, which was a surprisingly emotional evening.
You can have a drink with any celebrity so who do you choose?
A few years ago, Bruce Robinson, the director of Withnail And I, invited me round to his house for a drink when we lived close to each other, and I never managed to make it. It's one of my great regrets, so I would probably choose to finally make that night happen.
What film makes you cry?
Zulu. I watched it with my Great Uncle Bill one Saturday afternoon in Broughty Ferry in the mid-1980s, and it's been a special film and memory every since.
---
Guilt, BBC Scotland, Tuesday, 10pm, and BBC2, Thursday, 9pm; all episodes also available on iPlayer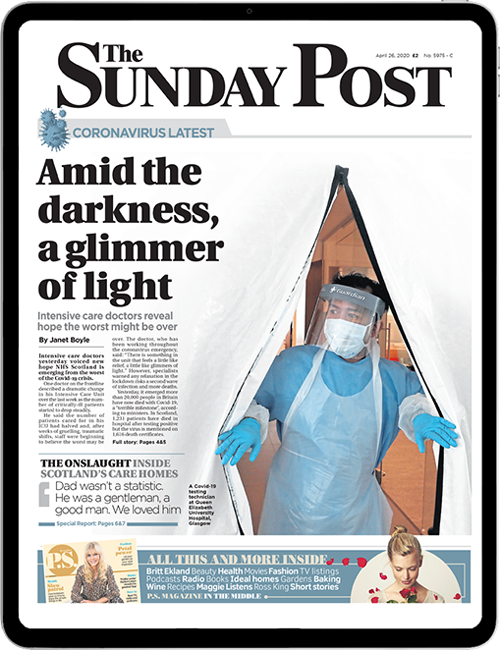 Enjoy the convenience of having The Sunday Post delivered as a digital ePaper straight to your smartphone, tablet or computer.
Subscribe for only £5.49 a month and enjoy all the benefits of the printed paper as a digital replica.
Subscribe