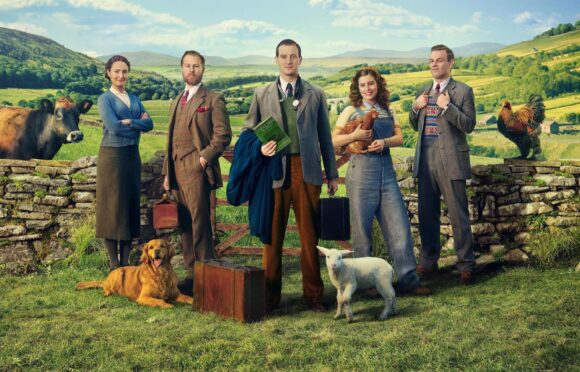 She has designed the costumes for some of the biggest shows on TV from Inspector George Gently and The Thick Of It to The Last Kingdom and All Creatures Great And Small.
Now Ros Little has revealed her career was set when making gonks for the Brownies and she fell in love with sewing as a youngster growing up in Newport-on-Tay, Fife.
The award-winning designer later trained at Edinburgh College of Art and worked in theatres in Scotland before securing a job at the BBC in London and never looked back.
"As a teenager, the way to acquire the kind of clothes you saw in Jackie magazine was to make them," remembered Little. "I was sewing from an early age and I learned to knit when I was four. I remember aged 11 sewing gonks from felt for a sale of work at the Brownies.
"I was always busy with something. I loved creating things. I still knit and sew for pleasure. I find it really relaxing. It's a bit like yoga."
Little's CV also includes children's series Horrible Histories, political satire The Thick Of It, historical drama Heroes And Villains, and Poldark, starring Aidan Turner. She has just completed her third series of the Channel 5 adaptation of All Creatures starring Nicholas Ralph as vet James Herriot, which is set to air in the autumn.
"I like period productions and I'm proud of my work on All Creatures," said Little, who has two grown-up daughters and lives in London with her theatre photographer husband Robbie Jack.
"One of the things that drew me to the show is the amount of research that has gone in. As a trainee in the 1990s I worked on one of the final episodes of the BBC adaptation.
"It's exciting to set up a series because you're creating the look. Before even the actors come in, you're working closely with the lead director, set designer and make-up artist. It's a very collaborative process. Preparation is the key and with something like this, it's absolutely vital that it's authentic, believable and practical."
She worked with a team and sought out source material from the Vet School at Glasgow University and also the Veterinary History Society.
Some costumes were specially made while others were hired. "My brother Christopher, a vet who studied and lectured at Glasgow, suggested I contact the university.
"I was able to source photographs of students in the 1930s which I have used relentlessly. It turned out that Nick Ralph had also gone to the Vet School for inspiration."
She first met actors including Samuel West, who plays Siegfried Farnon, Callum Woodhouse, as his brother Tristan, and Ralph at a read-through in Yorkshire, then at costume fittings in London. "I had worked with Sam before. He wanted his character to look respectable and well-dressed but a bit shabby, a little eccentric," said Little.
"Nick and Callum were a breath of fresh air, delightful to work with. Callum loved the Fair Isle sweaters that Peter Davison wore in the BBC series. Nick is fun, interested in the costumes and so talented. But they all are. That's the fundamental thing about the series, they've found such a talented group of actors. You could have the most wonderful costumes and set but unless the actors are good you don't have a production."
Her favourite commissions to date are the ones she set up from scratch and include The Last Kingdom and Horrible Histories, as well as All Creatures. "The Last Kingdom was a huge production in Hungary," explained Little, who has won two Royal Television Society awards for her work.
"It was a bit like All Creatures, a wonderful team. Most of the costumes had to be made and they weren't just costumes, these were armour. Horrible Histories was brilliant fun too. I also did the film. There could be 100 costumes in a week. George Gently had high production values and superb directors. I worked on series five which was set in 1966 and the last series in the 1970s when we 'killed off' Martin Shaw."
When the industry shut down due to Covid, Little pulled together a team and started sewing scrubs. Fellow costume designer Dulcie Scott had coordinated a group of 180 people calling themselves Helping Dress Medics. They made more than 8500 sets of scrubs and 14,500 masks.
"That got me back into sewing for myself," explained Little. "I've since made trousers and pyjamas. It's actually very relaxing."
The costumes for series three of All Creatures are top secret until transmission. "I'm not allowed to give away any spoilers," laughed Ros, who was delighted to be back on location in Yorkshire post-Covid, after working on series two from London. "But a lot of uniforms will come in as the Second World War breaks out. It's an interesting period in history and there was a lot of new research to do.
"Some days you are so busy that you don't even get out of the costume truck. But a job without its challenges is not very interesting."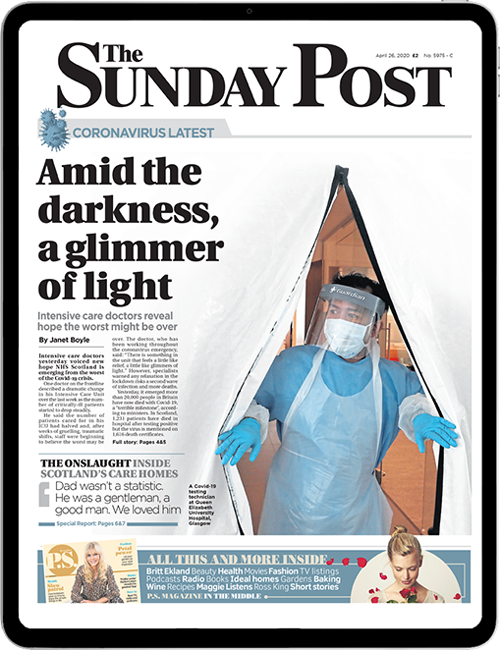 Enjoy the convenience of having The Sunday Post delivered as a digital ePaper straight to your smartphone, tablet or computer.
Subscribe for only £5.49 a month and enjoy all the benefits of the printed paper as a digital replica.
Subscribe