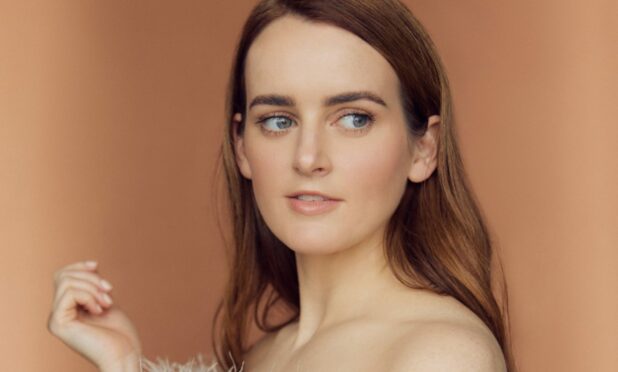 The Stanislavski Method of acting famously teaches students of the form to quite literally step into their character's shoes.
Think of Robert De Niro, who drove a New York cab to prepare for his role in Taxi Driver, or Daniel Day Lewis who learned dressmaking for two years ahead of his role in The Phantom Thread.
Similarly, Sophie McShera tried to build her character in 18th Century period drama The Gallows Pole from the boots (or clogs in this case) up. That involved period-appropriate footwear, as well as layers of scratchy wool clothing and, of course, a corset.
Sophie admits to having second thoughts, however, about committing to the historically accurate footwear after a moment in a muddy cemetery.
"Those clogs are death traps," she says, eyes widening at the memory. "I took a massive tumble one day in the graveyard. I was trying to be dead hard like my character Grace and…whoops!
"But that aside, the clothes were amazing, they never felt like they were costumes that were just put on you. They felt exactly right, like we were existing in the real environment where all this happened.
"From the clogs, to the texture of the clothes, to making sure my character could do all the work she really would be doing in her life – it was all so lovingly done.
"I wanted to feel like I'd been working in those Yorkshire hills. I wanted to feel like Grace was powerful and could do stuff. It is a corset but oddly it actually felt…supportive."
Back in time
Sophie isn't a stranger to period dramas, especially ones set in Yorkshire, although her time on Downton Abbey, as naive kitchen maid Daisy, looks different from the Shane Meadows-directed Gallows Pole.
Based on the book of the same name, it tells the story over three episodes of the Cragg Vale Coiners, a group of weavers at the dawn of industrialisation who, in an effort to feed their community, begin to forge coins and, in the process, almost capsize the British economy.
The Coiners were a group of desperate, working-class criminals and Meadows' commitment saw the cast not only wear the right clothes but also workshop their scenes for months.
The day she took a tumble in her clogs, for instance, was during a funeral scene on the Yorkshire dale where the real Grace Hartley was buried, in which the cast essentially carried a casket up a hill, dug a hole and buried the coffin.
"Yes, we actually dug the hole," said Sophie with a huge grin. "It was a hot day, everyone was involved, you can see the community coming together. You can see from those little visuals how meshed they all are, what a community it is.
"And when you see the wake scene afterwards in the pub, it's a product of the months of work together, learning to trust each other.
"When we're in a scene in the pub I'm not having to pretend I've got a relationship with Thommo, my brother-in-law [played by Allen Leech], because I do have a relationship with him."
Sophie's Grace and her romance with "King" David Hartley, played by Michael Socha, is initially the centre of The Gallows Pole, and their courting is less like Mr Darcy and Elizabeth and more like a very sweet couple from Love Island who are full of awkwardness and tender bickering.
"He's been away for seven years after being childhood sweethearts," said Sophie. "The way they communicate is quite childish. They're in a place where they're mad with each other but they love each other. They go back to being kids and bicker with each other."
This culminates in a scene where the two sit around the corner from each other and have a flirtatious argument.
"Shane had this genius idea that we don't look at each other, and there's a literal wall between them," adds Sophie. "If we had been looking at each other that scene would have gone a different way. The wall adds to the tension. We didn't know we'd do the scene that way, it happened at the end of a long day.
"One of the ways we knew that scene between David and I was working was that Shane was wetting himself laughing. I don't know how the sound department copes with it. One thing that struck me is he's really naughty, he just laughs during takes."
That scene is truly warm and funny, as are many of the others in The Gallows Pole. Sophie is a natural comedian, having starred in the likes of The Personal History Of David Copperfield, but immediately sees making someone laugh as an actor as a kind of emotional Trojan horse.
"I love doing comedy. In most good stuff you get a bit of comedy, don't you?" she says. "If you can make someone laugh then you can break their heart harder. If you laugh with someone then that makes the heartbreak even harder, more brutal. I don't think anything can be exclusively darkness or cruelty.
"With Gallows Pole, we're showing a community that's on its arse but there's so much love and compassion and humour and camaraderie. They're starving but things can be beautiful too. That's the way I like to work."
Acting by accident
Sophie, 38, has been acting for 28 years. Her parents, who were once both teachers, suggested she find something to do on a Saturday morning like her brother, who had got into sport. Before she knew it, and without knowing why, the 10 year old was on the phone to a local drama club; within a year she was on a train from her home in Bradford to London to audition for a musical.
"They said, 'can you do an American accent?' and I said, 'Yeah, I watch Saved By The Bell'," recalls Sophie. "They said, 'Can you sing?' and I went 'Yeah, I'm from a big Irish family and we all sing'.
"My parents dropped me off at the station and I went on my own to do this audition at the London Palladium. So I started acting professionally at 11.
"I sort of fell in love with acting by accident, my parents weren't remotely pushy about it, at all. Who knows, if I had pushy parents I'd have had way more work.
"Just think, I'd have had a bloody Oscar if they'd pulled their fingers out…"
Sophie is reluctant to talk about her personal life, but is extremely polite about it; anyway, any potential awkwardness is wiped away when a window cleaner with impeccable timing begins to work on the windows of her London home directly behind her. She moved to the capital from her native Yorkshire and was delighted to return home for The Gallows Pole; as well as visit home, she could also use her real accent.
"I could express myself and do my own accent and be in a place where the appropriate accent works. That was freeing," she says. "And getting to play a powerful leading character but still be able to speak with my own voice like this was great.
"I felt very lucky. Michael perhaps didn't! But I didn't have that little block, that little extra hurdle.
"The dialogue is all improvised, so it's not like you learn your lines, go to set, filming on you, filming on the actor across from you. Shane doesn't shoot like that. He's got five cameras and you never know when one is on you. You don't know what's going to come out of their mouth or even your own mouth."
The kitchen sink realism ensures The Gallows Pole is how Meadows, and Sophie, intended it: a story built from the bottom up.
"It's important to show why they did what they did," she adds. "These people were thrown into poverty and were desperate. People might be corrupted by what happens but we wanted to show what happened before that. In the book we meet King David, but we also wanted to show why they ended up how they did.
"And we got to tell that story, from the bottom up, from the clogs upwards.
"Ultimately what you're doing is telling the story, telling the truth and using your instincts. In many ways it felt like the most natural thing in the world."
---
---
I'd love to do more Downton
Sophie McShera is probably best known for playing Daisy in the perpetually popular Downton Abbey, a role she's played for 13 years now.
"Someone asked me earlier today how long I'd been doing Downton, if it was five years yet," she said. "Mate it's 12 years! We've been doing it forever! But we love it and have such a nice time.
"If people want us to do more and there was an opportunity, I definitely would, no question.
"I've not seen anything about a new film but I would absolutely love to do one. You'll need to ask Julian Fellowes…"
Her castmates on the show are, she says, like a family, always ready to dish out advice.
"I'm so lucky to have this support network," she said. "If I'm on another job I can ring them up and ask for some advice. They're like my security blanket.
"We had a book club on Downton, I loved that. We tried to have a book club on Gallows Pole but we had to disband that.
"It's good to take yourself out of the world you're in, especially with something like Gallows Pole. But I'm afraid Michael Socha would only read dystopian fiction. It was dystopia after dystopia…"
---
The Gallows Pole launches at 9pm on Wednesday on BBC2, with all episodes available immediately afterwards on iPlayer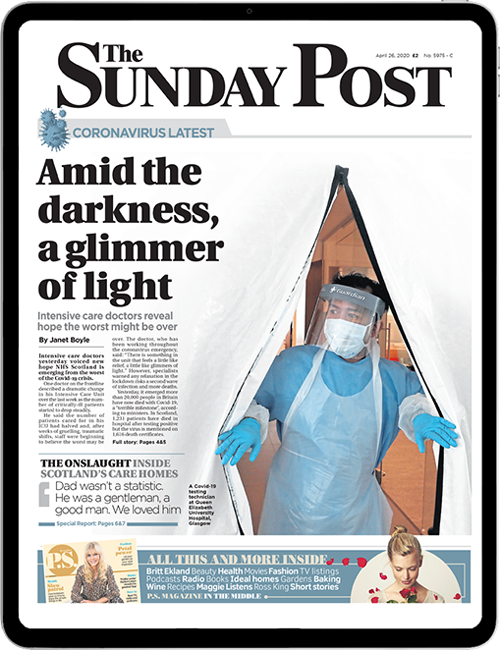 Enjoy the convenience of having The Sunday Post delivered as a digital ePaper straight to your smartphone, tablet or computer.
Subscribe for only £5.49 a month and enjoy all the benefits of the printed paper as a digital replica.
Subscribe