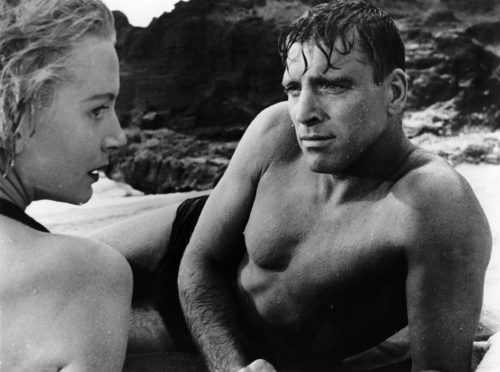 They gave it the perfect title – From Here To Eternity is a classic that will live forever.
Released just 12 years after the Pearl Harbor attacks, the movie was such a sensation in 1953 that it earned 13 Oscar nominations and won eight of them.
Best Picture and Best Director, for Fred Zinnemann, were among them, as was Frank Sinatra's Best Supporting Actor award and its female equivalent for Donna Reed.
There have been tales of Ol' Blue Eyes landing his role due to Mafia connections, but these have been rubbished by those who know, and there is no denying how well he performed.
All of this for a movie that told quite a scandalous story for its time. Not to mention that iconic scene with Burt Lancaster and Deborah Kerr getting amorous on the beach!
Montgomery Clift plays Private Robert E Lee Prewitt, soldier and bugler who has transferred to the Schofield Barracks rifle company on Oahu, the island now known chiefly for the world-changing events at Pearl Harbor.
Captain Dana "Dynamite" Holmes, played to nasty perfection by Philip Ober, learns Prewitt is a very talented middleweight boxer and is keen he should fight for the regiment.
This, he hopes, would ease his way to a promotion, but Prewitt turns him down, having given up fighting after blinding his sparring partner friend a year earlier.
Holmes then makes life a misery for Prewitt, in a bid to force him to change his mind.
Giving him orders too unreasonable to obey, he soon paints the unfortunate Prewitt into a corner, and as others turn away his only friend is Private Angelo Maggio, played by Sinatra.
It's not the only storyline, and the other isn't any less shocking for its time.
Holmes's wife, Karen – Deborah Kerr – has been neglected by her brute of a husband, and it isn't long before she starts an affair with First Sergeant Milton Warden.
He, of course, is played by Burt Lancaster, and that passionate scene at Halona Cove would go down in cinema history as one of film's most iconic kisses.
Warden has been warned that she has had many affairs, but when he quizzes her on this it turns out that it's her husband who does the cheating, not her.
Now she urges Warden to get promotions, so she can divorce her husband and marry him, and he agrees to think about it.
Prewitt, meanwhile, has fallen for Lorene, played by Donna Reed, and she is just as keen on him.
Alas, a fight breaks out between his pal Maggio and a troublemaking staff sergeant, a bar stool is smashed over someone's head and a switchblade is pulled.
All this trouble and strife, even before the arrival of the Japanese.
Another of the film's major scenes comes after Maggio turns up drunk in uniform and is given six months in the stockade.
He ends up escaping but dies in Prewitt's arms, arguably one of Sinatra's most powerful moments on screen.
Eventually, the top brass discover what is going on and Holmes is forced to resign.
Little wonder, after all this internal drama, that the whole place is taken totally by surprise when the Japanese attack.
Prewitt hunts down the man who killed Maggio, but then tries to rejoin his company during the night, only to be shot dead by a patrol.
A happy movie this is not!
Not even the passionate affair between Warden and Karen Holmes survives – she learns that he never did apply for officer training to get that promotion, and she sails off without him, and with her horrible husband.
Sinatra received plenty of praise for the sterling job he did.
"He proves he is an actor by playing the luckless Maggio with a kind of doomed gaiety that is both real and immensely touching," said one critic.
Even Burt Lancaster, who at times carried the whole thing, would say of Sinatra's performance: "His fervour, his bitterness had something to do with the character of Maggio, but also with what he had gone through the last number of years.
"A sense of defeat and the whole world crashing in on him – they all came out in that performance."
If Frank Sinatra had felt his career needed a boost, or that he wanted to make a movie to prove once and for all he could act, he had done all that and more.
From Here To Eternity went to No 1 in the USA and stayed there for a month, one of the highest-grossing movies that decade.
Needless to say, the US Army and Navy were not as bowled over as everyone else, but it was and remains a classic.
From Here To Eternity (1953) – Sony Movies Classic, Saturday, May 23, 6.40pm.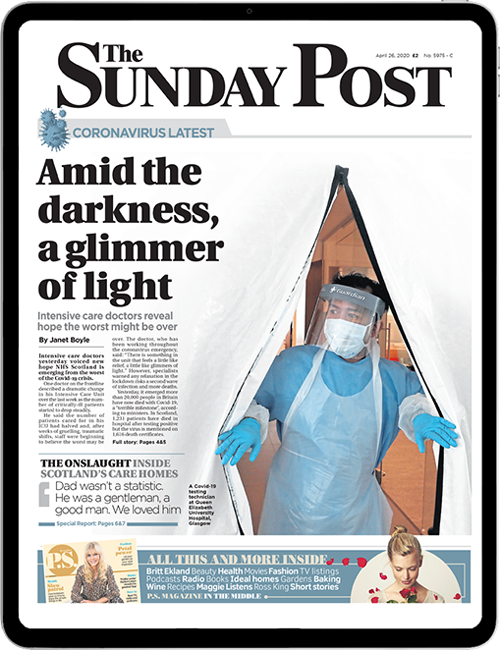 Enjoy the convenience of having The Sunday Post delivered as a digital ePaper straight to your smartphone, tablet or computer.
Subscribe for only £5.49 a month and enjoy all the benefits of the printed paper as a digital replica.
Subscribe