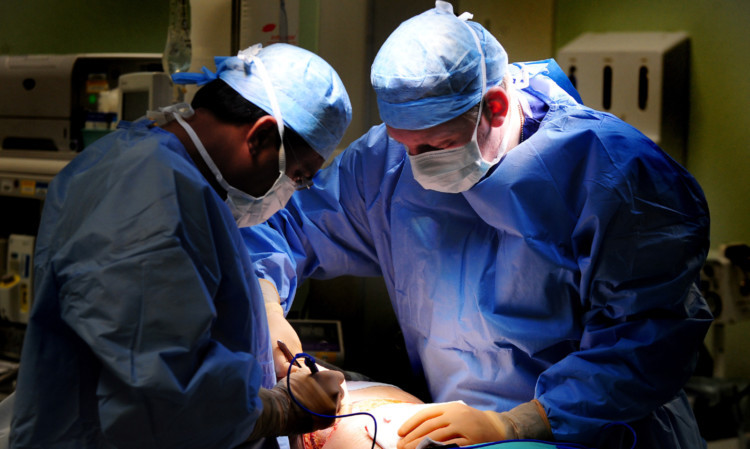 Our investigation found desperate Brits willing to trade their vital organs on the Internet.
Cash-strapped Britons are lining up to sell a kidney on the black market, a Sunday Post investigation has revealed.
Advertising organs for sale is illegal in the UK and anyone caught attempting it can face a three-year jail term.
But a Sunday Post investigation found people across the country so desperate for cash they were willing to flout the law.
Our reporter posed as the brother of a woman desperately needing a transplant and placed an advert on a Facebook page specifically set up to buy and sell organs.
Within a week he had received 11 offers from desperate people worldwide willing to risk their lives to drag themselves out of poverty.
Many of the black market operations take place in India, Pakistan or China in an underground industry controlled by ruthless gangs.
Donors from Britain would need to travel abroad to avoid tough checks including medical assessments and in-depth interviews carried out by the Human Tissue Authority (HTA) on all live donors in the UK.
Among the people to contact us was a man from north-east England who claimed he realised it "would be a big thing to do but for the right amount I would be willing".
Our reporter held detailed discussions with the self-employed dad-of-three, including his blood type, the state of his health, a £30,000 payment for the donation and arrangements to meet in person.
A 22-year-old dad living in Northampton was happy to accept £20,000 for his kidney because he and his pregnant fiancee desperately need to raise enough money to return to their native Hungary.
The cash-strapped dad, who has studied at two colleges in Northamptonshire, became frustrated our reporter was not progressing the deal quickly enough and has since placed a new advert, wanting a sale "as soon as possible".
Others to respond included three Indians willing to travel abroad, a Mexican man who revealed he was desperate for cash and a woman from Tanzania.
Meanwhile the site also contained recent adverts placed by desperate Britons willing to risk their lives and freedom for cash.
A 28-year-old man from Banchory, Aberdeenshire, placed a message online in which he claimed he would talk to anyone willing "to make an offer".
The man who works as a chef in Scarborough, North Yorkshire, had several replies to his message.
A mum from Hampshire has placed two adverts online describing herself as having an O-negative blood type and "has a passport" suggesting she is prepared to travel abroad.
Experts at the World Health Organisation, which in 2012 revealed 10,000 black market operations involving organs were taking place every year, reacted with shock at our probe.
Luc Noel, a special advisor based in Switzerland, said: "Your Facebook experience is revealing. It demonstrates the vulnerability of some people and the power of easy money. This is one of the reasons to prohibit payment.
"Meeting patients' needs also demands that there should not be any divide created by financial incentives."
Jeff Powell, campaigns and policy director at anti-poverty charity War on Want, said: "It is shocking that people are so poor that they would be willing to sell a kidney for cash. This level of desperation is a direct result of governments, both at home and abroad, prioritising corporate profits and the interests of the rich over the fight against poverty and inequality."
Alan Clamp, chief executive of the HTA which regulates live organ donations throughout the UK, said: "It is illegal to offer or seek payment for organs for sale under the Human
Tissue Act, and no operation from a living donor can go ahead without our approval.
"Before a transplant from a living donor goes ahead, the hospital transplant team will assess if the donor is suitable and run several tests to ensure the transplant will be as successful as possible.
"An independent assessor, acting on behalf of the HTA, will then carry out interviews with both parties and report back.
"We need to satisfy ourselves that the donor knows the risks involved, that the donor has given consent freely and no reward has been offered or received."
Kidney transplants should take place when tests show the damage is so great the patient will require dialysis within six months.
But because of a chronic shortage of available organs this seldom happens, unless the patient receives a live donor from a family member of friend, with a compatible blood and tissue type.
The average wait for a transplant is three years but for people with rare blood groups and tissue types the wait can be much longer.
NHS Blood and Transplant has revealed across the UK there are currently 7,044 patients on the transplant waiting list of which 5,668 are for
kidneys.
Currently there are around 10,000 people in the UK needing a transplant and three people die every day due to a shortage of organs. During 2012/13, 4,212 transplants took place, the majority of which were from dead donors, with 1,000 from living donors.
In 2011 broadcaster Jon Snow launched a campaign to encourage altruistic kidney donations after it was revealed wiping out the kidney transplant waiting list would save the NHS £650 million over five years.
The campaign led by Charity Give a Kidney One's Enough revealed the average cost of treating a patient in the final stages of kidney disease is £150,000 over five years.
By contrast, the average cost of transplantation per patient over five years is £50,000.
To join the NHS Organ Donor Register visit www.organdonation.nhs.uk or call 0300 123 23 23.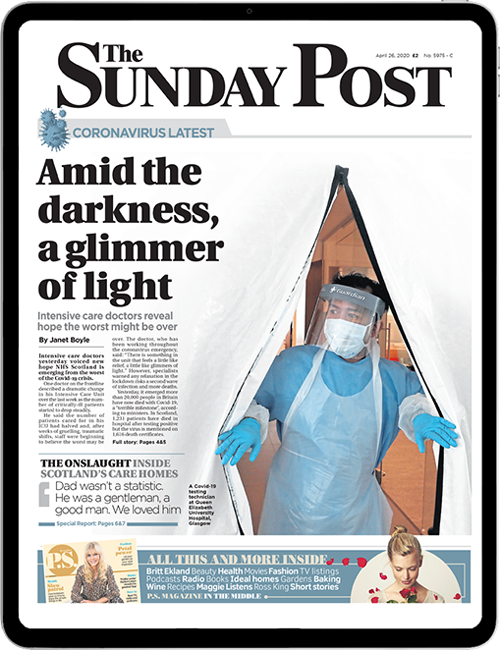 Enjoy the convenience of having The Sunday Post delivered as a digital ePaper straight to your smartphone, tablet or computer.
Subscribe for only £5.49 a month and enjoy all the benefits of the printed paper as a digital replica.
Subscribe