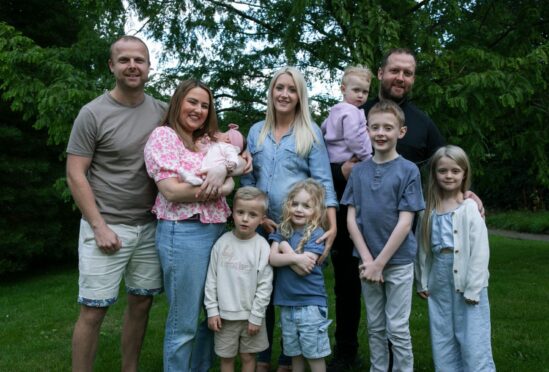 A midwife has gone above and beyond the call of duty and become a surrogate mother to a couple desperately wanting another baby.
Jen Halliday, 36, was inspired to help Ami and Stuart Geddes become parents again after they lost their much-loved newborn, Clark.
The infant had to be ­delivered 15 weeks early after his mum developed the dangerous pregnancy condition pre-eclampsia.
Doctors warned her she may not survive another pregnancy as she had also suffered the illness while expecting their first child, Camdyn.
Student midwife and mum of four Jen heard of the family's plight and offered to become a surrogate mother for their baby, which could be conceived through artificial conception.
"When I heard how ­heartbroken Ami and Stuart were after the loss of baby Clark, I just wanted to help them have another much-wanted baby," said Jen from Barrhead.
"As a student midwife I am aware of the considerable risks to Ami if she became pregnant again.
"All my pregnancies have been good, and I knew I could help them become parents again. I spoke to my husband Jamie, and he agreed after a lot of discussion that, if I felt I could carry a baby for Ami and Stuart, I should."
'Everything we dreamt of'
That promise to help the couple was fulfilled last Friday when baby Connie, was born at the Royal Alexandra Maternity Hospital in Paisley.
In appreciation of Jennifer's wonderful role in being a surrogate mum, Ami and Stuart gave her the middle name Jennifer.
"We could not have wished for more because Jen has given us everything we dreamt of," said schoolteacher Ami, from Erskine. "We were heartbroken when we were told I would be risking my life by becoming pregnant again and we desperately wanted another baby.
"My second baby, Clark, was born at just 24 weeks and fought bravely for 12 days to live. No one could ever replace beautiful Clark, and losing him was so painful for us both to bear."
The couple were sustained by their enduring love and support for each other, and that of their families and friends.
Stuart, managing director of a digital signage solution company, said: "We are wonderfully happy at becoming parents again and overwhelmed by Jen. She is kindness itself."
The couple have campaigned tirelessly and fundraised almost £40,000 for pre-eclampsia charity Action on Pre-eclampsia (Apec) to help other parents facing the trauma of the pregnancy illness.
They were contacted by Jen after she heard from a mutual friend of their quest to have another baby.
"I contacted them and, after we met and got to know each other's families, I offered to become a surrogate mum for their next child," said Jen.
Ami and Stuart were ­overwhelmed by her offer. After a long procedure of medical tests for all involved, they went ahead.
An embryo created by Ami and Stuart was transferred to Jen's womb and a successful pregnancy followed while Jen continued her life as a student midwife and mum to four youngsters.
"We just wanted to keep it a surprise but knew if it was a girl she would have Jen's name," said Ami.
Shortly before baby Connie Jennifer was born, Jen passed her first-year exams.
Ami was Jen's birthing ­partner. "It was nerve-wracking because we had asked so much of Jen, and all we wanted was a healthy pregnancy for her and the birth to go well.
"All we could focus on was Jen and the baby. Moments after she was delivered, she said 'here is your baby girl'.
"I wept tears of joy. She was a great weight, 8lb 6oz.
"It had been a long and ­difficult journey going through all the tests for surrogacy and the hopes of a successful pregnancy and now we were parents again.
"Stuart came in to meet his baby daughter and seeing him hold her in his arms was a joy.
"Connie is not a replacement for Clark, but a little sister. He will always be part of our family and he has created a wonderful legacy of care and love."
'Clark inspires me'
The couple's devotion to helping other parents who have to endure the pain of ­pre-eclampsia is touching.
"It was awful for us to lose Clark, such a much-wanted and loved baby," said Stuart.
"Seeing Ami become so ill that she had to give birth so early was painful. And when doctors advised us of the serious risks of another pregnancy, we knew finding a surrogate mum was our only hope."
Stuart is now in training for another London Marathon, with a picture of Clark on the back of his shirt.
"Clark inspires me every step of the way," he said. "He has created a wonderful legacy of care."
Pre-eclampsia affects 10% of expectant mothers and worrying symptoms include soaring blood pressure. Mothers risk multi-organ failure, strokes and death.
The Sunday Post ­successfully campaigned for an ante­natal diagnostic test in Scotland called placental growth factor (PLGF) to help doctors detect it and allow them to treat mothers.
Surrogate mothers cannot be paid to carry babies under UK law. Instead, they are allowed to have reasonable expenses.
The laws also state that ­surrogacy agreements are not enforceable by UK law, even when biological parents have a signed document with the surrogate and have paid their expenses.
Finding a good ­surrogate mother to carry a child is still the best option for women who suffer from pregnancy-related illness.
Womb transplants ­highlighted this week are unlikely to be an option for women predisposed to pre-eclampsia, as the risk of illness lies in being pregnant.
---
Jen's story
Enshrined into the ethos of the Royal College of Nursing is its motto "Tradimus lampada", meaning "We carry the torch".
Never was it truer than in Jen Halliday's offer to undergo myriad vital tests needed to carry a surrogate baby for nine months before giving birth.
The student midwife has four children – Brodie, eight, Blair, seven, Jax, four and Blake, two.
"I have a wonderful husband in Jamie and love being a mother, so my heart goes out to other women who struggle with health or other reasons to have babies," she said.
"Some people say I was born to be a mum.
"Being pregnant as a student midwife and learning to deliver other mums' babies was all part of my outlook in life – to help other mothers.
"The joy in having a healthy baby for Ami and Stuart is all mine. It all comes back to my love of being a mum and seeing that happiness in others.
"That is the aim of the vast majority of midwives and nurses. We want to see our patients thrive.
"Hopefully, I will be a good role model for my children."
She added that her decision to become a midwife came about during the Covid-19 pandemic when she wanted to do more with her life. She gained an HNC to enter a degree course in midwifery.
"I gave birth in time to begin my second year," Jen adds.
"I love the way midwifery can take specialist pregnancy care to mothers and babies, from pre-pregnancy care, antenatal care and hospitals through the community.
"We ensure mothers are supported and given the best we can give."
---
The expert
Leading fertility specialist Dr Marco Gaudoin, managing director of the Fertility Partnership, Glasgow Centre for Reproductive Medicine, said: "Speaking generally, what makes a successful pregnancy in a surrogate mother is the quality of the embryo.
The consultant obstetrician and gynaecologist added: "Much of that depends on the biological mother. That depends on the age of the egg donor.
"If the surrogate mother has had previously good pregnancies, the chance of a successful one is increased."
'Every day I spend with my sassy little threenager is a miracle': TV presenter Laura Boyd on becoming a mum against the odds
He added that pregnancies in mothers who have undergone transplants have increased risks.
Those who do so after a kidney transplant have a raised risk of pre-eclampsia, preterm delivery, foetal growth restriction and graft (organ) rejection.
The impact of the immunosuppressants (anti-rejection drugs) on the mother and foetus is also an important factor.
The number of children born through domestic surrogacy is small.
Official data reveal the number of parental orders for surrogacy granted to applicants in England and Wales increased from 117 in 2011 to 435 in 2021, peaking at 444 in 2019. The number in Scotland is even smaller: 24 across calendar years 2020 and 2021.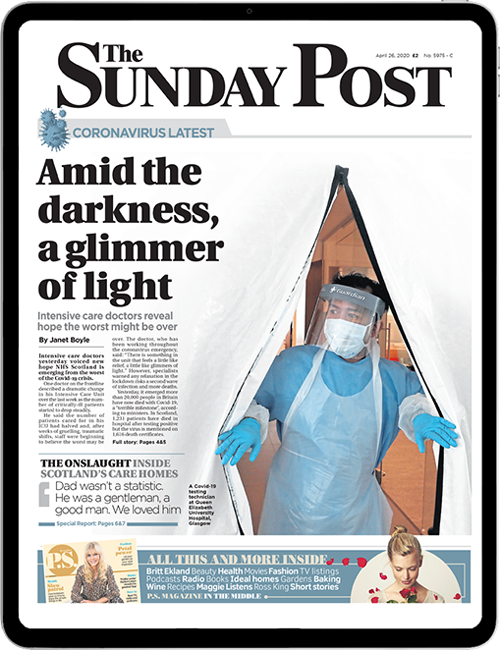 Enjoy the convenience of having The Sunday Post delivered as a digital ePaper straight to your smartphone, tablet or computer.
Subscribe for only £5.49 a month and enjoy all the benefits of the printed paper as a digital replica.
Subscribe