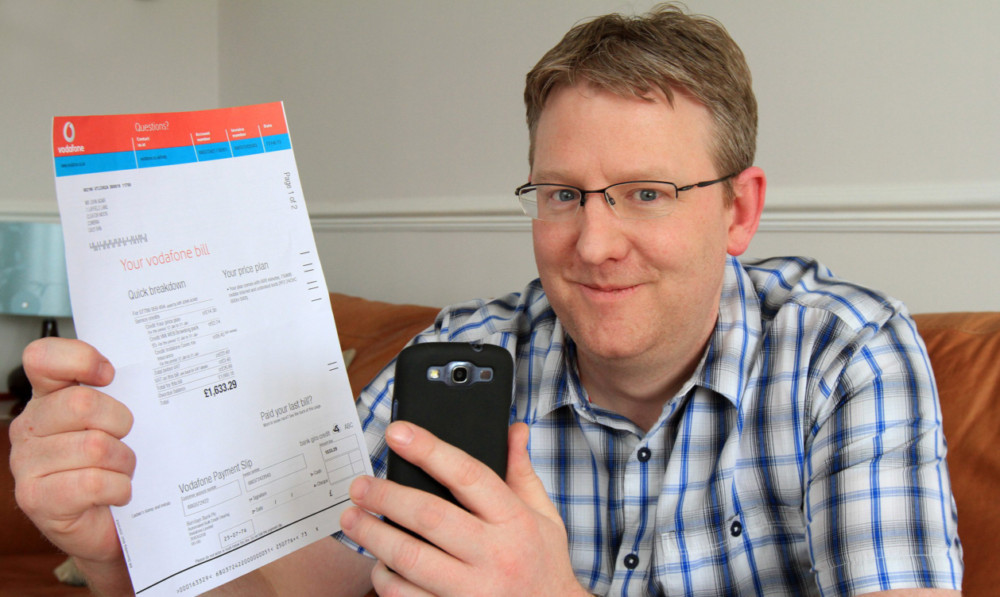 There is nothing worse than being hit with an unexpected bill.
Except, that is, when the bill received should not have been sent to you at all.
That was the scenario that played out for Jonathan Adair.
Jonathan, from Cumbria, took out a mobile phone contract with Vodafone in July 2009. This saw Jonathan receive an HTC Magic handset, and was the clincher as he liked the look and feel of the phone.
However, just over a week later Jonathan had found that the area where he lived had very poor Vodafone reception and, being aware that there was a 14-day cooling off period, he contacted Vodafone.
He was told to return the handset in its original packaging. Jonathan did this by Royal Mail Special Delivery.
As far as he was concerned the contract was now terminated and at no point did Vodafone attempt to take any payments from his bank account.
Jonathan switched to a pay-as-you-go phone from O2.
However, on January 13 this year Jonathan got a letter from Vodafone stating he owed them £1660.18!
He contacted Vodafone and was told this was obviously a mistake and would be resolved quickly. But on February 13 he got a Vodafone bill stating theat the amount owed was actually £1633.29.
Again he phoned Vodafone and again was told this was an error. A week later he got another letter stating that "despite previous reminders" his account was still unpaid to the amount of £1633.29 and unless payment was received within 14 days it would be registered as a bad debt with a credit reference agency.
Otherwise a debt collection agency would be instructed to collect the payment and Jonathan would have to pay an additional 15% due to costs incurred as a result of breaking the terms of his agreement.
On March 9 Jonathan got a call from a debt collection agency telling him they were acting on behalf of Vodafone. Jonathan explained the situation and was told the claim would be put on hold for 15 days.
But four days later he got a letter from the debt collection firm stating he now owed £1733.29. Jonathan phoned again and was told once more that the issue was on hold for 15 days and nothing else could be done at that time.
Anxious at this whole episode Jonathan emailed Raw Deal.
We contacted Vodafone and very quickly there was much better news for Jonathan.
A spokesperson told us: "Mr Adair cancelled his account with us in July 2009 and returned the handset to us.
"Unfortunately, something went wrong with our processes. The instruction to disconnect the line was not passed on to the right team and rental charges built up.
"This is entirely our error and we are sorry Mr Adair has been inconvenienced. We have made sure it will not impact his credit file."
Jonathan said: "I got a letter from the debt collection agency stating: 'We are no longer instructed with this matter and have returned the account to our client'.
"I sincerely thank you very much."
Have you got a problem?
Email your address and daytime/mobile number to rawdeal@sundaypost.com or write to Raw Deal, PO Box 6816, Dundee, DD1 1WB (include SAE).
Briefly outline the problem and how you'd like it resolved.
Include contact details of the other party and any customer ref/order numbers.
By requesting our assistance you agree for your name, location and a photo to be published.