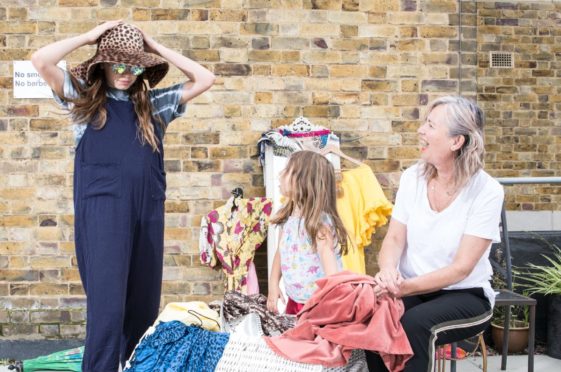 Like thousands of others during lockdown, Sunday Post fashion expert Wendy Rigg decided on a much-needed wardrobe clear out but she discovered that her fashion trash was her granddaughters' treasure.
Visiting my grandmother as a child was always such fun, as she let us have full access to her wardrobe. There were fox fur stoles, floral print tea dresses, wedge heels, fancy canes and all sorts of fabulous things to get dressed up in, and we loved this.
My granny used to get most of her own clothes from thrift shops, and always looked lovely in neat Chanel style suits with her dyed red hair in a '40s updo. I loved to watch her do her hair in the mirror. It involved a lot of hair grips, and a sponge hairpiece to give the roll at the front some height. She'd then apply lipstick in a peachy shade, and would always wear a single strand of pearls. She did this every day, no matter where she was, and was never knowingly understyled.
She was beautifully coordinated. Neat pencil skirts to just above the knee were matched with collarless jackets and blouses with a tie at the neck. It was all a bit Cate Blanchett in the current series Mrs America. These are my first memories of developing an interest in fashion and I'm sure those early dressing-up sessions set me on the career path that has taken me all over the world.
Now I'm the granny and when I decided to have a wardrobe clear-out during those long months of lockdown, my own grandaughters, Layla, 12, and Taiga, five, discovered the joy of dressing up in my cast-offs.
As you'd expect from someone who works in fashion, my wardrobe is stuffed with accessories and clothes. But my love of clothes is now tempered with an awareness of how fast fashion impacts on our planet, a planet my grandchildren have inherited.
Designer Patrick Grant said on The Great British Sewing Bee: "We have enough clothing on the planet right now to clothe the next six generations of the human race: we have to find ways of using what we've got."
I realised there are many items in my wardrobe that I have shockingly only worn once, and honestly will never wear again.
For me, getting rid of things I no longer loved or wore was cathartic. The guilt I was harbouring because of that dress which was bought for a wedding and never saw the light of day again, could at last be assuaged.
I'll even confess that while working as a fashion editor on a busy celebrity weekly, I'd often get a last-minute invite to an evening event, and would think nothing of dashing out to buy something new which would end up squashed into my packed wardrobe never to leave its dark confines again. The shoes I bought with heels that killed my feet after one night only, never again to be squeezed on to my Cinderella feet (home in a cab by midnight with blisters). I can put all that guilt in a neatly tied-up bag and take it to the charity shop or put it on eBay.
During lockdown I found clothes I'd forgotten I even owned. It was like finding treasures in a vintage shop. I unearthed the decades. It was like a fashion version of an archaeological excavation.
Packed away I found the Betsy Johnson dress with matching elbow-length gloves I bought in LA on a fashion trip, a Vivienne Westwood pirate shirt, and an early John Galliano skirt.
There were a lot of frivolous fashion items I couldn't bring myself to get rid of. Sequins, giant rose hair accessories, tiaras, satin, lace Venetian masks, Japanese parasols, Spanish fans bought on holiday, floppy-wide brimmed hats, silk and lace, fluffy pinkness, tulle petticoats, glittering heels too high to walk in.
These frou-frou fancies drew Layla and Taiga like moths to a flame.
Whenever they come over to visit, my bedroom ends up looking like a backstage dressing room for the entire cast of a theatrical performance. I love watching them clopping around in my heels and adopting personalities and making up scenarios to go with the clothes.
It makes me smile to see the sparkly mini-skirt I wore in Ibiza, ending up looking fabulous on Layla or sometimes it's worn as a cape by Taiga.
Hopefully I'm inspiring them the way my granny inspired me, and will remember this with affection when they grow up.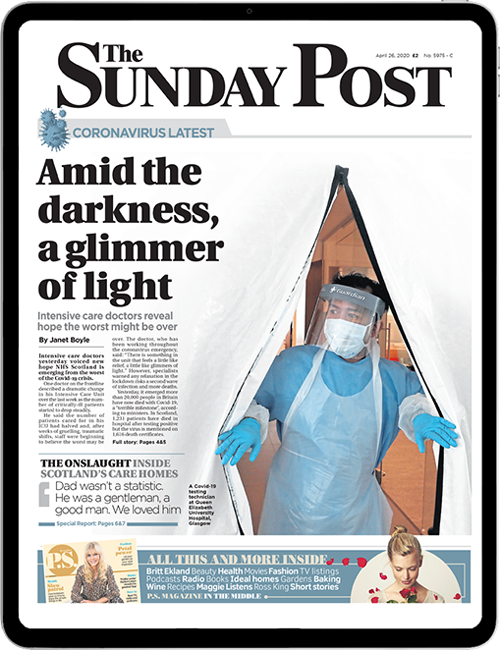 Enjoy the convenience of having The Sunday Post delivered as a digital ePaper straight to your smartphone, tablet or computer.
Subscribe for only £5.49 a month and enjoy all the benefits of the printed paper as a digital replica.
Subscribe