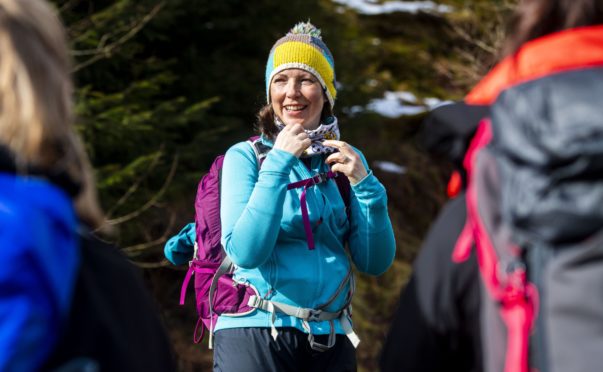 Even after a decade of scaling hundreds of Scotland's famous peaks, reaching the top of Mullach Buidhe recently was a special moment for Lucy Wallace.
"It felt like I was hearing and seeing things for the first time – the rivers, mountains, the light and the clouds. It all seemed so fresh and brilliant, it was a real tonic," said the outdoor guide and mountain leader of her first post-lockdown walk up the Isle of Arran's "golden hill".
In March, Lucy became the first female president of Ramblers Scotland in 35 years, just as the country went into lockdown – including a strict five-mile travel limit.
As the figurehead of a national walking charity, she found herself in the unusual position of temporarily encouraging people to avoid roaming across Scotland.
"When I started, I thought this was a great opportunity for me to encourage more people to get out walking and involved in group walks," said the 45-year-old, who is based on Arran.
"Never in a million years did I imagine that in my first three months, I would be asking people to stay local and avoid walking in groups."
Widdershins stomp around the Devil's Punchbowl 😈. #feelmore @ramblersscot pic.twitter.com/VmROm1aOSi

— Lucy Wallace (@snoweider) July 19, 2020
Yet an upside to lockdown is that it has encouraged more of us to get out walking. A YouGov survey in May revealed 61% of Scots are walking more often than they had pre-lockdown.
This month, a Scottish Natural Heritage survey also found that 89% of outdoor visitors took regular local walks and 71% enjoyed the outdoors at least once a week. Two thirds of respondents said their experiences out in the open had helped them de-stress and unwind during lockdown.
"It's one of the strange consequences of this pandemic. Outdoors is one of the safest places that we can be, especially while social distancing with others. A lot of people have discovered the joy of walking locally during lockdown and hopefully, will be able to continue."
To keep that momentum going forward, Ramblers Scotland has joined Cycling UK Scotland and Transform Scotland in a call for increased investment in urban and rural paths and infrastructure.
Lucy added: "We need to invest in infrastructure, path signage, mapping, information and facilities to help people get out and enjoy the outdoors safely and support people to get out walking for leisure."
Despite many women enjoying Scotland's outdoors, Lucy says there is a distinct lack of female voices in prominent positions, which she hopes her appointment could go some way to readdressing.
"Women are the lifeblood of our organisation," she said. "More than half of our members are women, so I don't know why it's taken so long for a female president but it's a huge honour and hopefully, I won't be the last.
"There's no shortage of women getting out walking but it's important to have more women comfortable and confident in outdoors leadership roles. As they say, you need to see it to be it.
"Outdoor media is becoming much more gender-balanced, with more women writers and photographers. The situation is definitely improving but we shouldn't be complacent."
Recent images of Scotland's stunning landscapes strewn with litter and abandoned camping equipment horrified Lucy and many others in Scotland's rambling community. "We are absolutely blessed here in Scotland that we have these fantastic access laws, which mean that we have a right of responsible access to the wider countryside.
"It's awful to see our countryside and nature abused. I think part of the problem is that many people who wouldn't necessarily be accessing the outdoors currently are.
"Our access laws in Scotland mean that we have a right of responsible access but as soon as you start lighting fires, leaving lifter and cutting down trees, you've lost that right.
"We need more low cost camping sites, more education at a grassroots level, support for our ranger services and stronger enforcement of existing anti-social behaviour laws."
Having spent most of her professional and personal life outdoors, lockdown has been tough for Lucy but has reaffirmed her understanding of the boundless benefits of walking. "Being outdoors helps me in so many ways," said Lucy. "Cooped up inside for too long, my back hurts, my mood dips and I stop sleeping well. As well as the joy of walking and spending time in nature, exercise outdoors benefits our physical and mental health.
"It keeps me physically strong and healthy and gives me space to think, breathe and relax. No matter how bad things are, you feel better after a walk.
"Sometimes I just like to hammer up a hill and get my heart rate going really hard and that feels good."
---
Being alone is so peaceful. Looking across the mountains as the sun rises is incredible
As soon as the lockdown travel ban eased, Kirsty Cheape headed for the mountains.
The 27-year-old was eager to resume her love of solo hillwalking and wild camping, which began just over a year ago when she started exploring the outdoors to boost her fitness.
"It's become a bit of an addiction. I'm a lot fitter and enjoy being out in the fresh air," said the children's residential worker from Kircaldy.
"You get an adrenaline rush when you reach the summit. It's great for your mental health. Especially with my job, it's good to get time to myself."
Last week, Kirsty camped overnight on Ben Lawers near Killin in Perthshire.
"At first, camping alone was a bit scary as it's just you on the mountain, but now I love it. Being alone is so peaceful. Waking up in the morning, pulling the tent open and looking across the mountains as the sun rises is incredible."
Kirsty was inspired by photos on Facebook of women scaling Munros. She started Girls Walking Group Fife on Facebook as a way to meet other young hillwalkers. They share tips and routes and met for group walks before lockdown.
Already planning her next adventure, Kirsty's advice for solo walkers and wild campers is: "Just go for it. Find the confidence to get out there and do it. I learned everything I know from Facebook groups.
"Out on the hills and mountains, I pass a lot of women walking on their own who are always very friendly and chatty.
"Everyone should do this at least once in their life. You won't regret it."
---
Writer reveals how Scots peak pioneer inspired women walkers
From moors to mountains, Scottish women have a strong history of walking across our wild and beautiful landscapes. Yet for centuries, their footsteps went largely unrecorded.
In her book Wanderers: A History of Women Walking, Borders-based writer and hillwalker Kerri Andrews profiles women writers for whom walking solo has been an empowering act, pivotal to their creativity and personal freedom. "The history and literature of walking is all about men, so there's the sense that it is therefore a male space because women have no role models or history," said Kerri.
"But there is a long history of women walking. It held great importance for them but they wrote in journals and letters, so their accounts were not as well-known."
A rare exception is iconic Scottish walker Nan Shepherd, whose beloved memoir, The Living Mountain, is a masterpiece of nature writing that celebrates her time in the Cairngorm Mountains.
"The Living Mountain has become the touchstone for Scottish walking. The reason it resonates is that it offers a very different way of thinking about the mountains.
"I don't think it's a coincidence that it's written by a woman walker who talks about eschewing the summit, preferring to dive into the deep corners, the secret places and inner recesses of the Cairngorms.
"She's not conquering the mountain but entering into it, which is a refreshing perspective."
Whether hiking through the Cairngorms or bagging Munros (she's on 127 so far), Kerri is proud to follow in the footsteps of inspirational women walkers like Nan Shepherd. She says walking remains an empowering act for women.
"Shepherd writes about the companion's path, tracks and traces left by other walkers," said Kerri. "Walking solo, you're never really alone because you're following the footprints of those who've gone before you.
"Especially for women walkers, the idea of being accompanied by other women who have walked your path is quite powerful."
Wanderers: A History of Women Walking, published by Reaktion Books, out now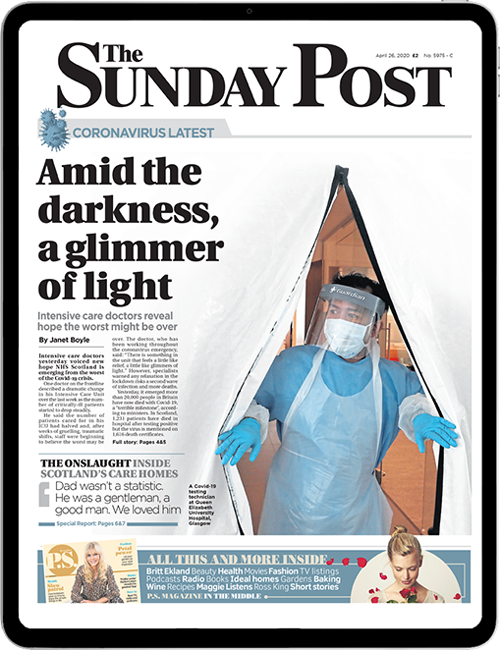 Enjoy the convenience of having The Sunday Post delivered as a digital ePaper straight to your smartphone, tablet or computer.
Subscribe for only £5.49 a month and enjoy all the benefits of the printed paper as a digital replica.
Subscribe