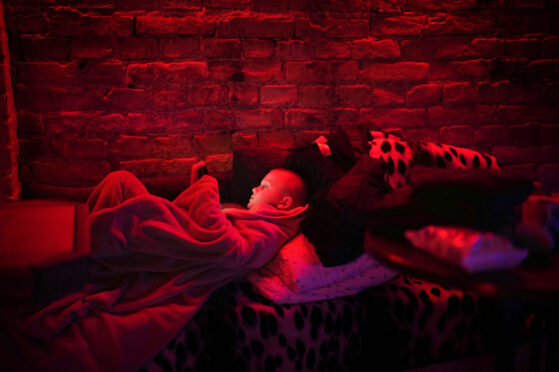 This is the second war of Alexandra Nosulia's life. She was just 10 when Hitler's soldiers marched into her village of Vishneva, near Kharkiv. The village endured and Alexandra survived, going on to have a full life, working in Siberia before settling in Izium.
For her – and every other Ukrainian – the world changed overnight on February 24, 2022. Ukrainians refer to it simply as The 24th; life is divided into before and after.
Almost no one expected the rockets and bombs and warplanes in the early hours. No one was prepared. Over the past 12 months, Ukrainians have had to adapt to a new way of life: many becoming soldiers, many becoming refugees, and many just trying to grip some semblance of normal life in towns and cities under constant threat of missile attack.
Alexandra was living in the centre of Kharkiv with her extended family. They woke to the sound of aerial bombardment. "Our Kharkiv began to be wiped off the face of the Earth." The power started to flicker; lifts and ­furnaces in the blocks of flats cut out.
"Very quickly we ran out of bread," she says. They had not been expecting a full-scale invasion. With no bomb shelter in the building, they ran to the garages nearby, going down into the cellar, where she and her grandchildren hid for long days and nights, in the freezing cold.
It was the family's bad luck to be in precisely the wrong place: while Kharkiv never fell, Russian special forces did make it down as far as the 134th School on Shevchenko Street. Just next to their flat.
"It was a miracle we survived the morning of February 27," Alexandra recalls. "At that time we did not know yet about the brutality of the Russian military and how they abused civilians. We didn't know about Bucha, Irpin, Izium, Mariupol…"
Walking slowly across the ice from the basement to the flat Alexandra and her grandson – just a toddler – almost walked into the column of 15 armoured vehicles. A few minutes later and perhaps they would have shared the fate of a neighbour, a young man who was shot by a Russian sniper.
"Our house was used by Russian soldiers as a shield," she says. "Our relatives called us in tears and told us that our street, our house, was on TV." Photos taken from the windows of Alexandra's flat show the vehicles, with their distinctive daubed Z signs, trundling past.
By the second week of March, 200,000 people a day were fleeing Ukraine – many on foot, with small children, pets and whatever ­possessions they could carry.
Alexandra's family decided to leave for the sake of the children. It was a long journey from besieged Kharkiv to Germany, where she is now living, near Berlin. The hard trip caused lasting damage to the circulation in her leg. "At night it's terribly painful," the great-grandmother says. "I don't sleep, I take a lot of painkillers. But life isn't ending. You have to keep going, keep fighting, even in awful pain. You have to live a bit longer."
Her sister, Valya, is always on her mind. Valya was in Izium, a smaller city to the east of Kharkiv. It was occupied by the Russians, and more than 80% of the buildings there are destroyed or damaged. Nearly 500 people were discovered in mass graves after the Russians fled in September. Some tortured and shot – but many were elderly people who died of wounds, or from lack of medicine and food. Valya, 85, was one of them.
"She did not survive the second war," Alexandra reflects. "She lay in her flat for five days because there was terrible shelling, and then she was buried in a crater near the doorway, where someone had already been buried." The sisters had lived in Izium for many years, but the house is now destroyed by shelling. The flat in Kharkiv, though, still stands, and all Alexandra wants is to go back – but Kharkiv is still too dangerous. Just a few days before we talk, missiles hit the city centre once again, destroying part of a university building.
"We were happy in Ukraine before the war," she says angrily. "Our grandchildren and children were happy. The Russian Federation took away from my great-grandchildren a happy childhood in peaceful Ukraine, and took from me a happy old age with my family in my native land."
It's possible, of course, to live in exile in your own country. More than five million people are "internally displaced" – living in hotels, rented flats or, if unlucky, gym halls all across western Ukraine.
Roman Danilenkov, 38, had long feared the worst, expecting Russia to attack "though, of course, not on this scale". Days before the invasion he and his wife Victoria, 35, packed up and left Kharkiv – along with half his colleagues in the media start-up he co-founded with Natalia Kurdiukova, Nakypilo. It took two days to make the 500-mile trip to Ivano-Frankivsk in five cars, after which they immediately got to work, covering the unfolding invasion and trying to support their colleagues who had stayed in Kharkiv, which was under relentless bombardment from missiles and fighter planes.
Roman would have stayed ­himself – but priorities change when you have children: he has a three-year-old son, Martin. "We try our best to make his childhood regular," Roman says. "We don't want him to understand this awful war."
Ivano-Frankivsk, about 300 miles from the Polish border, has been hit a few times, but Martin didn't know what the noise was, and now associates the air-raid siren with "watching cartoons in the corridor".
Roman and his colleagues already had an intense work schedule before the invasion. Nakypilo began as a citizen journalism project, just two friends filming the unrest on the streets of Kharkiv in 2014, when pro-Russian thugs attempted to take the north-eastern city. It was dangerous work, but their unflinching coverage of corruption and activism drew a growing audience. Now their work is needed more than ever: they've branched into security training for Ukraine's journalists, all of whom became de facto war reporters overnight, and are helping beleaguered ­newspapers digitise and stay afloat.
Journalism, Roman thinks, is absolutely crucial to Ukraine's future, especially as massive rebuilding begins and problems with corruption could re-emerge. "Solutions journalism is the best way to rebuild everything in the right way," he says. "We have to have constructive discussion."
He's changed a great deal since that day of invasion. "You realise that regular stuff, day-to-day life, is the best happiness," Roman says. "Now we just live one day, then the next, you can't plan anything. It requires patience, inner strength."
His "tolerance for the enemy", as he puts it, has disappeared. "I don't believe in good Russians. I don't believe in friendship with these people at all. That's a big change for me."
And Roman can see his ­society changing, too. "We know now that everything depends on us. Not only the future of Ukrainian people, but the future of the whole of Europe."
"I hope we can set an ­example to the whole world," he concludes. "Being brave is not about not being scared – it's about doing what you want to do even when you are scared."
Reporter Jen Stout reflects on her time covering war in Ukraine and voices fears ebbing interest in the West will only embolden Putin
Down south on the Black Sea coast the grand port city of Odesa remains in Ukrainian hands, despite Russia's efforts to break through from the east and seize it. The beautiful opera house and monuments were surrounded with sandbags in the run-up to the invasion; the wide cobbled streets lined with big anti-tank spikes – just as they were in 1941.
Odesa's inhabitants are known for their particular sense of humour, fashion sense and laid-back manner. Rostislav Djurinskii, 36, sounds cheery when we speak. The dental surgeon has just been visiting the new clinic he's having built – despite the blackouts in Odesa, construction goes on. Life goes on. "There was no power at all today," he says breezily, "so we're using generators and batteries."
Since October Russia has been almost relentlessly attacking the civilian infrastructure in Ukraine: the electrical grid, power stations, thermal heating plants. The aim is to make people give up; a cold, dark winter to defeat the fighting spirit you find everywhere in Ukraine. It's not working.
Rostislav sends photos of the big stack of batteries he uses to run the dental clinic. It can last six or seven hours. I'm surprised he can keep working like this, and he just laughs. "Yes, we work all the time! That's what we do."
The previous day he had conducted two big operations – upper and lower jaw rehabilitation – in a friend's clinic. The day we speak, he's been overseeing the fitting of windows and doors on the new building. "I feel fine, totally normal," he insists. "I hope for a good future, believe in victory."
His mood might sour a bit, he admits, when the power goes off, and this is a daily occurrence. But it makes you appreciate the basic things. "How has life changed? Well now, we're happy when we have electricity. It's hard to understand, but when you get used to a normal life, warmth in your house, you don't realise. Now, when we have light we're so happy – calling friends, 'Oh, do you have light? Wait half an hour!'. "People can get used to everything."
Rostislav and his wife, Iryna, have two daughters, Polina, 7, and Arina, 4. "They don't know there's war in Ukraine," he says. "We don't tell them, we don't want to them to be scared. Maybe they hear the explosions, but they don't realise – we tell them it's fireworks."
He thinks it's better that they only find out later. "I don't want my children to know that this is happening."
Imagine the life-changing experience of having your first child – but in a war zone. Marta Znak was already several months pregnant when bombs started falling on her native city of Kyiv, where she lives with her husband, Alex Chorny, 29.
At first the couple stuck it out in Kyiv, then went to the western city of Lutsk. But that wasn't safe either. "A missile hit just near out hotel, at night. 'You need to go to Europe,' my husband said. 'It's not safe for you or our baby'."
It wasn't just the danger of strikes – with cities under bombardment, medical services stopped overnight. "I couldn't get the basic ­examinations I needed, couldn't see my doctor, labs were closed, no blood tests…"
So, leaving Alex in Ukraine, Marta went to Moldova, to stay with relatives. It was a hard separation. "Every morning my relatives said, please don't read the news, it's not good for your health. The most disturbing period was when we all saw the news about Bucha. I was completely shocked – 'is this really happening?'. They [the Russians] are like animals."
She returned to Kyiv in May and Camilla was born in late-September. "Of course I was thinking about where I should be. But I wanted to be with my husband and family no matter what. And in September things were relatively calm in Kyiv."
No easy feat with a tiny baby, but the young couple, at home in their multi­storey block, have found a way to cope with the blackouts.
"We have a power­ ­schedule now, so we can plan in advance. For example, I know at 3pm electricity will be off, so I can boil the water and do everything, Sasha [Alex] took Camilla for a walk in the pushchair until 2pm, it's all planned."
Rumours of a renewed ­counteroffensive in late February will not push Marta and Alex to leave again: instead they're stocking up with food and water.
The past 12 months, she says, have mentally aged her. "I'm much more mature now. I need to care for my baby, be very strong for her. I realised that you cannot be weak. You need to find some way to do everything for her."
On January 14 nearly 50 ­people were killed and many more injured in a missile strike on a residential building in Dnipro. It brought home to Marta the fact that "every night, every day, your building could be hit. Of course it's very scary".
They cover up the windows of their flat to try to prevent the glass shattering, and during air-raid alerts hide either in the bathroom, the corridor, or the bomb shelter below. It depends on the severity of the alert. Social media channels provide essential hints – "if it's some flights near Belarus, it might just be training flights – but if you see that missiles or drones have been launched, it's very dangerous."
Marta, Alex and Camilla missed the heavy strikes on Kyiv on New Year's Eve and January 1. They were on holiday in western Ukraine, where the relative peace and snowy mountains provide a brief safe haven for many people. Her mother called from the city centre, though. "Everything was shaking".
At a Hogmanay party the couple's only wish for 2023 was for a Ukrainian victory – no doubt like everyone else, Marta says. The tradition in Ukraine is to write down a wish on a piece of paper, put it into an empty bottle, and then smash the bottle. "Or some crazy people tear it up and drink it in champagne," she laughs, her good humour somehow intact after everything.
The days following Russia's ­full-scale invasion saw huge queues at army recruitment stations and territorial defence bases, as ordinary people – including many women – rushed to take up arms or train as frontline medics.
The morale of the Ukrainian soldiers, who are motivated to defend their own land against an invading force, is famous, and is thought to be a key factor in Ukraine's surprising success on the battlefield so far. No one pretends it is an easy fight, though, and both sides have been sustaining significant losses in Donbas in recent months. A lot of people are dying.
Jozepf – using his army ­nickname instead of his name for security reasons – signed up on March 4, as soon as he had taken his family across the border to safety. They'd got out early, on February 22 – Jozepf says he foresaw the war, as he studies geopolitics closely.
The 43-year-old hasn't seen his family since then – nearly a year apart. His son and wife are living in Poland, where she has found work as an assistant teacher.
Before the invasion, Jozepf was a busy entrepreneur working in construction and logistics, helping people travel to Poland and Lithuania for work. He was an activist too, serving on the board of human rights group Maidan Monitoring, assistant to deputies of the Supreme Council of Ukraine, and somehow found time to study for a master's degree in psychology – and run a newspaper.
Like many of his ­generation, he had done military service before, as a young man. "The army, in my opinion, has become more modern, the provision is better, but the war is cruel," he says. "We are tired. But we'll continue the fight."
He has only been married to Tetiana since April – the state adopted a law allowing online marriages in late-March and he reckons he was one of the first to do it. They had been together for 12 years already.
He misses her and his son greatly, of course, but believes he is serving in the army "so that my children will live in a country where there will be no occupier". "If the war ends, I'll go to my family," he says. "This is the greatest value, and you begin to appreciate it more in separation."
He has hopes of living in Poland or Lithuania, as he did previously – or even Canada. "But I'm needed in Ukraine now. Here is my place."
This past year has brought "only more death, destroyed homes, lives and destinies, crippled people, children seen people torn apart," Jozepf adds.
From his perspective as a social activist, the process of change and rebuilding will take a long time – "even if the war ends tomorrow on our terms".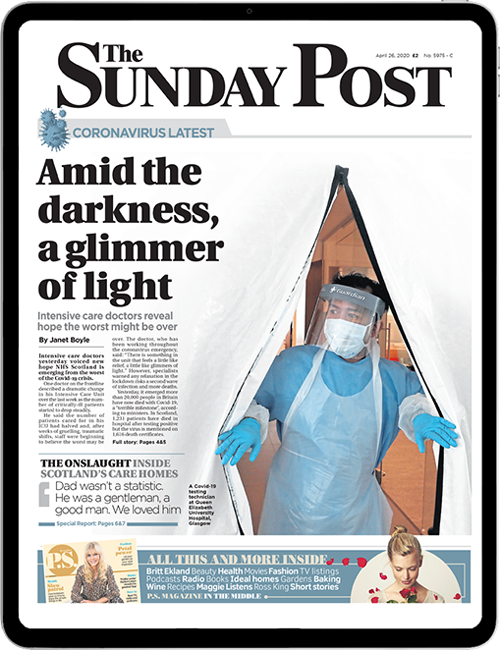 Enjoy the convenience of having The Sunday Post delivered as a digital ePaper straight to your smartphone, tablet or computer.
Subscribe for only £5.49 a month and enjoy all the benefits of the printed paper as a digital replica.
Subscribe