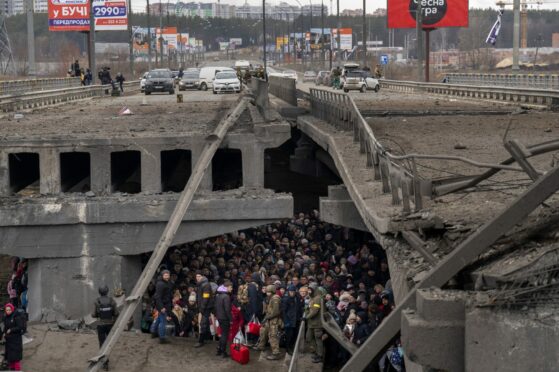 Women, children, the frail and the elderly were trapped in two besieged Ukrainian cities last night after Russian forces broke a promised ceasefire allowing them to evacuate.
Around 200,000 people in Mariupol and 15,000 from Volnovakha had been preparing to leave but the evacuation was abandoned after a promised five-hour ceasefire was shattered by Russian shelling.
The Red Cross, which had negotiated the temporary ceasefire, described the scenes in Mariupol and other cities, where thousands of people are now without power or fresh water, as "heart-breaking".
In an impassioned video call to US senators, Ukrainian President Volodymyr Zelensky begged for more military aid and for a no-fly zone to be declared to stop Russian air attacks. But, as pressure mounted on the West to do more, Russian president Vladimir Putin warned any attempt to close the skies above Ukraine would be "participation in armed conflict".
Meanwhile, aid agencies said the number of refugees could today rise to 1.5 million from 1.3 million yesterday.
"This is the fastest moving refugee crisis we have seen in Europe since the end of the Second World War," said the United Nations High Commissioner for Refugees Filippo Grandi.
After the Mariupol evacuation was halted, city officials said Russian artillery had continued to bombard areas designated as a safe route after Russia agreed to open humanitarian corridors to allow evacuation of residents and the delivery of lifeline supplies of medicine and food.
But the evacuations were quickly called off as Russian forces continued shelling on Mariupol, a strategic port in the south-east, and near the city of Orikhiv.
Residents have no medicine, heating, food and only snow for drinking water, according to medical charity Médecins Sans Frontières.
One of the charity's workers said: "This night the shelling was harder and closer. We collected snow and rain water yesterday to have some utility water. We tried to get free water today but the queue was huge. We also wanted to get bread but it is not clear the schedule and the places of distribution.
"Multiple grocery stores were destroyed by missiles and the remaining things were taken by people in desperate need. Still no power, water, heating and mobile connection. Pharmacies are out of medicine."
Ukraine's Foreign Ministry called on the international community to condemn Russia for a "gross violation of the agreements on the opening of humanitarian corridors".
The UK Ministry of Defence said Russia's proposed ceasefire in Mariupol was "likely an attempt to deflect international condemnation while resetting its forces for renewed offensive activity". In its latest defence intelligence update, the MoD said: "By accusing Ukraine of breaking the agreement, Russia is likely seeking to shift responsibility for current and future civilian casualties in the city."
According to Ukrainian officials, Russian forces deliberately targeted civilians trying to leave Mariupol. "When the people organised evacuation points, they started attacks on evacuation points. Not all the city. Just ­evacuation points," said one official.
Mariupol's deputy mayor, Sergei Orlov, said the city was under constant attack and the danger from shelling meant dead bodies could not be lifted from the streets.
He said: "They continue to destroy this city, they continue to kill people on the street. There is no safe place in the city, they continue bombing, using rockets all over the city. We see dead people on the street and we cannot even collect them."
In Volnovakha, 400 people were evacuated despite an initial plan to evacuate 15,000 during the temporary ceasefire.
Regional governor Pavlo Kyrylenko said: "Although we had the intention and necessary transport to evacuate a lot more people, we had to stop the movement of the column because the Russians once again started shelling Volnovakha mercilessly, and it was very dangerous to move there."
Meanwhile, at least six people – including a child – were killed in a Russian air strike on a rural village in the Kyiv region on Friday, according to Ukrainian officials. Two more adults and two more children were also hospitalised in the shelling on the village of Markhalivka.
Kyiv governor Oleksiy Kuleba said Russian forces had taken over a psychiatric hospital in Borodyanka with 670 people inside.
He said: "Today we do not understand how to evacuate these people, how to help them. They are running out of water and medicines. These are people with certain special needs. They need constant help. Many of them have been bedridden for years."
A United Nations monitoring mission said at least 351 civilians had been confirmed killed and 707 injured in Ukraine so far since the start of the invasion, adding that the real figures were likely to be "considerably higher".
Russia earlier admitted that 500 of its soldiers have been killed in Ukraine and another 1,600 have been wounded, though Ukraine's military claims that it has killed about 10,000 Russian troops since the invasion began on February 24.
Kyiv had estimated that Russian losses also include 269 tanks, 105 artillery systems, 39 aircraft, 40 helicopters and 409 vehicles.
Yesterday it was claimed that in just 24 hours Russia had also lost four combat aircraft, three helicopters and a drone.
The Ukrainian military posted a video online of a Russian helicopter being shot down by a surface to air missile. The video is believed to have been shot around 25 miles from Kyiv, although it is not clear when.
Nato countries have supplied Ukraine with hundreds of portable surface-to-air missile launchers.
The death toll of Russian soldiers includes three senior army commanders who, in a sign of increasing Russian concern over its slow advance, were travelling towards the front line in an attempt to restore momentum.
Sending Major General Andrei Sukhovetsky, commanding general of the Russian 7th Airborne Division, to the front line is thought to confirm reports of serious logistical and morale problems undermining the Russian invasion force.
Sukhovetsky, who was killed by a sniper, is thought to be the highest-ranking Russian to die and Western officials believe that a divisional commander and a regimental commander have also been killed.
A leading security analyst said Russian President Vladimir Putin's struggle to gain ground in Ukraine could be down to poorly maintained military vehicles and a lack of experience on the front line.
Professor Michael Clarke, a former director of security think tank Royal United Services Institute, said a stalled column of Russian tanks and trucks near Kyiv shows the army came unprepared.
He said: "They have not conducted a combined arms operation of this sort since at least 1979 with the invasion of Afghanistan – and that was pretty quick. They haven't done anything as big as this since 1945."
Protests broke out yesterday in Kherson – the only large city in Ukraine to have been captured by Russia so far, according to reports on the ground.
Yesterday the Foreign Office advised all British nationals who do not need to be in Russia to leave the country using the remaining commercial routes.
The International Monetary Fund said war in Ukraine will have a "severe impact" on the global economy.
The IMF said it expected to bring Ukraine's request for £1bn to its board for approval as early as this week.
The Red Cross, which had been the temporary ceasefire's guarantor, described the scenes in Mariupol and in other cities yesterday as "heart-breaking".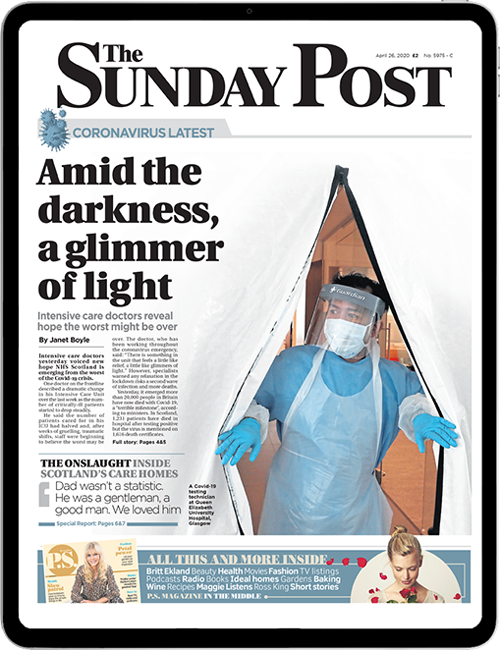 Enjoy the convenience of having The Sunday Post delivered as a digital ePaper straight to your smartphone, tablet or computer.
Subscribe for only £5.49 a month and enjoy all the benefits of the printed paper as a digital replica.
Subscribe