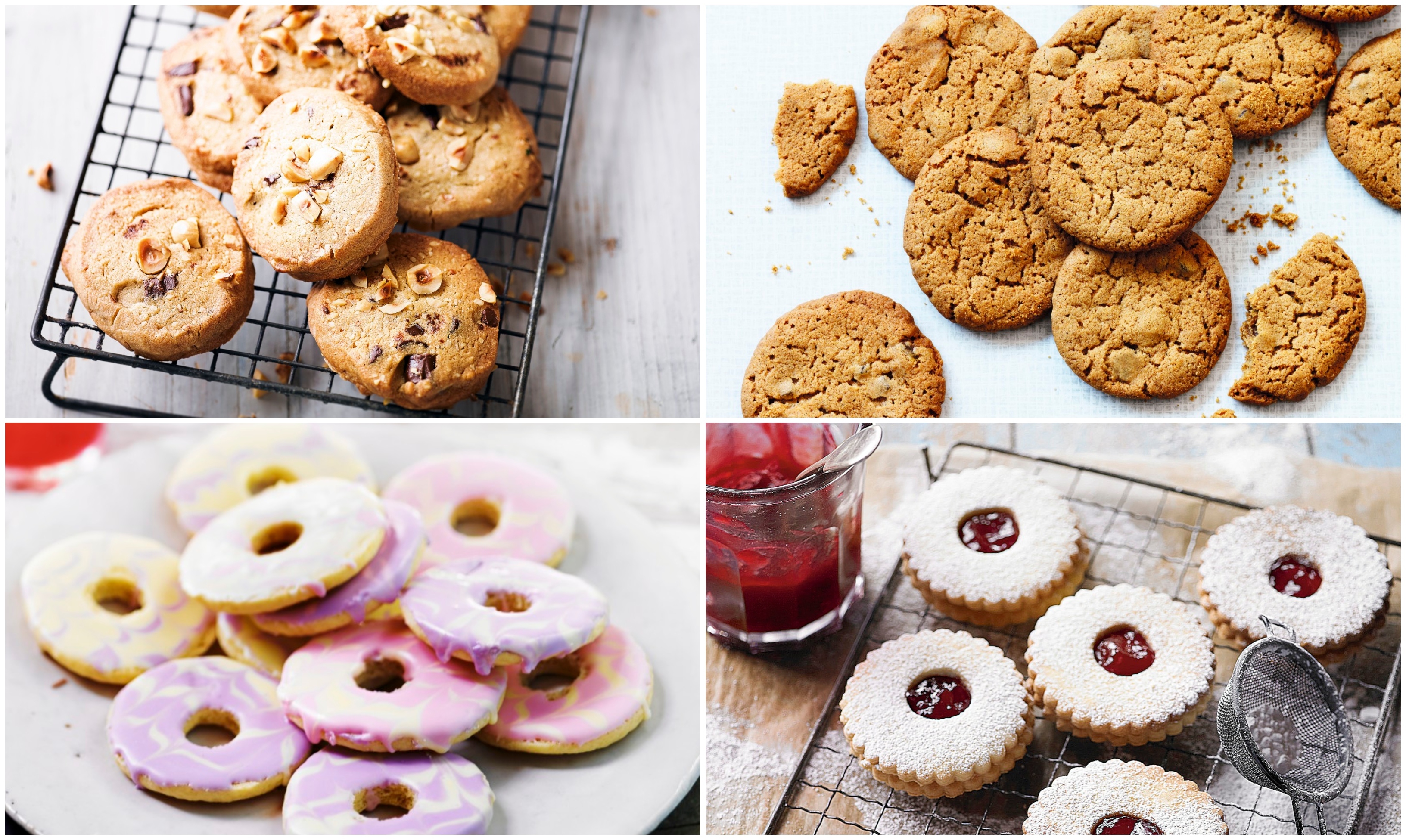 THE Great British Bake Off has returned to our screens, with a new group of 12 contestants will be hoping to make an early impression on judges Prue Leith and Paul Hollywood.
The first challenge was Biscuit Week, and if you fancy whipping up your very own showstopper at home, we've got some delicious and easy-to-make recipes to inspire you,
From jammy dodgers to party rings to Maryland cookies, here's how to make some of your childhood favourites at home!
Recipes and images courtesy of Waitrose & Partners
Big jammy dodgers
Preparation time: 20 minutes plus chilling
Cooking time: 12 minutes
Total time: 32 minutes plus chilling
Makes: 12
Ingredients
225g unsalted butter, at room temperature
125g icing sugar plus extra for dusting
1 x ½ tsp vanilla extract
2 medium egg yolks
300g plain flour
150g essential Waitrose Seedless Raspberry Jam
Method
1. Using an electric whisk, beat the butter and sugar together until pale and softened. Add the vanilla, egg yolks and flour and continue to whisk together to make a soft dough. Wrap in clingfilm for 1–2 hours until firm.
2. Heat the oven to 180°C, gas mark 4. On a lightly floured surface, roll out half the dough to the thickness of a pound coin. Using a 7.5cm cutter, stamp out 12 circles. Using a small cutter (try a 2cm circle or a heart or star shape), stamp out the centre of each biscuit. Place on a large, lined baking sheet.
3. Add any trimmings to the rest of the dough then roll out and use to make a further 12 rounds. Place on a second large, lined baking sheet. Bake the biscuits for 10–12 minutes until pale golden. Remove from the oven and leave to cool and firm up on the baking sheets.
4. Place a large teaspoonful of jam in the centre of the base biscuits and spread out a little. Press on the top biscuits and dust with a little more icing sugar, to serve.
Filled oat cookies
Great for kids' packed lunches or as a treat for afternoon tea with friends, these cookies are quick to make and can be made in advance then filled when needed. Try livening up the flavour with mixed spice or ground cinnamon
Vegetarian
Preparation time:15 minutes
Cooking time:10 minutes to 12 minutes
Total time:25 minutes to 27 minutes
Makes: 8
Ingredients
100g Lurpak Unsalted Butter, diced and softened
100g Billington's Light Brown Soft Sugar
1 medium Waitrose British Blacktail Free Range Egg yolk
½ tsp Nielsen-MasseyVanilla Extract
100g self-raising flour
75g oats
FOR THE FILLING
180g soft cheese
50g Billington's Golden Icing Sugar
1 tsp Nielsen-Massey Vanilla Extract
Method
1. Preheat the oven to 190oC, gas mark 5. Line 2 baking trays with baking parchment.
2. Whisk the butter and sugar in a large bowl until pale and fluffy. Whisk in the egg yolk and vanilla extract. Mix in the flour and oats until evenly combined. Divide the dough into 16 and roll into balls. Place on the trays, slightly pressing the balls flat.
3. Bake for 10-12 minutes until golden. Cool slightly before transferring to a wire rack.
4. To make the filling, whisk the cheese, sugar and vanilla paste until smooth. Place in a piping bag with a 1cm nozzle and pipe onto the base of 8 cookies, top with the remaining cookies and chill.
Ginger spiced crunch biscuits
These biscuits have a chewy middle, a crunchy outside and a really spicy kick. For a quick pudding, serve with a scoop of softened vanilla ice cream.
Vegetarian
Preparation time: 20 minutes
Cooking time: 30 minutes
Total time: 50 minutes
Makes: 24
Ingredients
75g Cooks' Homebaking Stem Ginger In Syrup, plus 3 tbsp of the syrup
150g Waitrose Light Brown Soft Sugar
150g unsalted butter, softened
200g self-raising flour
1 tsp bicarbonate of soda
1 tsp ground mixed spice
1 tsp ground cinnamon
3 tbsp ground ginger
Method
1. Preheat the oven to 170°C, gas mark 3. Line two large baking sheets with baking parchment.
2. Chop the stem ginger into very small dice and set aside. Place the brown sugar and butter in a large mixing bowl and, using an electric handheld mixer, beat together until creamy.
3. Sieve the flour, bicarbonate of soda, mixed spice, cinnamon and ground ginger into the bowl. Stir in the stem ginger and syrup, until everything comes together to form a dough. Tip onto a work surface and gently knead until smooth.
4. Break up the dough into 24 even-sized pieces and roll into balls. Place 6 on each of the prepared baking sheets, spaced well apart. Flatten each ball a little, then bake for 15 minutes until golden. They will still feel a little soft but will firm up as they cool. Repeat with the remaining dough until you have used up all the mixture.
Cook's tipThe uncooked dough freezes well. Roll into balls, flatten slightly and freeze layered up between baking parchment. To bake, take out the number you want and bake from frozen for 3-4 minutes longer.
Martha's iced ring biscuits
Preparation time: 40 minutes + chilling
Cooking time:10-12 minutes
Total time: 50 minutes + chilling
Makes: about 30-40
Ingredients
100g unsalted butter, softened
100g caster sugar
1 tsp vanilla extract
1 large Waitrose British Blacktail
Free Range Egg
200g plain flour
½ tsp baking powder
½ tsp fine salt
For the icing:
250g royal icing sugar
Gel food colourings, various
Method
1. Cream the butter and sugar together in a large bowl until starting to turn pale. Add the vanilla extract and break in the egg, then mix until combined.
2. In a small bowl, combine the flour, baking powder and salt.
Add this dry mixture to the butter and mix until a rough dough forms. You might need to gently knead the dough to make sure it holds together. Wrap the dough in clingfilm and chill in the fridge for 30 minutes.
3. Preheat the oven to 160°C, gas mark 3. Roll the dough out between 2 pieces of baking parchment (this stops it sticking to the work surface) to a thickness of around 0.5cm. Cut 5cm circles out using a cutter, and punch a smaller hole in the middle of each to create a ring (I used the small lid of the vanilla extract bottle). Transfer to a lined baking tray and bake for 10-12 minutes. You want the biscuits to be slightly golden, but not too dark.
4. To make the icing, mix the sugar with enough water to make a thick white paste. Divide the mixture between 3 bowls, then add a tiny amount of the colourings of your choice (I used pastel yellow, purple and pink) to each bowl and mix until you have the shade you desire. Spoon 1 tbsp of each colour into separate piping bags.
5. Dip each biscuit face down into one of the bowls of icing, then working quickly, drizzle lines of a different colour from a piping bag across the top. Drag a cocktail stick through the stripes to create a feathered effect. The icing does start to set quickly, so decorate one biscuit at a time. Repeat with the remaining biscuits using different combinations of colours, then leave to set for a few hours before sharing out.
Martha Collison's Viennese whirls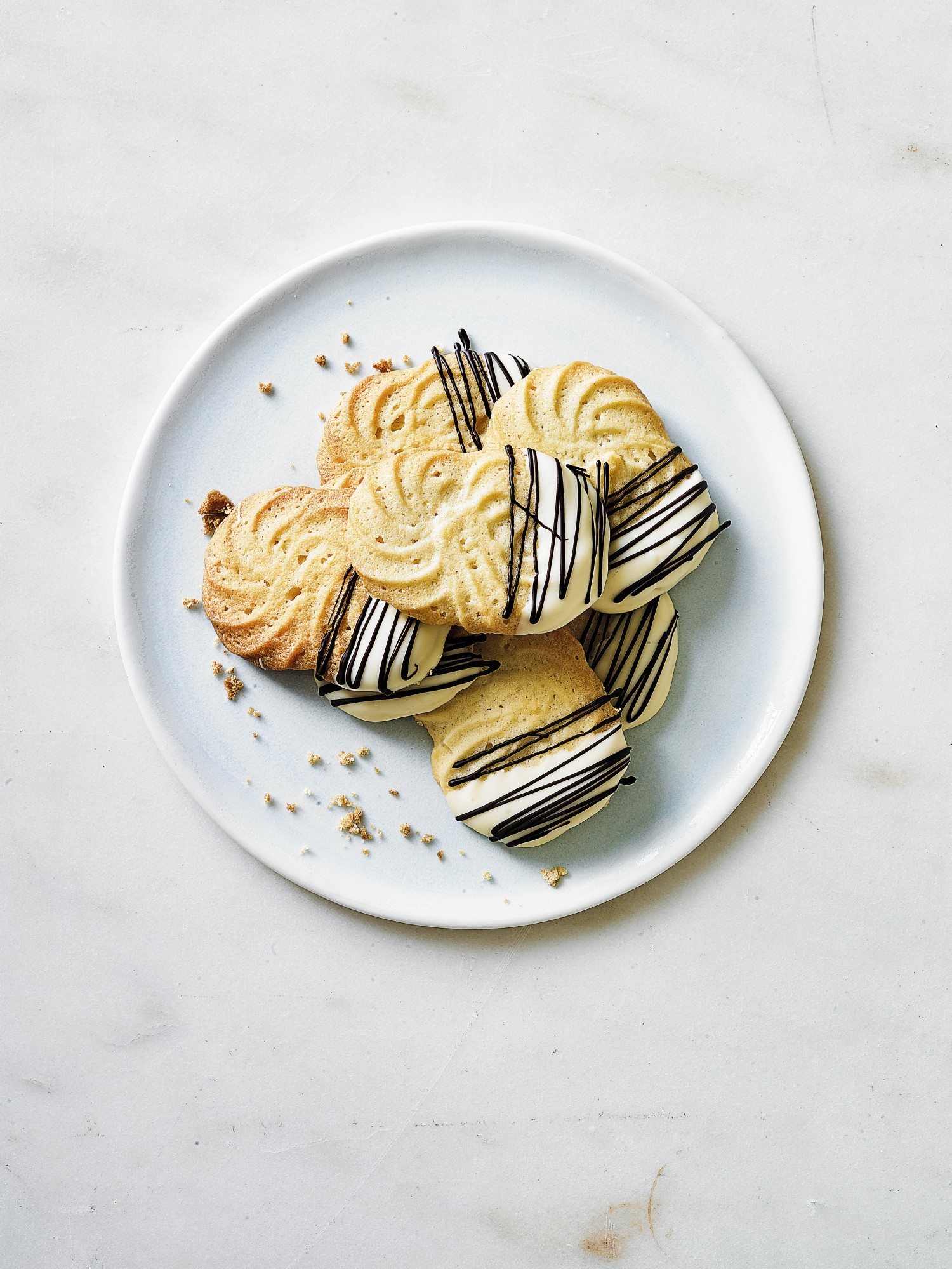 Vegetarian
Preparation time:20 minutes + cooling
Cooking time:10 minutes to 15 minutes
Total time:30-35 minutes + cooling
Makes: 20 biscuits
Ingredients
200g softened butter
50g icing sugar
1 tsp vanilla extract
150g plain flour
50g cornflour
½ tsp baking powder
200g white chocolate
50g dark chocolate
Method
1. Preheat the oven to 180°C, gas mark 4 and line 1-2 large baking trays with baking parchment.
2. Cream together the softened butter and icing sugar using an electric whisk until the mixture is pale and fluffy. It should look almost white when it is ready. Stir in the vanilla extract, then sift in the flours and baking powder, then continue to beat until they are well combined. The dough should be very soft in consistency.
3. Spoon the dough into a piping bag fitted with a metal medium star nozzle. Pipe 20 tight figure-of-eight shapes onto the baking tray, spacing them well apart. Then bake for 10-15 minutes or until the biscuits are a pale golden brown.
4. Melt the white chocolate and dark chocolate in separate bowls over pans of boiling water. Then dip one end of each biscuit into the white chocolate and place onto a piece of baking parchment to cool slightly. Then drizzle the melted dark chocolate over the white chocolate, and leave to set before enjoying. These biscuits will keep in a tin for 3 to 4 days.
Warm chocolate chip & hazelnut cookies
Vegetarian
Preparation time:15 minutes + chilling
Cooking time:20 minutes
Total time:35 minutes + chilling
Makes: 16
Ingredients
100g blanched hazelnuts
125g softened unsalted butter
100g light brown muscovado sugar
25ml maple syrup
1 medium Waitrose British Blacktail Free Range Egg, beaten
200g plain flour
70g milk or dark chocolate chunks
Method
1. Preheat the oven to 200°C, gas mark 6. Place the hazelnuts on a baking tray and put in the oven to toast until lightly coloured all over – about 4-5 minutes. Remove about 25g of the hazelnuts and set aside. Place the rest in a food processor and blitz until coarsely chopped.
2. Place the butter in a bowl and beat together with the sugar until light and creamy. Gradually add the maple syrup along with the egg and continue to mix. Gradually add the flour, ground hazelnuts and chocolate chips, and mix until you have a soft dough-like mixture. Tip this out onto a sheet of clingfilm and roll into a long, thick sausage shape about 7cm in diameter. Place in the fridge and chill for about an hour.
3. Reduce the oven temperature to 160°C, gas mark 3. Line two baking trays with parchment paper. Unwrap the dough and cut into 16 cookies. Place them on the baking trays. Chop the remaining hazelnuts and scatter over the top, pressing them down gently. Bake for 20 minutes until golden brown. Place the cookies on a wire rack and leave to cool for a few minutes, then serve warm on their own or with vanilla ice cream if you wish.