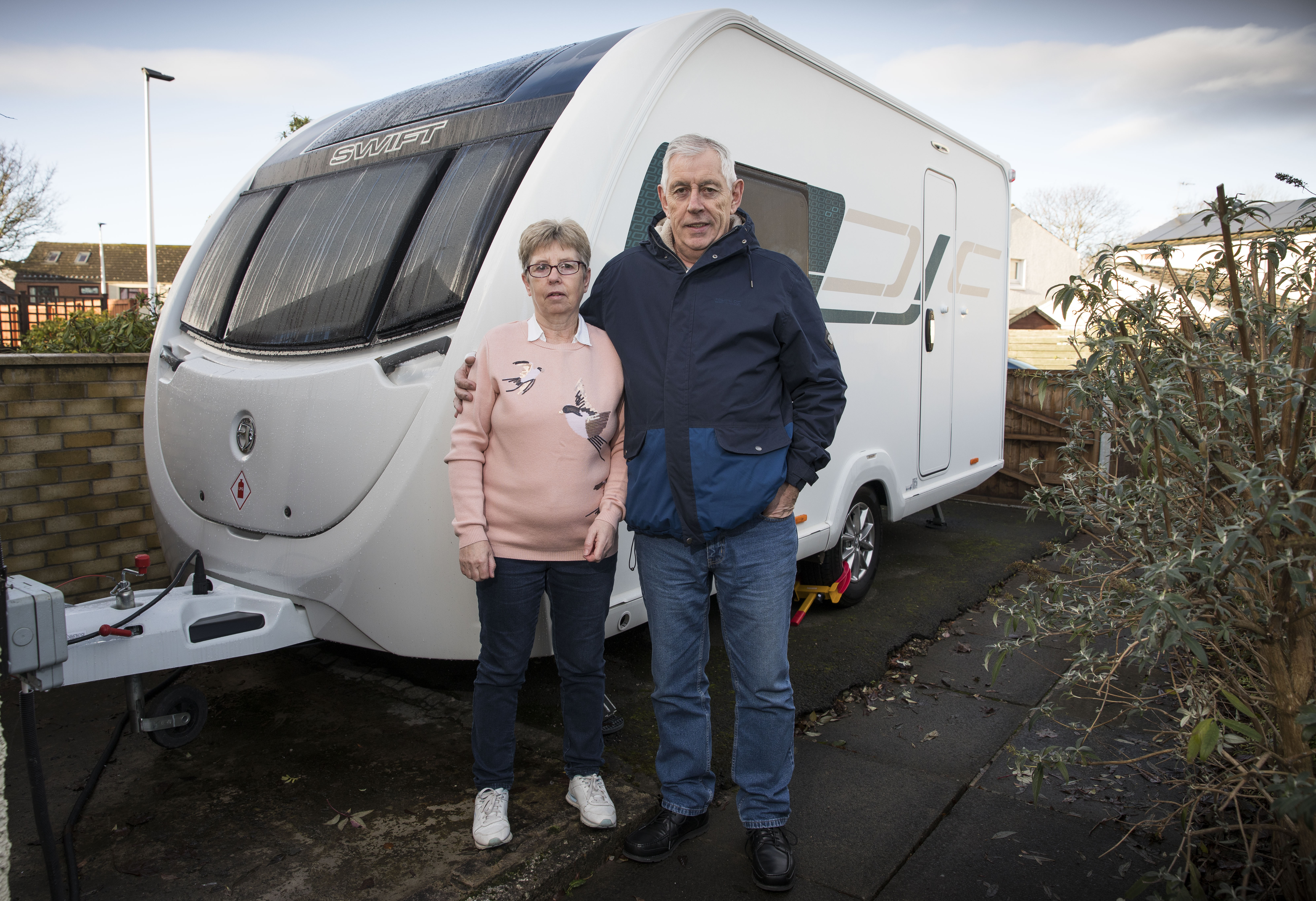 ALEXANDER and Kathy Strathie can't wait to get back out on the road after becoming embroiled in a lengthy dispute over a faulty new caravan.
The couple, from Grangemouth, near Falkirk, have been caravan enthusiasts for decades and travel all over Europe for holidays.
They have only ever been able to afford secondhand vans but when they came into a bit of money last January they decided to treat themselves to a brand new one.
In May, they shelled out £17,500 for a Swift Sprite model from Kirkcaldy Caravans in Fife.
"It had numerous fault from day one," said Alexander, 62. "It turned into nothing but hassle."
The couple said that the vehicle was leaking water through the front window, seals had come out of the door, and the door handle had broken twice, meaning that they couldn't get in. There were also problems with the cooker and sink, among other issues.
"We had months of hassle, lost out on weekends away and spent a fortune on fuel for our numerous trips up to Kirkcaldy for repairs," Alexander explained.
"Because I am a shift worker at a hospital my weekends are precious and caravanning is our favourite pastime. Kathy and I will soon have been married 42 years and we have never stayed in a hotel all our married life.
"From March to October we go away somewhere every weekend in our van. We have been all over the UK and also to France, Holland, Germany… you name it.
"It was a big blow for us to be put off the road for such a long time."
Because of the leaks, Alexander wrote to Kirkcaldy Caravans requesting a replacement van.
He said both the sellers and Swift refused his request, stating that everything could be fixed, and if there was any water ingress it would be covered by the 10-year warranty.
"We were getting nowhere with Kirkcaldy Caravans and Swift offered some accessories or a free service as compensation which we felt was totally inadequate," said Alexander.
"We felt it wasn't right that we had bought a new van but spent most of the time having it repaired."
At the end of his tether, Alexander wrote to Raw Deal and we contacted Kirkcaldy Caravans on his behalf.
Robert McLauchlin, branch manager at Kirkcaldy Caravans, said: "A Swift Group customer service representative has been in touch with Mr Strathie and agreed a plan of action to address the issues with his caravan.
"Mr Strathie will be returning his caravan to us shortly, after which we expect to have fully rectified the issues he has experienced. Swift Group has also agreed to make a goodwill gesture in recognition of the situation."
The result is that Alexander and Kathy have now had their caravan returned with all of the faults attended to.
Swift has also gifted them a free awning in recognition of the inconvenience they experienced.
"We are happy with the work that has been done," said Alexander. "Swift really stepped up to the mark and did a really good job.
"We are now looking forward to March when we can get back out on the road in our new van.
"We can't thank Raw Deal enough for resolving what had become a frustrating and stressful situation."