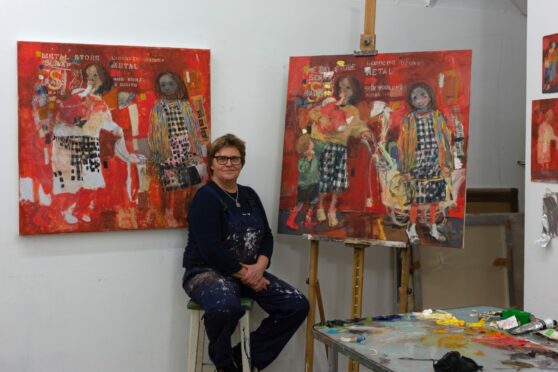 A recreation of a painting found unfinished on Joan Eardley's easel that imagines how the work would have been completed has been acquired by Glasgow Museums.
With the blessing of the late painter's estate, artist Kate Downie has worked for months on visualising and putting to canvas how Two Children might have been finished.
Recruiting local youngsters for sittings at her studio in Ceres, Fife, she found herself drawn deep into the project – even discovering clues to hidden figures that had only just started to take shape when Eardley died in 1963.
The finished product, based on extensive research and a career-long love of Eardley's work, forms a best guess at how the painting would have emerged had its creator not been lost to breast cancer aged just 42.
'An honour and responsibility'
"It was an honour and responsibility," Downie said. "It was an act of love and an act of research at the same time.
"Eardley could never have finished the painting when she was poorly because it's too big and too ambitious. But she got quite far with it. With it being unfinished, I think people just accepted that as read.
"But by working into it, it gave me a chance to see what her intentions were. I'm not saying I'm right, that it's the absolute final definitive, and that's the exciting thing. What's the point of painting if you know how it's going to come out?"
Often labelled the painter's painter, Eardley's work is beloved by artists and the public alike, with a series of events across the last year marking the centenary of her birth.
Two Children was her final work, part of a series of paintings based on the youngsters who would play on the city streets around her studio in Townhead.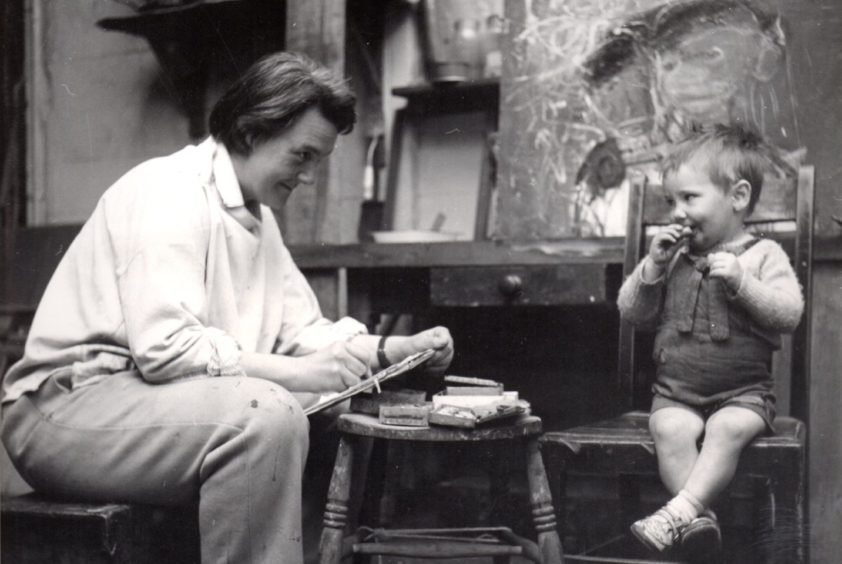 At the start of the project, Downie considered 'finishing' the painting to be an act of keeping Eardley alive but, by the final brushstrokes, it became clear that it was more about laying her to rest.
"I feel like she's alive in people's hearts," she said. "Her work affects people quite profoundly.
"I always felt really upset that she died so young, in the way that you feel sad for when women's talent isn't allowed to be properly part of a cultural or art historical conversation. I feel that her position is safe now, so then I can lay her to rest."
Conversations with Joan
Throughout the process, Downie felt like she was having an internal dialogue with Eardley, building a strong emotional connection as she tried to figure out how the painting would have been finished.
And it wasn't just those 'conversations with Joan' that would help crack the code, but visitors to her studio. One of her friends, Dr Sally Cross, noticed that an arm across one of the girl's faces didn't look like it belonged to her, but in fact a baby in her arms that hadn't made it to the canvas yet.
"They've had art historians looking at it for 60 years and they didn't work that out," Downie said.
"We collectively figured out how the baby was placed, wriggling in the crook of the arm of the girl and I began to draw inside the print and the dynamic in the work completely changed.
"I realised that the older girl has her right hip thrust out to support the baby's weight and that the foot position suddenly makes more sense."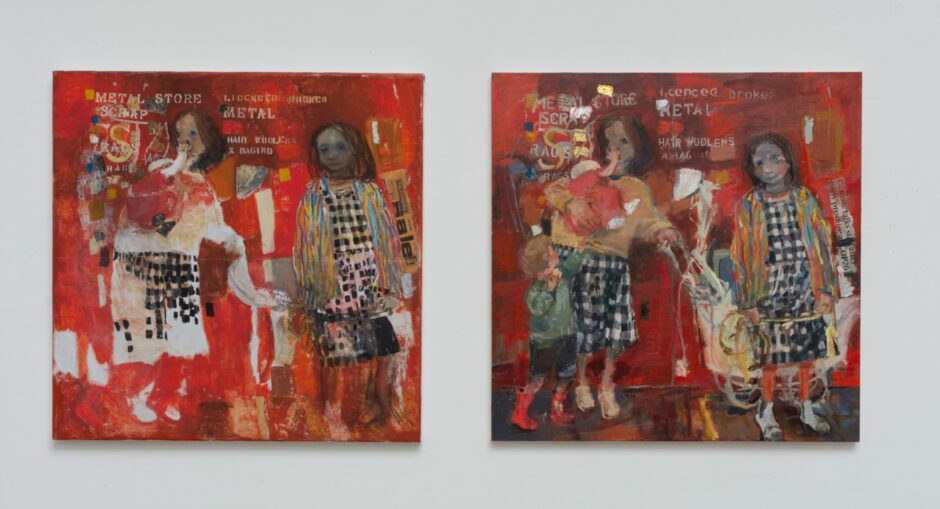 Through sittings with children – who Downie calls her interactive models – the placement and proportions of the additional figures in the painting came to life and two children became four.
The painting is now set to join the original in the collection of Glasgow Museums, much to Downie's delight.
"For me, to be part of a public collection means that you don't have to be rich to see good art and art that makes you think," she said. "This painting was never going to go into a private collection. I wasn't going to let it – it was either going to stay with me in my studio or it was going to go into a public collection. This is the best possible home for it."
Downie also sees the work as a tribute to those, like Eardley, lost to breast cancer at a young age.
"So many really wonderful, very talented, close friends of mine over the last 30 years have passed away with breast cancer, we're all affected by it," she said.
"For me, Joan Eardley was an early lesson in that kind of devastation of women dying before their time. It resonated with me, right down the years."
Glasgow Museums acquisition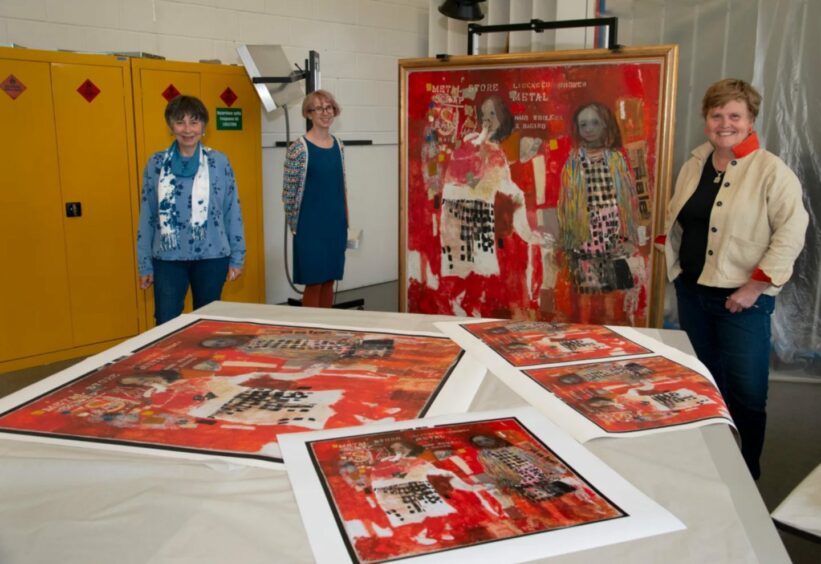 Glasgow Life Museums' acquisition of the painting was supported by the Eardley Estate, led by the artist's niece Anne Morrison-Hudson.
Once the purchase process is complete, it will initially be kept at the Glasgow Museums Resource Centre in Nitshill and made available to view by appointment or as part of a tour.
Jo Meacock, Curator of British Art, said: "I am thrilled that we're able to acquire Kate Downie's painting Four Children 1962-2002, after Joan Eardley, thanks to the generous support of the Eardley Estate.
"It has been a real journey of discovery working with Kate on this project, which has transformed our understanding of Eardley's unfinished painting Two Children.
"Kate's artwork represents a unique 'conversation' over time. It is ambitious and insightful, demonstrating that it takes a painter to truly understand another painter's work."
INTERVIEW: Artist Kate Downie on swapping travelling the world for learning the beauties of staying still in her Fife studio
The journey
As the painting was unfinished, Kate Downie had to add new elements and work out what Joan Eardley might have been thinking about the direction of her work.
She detailed the approach in a blog for Glasgow Museums, creating a studio diary for the first time.
"You know how social media is, people would say 'who do you think you are doing this painting?'" she said. "I thought if the blog's out there, then I don't have to answer any of those questions. And it explains it all, because it's quite a hard thing to explain."
Here are some of the things she added and interpreted.
The arms
Through having children of all ages come to the studio, Downie was able to work out the dynamics and positions of the figures.
In one instance, her neighbour came in with her 11-week-old and tried to model as the older girl holding the child in the painting.
"She kept holding the baby in her right arm, and they wouldn't settle," Downie recalled.
"I asked her how she would normally hold the baby and she immediately put her into her left arm, so she's got a right hand to pick up the coffee, put the kettle on, tidy up –  like it's the primeval need for a mother to have her dominant arm free to defend herself and her baby.
"When it's a child holding their sibling though, they'll just heave them up with the stronger, dominant arm. It's a different thing altogether.
"It took me deeper into some of the situations that Eardley would have had to deal with when inviting kids into her studio as models."
The extras
The original painting features tinfoil sweet wrappers and newspaper headlines to represent the flotsam and jetsam of Glasgow street life.
Downie's version added in some extra graffiti, including initials of some of the children that modelled in her studio.
She collaged scraps of newspaper centred around Cop26, which was just beginning as she started work on the painting. She also gave the toddler bright red welly boots, as worn by one of her young models.
"I love that, narrative-wise – this is the ultimate 'green' recycling painting, when scrap had a value," she said.
The signature
Downie signed the painting on the back, not on the front as she would with any work.
"I haven't signed it –  because I can't," she said. "It's an unusual painting in that I don't really own it.
"I own the labour and the research but the painting is kind of by Joan Eardley and then myself. I've waived copyrights because I don't actually feel I own it. It's a very unusual thing that I wouldn't sign a painting. But there's a good reason. I can't own that. Can I?"
The paint
Downie used paint she'd taken on after her mother, who has dementia, and a close friend's mother both moved into care homes.
As well as an emotional connection to the project, it also allowed the artist to match the kinds of pigments that Eardley would've used in the early 1960s.
"Both of these women have been fortunate to live on into old age and keep painting until well into their 80s," she said.
"It was really nice to be able to not waste paint. I'm a great believer that all art materials can keep going to the future."
---
Read Kate's blog at glasgowmuseums-exhibitions.co.uk/joan-eardley/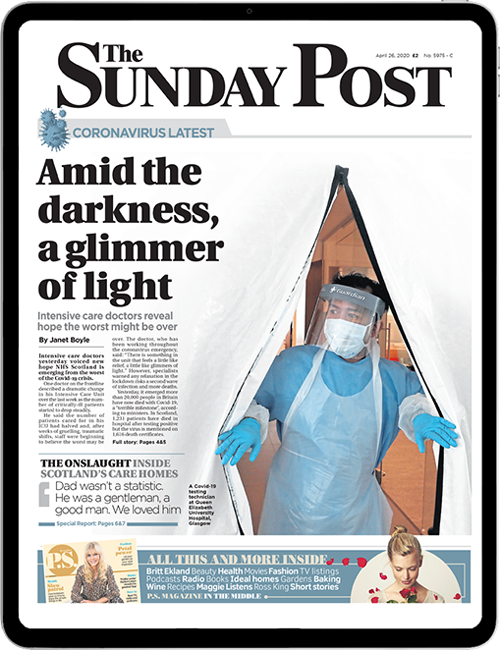 Enjoy the convenience of having The Sunday Post delivered as a digital ePaper straight to your smartphone, tablet or computer.
Subscribe for only £5.49 a month and enjoy all the benefits of the printed paper as a digital replica.
Subscribe