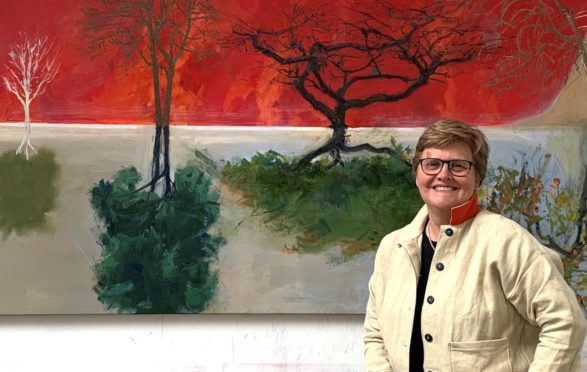 Artist Kate Downie's passport is normally packed alongside her paintbrushes when starting a new series of work.
She's travelled the globe, holding residencies in Paris, Amsterdam and Corsica, while also working out of studios based in a diverse range of places including a brewery, a maternity hospital and an oil rig.
For the past year though, lockdown has forced her to work within the confines of her home in Fife, and it has given her the chance to learn the beauties of staying still.
"Normally, I travel a huge amount," she said. "I've been working in China quite a lot over the last ten years, I've travelled in the US and a lot of my work was about train journeys.
"I had a grant from Fife Arts to do a series of screen prints about the view of the Fife landscape as you slide through on a train. I got the money but couldn't get the train!"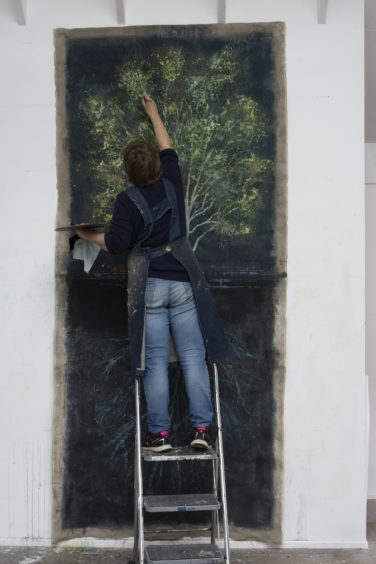 For her latest exhibition, Between Seasons, it's all about what was going on around her during lockdown – in particular, the cycle of seasons showcased by trees.
Through the big windows of her studio in the village of Ceres, she reconnected with nature around her, travelling through time rather than space.
"I was quite low like a lot of people during the early lockdown," she recalled. "My very elderly disabled mum who has dementia came out to live with us. We were looking after her 24/7.
"I was pushing her wheelchair all around wee country lanes. I kept noticing these poor little trees that, when we had that glorious spring, weren't bursting into bud. I was making these little etchings and drawings of them.
"My daughter sent me some wrapping paper which was of trees in full leaf and so for every tree, I started making little collages. When you put them together you've got that point in the middle, summer above, winter below.
"It's a very simple idea, made up from random trees. I suddenly realised I had something that was like an hourglass of nature."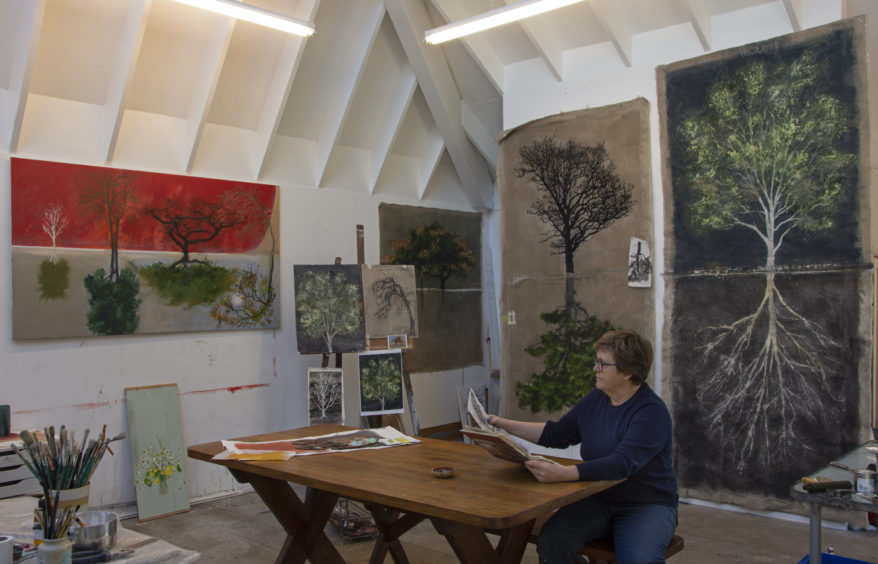 Born in North Carolina, but raised from the age of seven in Scotland, much of Downie's work pre-pandemic was based around the infrastructure of human migration in the landscape.
Trees have always been depicted in art, but have never been something she was too fond of drawing herself.
But she considers them to be like big timepieces, lasting through so many years, no matter what the environment around throws at them.
"When we moved to Fife almost three years ago, I'd never had a big garden before with trees," she said. "After a wee city garden, it was really quite a strange thing to own a tree!
"I think it's quite hard to find a new way of looking at them. If I'm being really honest, I only ever liked drawing them in winter, because drawing leaves is quite difficult. It's hard to get an edge on them.
"But I'm very interested in how trees survive. They bear witness to every season that's happened to them. Even when the environment is bashing against them.
"Every time a human lops off a branch because it gets in the way of a double decker bus, a tree finds another way to come out. I'm interested in that, they're all fighting for their survival.
"I think that's quite a strong metaphor for how we've got through . We're good at adapting."
The art on display at the new exhibition, which is being held at the Scottish Gallery in Edinburgh, includes paintings, drawings and prints.
Some can be rotated 180 degrees, with the pieces forming mirror-like reflections of summer and winter, full bloom and bare branch.
"I'm delighted. I just hope that the restrictions ease off a little bit more," Downie said.
"I've been lucky that I had no major shows on during lockdown. I've been in some virtual exhibitions but for this amount of work, you want people to be able to stand in front of it. It's quite hard when you think some of these paintings are 2.5m so you want them to be right in front of you.
"I would not have been making an exhibition like this if I had my normal lifestyle. It's my local response to what's a collective trauma. This is my way of dealing with it. It references things like pain and survival and so on, but I hope it's a more poetic kind of form."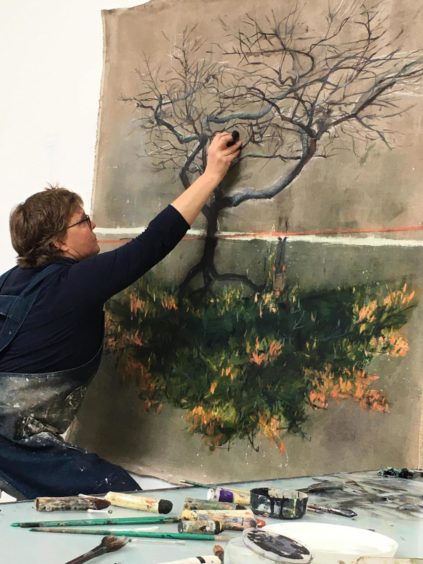 One of Downie's greatest influences is Joan Eardley. The centenary of the late painter's birth was celebrated across the art community earlier this week.
"She was a big influence. I was at Gray's School of Art in Aberdeen and there were people that taught me that knew her. They showed us her work when it wasn't well known further afield.
"Her style of painting, her quality of drawing inside the Scottish landscape, has been massively influential. The way she approached the faces of children or the rocks of the fields, what she did was she could look inside the subject, she really could see all the scars and all the history."
Downie is involved in an upcoming project with Eardley's painting Two Children, which was unfinished at the time of her death in 1963.
"I've been offered the opportunity to finish a huge print facsimile actual size of the painting on canvas, and I'm going to be working on extrapolating what she might have done but more from my own point of view, bringing it into the 21st century.
"It's like an ongoing dialogue with the dead. The fact she died so young was terrible. The way she looked into the heart of Scotland was incredible."
---
The roots
Here, Kate tells the story behind some of the works going on display.
Letham Oak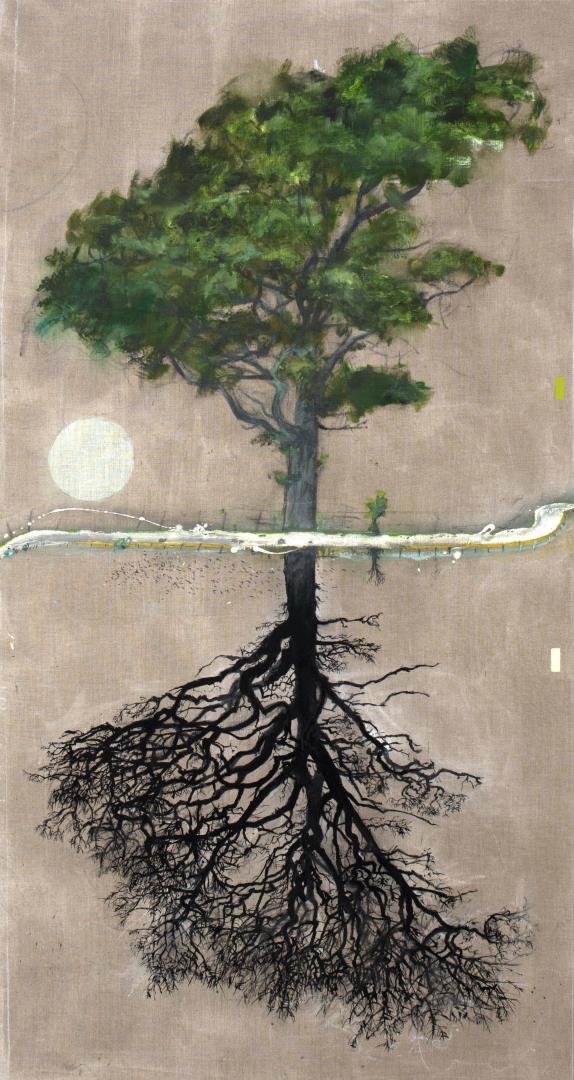 This tree is on the edge of the Howe of Fife, which was one of the places I cycled when we were only allowed to go five miles away. There's a little roadway in this, one of the small backroads called Q roads. It's following the nature of that little road.
I just love oak trees. Up close, it's very complicated. It's a big painting but I wanted to get that complexity in the branches in winter. Because it's on flat plain in Fife you're very aware of the fields, the wild geese and so on.
Portobello Wych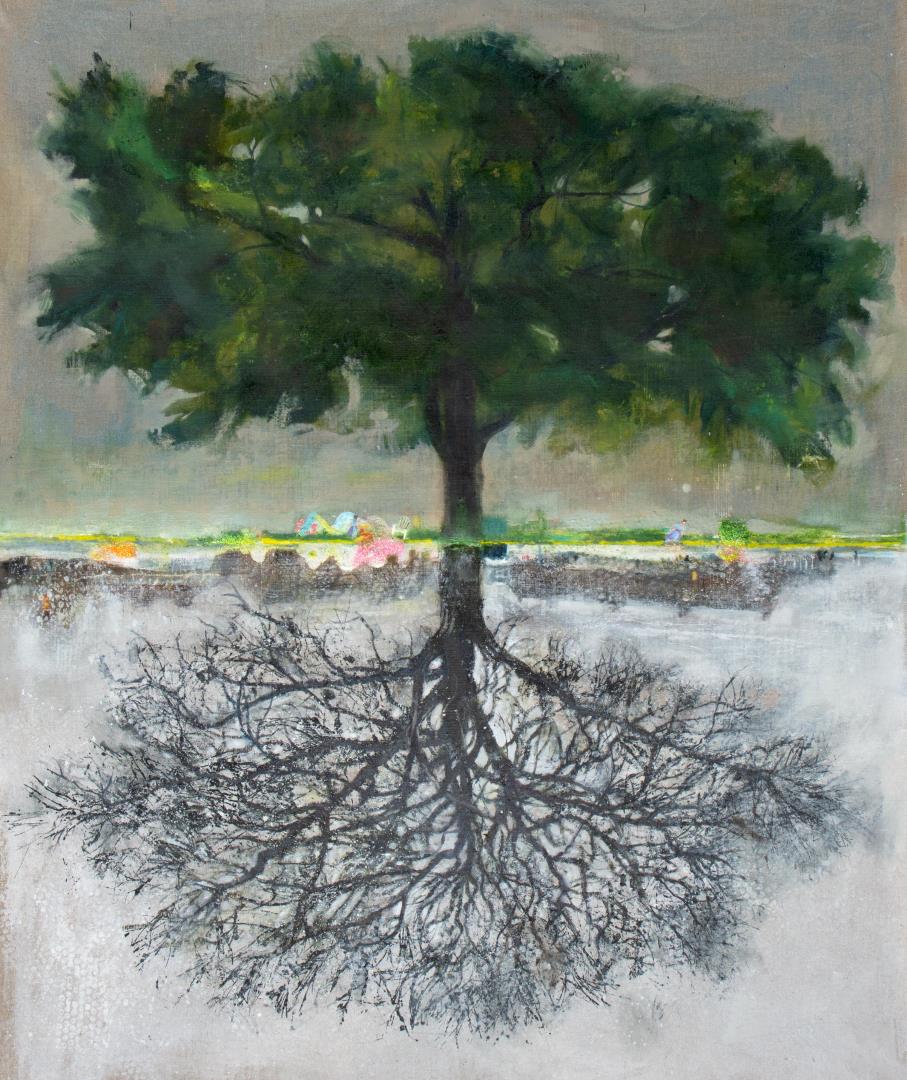 This is a very interesting tree. The short time we got out in the summer, I visited a friend in Portobello. She's not got a big garden but it's got this enormous wych elm tree, which are quite rare because most were killed by Dutch elm disease.
The tree became a symbol of being a survivor and my friend's a bit like that too. She has a little girl who turned five during lockdown and a huge bunch of her life was spent in lockdown, playing under this tree.
Between seasons is this little strip of life. You can see the little girl dressed in a Disney outfit with a slide, igloos made out of the snow and she's got all sorts going on.
The wych elm is testimony to a survivor of a rare old breed with very young life underneath. A lot of people live round there, there's a lot happening under it, lots of lives passing under. It can be seen from Arthur's Seat if you know what you're looking for.
The Manse Cherry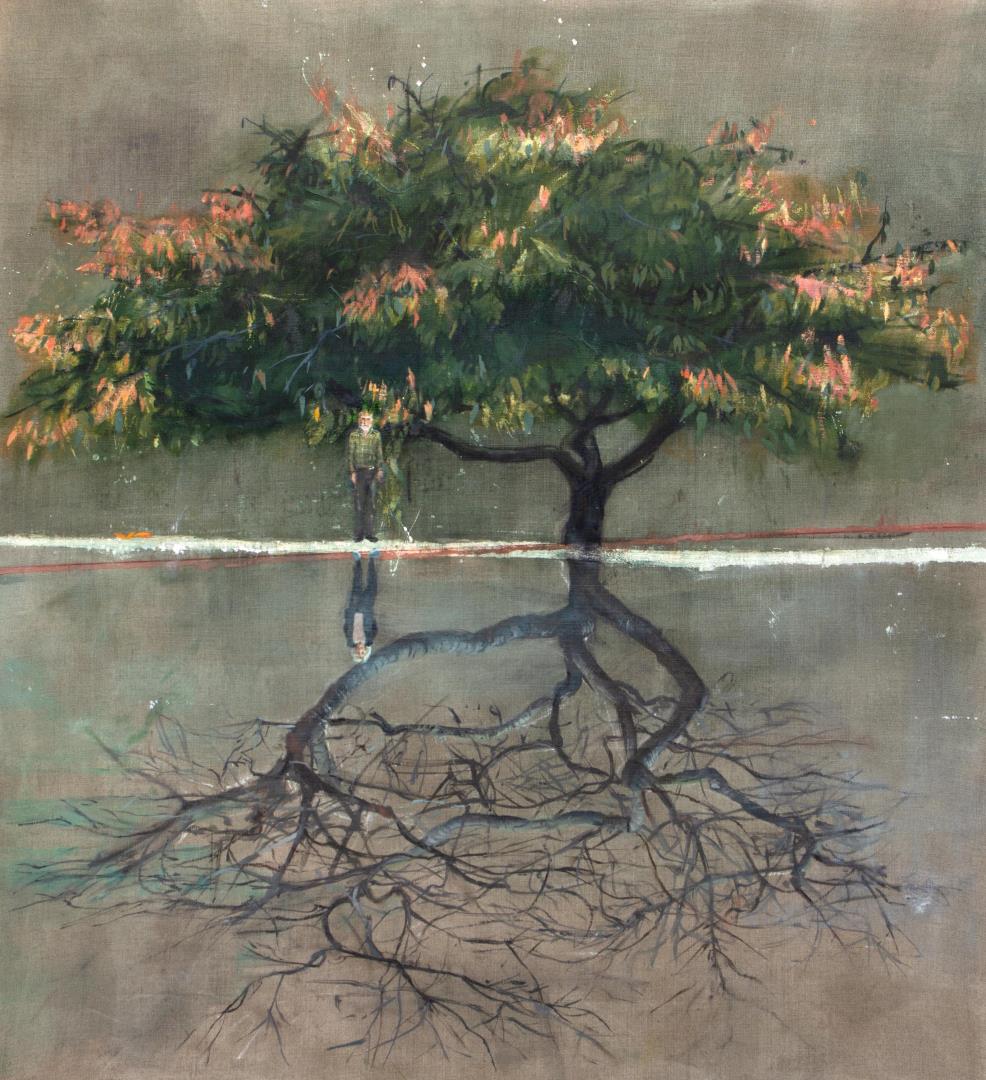 This is a cherry tree on my street. In late summer, early autumn, the leaves were starting to turn. The minister, Jim, was in his last year before retiring. I'm not a churchgoer but I loved his tree!
When I was looking after mum, it was full of blossom and it looked amazing. But in winter it looks a bit bare and strange.
When I finally decided to paint it, it was the day Jim retired so I asked him to model for me under the tree! He was very sheepish as he was busy packing.
Exactly six months later, the person who moved in, who is renting the house, modelled for me. That circle of time is represented by the people who live in the house.
---
Kate Downie – Between Seasons, The Scottish Gallery, Edinburgh, June 3 to June 26 scottish-gallery.co.uk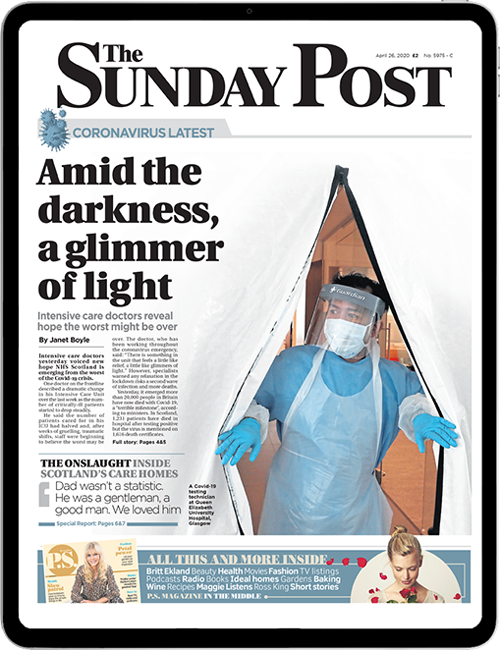 Enjoy the convenience of having The Sunday Post delivered as a digital ePaper straight to your smartphone, tablet or computer.
Subscribe for only £5.49 a month and enjoy all the benefits of the printed paper as a digital replica.
Subscribe