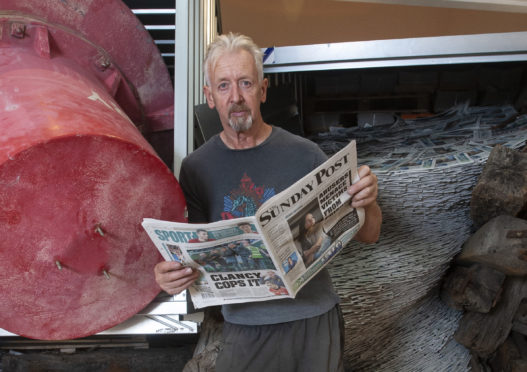 A celebrated Scottish artist has used thousands of Sunday Post newspapers in a striking new installation which opens in Fife next week.
Turner Prize nominee David Mach has spent more than a week creating the dramatic scene which depicts huge shipping containers on a sea of Sunday Post newspapers, with wooden spikes spilling out.
Odyssey is inspired by his home town of Methil, a former industrial maritime powerhouse which once exported three million tonnes of coal a year.
Mr Mach, 63, who now splits his time between his house in nearby Lower Largo and London, said: "When I was young Methil was like the busiest place in the universe. There was mining, oil rig platforms, steel works, the docks were full. I worked in a lot of jobs in places like that. Like whisky bonds, where we made the racks to hold the barrels of whisky. And it was huge, like something from Star Wars, and you're constructing that thing at a rate of knots, welding it together, bolting it together.
"So I'm really invested in the idea of making that kind of effort when making a work of art. I want to have that kind of industry. I want to be involved in it. It's a Methil thing that I can't seem to get away from."
Mr Mach is a pioneer of installation art. One of his most famous sculptures is Big Heids, three giant heads made from welded steel tubes which can be seen from the M8 in Lanarkshire.
His exploded into our collective consciousness in the '80s with Polaris, a submarine made from 6,000 car tyres which was set alight by an objector who suffered fatal burns.
He has previously created work using telephone boxes, billiard tables, dishwashers, cars, newspapers and magazines.
Odyssey saw Mr Mach combine shipping containers, wood, buoys, and thousands of newspapers. Visitors to the gallery were invited to watch the artist at work.
Mr Mach said: "Sea containers are a thing that are very valid today, socially and politically. Almost everything we've ever bought was carried in containers, backwards and forwards across the globe. They're like a symbol of peace. A way of having peace. You know, let's not beat each other up or blow each other up, let's transfer container loads of stuff.
"It's called Odyssey to symbolise that journey. The wood is part of sea defences from the south coast of England which are no longer there, so that's almost like you're inviting folk in.
"With the newspapers I've made this really sexy, fluid, violent form, with that tonnage. You can't do it with ten newspapers, you need ten tonnes."
Mr Mach said he chose to use the Sunday Post because it is one of the most famous newspapers, and one of the best.
He said: "I wanted a well-known newspaper and obviously the Sunday Post is one of the best Sunday papers in the world. There's a quality to that. And it's a known thing. I like to use things that people know. I don't have to explain what a newspaper is. We all read newspapers.
"The Sunday Post was always in my family's life. People in London might say they don't read the Post but I bet they bought a Beano or a Dandy. The Thomson family (publishers of the Sunday Post, the Beano and the Dandy) had an enormous influence on Britain, culturally and socially, for goodness knows how long."
He hopes the familiarity of the Sunday Post will draw people to the installation, which will open at Dunfermline's Carnegie Library and Galleries on Thursday. And he warned visitors to the gallery to expect an onslaught on their senses.
He said: "It's my job as an artist to make you look. It's a very violent collection of materials and a very violent entry into the gallery. It's not just and exhibit, it's a bombardment. We've invaded that space. And I want to do that.
"It's like a scene from Braveheart in there and I want that drama. I want the hairs on the backs of people's necks to stand up. I'd like them to be moved, to be thinking, to be provoked. But of course I want them to like it too. And they have to look at something to judge it."
Alice Pearson, Fife Cultural Trust's curator for the exhibition, said: "To bring one of David Mach's installations to Dunfermline Carnegie Library and Galleries is a great coup for Fife and being able to give people the rare opportunity to see such an internationally renowned artist at work has added another level of experience and involvement in the exhibition."