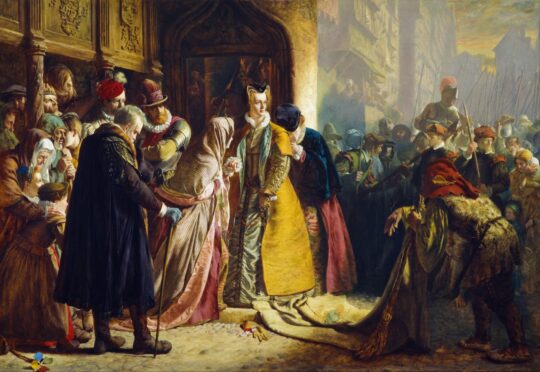 She's the dog-daft, sports-mad 20-something who liked to party and revelled in the little home of her own where she played at being housewife, giggling with her girlfriends, cooking and fussing over décor.
The picture could describe many young women flying the nest and striking out for independence and fun. But this is no ordinary woman, neither is it the 21st Century, but 461 years ago, and this is the real Mary, Scotland's tragic and enduringly fascinating queen.
In her new book, Homecoming: The Scottish Years Of Mary, Queen Of Scots, Rosemary Goring tracks the young queen's short but dramatic time in her homeland. From her birth in Linlithgow Palace in December of 1542, to her flight to France aged five and her return to Scotland at 18, Goring focuses on the atmospheric Scottish locations where the events that shaped Mary's life and the country's future played out. And she brings into vibrant focus some lesser-known, intimate details about the young queen that make her wholly relatable today.
It's a book the author and journalist never expected to write. Goring, 59, who lives in the Borders with her husband, Alan Taylor, said: "There are lot of books about Mary Queen of Scots, but this one focuses completely on her relationship with Scotland. She was here for less than 13 years in total but those years were pivotal to the rest of her story. I wanted to put her on the map of Scotland by telling her story through the different locations that made history.
"It's strange because I never thought I would write a book about her. And yet when I was researching my last book, Scotland: Her Story: The Nation's History By The Women Who Lived It, I found I was looking at a lot of material about Mary. I was drawn towards her and would have to settle my mind about her once and for all. I wanted to ask who was more to blame for her downfall, was it her fault, or to a great extent is Scotland to blame?"
Parallels with Scotland's current political atmosphere make it timely. Goring said: "As Scotland is considering its own position, people have become very conscious of history in the last few years, whether they are political or otherwise.
"Anything that has to do with Scotland's self-identity and wanting to determine its own future makes it immediately seem relevant to the present day. By the time Catholic Mary returned to this country, which had only become Protestant a year before, there was probably a divide down the middle of those who would have secretly wanted to remain Catholic and those who were all for Protestantism, which is not a million miles away from where we are now between 'yes' and 'no'. Different issues, but still a divided nation.
"It is eye opening to think Mary was 18 when she returned from France to properly take up the Scottish throne. If you put any of us in charge of Holyrood properly at that age, what would happen? She had been packed off to France before she was six for safety because Henry VIII was on the rampage and wanting to marry her to his young son Edward VI. She was raised at the French court. What she was taught there, and what she came to expect, was very different to what she experienced in Scotland. It was a country she barely knew. Her mother Marie de Guise had died 18 months before she came back. She did not have her mother's guidance as a young woman, and more importantly, as a queen. She also lacked any strong, trustworthy advisors and wasn't surrounded by people who had her best interests at heart.
"The thing that struck me most forcibly was that as soon as Mary's first husband, the King of France, died she wasn't packing up to come home and was pursuing other possible husbands. It was the first warning note of what was to come. Her whole heart wasn't set on being Queen of Scotland."
Mary is not the only young royal to have struggled with her role, as the late Diana Princess of Wales and Meghan Markle, Duchess of Sussex, have shown in more recent times.
Goring, who graduated in history from St Andrews University, said: "Life for a royal in the 16th Century was not that different from a modern royal, you couldn't get away from people who want to talk to you or come up to you in the street. To get away from all of that, Mary, who was nearly 6ft tall, would sometimes dress as a man and walk with her friends down the Royal Mile near Holyrood in disguise. And like modern-day royals, she loved outdoor pursuits, horses and hunting.
"She was quite frequently in St Andrews and bought a house there in 1563 in which she and her friends played housewife; it was something she couldn't do normally. I love the idea of her being there and having her first breath of ordinary life. It seems very modern in a way.
"She loved partying and staying up late at night gambling, playing cards and dice. She would have been a mainstay of online casinos if she had been alive today."
Goring – who insists she is a writer, not a historian – based her book on secondary sources, such as academic articles and biographies, as well as letters, court records and treasurers' accounts from the time. She explained: "In these you find the details about the scraps of people's lives. In the treasurers' accounts you discover Mary had a passion for dogs, at one point she had as many as 13. The accounts show how much bread was to be put aside for them each day or the kind of collars that they were bought, whether they were velvet or had jewels on them."
Why there is still something about Mary: Experts on how iconic Queen of Scots continues to fascinate
Goring's research led her to a learned article that showed accusations of Mary playing golf after the murder of her second husband Lord Darnley were aimed at "sullying her reputation" and that, contrary to popular belief, she was not "a golfer".
Her research also brings to life an incident at Borthwick Castle near Edinburgh in which the queen traded insults with rebel lords who demanded she give her third husband Lord Bothwell up to them. Goring said: "The English ambassador taking note of all this was so embarrassed by her foul language he crossed it out in his report."
The book draws towards its close at Dundrennan Abbey near Kirkcudbright where fleeing a forced abdication and her defeat by the Earl of Moray at the battle of Langside in 1568, Mary prepares to set sail for England and hoped-for refuge with her cousin Queen Elizabeth I, to whose throne she held strong claim. It was to lead to 19 years of imprisonment and the executioner's axe.
At the spot from where she set sail, now Port Mary Cove, Goring said: "You can imagine her horse picking its way over the beach and her closest advisers pleading with her not to make this terrible decision to go to England. They say halfway across she asked the skipper to change direction to France. I hope she didn't. It would have been awful for her to know what she was heading into and that it was too late."
Did Scotland fail its queen? Goring said: "No. I feel she let Scotland down in many ways. She was out of her depth from the very start." Her book concludes: "Mary's homecoming was the definition of tragedy."
From the book
Rosemary Goring's The Homecoming charts how her life in Scotland shaped Mary, born into a life of privilege and turbulent times.
This is how it starts:
The room where Mary Stuart was probably born lies open to the sky. In the north-west corner of Linlithgow Palace, it has no floor, and its deeply recessed window, looking north across the loch, appears to hover in the middle of a wall.

Visitors can stand in what was once the king's sumptuous bedroom suite and, craning their necks, try to picture the lying-in chamber two storeys overhead, in the small room above the queen's bedchamber. It was here that, on either Thursday 7 or Friday 8 December, 1542, the infant who was to become one of the most famous – and infamous – European rulers made her first appearance.

Outside, the country was in the grip of a ferocious winter. Inside, fires blazed, sending plumes of smoke over the market town of Linlithgow below. Even though today Linlithgow Palace is in ruins, verdigrised by moss and damp, its scale and grandeur are striking. Sandstone walls glow pink and rose depending on the light. Had Mary spent her childhood here, she would have soaked up a sense of entitlement and privilege.

Set above a loch on which swans regally glide, and surrounded by grass and trees, for a small, impoverished and, in some minds, primitive country, it was a magnificently sophisticated royal dwelling. Mary's mother, Marie de Guise, brought up close to the wealth and splendour of the French court, considered it as fine as any French chateau. As the backdrop for the opening act of Mary's life, it could not have been better designed. The timing, was dreadful.

Since the baby princess arrived with greater haste than expected, Marie de Guise was unprepared. It is thought that the stress of her husband's illness contributed to Mary's sudden birth, and it's little wonder if this was the case. James V was perilously ill when Marie went into labour.

After a shocking military defeat by the English at the Battle of Solway Moss two weeks earlier, he had made a fleeting visit to see his heavily pregnant wife in Linlithgow. James then retreated to the royal hunting lodge of Falkland Palace, where he took to his bed. What should have been a happy, hopeful time for the king and queen, whose first two children had died in infancy, was instead fraught with worry and fear. Informed of his daughter's birth – messages travelled slowly across ice- and snow-bound roads – James is said to have turned his face to the wall in despair, saying, "It came with a lass and it will go with a lass." Six days of delirium followed, and then he died. It is not impossible that the cause of his death was a broken heart, as some contemporaries believed, but it is more likely he had contracted a disease during the campaign, perhaps dysentery from contaminated water, or cholera.

His cryptic words about lasses referred to the House of Stewart. The throne had passed to the Stewarts when Marjorie Bruce, ill-fated daughter of Robert the Bruce, married Walter Stewart, the High Steward of Scotland in 1314. James doubtless presumed the family name would pass to another dynasty on his daughter's own marriage in years to come. Like everyone else, he could not have predicted Mary's tumultuous career, nor the eventual triumph of his grandson James VI who, in 1603, took the throne of England as well as Scotland. In so doing he perpetuated the Stuart hold on power and united both countries in a manner unthinkable a century earlier.
The Homecoming: The Scottish Years Of Mary, Queen Of Scots, by Rosemary Goring, Birlinn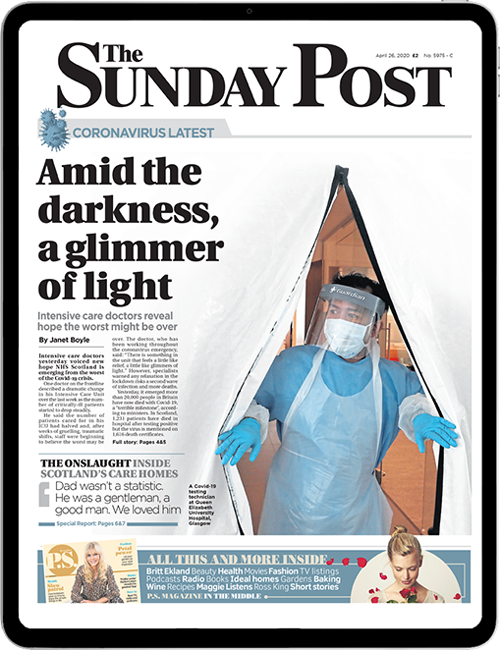 Enjoy the convenience of having The Sunday Post delivered as a digital ePaper straight to your smartphone, tablet or computer.
Subscribe for only £5.49 a month and enjoy all the benefits of the printed paper as a digital replica.
Subscribe