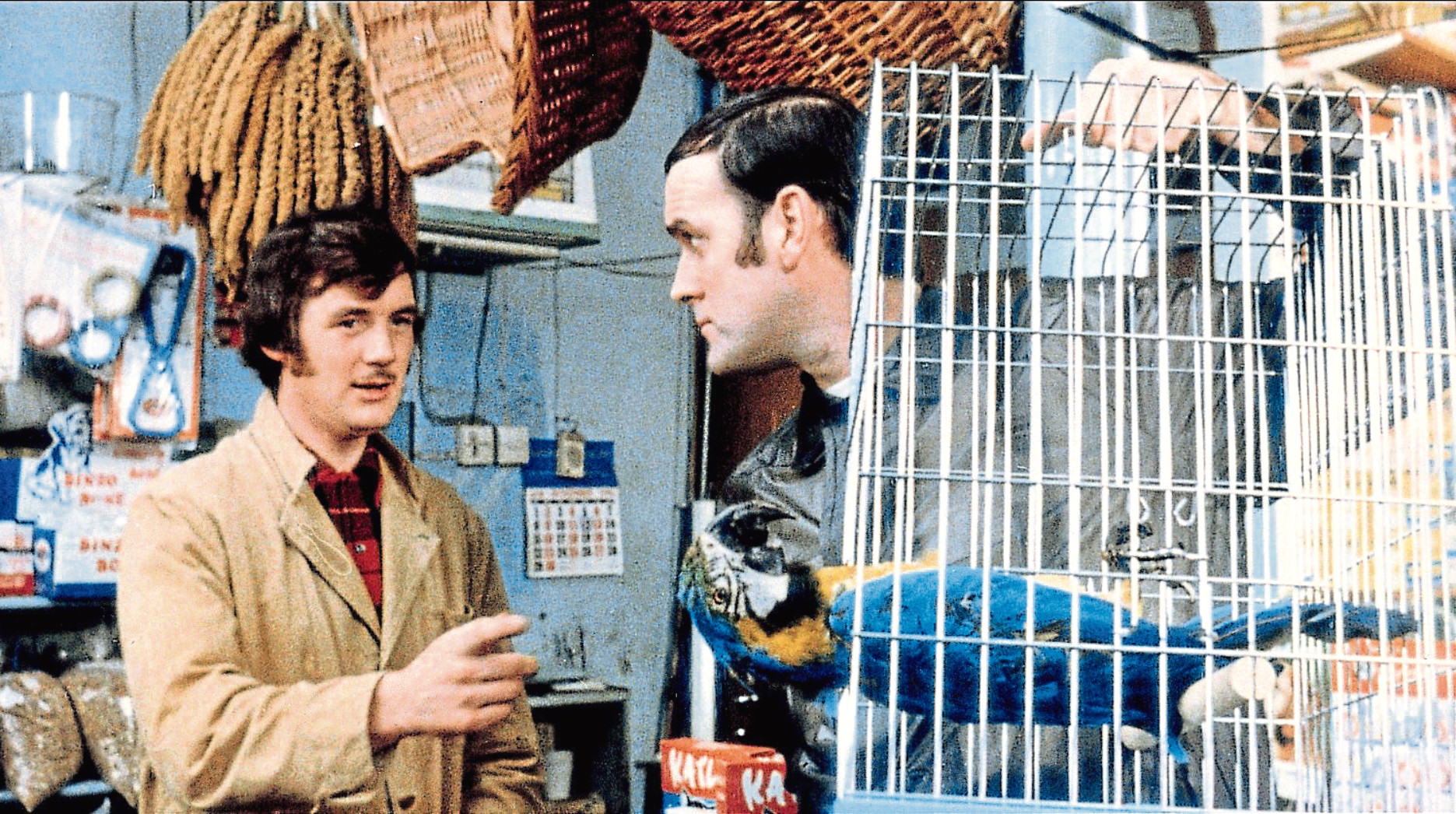 MONTY PYTHON changed comedy forever, 50 years ago.
British TV comedy had been solid if usually unspectacular – until six madmen hit our screens.
That's how it must have felt in 1969, watching that first episode of Monty Python's Flying Circus.
Sure, there had been sketch shows previously – but none that pushed the boundaries like this.
The fact that John Cleese, Graham Chapman, Michael Palin, Eric Idle and the two Terrys, Jones and Gilliam, were a self-contained team responsible for both creating and performing their own work gave them an unprecedented level of creative control, allowing them to explore the limits of what was acceptable in style and content.
Not sure how to finish a sketch? Easy, just drop a 16-ton weight on the performers.
Uncertain how to jump from one skit to another? Just get Terry Jones, naked save for a bow tie, to play the organ while grinning maniacally into the camera.
It was so absurdly unlike anything that had gone before they had to invent a new word for it, and so "Pythonesque" was born.
The Pythons had watched Spike Milligan's groundbreaking Q5 series which was more irreverent and anarchic than anything that had gone before, and liked it when Spike would "give up" on a sketch halfway through and simply walk off set, often muttering, "Did I write this?"
But they knew they couldn't copy their comedy hero and instead decided to have each very different sketch blended together, often by one of Terry Gilliam's surreal animations – usually based on famous works of art or Victorian illustrations – to produce one single "stream of consciousness".
They didn't feel the need for punchlines so various ways of moving on became Python standards such as Chapman's Colonel walking on and ordering things to stop because they were getting "far too silly", or Terry Jones wandering on as a knight in full armour who'd disrupt proceedings by hitting the other member over the head with a rubber chicken.
Either that or Cleese appearing as a dinner-suited radio announcer saying, in pompous tones, "And now for something completely different" which fittingly became the name of their first film, a compilation of sketches.
Often, the show would start with Palin's "It's" man – a chap in ragged Robinson Crusoe garb – clambering over the countryside before announcing, "It's…" only to be interrupted by the now-famous title sequence and theme music.
This was the Band of the Grenadier Guards playing John Philip Sousa's The Liberty Bell which was chosen because it was both odd and free from royalty payments.
And, as we all remember, the opening sequence was ended by a giant foot – which Gilliam nicked from a Renaissance masterpiece by Bronzino – crushing the show's title.
While most of the show was brand-new, the Pythons did occasionally nod to the past such as when they'd dress as women and speak in screeching falsettos.
Terry Jones specialised in these working class housewives, known as "pepperpots" because of their bulky shape, while Palin and Idle generally played things a bit more posh.
If they needed an actual woman – for instance if a sketch needed a woman to be more attractive than Eric Idle in a frock – the troupe turned to Carol Cleveland who became an auxiliary member of the group.
Fans soon became able to spot which writing team was responsible for each sketch – the Oxford-educated Palin and Jones wrote more absurd scenes such as the Spanish Inquisition turning up in a suburban sitting-room, while Cambridge graduates Cleese and Chapman wrote more verbal and aggressive scenes.
If a majority of the team found an idea funny, it was in the show.
You could spend a long time arguing which sketch is best – indeed, many men do just that – but their most widely-quoted skits include the Dead Parrot Sketch, The Lumberjack Song, Nudge Nudge, The Spanish Inquisition, Upper Class Twit Of The Year, The Cheese Shop and The Ministry Of Silly Walks.
The Dead Parrot Sketch is probably most famous and, as it consists of an argument between Cleese's irate customer, Mr Praline, trying to return the titular "Norwegian Blue" to Palin's uninterested shopkeeper, you could guess it came from the Cleese/Chapman stable.
It was actually based on an incident when a used-car salesman refused to accept there was anything wrong with Palin's car, despite it falling to pieces in front of him, and became so well-known that when the pair was asked to perform it on Saturday Night Live in New York, they contemplated going into the street to ask how it went after forgetting their lines because "everyone seemed to have it memorised".
Another sketch saw the Pythons enter the dictionary. Spam involved Chapman and Idle as Mr and Mrs Bun who, in the Green Midget Café, find every item on the menu – read out by a screeching Jones as the waitress – includes Spam.
They're frequently interrupted by a group of Vikings singing loudly about Spam and that led to the phenomenon of marketers drowning out some users' email with junk mail advertising message being called "spamming" due to some flooding forums with the work "spam", recalling the repetitive and, crucially, unwanted presence of said pork luncheon meat in the sketch.
The beginning of the end – for the television show at least – came when Cleese left the Flying Circus at the end of the third series.
He'd contemplated quitting at the end of the second run, feeling he had nothing new to offer and finding his writing partner Chapman – at his alcoholic worst – difficult to work with.
Idle recalls: "It was on an Air Canada flight to Toronto when John turned to all of us and said, 'I want out.'
"Why? I don't know. He gets bored more easily than the rest of us. He's a difficult man, not easy to be friendly with. He's so funny because he never wanted to be liked. That gives him a certain fascinating, arrogant freedom."
The fourth series comprised just six episodes compared to the previous runs' 13 because the remaining Pythons, now under the unspoken "leadership" of Jones, agreed there wasn't enough material or enthusiasm for more.
Between the third and fourth series the team decided to have a crack at a first feature film, based on the Arthurian legends.
The Holy Grail starred Chapman as Arthur with the others – including Cleese who returned as he felt the Pythons were again breaking new ground – taking a variety of roles.
Rock groups including Pink Floyd, Jethro Tull and Led Zeppelin helped raise the quarter-of-a-million quid budget and made handsome profits as the film was a hit.
Holy Grail's success saw the budget for the sequel, Life Of Brain, climb to £4m but again it was a box-office success though the story of a man born on the same day as Jesus and mistaken for the Messiah was controversial and the film was often boycotted or banned.
Norway banned it outright, so the posters in Sweden boasted, "So funny, it was banned in Norway!"
Accused of blasphemy, EMI withdrew funding just before shooting began and once again there was a musician saviour – this time ex-Beatle George Harrison who arranged replacement funding.
After 1982's Live At The Hollywood Bowl, the last Python film, The Meaning Of Life, was more like Flying Circus in that it was a series of sketches loosely following the ages of man from birth to death.
It wasn't as financially successful as the other movies but the team did succeed in their aim to offend "absolutely everyone", notably in the scene in which Jones's Mr Creosote explodes over several restaurant customers after adding "one waffer-theen mint" to a huge meal.
It was the last time the six Pythons collaborated, though they appeared briefly sitting in a closet for the 1989 compilation Parrot Sketch Not Included.
Chapman, sat in a wheelchair, was terminally ill with cancer and after his death Idle said: "We would only do a reunion if Chapman came back from the dead. So we're negotiating with his agent."
But circumstances change and in 2013 the remaining Pythons lost a legal case to the producer of Holy Grail over royalties from the derivative stage musical Spamalot.
Owing a combined £800,000 in legal fees and back royalties, a reunion show was proposed to cover their costs and so 10 shows at London's 02 Arena were staged in July 2014 under the typically Pythonesque title Monty Python Live (Mostly): One Down, Five To Go.
After the last of those shows, on July 20, Palin said that would be the last time the troupe ever performed together.