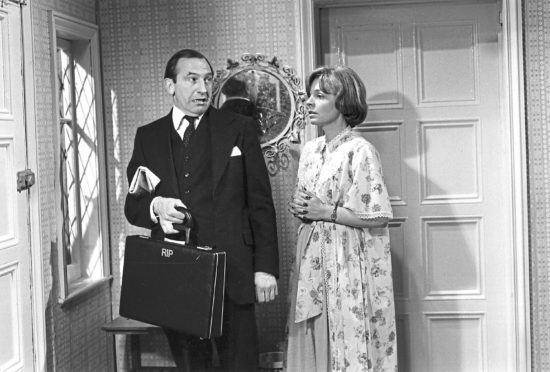 Halfway through making series one of The Fall & Rise Of Reginald Perrin, the BBC realised they were onto a winner so asked writer David Nobbs for more.
Originally, Nobbs had envisaged writing just seven scripts because they were based on his novel which reached a natural conclusion.
But when director Gareth Gwenlan started badgering him for more, Nobbs thought long and hard before, to everyone's delight, giving the thumbs-up.
The second series saw Reggie opening a shop called Grot, selling rubbish for extortionate prices, while the third season had him and his wife, Elizabeth, opening a commune where guests could overcome their social problems.
If a programme's success was compared purely on viewing figures, Reggie Perrin wouldn't have topped the charts, especially when compared with the likes of To The Manor Born, which attracted audiences of up to 27 million.
At its peak, Reggie Perrin was watched by 10.5 million. But what set it apart from many of its contemporaries within the genre is that it quickly attracted cult status with an incredibly loyal fan base.
David Nobbs' creation has always been regarded as an important work of comedy, even though it never won a single award.
Among the sitcom's attractions were the quantity and quality of the comic lines packed into each episode.
Nobbs said: "Occasionally, I'd teach on writing courses and something I always stressed to students was that for a comedy to be successful, every scene and every character must be funny – and that's what I set out to achieve in Reggie.
"If you've only got one funny character and all the others simply serving that person then things rapidly tire.
"I was told that Reggie Perrin advanced the comedy genre because most sitcoms beforehand had no narrative. TV companies could transmit episodes in any order and it wouldn't have mattered – that wasn't the case with Reggie Perrin."
From Nobbs' perspective, the second series was the funniest and most inventive.
"The first was the heart of the matter. It was the dilemma which kicked off the extreme actions Reggie took.
"The second saw the series hit its peak in terms of invention. I wanted Reggie to be successful in something he viewed as his protest – in this case the objection to companies selling rubbish under false pretences.
"Of course, his absurd idea soon became successful but embarrassing to Reggie, who then decided to destroy Grot – but to no avail."
In the eyes of both the writer and director, the third series – although still popular with viewers – wasn't as strong as its predecessors.
David Nobbs feels the commune idea spotlighted in series three worked better in the novel he wrote.
"The concept of all the people visiting the community was easier to develop in my book because I had more time to describe them.
"On TV, many of the visitors turned into caricatures because time constraints meant having to skate over them.
"Also, introducing so many characters meant there were a lot of people taking the comic impetus off the main characters – the whole series, at times, came across as a compilation of sketches."
In all three series, crisp production and scarcity of mistakes led to a highly professional, well-executed collection of episodes.
Director Gareth Gwenlan felt the influence of Leonard Rossiter played a key role in the show's success.
He said: "Len inspired confidence and didn't suffer fools gladly. Anyone working on the production knew they had to try and run as fast as he could, which took some doing.
"With Leonard it was a case of everyone giving their utmost in everything they did. He did that and expected the same level of commitment from others."
The appeal of Reggie Perrin extended beyond the British Isles to Australia, New Zealand, Canada, many parts of Europe and, in particular, America, where it was successful enough to spawn an American version titled Reggie, starring Soap's Richard Mulligan.
But as far as Nobbs was concerned, the American version missed the point.
"I didn't like it," he said. "They changed too much and failed to do their spadework regarding understanding the routine of life from which Reggie was rebelling.
"This routine had to be established at the beginning so that the audience could understand why he was like he was.
"The Americans didn't do this, which meant there was no tension. They even made CJ out to be a young whizzkid, which was all wrong."
Fortunately, the characters were perfectly formed this side of the Atlantic and the sitcom is still warmly received whenever it receives an outing on TV.
For Geoffrey Palmer, who played militaristic Jimmy Anderson who always experienced a "bit of a cock-up on the catering front", it was a pleasure to be in the show.
He said: "You had one enormous central character surrounded by a group of wonderful, diverse supporting characters and it worked well."
However, it took some time before he knew how to play Jimmy when he appeared in episode two.
"He was difficult to get to grips with and I remember during rehearsals Leonard saying, 'It's not going to work if you play it like that.'
"Gradually I realised the character had to be stronger and bigger in his blundering incompetence – he couldn't be bland."
Palmer describes himself as an over-the-top actor during the early part of his career, but Reggie Perrin marked a turning point. Subsequently, he tried – with great success – to be more subtle, economical and realistic in his acting.
When it comes to describing his character in the sitcom, Palmer says: "Along with everybody else, he was larger than life with a brain ready to explode.
"But there was always a germ of truth and reality in Reggie and the rest of them. Take Jimmy, he was a sad failure in every way but was full of good intentions. He tried to be a public schoolboy and officer but failed in both."
The speed at which the series became a hit surprised Palmer.
"Everyone felt it was going to work and it became one of the happiest projects I've worked on.
"At that time, there was an awful lot of rubbish being made and, although one was grateful for a job, you always hoped that you'd get the added bonus of the programme being a quality product and enjoyable – and I got that with Reggie Perrin."
In fact, the entire cast enjoyed playing their characters, including the late John Horsley, alias Doc Morrissey. He once said: "He was a great chap to play and, funnily enough, popular with real-life doctors, particularly with the constant worrying about his own health.
"I remember going to my doctor when the series was on and as I walked through the door he said: 'I can't help thinking of Doc Morrissey whenever I see you and wonder why you're coming to me for advice.'"
Equally enamoured of the series is Bruce Bould, who played David Harris-Jones, one of the yes-men who was always spouting "super". It's hard to believe that Bould turned down the role initially.
"My agent phoned to say John Howard Davies, who directed the pilot episode, wanted me to play a small part. I turned it down unread because I'd just finished a nice part in The Good Life and wanted more than I thought the part of David could offer."
Two days later, the director phoned Bould and told him he was making a big mistake. He suggested the actor read Nobbs' novel. "That's what I did and found it extremely funny."
He realised that if a full series was commissioned, the role would blossom so he accepted.
With the character's perpetual stuttering and constant fawning, he was probably one of the most difficult characters to play.
"I didn't know how to play him initially," agreed Bould.
"There's a line in the original book describing David as 'walking with a stutter'. So as well as in his talk, I tried to capture that in the walk and his overall appearance."
One of the sitcom's most popular characters was Joan Greengross, Reggie's loyal secretary at Sunshine Desserts. She was played by Sue Nicholls, who's also known for her role as Audrey Roberts in Coronation Street.
Nicholls regards Joan as among the most memorable jobs she's ever done.
Her interview with John Howard Davies, who produced the pilot, was equally memorable.
"That's because of the unusual venue. I was touring in Alfie with Dennis Waterman and my agent called to say that the BBC wanted to see me about playing the secretary in Reggie Perrin. The only trouble was, I had to go to London.
"As I had a show that particular evening, I flew down. But being a bit scared of leaving the airport in case I missed my return flight, John Howard Davies agreed to interview me at Heathrow Airport. Thankfully, everything went well and he offered me the job."
Two decades after viewers had waved goodbye to Reggie, Elizabeth and the rest of the motley crew, Nobbs revisited the format and wrote a fourth series.
With actor Leonard Rossiter having died 12 years earlier, the show was titled The Legacy Of Reginald Perrin. Sadly, the seven episodes failed to impress. But, thankfully, we've still got 21 episodes of the original three series to enjoy.
---
Richard is the author of The Life And Legacy Of Reginald Perrin, published by Virgin.