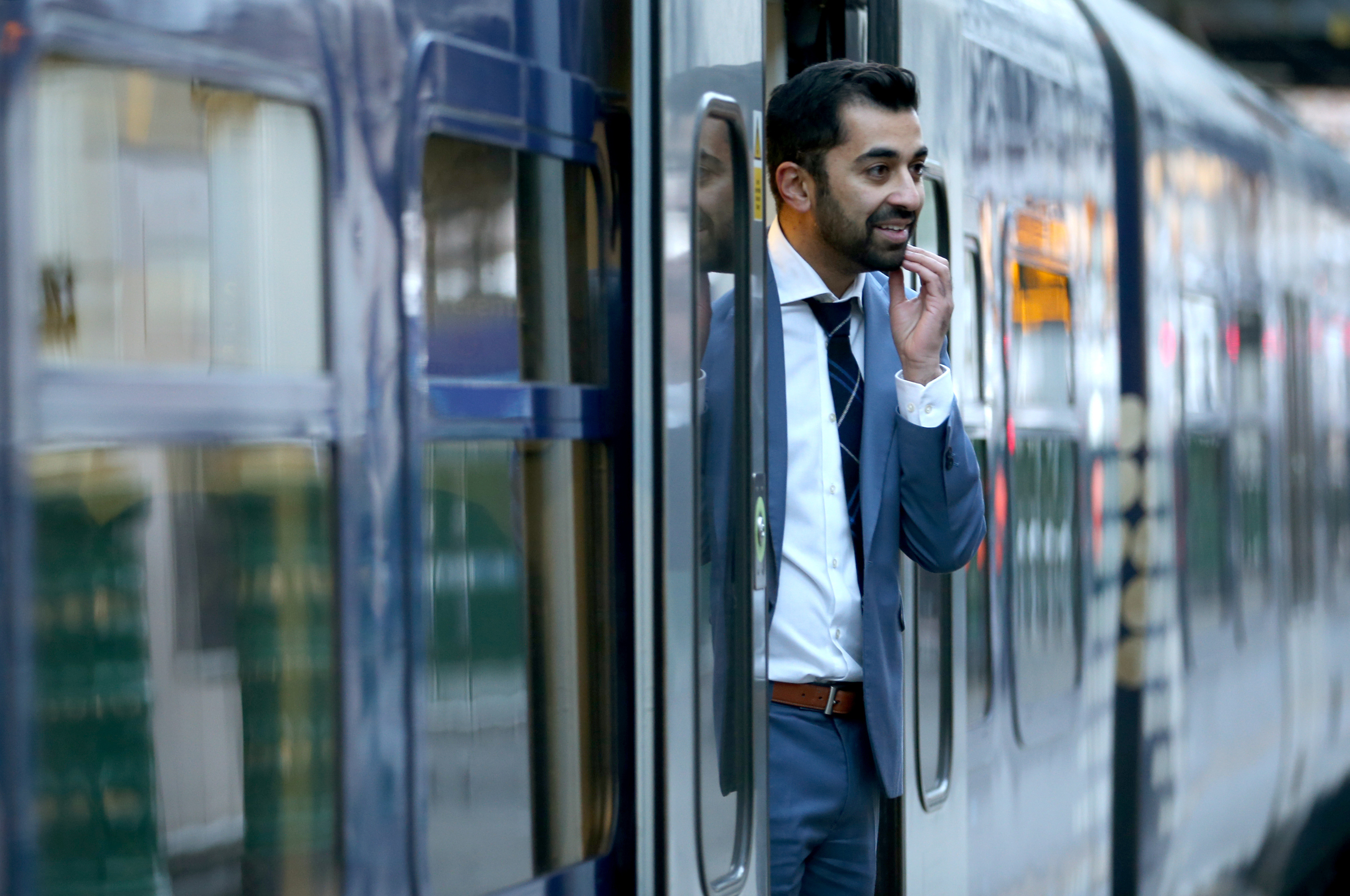 A LITTLE good news about Scotland's railways has been in short supply in recent years.
Abellio has been widely criticised for its performance and handling of the ScotRail franchise since taking over in 2015, and the soaring costs on the flagship electrification project revealed today hardly inspires confidence.
So is it time to take a step back and look for a more radical way of running our railways?
Do passengers really care who is in charge if their train turns up on time and they can get a seat?
Full nationalisation of the railways is being strongly pushed by Labour but the truth is we are already halfway there as track operator Network Rail is publicly owned.
The Scottish Government believes Network Rail should be devolved to Holyrood and it is a view shared by think tank Reform Scotland.
Former Labour MP and transport minister Tom Harris, a board member at Reform Scotland, said: "There has been almost constant discussion about nationalising ScotRail for years, and it continues unabated.
"But it is a meaningless distraction. ScotRail is responsible for only around one-third of the delays on the railways, whereas over half are down to Network Rail – the public body responsible and already nationalised.
"What would be interesting to explore is whether the Scottish Government could do a better job of running Scotland's railway infrastructure than the Westminster Government.
"Scotland's rail problems are more fundamental than the current debate would suggest. In 30 years' time, do we really want to be in a situation where it could take less time to reach London by rail from Edinburgh than it does to reach Inverness?
"While rail links to London are important, so too are links within Scotland, links which are sadly lacking at present."
Before Holyrood's summer recess, Transport Minister Humza Yousaf is expected to outline details of plans to allow a public bid for the next ScotRail franchise in 2025. It is expected to take a model similar to CalMac, the Scottish Government-owned but arms-length company which runs the west coast ferries.
However, the move has thrown up a raft of legal headaches and costs, and will still leave a situation where a public bidder which has never run a railway before will be putting in a tender against experienced train operators come 2025.
Robert Samson, senior stakeholder manager at passenger group Transport Focus, said most people will only care about what sort of difference it will make to the service offered. He said: "The model the government are looking at is not so much re-nationalisation but allowing a public sector bid alongside a private one.
"Our position on this is if there is an increased pool of bidders then that increases competition and, at the end of the day, passengers want the best bid which delivers the best level of service in terms of frequency and punctuality.
"People will have a political view but we take it from a consumer point of view, where what are the priorities for passengers? That is frequency of services, reliability, can you get a seat. These are the sorts of issues which will determine if people will keep using the railways or look elsewhere."
Revealed: Inquiry launched as cost of upgrading Edinburgh to Glasgow rail line soars by £116m
The issue of devolving Network Rail is likely to come to the fore in the coming year as there is a looming battle between the UK and Scottish governments over funding.
SNP ministers say the UK Government allocation for rail improvements in Scotland for 2019-24 is £460 million short and stepped up efforts to get Network Rail devolved.
A Scottish Government spokesman said the move would "deliver proper accountability and increased efficiencies in the management of our railway infrastructure".
"We fund it, we set its objectives but we've no direct influence over its operations because it is accountable to the Department for Transport."
Network Rail and Theresa May's government have resisted the devolution calls so far, pointing out the railway network's cross-border nature makes a UK-wide approach to operating the tracks more sensible.
Critics also claim the calls to devolve Network Rail are a distraction from what should be the more immediate task of getting the track operator and Abellio to stick to the promises they have made to improve the lot of weary passengers.
The revolution arriving on Platform 9… is delayed
HUNDREDS of service improvements promised by ScotRail as part of a "rail revolution" are facing delays, transport chiefs admit.
In 2016, ScotRail said that from 2018 it would introduce 200 new services, providing 20,000 more seats per day, for passengers across the country.
The then transport minister Derek Mackay claimed – less than two months before the Holyrood election – it was part of a "revolution in rail services" that would deliver the largest programme of benefits to passengers in a generation.
However, plans to improve the railways have been besieged by delays since the pledge was made and ScotRail yesterday admitted it could be December 2019 before all the changes are made.
This month was meant to see reduced journey times between Aberdeen and the central belt, as well as new hourly services between Dundee and Arbroath, and half-hourly Glasgow to Edinburgh via Falkirk Grahamston services.
ScotRail now says it is doing "everything we can to ensure our customers will benefit from these improvements in December".
Elsewhere, ScotRail promised two years ago that "from 2018 there will be more services confirmed for Tayside, Stirlingshire, Perthshire and Aberdeenshire".
In addition, it pledged, "there will also be increased peak capacity across Fife and the Borders, relieving some of the pressure on commuter services, along with more commuter options linking local towns between Glasgow and Edinburgh via Cumbernauld and Falkirk".
Asked when passengers will see these improvements, ScotRail said: "This programme of benefits was planned to be delivered in a phased manner between December 2018 and December 2019 as infrastructure improvements, such as central belt electrification projects, are completed.
"All planned improvements remain on programme to be delivered within this timeframe."