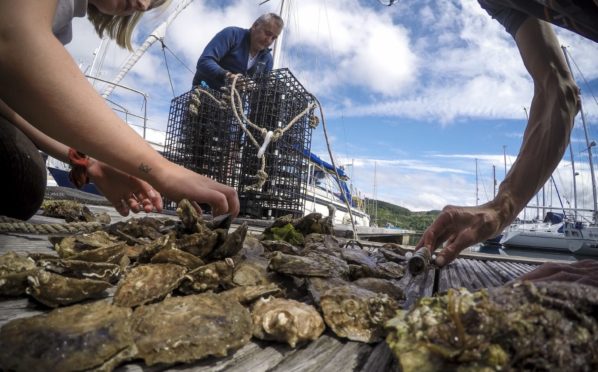 At the end of a pontoon at Ardfern Marina, a network of cages lies submerged just below the surface of the calm and clear waters of Loch Craignish.
This floating nursery is not filled with the day's latest catch. Quite the opposite. It potentially holds the key to the future of both the sea loch and this small Argyll community, in the form of 60,000 juvenile native oysters which are soon to be scattered across the inshore seabed.
It represents the first step in a pioneering community effort to restore the once-lost native oyster population to Loch Craignish and, in doing so, boost marine biodiversity in the area.
Over the next five years the new charity, Seawilding, aims to introduce one million native European oysters using National Lottery Funding to re-establish large, self-sustaining oyster reefs that were once commonplace both in the sea loch and around Scotland.
"Walking around Loch Craignish, you would find these colossal native oyster shells as big as side plates," said the project's co-ordinator, Danny Renton. "We knew native oysters were once here in abundance but could only find a few living ones scattered around the sea loch. These were real dinosaurs but the fact they were still there hanging on reassured us that restoring native oysters could work.
"Through the Native Oyster Restoration Alliance, we learned this is a fast-growing marine restoration activity across Europe. We're the first to be doing this on Scotland's west coast, but also the first in the UK to be community-led."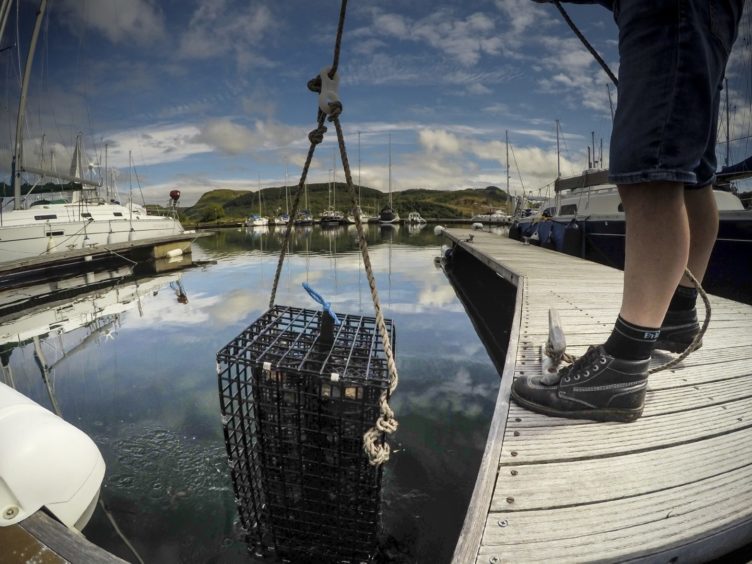 Seawilding was born out of the Craignish Restoration of Marine and Coastal Habitats (Cromach) community project which preserves and protects the sea loch. Years in the planning, the project has benefited from the efforts of 60 members, including marine scientists, divers, fishermen, marine conservation enthusiasts and school pupils.
The pioneering project, based in the village of Ardfern, has involved closely working with the Scottish Association for Marine Science in Oban, department of agriculture at Stirling University, and Lochnell Oysters, a family-run oyster farm based at Loch Linnhe.
"We're using a cutting-edge system which we developed with John Hamilton of Lochnell Oysters," added Danny. "The 180 metre-long nursery consists of specially designed floating baskets, which we call Oyster Hoisters, which each hold 30 juvenile oysters from a Morecambe Bay hatchery. When we first put them in the water six months ago, they were the size of a fingernail but have grown to the size of a 50p piece. We'll start putting them in the water next month once we find the best spot and then we'll add another 100,000 oysters to the floating nursery."
Lauded as nature's aphrodisiac and a delicious delicacy highly sought after by the world's top chefs and seafood lovers, the native European oyster was once abundant around Scotland's coasts.
For centuries, vast native oyster reefs populated Scottish seabeds, making the bivalve mollusc both a staple part of our diet and profitable export.
In the 1700s, the Firth of Forth was home to the largest oyster bed in the world, covering 58 square miles. About 30 million oysters were harvested in the area every year, feeding thousands and creating a booming export market to London and France.
However, years of overfishing, bottom trawling, disease and predation nearly wiped out the species entirely. The majority of oyster reefs died out 150 years ago and, today, just one native oyster bed remains in Scotland, in Loch Ryan near Stranraer, and that has only survived thanks to careful management and sustainable fishing by Loch Ryan Oyster Company.
Now a protected species, native oysters are vital to maintaining the marine eco-system as they naturally filter and clean seawater. "Native oysters are critical for marine biodiversity. They say the North Sea used to be blue instead of pea-green because of all the native oyster beds filtrating and cleaning the water," said Danny.
"Each oyster can filtrate and clean up to 200 litres of water a day and can remove nitrates and sequester carbon. When they form reefs by spawning and growing on top of and beside one another, the biodiversity benefit is phenomenal. They become a nursery ground for spawning fish and shelter many different species. If we can restore these native oyster reefs, there will be all sorts of benefits for the marine ecosystem."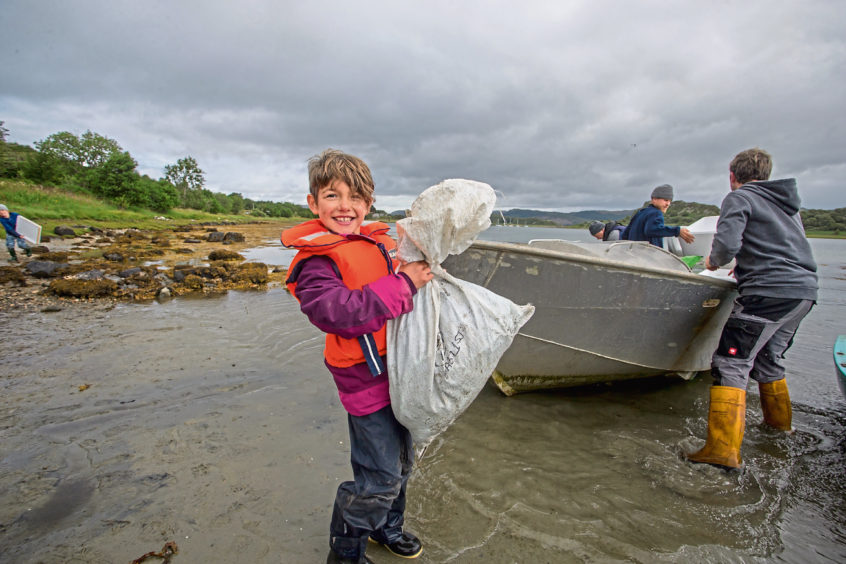 While not commercially driven, Seawilding says the project could one day see Craignish oysters sold by the community, with all profits funnelled back into the charity.
"Ultimately we want to set up a sustainable, community oyster fishery, which will be a first in Scotland," added Danny. For now, though, the key aim is to boost the marine ecosystem and restore the native species to its home territory.
"We really are testing the waters in the hope these native oysters will survive long enough to spawn," said Will Goudy, a local tree surgeon who is handily also an expert in marine biology, and has been investigating the best places to scatter the young oysters in the loch.
"A big concern is predation from other creatures, such as starfish. If we can restore the native oyster stocks to a substantial size, it would be great to re-establish a native fishery.
"However, it would need to be managed effectively so we don't end up in the same situation as before. We're talking decades down the line, but this is an exciting first step. If we can create a blueprint for establishing sustainable oyster fisheries then it will hugely benefit small coastal communities around Scotland."
The vast majority of oysters served by restaurants and fishmongers are Pacific rock oysters grown in oyster farms around the country. By comparison, the native oyster, "Ostrea edulis" or European flat oyster, is literally a whole other species.
"Native oysters aren't widely farmed because they grow very slowly and are quite vulnerable. They look very flat, round and dense. They are quite rare and expensive to buy and, in terms of taste, they are like the caviar of the oyster family," added Danny. A similar project is also under way on the east coast, where whisky distiller Glenmorangie is attempting to restore the species to the Dornoch Firth.
Danny also hopes that by creating a thriving habitat for the protected species in Loch Craignish, this area of the sea loch will also earn protected status.
"Ultimately, we want to restore the species so the sea loch becomes a place where native oyster can be found in abundance.
"We hope to build up a whole marine conservation industry around us that will stop destructive fishing like dredging and bottom trawling and will really benefit our community and the natural resource that sits on our doorstep."
---
The Scottish oyster: Nutty, crisp and may contain pearls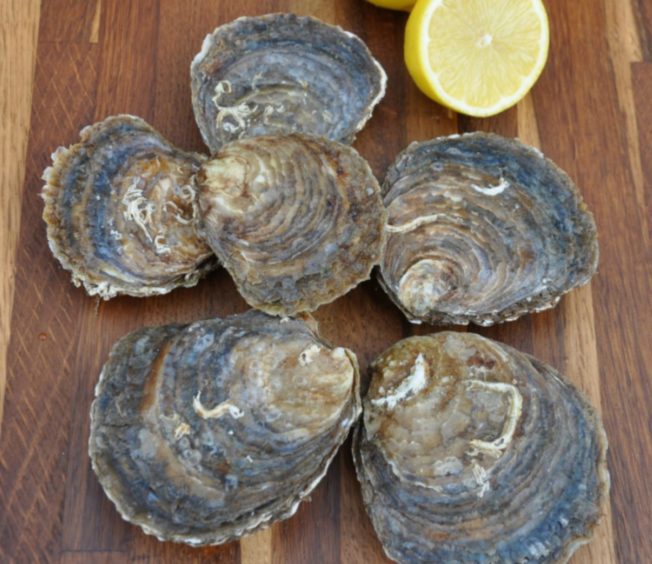 Beneath the glittering surface of Loch Ryan lies Scotland's only surviving native oyster bed.
It has thrived because it has been privately owned by the Wallace family since 1701, which means fishing could be carefully managed to preserve the oyster stocks.
The Loch Ryan Oyster Company, the only dedicated native oyster fishery in Scotland, continues this task today. Tristan Hugh-Jones has worked on the historic oyster bed since 1996. He is part of the Native Oyster Restoration Alliance, which backs the protection and ecological restoration of the rare species.
"Historically, native oysters have always had boom and bust periods so it would be magical to have these native oysters back in abundance in Scottish waters," said Tristan.
"There used to be lots around Scotland but now Loch Ryan is the only place that has them in large amounts. We've been working hard to recover the stocks and harvest around 250,000 oysters, about 20 tonnes, every year.
"We generally harvest one area then re-lay the young oysters to help them breed. A native oyster can take up to 10 years to reach its full size."
He says the native European oyster is very different to the more commonly farmed Pacific rock oyster. "The native oyster shell is large and round while the rock oyster is shaped like a teardrop with a crinkly edge.
"There's also a significant difference in terms of taste and texture. The native oyster has a delicious, crisp bite to it whereas rock oysters are softer. Native oysters have a lingering, nuttier taste and should be eaten completely raw, straight out of the shell, either plain or with a little lemon or tabasco."
He added: "You are more likely to find pearls in native oysters than rock oysters but it's still quite rare. I sell all my oysters, so it's our lucky customers who could find a pearl. I did recently eat an oyster that was about 30 years old and weighed about two kilos. It contained the tiniest pearl imaginable, so age and size don't make a huge difference."
September is harvesting season and Tristan's team would normally have been readying tonnes of oysters to be consumed at this weekend's cancelled Stranraer Oyster Festival, and sold commercially.
"We want to be cautious about how much we harvest but, luckily, the oysters aren't going to waste as they are still valuable breeding stock which will help boost the numbers for the next year."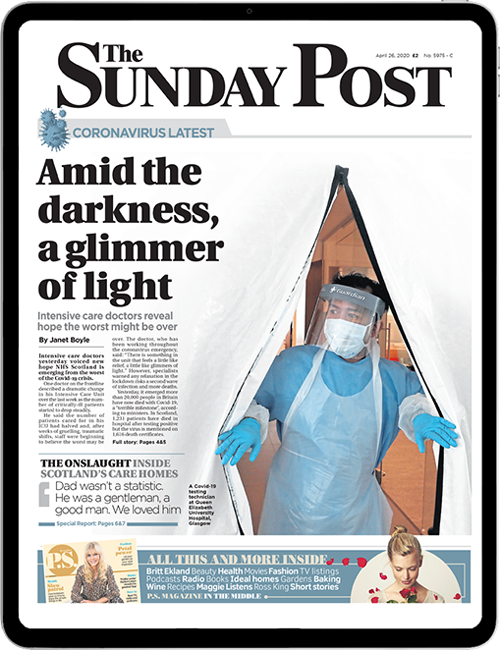 Enjoy the convenience of having The Sunday Post delivered as a digital ePaper straight to your smartphone, tablet or computer.
Subscribe for only £5.49 a month and enjoy all the benefits of the printed paper as a digital replica.
Subscribe