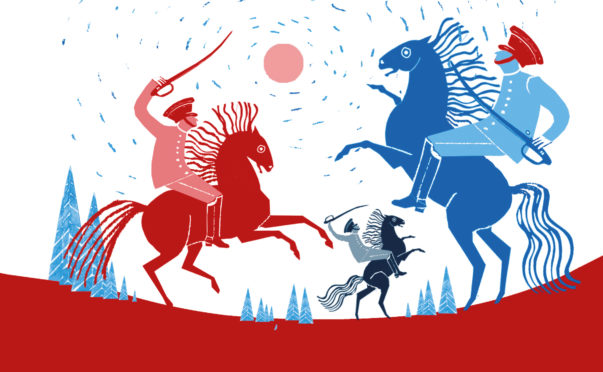 It was seven days that shook Scotland, a week when the country's impoverished, exploited workers said enough was enough.
Two hundred years ago, in a series of violent clashes, hundreds of striking weavers, spinners and colliers demanded reform of the corrupt Westminster government, better living and working conditions such as improved pay and a repeal of the Corn Laws, which kept the price of bread artificially high.
While the workers' rising was crushed, the author of a new book on this overlooked chapter in Scottish history believes that their courage left a legacy of reform. Maggie Craig, author of One Week In April – The Scottish Radical Rising of 1820, said: "I believe their legacy lives on today – we still see it. The feeling that it's not just about you, but it's about your neighbour too. Look at the masses of people volunteering right now, trying to help others, and all the work of the NHS staff.
"I believe that is carrying on the spirit of the radicals."
The seeds for the rising were sown in the Calton Weavers' Strike in Glasgow in 1787 and the French Revolution two years later. In 1816, 40,000 people gathered in the shadow of Glasgow Cathedral to agree the wording of a petition calling on the government to improve the lives of the working classes.
And in a foreshadowing of what was to come in Scotland, 60,000 protestors gathering in St Peter's Fields in Manchester, eight months before the Scottish Rising, were attacked by soldiers. Fifteen were killed and 650 wounded.
In Scotland, there were 60,000 strikers. Glasgow's Lord Provost put the city under curfew and 2,000 soldiers were mobilised.
"One of the most shocking incidents took place near Falkirk on April 5, 1820, at what became known as the Battle of Bonnymuir," continued Maggie.
"A small party – around 25 – of weavers from Glasgow were on their way to the Carron Ironworks to seize a cannon. The group fought with the 10th Hussars and the Stirlingshire Yeomanry. Leaders Andrew Hardie and John Baird were taken to Stirling Castle. They became two of the radical martyrs."
The third was James Wilson, a weaver from Strathaven. The men would be hanged and beheaded. Others were transported to Australia.
"The worst incident in terms of loss of life was at Greenock," Maggie explained.
With the prisons in Paisley full, five prisoners were escorted by the Port Glasgow militia to Greenock, where an angry crowd, some shouting "Remember Manchester", awaited them. Eight were killed, including an eight-year-old boy.
While the Great Reform Act of 1832 stopped short of universal suffrage, it paved the way for further reforms, culminating in 1928, when adults over 21 won the right to vote.
"People will argue of the impact, if any, the Scottish Radicals had on the 1832 bill," added Maggie. "But I believe they did have an impact.
"They changed the thought that democracy was a dirty word – they showed it was necessary and had to come."
One Week In April by Maggie Craig, published by Birlinn, is out now