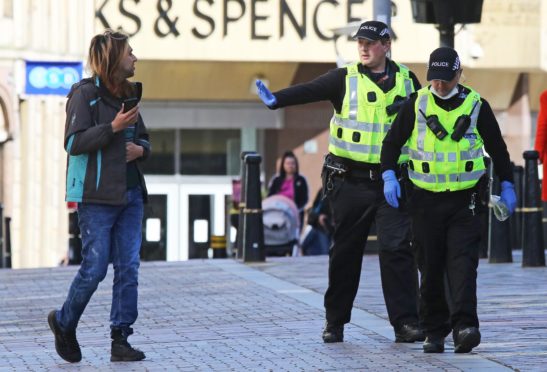 Police officers with only two weeks' basic training will be used to enforce the Covid-19 lockdown from tomorrow.
They are among 348 rookies who only began their probationary period at the Scottish Police College on March 23. Normally they would complete up to three months of intensive training at the castle complex in Tulliallan, Fife, before being allowed out on the streets and serve two years on probation.
However, plans have been put in place to deploy 174 of the probationers – half the intake – on frontline duties after only a fortnight's training.
The move comes as Police Scotland struggles to cope with the number of officers self-isolating because they, or their families, have symptoms. Almost one in six of the force – up to 2,700 officers – has been off at one time but, according to reports, the national force has had only two confirmed cases of Covid-19 among staff.
The trainees will be given a full range of protective equipment, including masks, goggles, disposable suits, boot covers and gloves. Some will be used in office and back-room roles to replace experienced officers returning to frontline duties. Others will be deployed on the streets to back up colleagues enforcing the lockdown and other measures.
The probationers will also have the same powers to enforce social distancing and issue fixed-penalty notices to offenders. Rookies on the frontline will not be allowed out on their own but will be accompanied by senior colleagues. They are all being assigned to police offices near where they live. Police Scotland confirmed the move to The Sunday Post.
Deputy Chief Constable Fiona Taylor explained: "The current intake of probationers undergoing officer training with Scotland will, as of Monday, April 6, be split into two groups. Around half will be sent to our local policing divisions and departments round the country and tasked with assisting the organisation's response to the ongoing pandemic. These recruits have received instruction in core policing skills, first aid and officer safety training prior to being deployed and have all been fully trained in the newly introduced legislation designed to stop the spread of the virus.
"The officers being deployed at this stage will return to the Scottish Police College and complete the remaining weeks of their training once the rest of their classmates have finished their initial course.
"Trainees remaining at Tulliallan are exercising social distancing in as many aspects of their day-to-day routines as possible."
The decision has been supported by the Scottish Police Federation, which represents thousands of rank-and-file officers.
Deputy general secretary David Kennedy said: "At the moment the force needs as many police officers it can get to enforce the lockdown and deal with any other issues.
"We have no issue, given the unprecedented position we are in at the moment. We've also been assured they will only be used for certain duties. It's also probably not a good idea to have almost 350 officers in the Scottish Police College training at one time. By doing this you are also reducing the risk of those remaining becoming infected."
The 348 rookies were among 800 recruits taken on by Police Scotland this year ahead of the COP26 climate summit in Glasgow planned for November but which has now been postponed.
Last month, Chief Constable Iain Livingstone told the Tulliallan probationers they had joined at a time of "national significance".
For the past two weeks officers across Scotland have been enforcing the government's social distancing rules. More than 140 fixed-penalty notices have been issued to people breaking coronavirus restrictions.
Police say the overwhelming majority of people have been complying with social distancing rules.
Fines start at £30, doubling to £60 if they are not paid within 28 days. Repeat offenders can face fines of up to £960.
Under the restrictions, people must stay at home and only leave if they have a reasonable excuse.
The most fixed penalties issued so far have been in Glasgow.