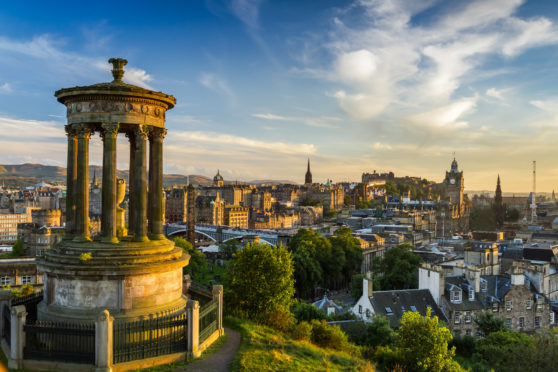 Our latest Great Scottish Journey is also the shortest, but that doesn't mean it is any less spectacular than the other journeys we have taken over the past two years.
In fact, the 12 miles that separates Queensferry and the top of Calton Hill, which rises to just over 328 feet above Edinburgh, packs in an incredible amount of stunning scenery.
Beginning from Queensferry, underneath the town's three iconic bridges, it is worth exploring, either on foot or on bike, the beautiful surrounds of Dalmeny Estate.
From Cramond, the views stretch across the Firth of Forth to the Ochil Hills above Stirling and to the rolling landscape of Fife.
Just off the shore is Cramond Island, which is accessible at low tides by a causeway.
It is then on through historic Edinburgh suburbs such as Granton and Newhaven to visit the Port of Leith, which used to be the city's main port, exporting the likes of wool, grain, salt and cattle hides.
We then head away from the coast and along Leith Walk, after which a short ascent reaches the summit of Calton Hill.
Here you'll find several historic monuments and fine buildings as well as one of the best vantage points to view our stirring capital city.
---
● At 1.7 miles, the Queensferry Crossing is the longest triple-tower cable-stayed bridge in the world.
● Discarded hazelnut shells found on Cramond Island were carbon dated to 8500BC and thought to have been left by Mesolithic hunter-gatherers.
● Lauriston Castle is set within a historic garden laid out by architect William Henry Playfair.
● Several important fish fossils – some more than 400 million years old – have been found at Newhaven. Charles Darwin studied geology and fossils at Newhaven when at Edinburgh University in 1825.
● The National Monument of Scotland was never completed but commemorates the Scots soldiers who died in the Napoleonic Wars.
---
You can read about a whole series of fantastic journeys in our fabulous book from Keith Fergus. To get a copy, go to www.dcthomsonshop.co.uk or telephone 0800 318 846 (Freephone UK). Lines open Mon-Fri 8am-6pm, Sat 9am-5pm