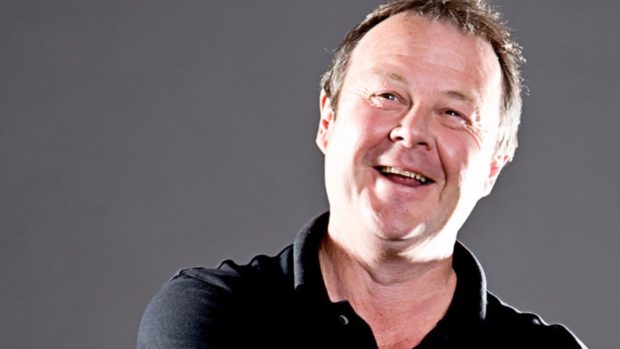 Euan McIlwraith has braved war zones, faced down drug dealers and even been kidnapped at gunpoint.
Yet nothing quite beats the adrenaline rush of trying to find a 4G signal for a live broadcast at the bottom of his garden in rural Banffshire.
The former war correspondent is now presenter of BBC Scotland's Landward on TV and Out Of Doors on radio.
Both nature programmes have been a hit with viewers and listeners in 2020, with audiences up by a third this year. Yet the gentle look at Scotland's wild outdoors comes with its own form of stress, according to Euan, 63.
"I loved the excitement of doing investigative reporting and covering war zones," says Euan, who has presented Landward for 30 years. "There's a lot of bad stuff out there, we're still investigating things like badger baiting and hare coursing.
"But the more you dig into the wildlife, mythology and folklore of Scotland, you'd be hard pushed not to be excited about it.
"The adrenaline now comes from when programmes go wrong. Like many presenters these days I'm working from home – I'm broadcasting from my back garden in the pitch dark, totally reliant on the 4G signal holding out. If it goes down, what do I do? Live programmes are always exciting."
INTERVIEW: Take The Floor and Mànran's Gary Innes on missing live shows and celebrating his 40th with new book
Euan was reporting from war-torn Somalia as a BBC foreign correspondent when he encountered his most terrifying moment.
"The scariest one was in Mogadishu," he adds. "One night, two guys stopped the taxi we were in and jumped in the back.
"They started sticking their 9mm pistols against my head and screaming, 'You are an American! You are an American!'
"I was taken to the outskirts of town where there were a whole bunch of scary guys. I thought that was it for me.
"They kept screaming I was an American, but I kept saying, 'No, I'm Scottish'.
"One looked at me and said what I think was the Somali equivalent of, 'OK, son, on you go' and let me leave.
"I thought my time had come.
The incident was one of a number of scary moments which ultimately drove Euan back to Scotland and a slightly less hectic lifestyle examining Scotland's natural environment on television and radio.
"I was also in the Congo during a cholera outbreak, so I've been around. You get to that stage where you realise you're missing your children growing up and you're being a bit irresponsible going into such risky situations.
"You're going off on your own for six weeks without any contact with home. Which is very exciting, but I began to realise that Scotland is a fantastic place to be."
Both Landward and Out Of Doors have seen their ratings climb during the past few months with 700,000 tuning in across the UK, success Euan credits to lockdown and the flourishing interest in the natural world that brought.
"Ratings have been fantastic," he says. "I'd like to think it's because we're producing fantastic content! But I think people are having a look, because of the type of year it is, at the sort of thing we do.
"I worry once it's all over it'll go back to the way it was – cars and pollution. But folks seem to appreciate nature right now."
Euan regularly recites poetry on his shows, and a recent piece, Autumn Gold, led to a deluge of enquiries from viewers asking the identity of the author.
The piece was written by Euan – not that his production team believed it.
"I was walking the dog and saw the autumn colours," he adds. "The wind was blowing and I started thinking, 'When northern winds blow…'
"It just took off from there. But nobody on the production team thought I'd written it, everyone thought I'd stolen it. They were all quite gobsmacked when they realised I had written it.
"We got a lovely response from folk once it was on Landward, I think it chimed with them. Sometimes things work and sometimes they don't, and this one just struck a chord."
---
From Autumn Gold by Euan McIlwraith
As northern winds chase summer days,

and skeins of geese arrive to graze,

To clear a path for autumn's gift,

that grabs the soul, and spirits lift.

As leaves they fall and apples blush,

I stand in awe at nature's brush

The brush that paints the country spread

the russets, ochres, browns, and red

It's nature's gift and all its hues,

that chases pending winter blues…

The autumn glow in all its hues,

that comforts us through winter's blues.

The alchemy of colours hearten,

it's nature's gift, it's nature's tartan.

The gift from Mother Earth, our souls beguile,

it's autumn gold that makes me smile.
---
Although he says he enjoys writing his own verse for broadcast, Euan said it was borne out of having a small budget.
"When I first started producing there was a poem I wanted to feature called I Shall Wear Purple," he recalls. "Then I discovered the royalties on poetry are huge, about 10 times the budget of the programme. I wondered what I'd do, then thought, 'Right, I'll write one'.
"It's been a regular feature for the past 20 odd years.
"Quite a few people have asked when I'll be bringing out my book of poems. I think possibly never. Folk were very kind and said it touched them.
"It's never going to be like Milton and change people's lives. But if you can make someone smile for a minute and think about the beauty of nature, then it ticks the box for me."
---
Landward and Out Of Doors on BBC Scotland, iPlayer and Sounds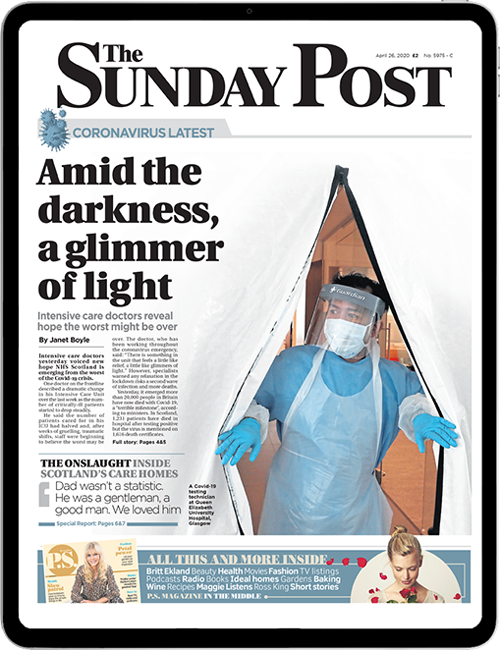 Enjoy the convenience of having The Sunday Post delivered as a digital ePaper straight to your smartphone, tablet or computer.
Subscribe for only £5.49 a month and enjoy all the benefits of the printed paper as a digital replica.
Subscribe