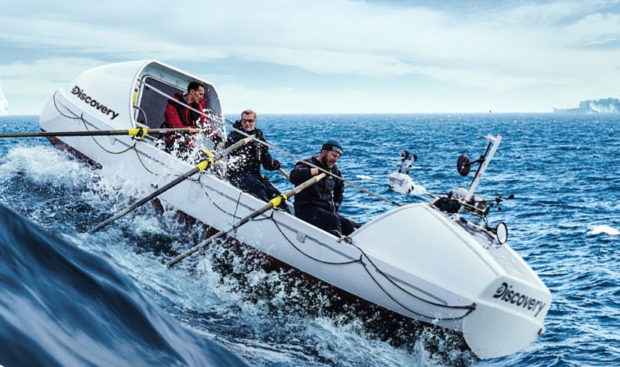 As he rowed through a ­freezing and unforgiving ocean, ­battling relentless waves and bitter crosswinds, all Jamie Douglas-Hamilton dared think of was returning his oar to the water one more time.
In the back of his mind was the goal of propelling his crew into the history books with the first human-powered row across the Drake Passage, one of the most treacherous bodies of water in the world.
Over 12 gruelling days last December, the open-sea rower joined an international crew to cross the 600-mile passage of turbulent water that stretches from the southern tip of South America to the South Shetland Islands of Antarctica.
Looking back on the feat nearly one year on, Jamie, from North Berwick, still marvels at how his team of six top rowers, led by Icelandic explorer Fiann Paul, achieved what has been dubbed The Impossible Row. "In some ways you can't believe it," said Jamie, 39. "Looking back, it was a lot of fun but it was a particularly dangerous and gruelling expedition."
Before they set off on December 13, a tragic air accident emphasised the potential threat this stretch of ocean, named after British explorer Sir Francis Drake, posed.
"When we were in Punta Arenas in southern Chile there was a hurricane in the Drake Passage that actually brought down a Hercules aircraft headed to Antarctica. All 38 passengers on board died," recalled Jamie. "We were on land and could feel the strength the wind, thinking if we get hit by this it will be severe. There was a lot of concern and anticipation before we left."
Yet it didn't deter the Scot, as Jamie's thirst for pioneering adventure runs deep. His inspiration is his grandfather, Douglas Douglas-Hamilton – one of the first men to fly over Mount Everest in 1933. "It had never been done and was seen as this last, great exploration before space travel. This was at a time when, if your oxygen ran out, you had about 30 seconds before losing consciousness.
"They were in an open cockpit flying into extremely cold headwinds. They still managed to clear the summit by about 20 feet. All the grandkids grew up listening to this incredible story, wishing we could do something like it."
Crossing the Drake Passage can be especially perilous. "The circumpolar current that circles Antarctica is the only fully-looped and strongest current in the world," said Jamie. "It goes from west to east with no landmass to stop it. As it builds, the waves get bigger and stronger, and go on for miles.
"Low-pressure storms come through the Southern Ocean and are compressed into the Drake Passage, which creates violent storms. The Drake Passage is like a washing machine, you can go from flat calm to a full-blown storm so quickly.
"We were rowing against the ­current and were hit by four intense storms. At one point, 30-knot winds blowing from Antarctica pushed us back 15 miles towards South America. That was demoralising."
The crew rowed in 90-minute rotations with three operating the oars while the rest took shelter in a small cabin at the end of the rowboat.
The banter and camaraderie with his crewmates, coupled with the thought of finally seeing Antarctica and making history, spurred Jamie through the physical strain. "Getting smashed by freezing-cold waves, you're constantly wet and constantly cold. It was unbelievably gruelling. A 90-minute shift felt like three hours. I lost two stone in 12 days.
"We kept thinking the boat would capsize. I had blisters and joint pain but we kept ourselves going by focusing on Antarctica. Some of the icebergs were the size of towns."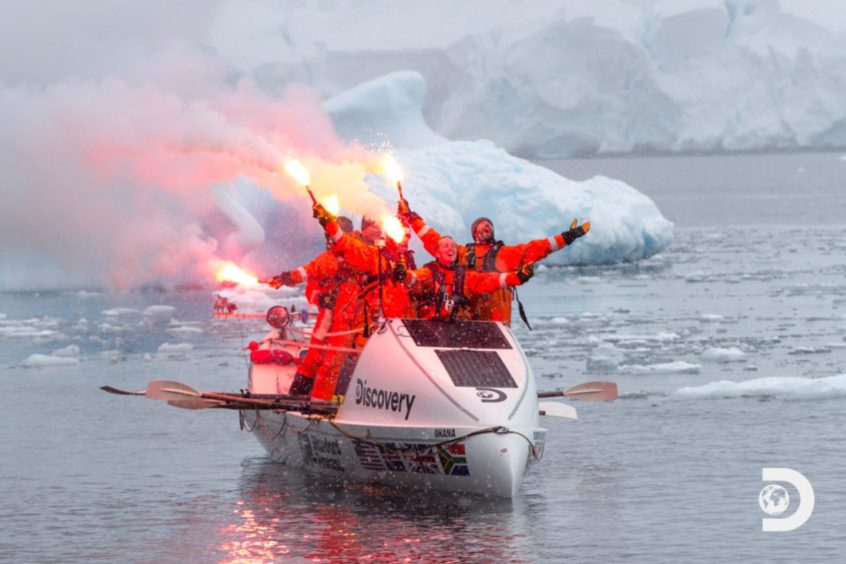 Making land on Christmas Day was a moment of relief and awe for the record-breaking rowers. "It was such an incredible feeling to know we'd safely crossed the Drake Passage. Antarctica is breathtakingly beautiful. Thousands of penguins followed us along the last stretch," he recalled.
Jamie and his crewmates spent Christmas Day in Antarctica. "Being in this unbelievably pristine environment, next to a penguin colony, was the best Christmas Day ever. We had a steak Christmas dinner on board the support boat, Braveheart. Calling home was emotional. My parents were so relieved it was over and we'd got there safely."
They returned to Chile on the Braveheart, with their rowboat safely stowed on board.
A film crew documented their journey through Drake Passage from a support boat. Today, to mark the one-year anniversary of their crossing, a Discovery Channel documentary called The Impossible Row has been released.
Their incredible act of endurance set five Guinness World Records and was described as "one of the most impressive adventures ever undertaken". Jamie previously set a world record in 2014 when he was part of a team that achieved the longest and fastest row across the Indian Ocean.
"It's not just the thrill of adventure but exploration; being the first to achieve something," added Jamie, who has been rowing for 10 years.
---
The Impossible Row is available to watch now on Discovery+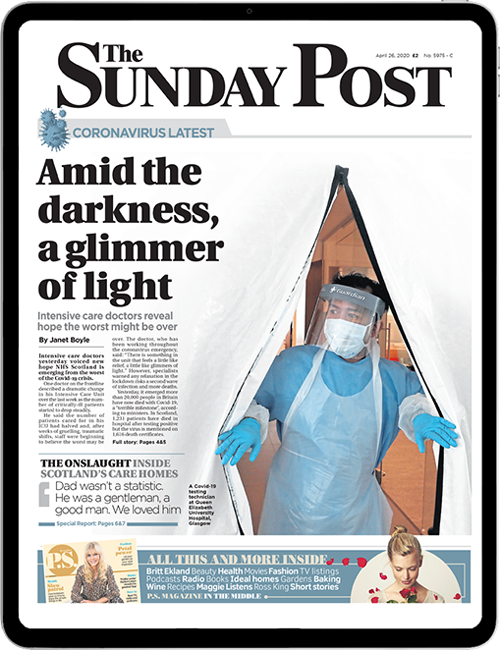 Enjoy the convenience of having The Sunday Post delivered as a digital ePaper straight to your smartphone, tablet or computer.
Subscribe for only £5.49 a month and enjoy all the benefits of the printed paper as a digital replica.
Subscribe