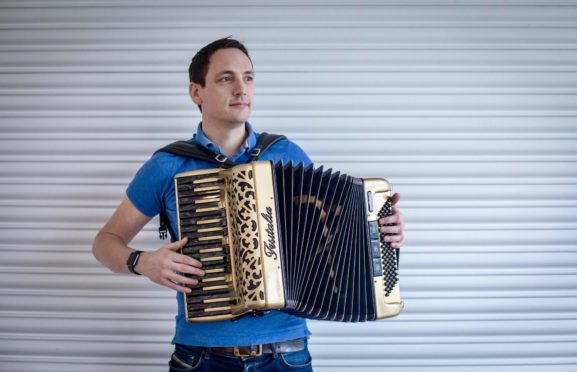 Many people have found over the past nine months that working from home can be slightly perilous.
Children and pets interrupting important meetings, badly timed deliveries and confusion caused by the humble mute button have become standard occurrences.
As he chats to The Sunday Post, Radio Scotland presenter and musician Gary Innes has just had a minor catastrophe of his own while recording an episode of Take The Floor.
In this case, the hazard was an unruly washing line.
"Half-way through the recording there was this huge clatter and bang, and the pole that holds up all the shirts and jumpers above me came crashing down on my head. An eventful start to the morning," he laughs.
Being able to continue broadcasting throughout the pandemic has been something that Gary hasn't taken lightly, knowing that it's a privilege that people are inviting him into their homes via the airwaves.
As well as the traditional Saturday night country dance show, the station's longest-running, he also hosts Your Requests, where people can get in touch to ask for songs and shout-outs.
"There's a great thing with broadcasting, knowing that there are people out there listening to you when you're just sitting in your house or studio," Gary said.
"It's never become more important than just now. And it has been recognised, there are so many people now returning to radio to find out the news, guidelines, what's happening.
"I think it's always lovely to have a radio on in the house, just walking about subliminally listening to the music and chat. The choices are there for folk now, they can just turn you off and just play whatever music they want."
Throughout lockdown Gary has also been putting together a new project in anticipation of a milestone birthday this month.
To celebrate his 40th, he's released a tunebook filled with stories behind some of his compositions and tales from a varied life that's taken him from the shinty pitches of the Highlands to huge music festivals around the world.
"With lockdown I've had more time on my hands from not travelling and touring so I thought it would be a nice time to put down some of these wee stories on paper, along with the tunes and photos," he explained.
"I've really enjoyed putting it together and I'm looking forward to people reading it. Turning 40 is a nice time to mark with a wee something."
The celebratory mood is completely different to the way he approached turning 30. This time around, instead of trying to run away from his age, he's fully embracing it.
"When I turned 30, I absolutely hated the thought of it," he recalled. "I went away travelling to South East Asia round Thailand, Vietnam and Laos and I just didn't want to admit it was happening at all.
"It's quite nice that a lot of people didn't think I was close to being 40! With that though, I'm more than happy about it. I wouldn't say it was an excitement looking forward. but certainly I've no problems with it.
"The last few years have been incredible, I've gotten to travel the world playing music, be in the most extraordinary circumstances with it all and meet lots of people along the way."
There are plenty of tales to draw from in Gary's life. He played shinty from a young age and had a long and distinguished career before retiring in 2014.
When he turned 18, he joined the auxiliary fire service in his hometown Spean Bridge, where his dad also volunteered.
"It felt like a natural thing to do to get involved in local things. Any excuse to hang out with my dad and have a bit of nonsense," he said.
"Then I moved to Glasgow to pursue music playing as a career, I was up and down the road every couple of days with being on call and shinty training, but still trying to dip my toes in things in Glasgow and meet people."
From dipping toes, he's now fully immersed.
As well as presenting the popular Take The Floor radio show, which he took over from the legendary Robbie Shepherd in 2016, he plays his own music with trad supergroup Mànran.
Alongside his bandmates, he's played shows all around the world to crowds of thousands – although not this year.
While livestreamed performances have popped up throughout 2020, nothing has come close to the band's usual barnstorming events.
"At the heart of it all, as a musician, I hugely miss performing and that interaction with people," he admits. "I miss finishing a set and hearing that little pause of space before people clap or cheer.
"There's also that social aspect it brings. That feeling for people who'll buy their ticket and maybe travel, go for a meal, make a night out of it. It's not just that 90 minutes of music, it's that of sense occasion has been taken away from us."
The band was planning to mark their tenth anniversary with dates booked across America and Europe.
There were also gigs scheduled for China including, ironically, a show in Wuhan province.
But while it was set to be a huge year, Gary has a silver lining to enjoy – spending time with his wife and daughter.
"Yes we didn't get to do the big tour and get to promote the new album and all the stuff as a band we were naturally looking forward to, but on the flip side of that I got to stay at home," Gary said.
"I was with my daughter for her first birthday where she also took her first steps, and I got to celebrate my wife's first mother's day. I was meant to be in Germany for five weeks on tour then, which was booked before we knew we were expecting.
"It's funny things like that, because we're booked up so far in advance, when life events like that happen it's difficult to be part of them sometimes. To be home and part of that family life, I've seen that as a huge positive.
"I've been home more this year than I've ever been. To have our wee one in our lives and be home and watch all her changes and be part of that on a day-to-day basis has been really nice."
Gary's also been helping other families across the world accentuate the positive in the midst of the dark times 2020 has brought.
He posted a message on social media early in the pandemic offering to record messages or tunes for families missing each other, especially for big occasions like birthdays and anniversaries.
He's ended up inundated with requests, sending clips and taking part in Zoom calls all over the world.
Gary said: "It was honestly one of the most rewarding things I've done. I played a German couple's first dance at their wedding in their living room over Zoom. There were so many things like that I was involved in, 80th birthday parties in the Outer Hebrides to family gatherings in England, France, Spain, Italy, America… it was just incredible!
"It showed how resilient and positive people were were. Yes, nobody wants to be in it, but everybody was doing their best to have a wee dram or a bit of birthday cake within the guidelines, sometimes thousands of miles apart.
"If that's what they needed to do, then that's what they needed to do. To be a small part of that was great, and I'm still doing them!
He added: "I can't help but feel so privileged to be in a position that people care that I join them and play a wee tune or say happy birthday."
---
The book is available to buy in hardback and digital versions from www.garyinnes.com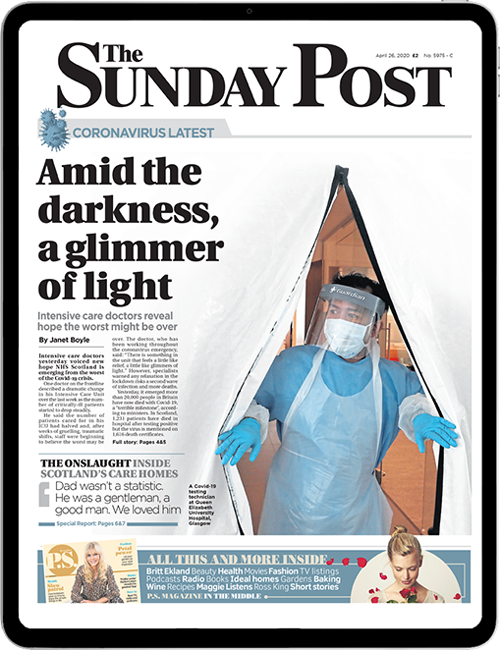 Enjoy the convenience of having The Sunday Post delivered as a digital ePaper straight to your smartphone, tablet or computer.
Subscribe for only £5.49 a month and enjoy all the benefits of the printed paper as a digital replica.
Subscribe