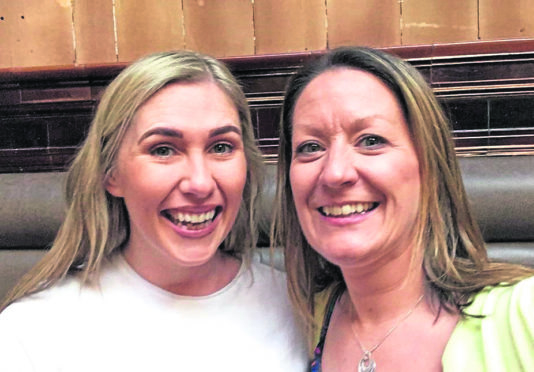 Susan Fullerton, 38, Glasgow, stem cell donor
Ten years ago, I hadn't even considered giving blood, let alone donating bone marrow. But after my mum, Flora, passed away from a short battle with acute myeloid leukaemia, I wanted to do something to help others struggling with the terrible disease.
With the encouragement of my then flatmate, I started donating blood and the sessions quickly became part of my regular routine.
One day, after donating my latest pint, I was sitting eating a Tunnock's Teacake when I noticed a handful of leaflets on the table. I picked one up and it was for Anthony Nolan, a charity that matches potential stem cell donors to patients in need of a transplant.
I decided to apply. That was in April, 2010, and little did I know that I would be matched with a recipient within just a few weeks, and donating by the end of the year.
Donations have to be made when the recipient is well enough to receive the stem cells, so we went through a few different dates before finally settling on Thursday, December 2, just over seven years after my mum, the inspiration for my donation, had passed away.
I had to go to my GP to have my blood tested in lots of different ways, checking whether I was a good enough match for the person I had been paired with, but eventually I was ready to make the journey to London to have the procedure.
There are risks with any hospital stay, especially when you're being put under general anaesthetic, but I just kept thinking to myself: 'This could save someone's life'. The operation seemed a very small inconvenience in comparison.
I was living in Stirling at the time while I completed my masters degree, so travelling down felt like having a bit of a holiday, and I even got to visit my brothers while I was there.
On the morning of the surgery, the doctors picked me up early from the hospital ward, and I was then put to sleep for the procedure. The whole process was finished in an hour, and I woke up in my room a few hours later.
That same day a representative from Anthony Nolan visited to check how the procedure went, and to thank me for my donation.
And that was it. My bone marrow was sent to be transplanted the following morning, and I went back to my regular life.
For the first two years after donation, both donor and recipient have to remain anonymous, but after that, either party can express an interest in meeting the other.
But it wasn't until September last year, nine years after the op, that I decided to get in touch and, amazingly, my recipient had done the same.
I discovered I had helped to save the life of Becca Anderson, 28, who had battled through the same type of leukaemia as my mum. Diagnosed in 2010 when she was just 18, Becca urgently needed a stem cell transplant.
Through Anthony Nolan, she had been matched with two previous donors but neither worked out, and it seemed unlikely there would be many more people who would fit the bill.
Her time was ticking away and the doctors knew the likelihood of her cancer returning was very high.
But our match was third time lucky.
When we first met in Newcastle, close to Becca's hometown of South Shields, it was almost like a first date scenario. We didn't know anything about each other and you do start thinking about all the 'what ifs'.
I didn't know whether I would be a bad memory from a difficult time or whether she would want to be a part of my life.
But we felt like close friends almost immediately. It's strange going from not knowing each other to suddenly being friends, but something pulled us together, and now we plan on meeting at least a couple of times a year.
Becca – that's her with me in the picture above – made the whole situation so real. She wouldn't have been there if I hadn't made the choice to donate. I'm still quite speechless when I think about it.
While I'm proud of what I've done, I don't think there was much effort on my part. I wanted to join the register for my mum, and it's her who should get the credit for inspiring me.
I may have lost one really important person in my life, but as a result I've gained another.
---
How to join the Anthony Nolan register
The charity Anthony Nolan uses its register to match potential donors to blood disorder and cancer patients in need of stem cell transplants.
If a patient has a condition that affects their bone marrow or blood, such as leukaemia, a stem cell transplant may be their best chance of survival.
Transplanting new, healthy stem cells to the patient via their bloodstream can allow them to begin growing and create healthy red blood cells, white blood cells and platelets.
Blood cancer is the fifth most common type of cancer in the UK, accounting for 9% of all new cancer diagnoses.
Around 2,000 people in the UK need a stem cell transplant from a stranger every year.
Nine out of 10 stem cell donors can donate through a simple outpatient procedure, similar to giving blood. One in 10 people, like Susan Fullerton, require stem cells to be taken from the bone marrow in their pelvis, while under general anaesthetic.
To join the Anthony Nolan register, you must be healthy and aged between 16 and 30. Find out more at anthonynolan.org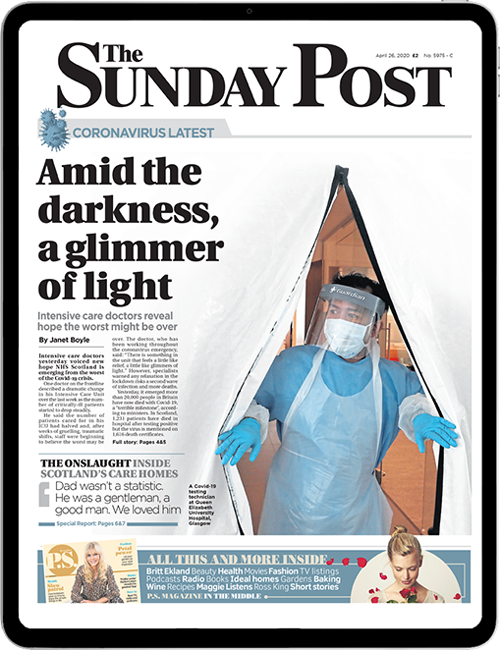 Enjoy the convenience of having The Sunday Post delivered as a digital ePaper straight to your smartphone, tablet or computer.
Subscribe for only £5.49 a month and enjoy all the benefits of the printed paper as a digital replica.
Subscribe