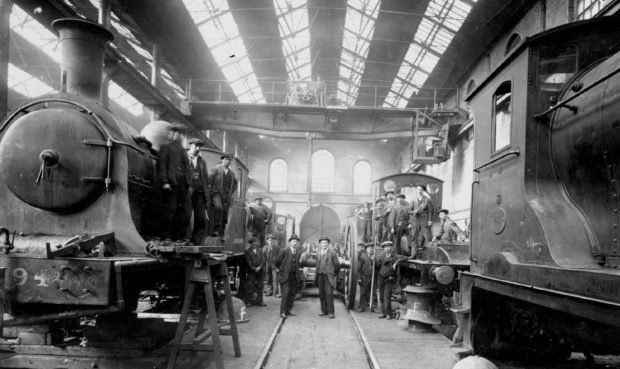 A derelict monument to the glory days of Scotland's engineering is under new ownership after a deal was sealed to sell the locomotive works that once built the world's trains.
Sources close to the agreement to buy the defunct rail depot say entrepreneur David Moulsdale has bought the site in Glasgow, built for the Caledonian Railway Company and known locally as the Caley.
The defunct St Rollox depot, in Springburn, is said to have been bought by a company controlled by Optical Express founder Moulsdale, with speculation suggesting part of the 16-acre site could house his collection of classic cars.
A spokeswoman for Moulsdale, who grew up in nearby Bishopbriggs, said there was "nothing to say yet" about the depot built in the 1850s for the Caledonian Railway Company. The Caley was a world-renowned locomotive works for over 150 years and employed about 200 workers prior to closure two years ago.
Campaigners were left ­disappointed after a proposed deal to bring rail heritage rail firm Locomotive Services Ltd (LSL) to the depot collapsed last year but said they hoped to work with the new owner to secure the yard's future.
The depot was sold by Dutch-based real estate firm Mileway and is now controlled by a company called Springburn Depot SPV, which lists businessman Moulsdale, 52, as having a significant interest. He is also listed at Companies House as the sole director of Springburn Depot Holding SPV.
Former Springburn MP and Holyrood election candidate Paul Sweeney, chairman of the Caley Campaign Group, which consists of trade unions and former workers, said: "This site employed hundreds of people and was profitable when it was closed just a couple of years ago. We know there is demand for it to continue as a rail engineering facility.
"We understand there has now been a sale of the site and buildings to David Moulsdale, via Springburn Depot SPV, and we would be eager to engage with Mr Moulsdale to try to develop a railway engineering hub, reviving over 160 years of iconic rail engineering at the Caley. I also understand there is a possible proposal to use part of the site as a classic car display, so hopefully any such move could be initiated alongside heritage rail interests.
"If this national asset is lost to railway engineering, it's lost forever, and that would be completely unacceptable. There has been a disappointing lack of proactive effort from the Scottish Government to drive a solution that would retain the Caley as a rail engineering asset and I would call on Transport Minister Michael Matheson to engage with Mr Moulsdale to move this forward at pace.
"Any opportunity for LSL's ­involvement at the site to be revived in any way would also be very welcome and should be actively pursued. With the heritage steam locomotives and rolling stock they could bring, alongside possible classic car displays, there could be a heritage or tourism spin-off and a possible win-win solution for this historic site."
The depot, established in 1856, was once at the centre of the world's locomotive industry but changed hands several times after being privatised in 1995. It was sold to a real estate group in 2002 and leased back for rail work before control eventually passed to Gemini rail, which announced its closure in 2019. It remains in use on a short-term lease, currently housing the rolling stock involved in last August's Stonehaven rail crash amid the ongoing ­investigation into the tragedy.
LSL managing director Tony Bush said: "We expressed serious interest in the site over 12 months ago and submitted a competitive offer to acquire the freehold.
"The intention was to restore the site to railway operational status but we couldn't seem to engage in meaningful dialogue with the owner and felt it necessary to move our focus elsewhere."
Mileway said: "We have reached an agreement for the sale of Springburn Rail Depot in Glasgow. We are pleased that the new owner's proposed plans should enable local communities to enjoy this historic property for many years to come."
Moulsdale began work in an ­optician's after leaving school aged 16. He opened his first outlet in 1991 and Optical Express now has about 130 branches.
The businessman referred our inquiry to his firm Optical Express, which said there was "no information that they wanted to share at the moment" on the depot purchase.
In 2019, his bid to buy Cawder Estate with a long-term lease for Cawder Golf Club, in Bishopbriggs, was rejected by the landowner.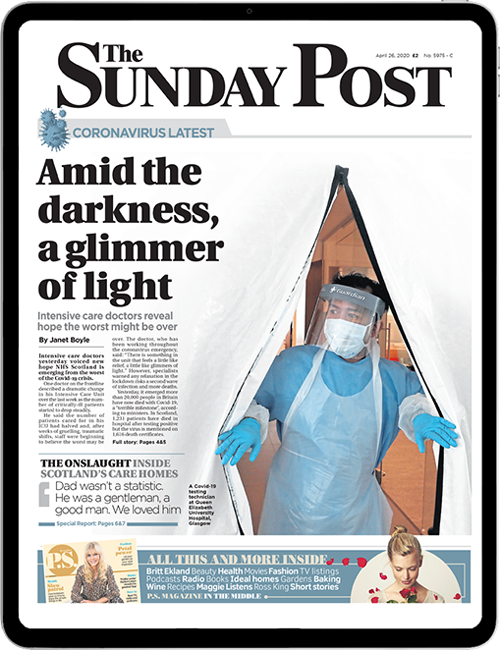 Enjoy the convenience of having The Sunday Post delivered as a digital ePaper straight to your smartphone, tablet or computer.
Subscribe for only £5.49 a month and enjoy all the benefits of the printed paper as a digital replica.
Subscribe