The shocking condition of Scotland's delayed £200 million superferries can be revealed today.
Our exclusive photographs, taken last week, show the ferries streaked with rust, already needing restoration and repairs, and with no sign of work under way as they languish at a Clyde shipyard.
The Glen Sannox and her ­sister ship – Vessel 802 – should have been serving island communities around Scotland already. Instead, they are years from completion as the projected £100m costs double – and experts warn could even triple before the ships are completed.
Experts who examined our ­photographs warned the ships were slipping into disrepair and should not be exposed to the elements. Naval architects pointed to deformed steel plates on the side of the Glen Sannox, which could indicate structural weaknesses, and also said such a young ship should not be so rusty.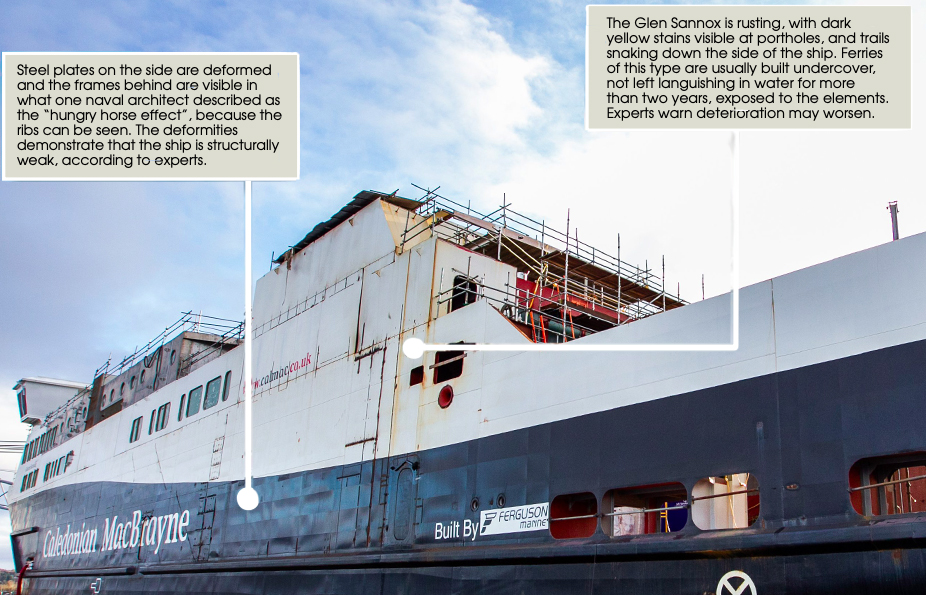 The original £97m contract was for the construction of two new ferries by 2018, but a government report published in December said another £110m must be spent and both ships won't be on the seas until 2022. That's on top of £45m of government loans to Ferguson's, which were written off.
Industrialist Jim McColl, who owned Ferguson's before it went bust and nationalised last year, told The Post the final cost of the two ferries could be at least £300m. He says the ships should be scrapped. Alf Baird, who sits on the government's Ferry Industry Advisory Group, also said the final figure will be at least £300m and he urged the government to scrap the ferries and start again.
Both men warn the ­government's new timescale set out by Tim Hair, who was parachuted in to rescue the ailing project, is not achievable and it may take another year to finish the ferries, meaning they will be five years overdue.
Ferguson's collapsed into administration last year amid a contract dispute between the shipyard and Caledonian Maritime Assets Limited (CMAL), the government quango that owns ferries serving the west of Scotland.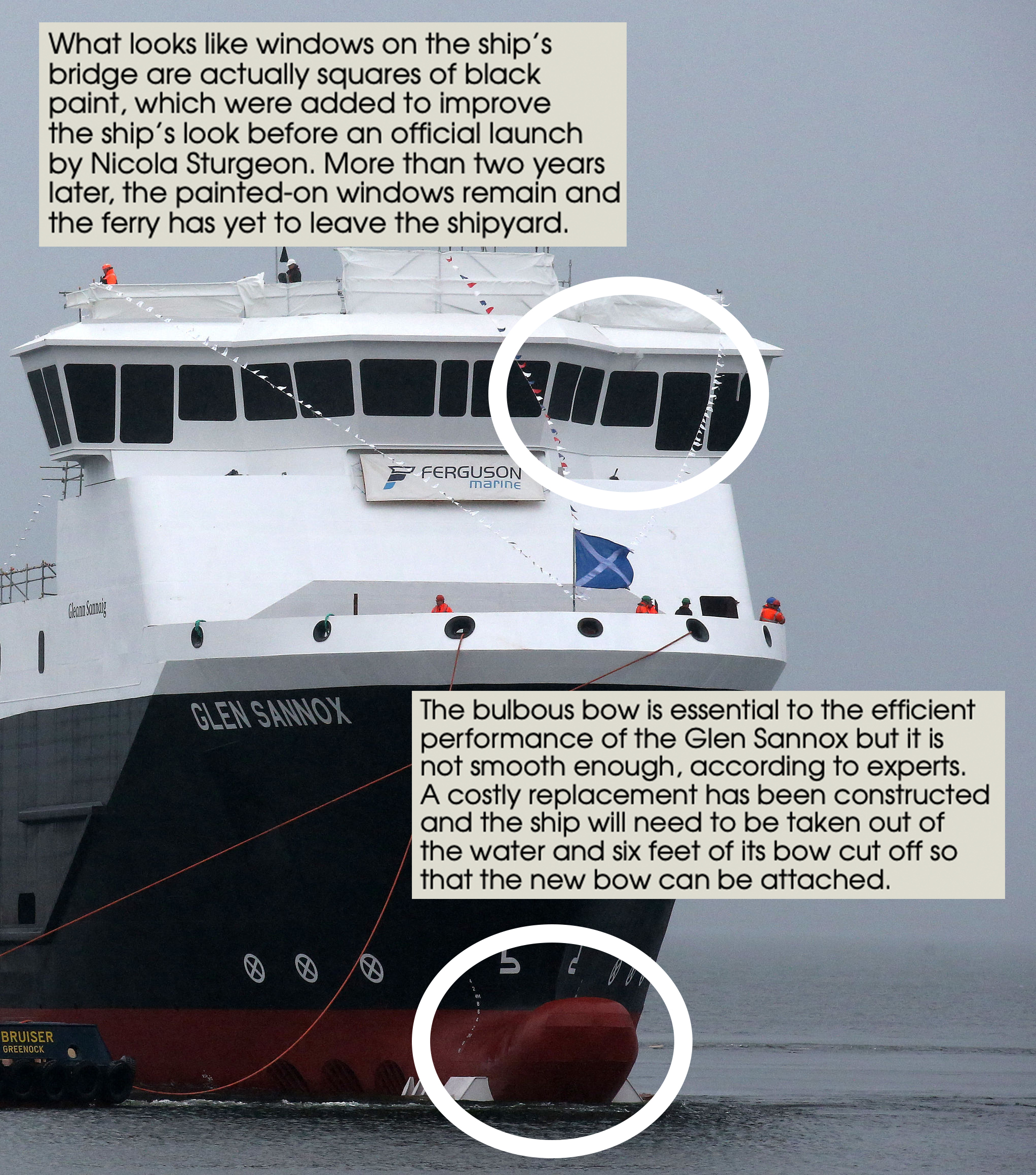 Mr McColl has blamed CMAL for making costly design changes, while CMAL chief executive Kevin Hobbs said there were only 81 changes, which cost just £750,000, far less than the additional £66m demanded by Ferguson's before it went bust.
Mr McColl believes the ferries will end up costing taxpayers more than three times the price of the £97m contract awarded to Ferguson's in 2015 even though it was the most expensive bid.
He said: "The government says it's £110m to finish it but you've got to include the £45m that was lent to Ferguson's, because that went into the ship. That's in the costs.
"So there is £135m in those two ships just now, if you include the loan and the £90m already spent on them. And, since they took over in August, they've been covering the costs of all the people in the yard, which I reckon is costing them between £1.5m and £2m a month to run the yard, without any real progress.
"Tim Hair said they need at least seven months to decide what they need to do and how they want to finish them. So the cost of the ferries is currently sitting at £255m, and I reckon it could go to £300m. I don't think the timescales are achievable."
Timeline
Dr Baird, former professor of Maritime Business at Edinburgh Napier University, who sits on the government's Ferry Industry Advisory Group, also predicted further delays and a final figure of more than £300m. He previously said the ferries should be downgraded to save on costs but now believes they should be scrapped.
He said: "If we could re-specify the two vessels to carry 500 passengers instead of 1,000 we could take that £110m overspend down to about £50m or £60m.
"They could just make it a more normal ferry, what I call a utilitarian island ferry, with lino instead of plush carpets. You don't need the art treasures, the a la carte restaurants for a one-hour voyage to Arran. I live on Orkney and we're quite used to just a bacon roll and a coffee.
"But I would now go as far as to say scrap them. For £110m you could bring in the best standardised production people and build four ferries at Ferguson's."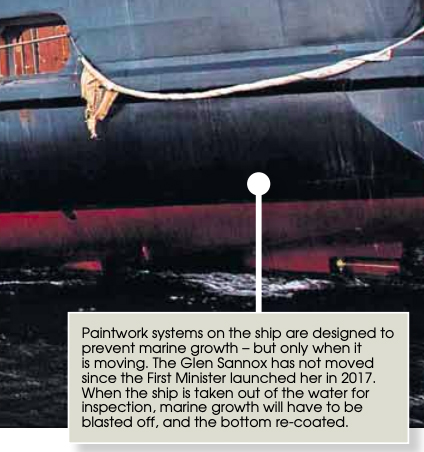 Roy Pedersen, a ­consultant who sits on the Ferry Industry Advisory Group, has also called for the ferries to be scrapped. He told a parliamentary inquiry last week the decision to award the contract to Ferguson's could be down to either "incompetence, vested interest or corruption".
After looking at the new pictures of the Glen Sannox, taken by The Post on Tuesday, he said: "It appears the condition has deteriorated quite seriously. Who knows what the ultimate cost will be? Whatever it is going to be, one could get a much better solution for the money. The government needs to have the courage to change course."
In a submission to a parliamentary inquiry, Dr Baird calculated each of the 127 car parking spaces on the ferry would cost more than £800,000. He has since increased that figure to at least £1m.
He said: "I think it will exceed £1m per car space because if the government is going to finish these boats it will cost £150m per boat. And you can add at least six months to a year to the current timescale predictions.
"I taught maritime economics in Norway for 10 years. Scotland really is a basket case. We can't produce two ­vessels. Norway produced 200 ferries in the last 20 years.
"We won't see the current fleet of 30 CalMac ferries replaced for more than 60 years, at the current rate of development. That means a lot of the islanders won't see a new boat in their lifetime. It means the collapse of island economies, eventually. There will be migration because these islands depend on ferries and they are not being served properly."
Jim McColl said repeated "interventions and interference" by CMAL led to delays and spiralling costs and told The Post he will appear before the inquiry to give "detailed evidence".
Trade union GMB, which represents the shipyard workers, said both CMAL and Ferguson Marine share responsibility for the problems.
Gary Cook, GMB regional organiser for shipbuilding, said: "The wrong people were put on the job to run the project to start with, the project was started too early – there was a rush to get the ships started. Delivery dates were way too ambitious for first-class ferries to be built by what was effectively a start-up business.
"The management team wouldn't listen to the workforce. They said they were going to build two ships side by side on the slipway but they were constantly being told that wasn't feasible. There wasn't enough space, the ground wasn't strong enough to take two ships and it wasn't safe. Yet there was blind disregard for hundreds of years of shipbuilding experience."
When asked if the ferries should be scrapped or finished, he said: "There are going to have to be some tough decisions made. It's definitely doable. At the end of this process, I believe there will be quality ships fit for purpose."
The Scottish Government said: "Tim Hair's report makes clear that significant remedial work is necessary to bring the vessels up to the required standard. This work is under way and will have to be approved by appropriate regulatory bodies before entering service. Tim Hair is a qualified marine engineer and has a track record of stabilising companies in difficult situations.
"We welcome the independent inquiry and have been as transparent as possible given the constraints of commercial sensitivities. We are actively engaging with the inquiry and are happy to answer any questions the committee might wish to raise."
Islanders: We've missed cancer scans and lost £20m. We need these ferries, are losing all faith and deserve so much better
She looks very unfinished. There's a lot of deformation
Experts warned yesterday that the partially-built ferries are risking serious damage after studying our photographs.
They pointed to potentially serious issues with the Glen Sannox, which has been left floating on the Clyde since the First Minister officially launched it in 2017.
We showed photos of the ferry to Dr Spyros Hirdaris, a professor of maritime safety, and naval architect Laurence Hildesley. Both said the ship should have been built undercover, not left exposed to elements, which has led to rust and corrosion.
They also said steel panels appear deformed, which could weaken the structural integrity.
Dr Spyros Hirdaris, a maritime safety professor at Aalto University in Finland, said: "One thing that drew my attention immediately is the indentations on the side of the ship. I would not expect to see buckled plates on the side cell of a new ship. Such structural defects weaken the hull and would lead me to examine the quality assurance during construction. In open waters and bad weather, the hull may be weaker than it should be. If there was a collision accident, the consequences could be water ingress.
"Looking at the overall condition of the hull, there is clearly a lot of rust. The more she stays in water without operating and following regular maintenance intervals, the more corrosion and rust will be obvious."
Mr Hildesley, managing director of marine consultancy Keel Marine, said: "One of the biggest issues is the ships have been sitting out there in the open for so long and there will be remedial works to be done.
"She's very unfinished and is obviously going to require some paint corrections and there's an awful lot of plate deformation.
"Some of the panels have what we call the hungry horse effect, where you can see the ribs. You can also see all the frames and the longitudinal structure.
"You'll always get that on a vessel like this but this looks pretty bad for a new vessel. If there's excessive indentation you can have a weakness. The bulbous bow also looks like it could be finished better."
A parliamentary inquiry was told the bow would have to be cut off and replaced because it does not meet specifications.
Marine growth on the underside of the Glen Sannox will also need blasted off and re-coated. The second ship, Vessel 802, is on the slipway but its paintwork is degrading. Water is getting into both ships, leading to damage.
Brian Wilson: Ministers with time for photo ops must now find time to give evidence
---
---
Only silence as the ferries rust in peace
From a distance the Glen Sannox looks stunning but, as we gradually draw closer, the flaws come into focus, writes Peter Swindon.
The once glowing white paint is yellowed with rust and there are deep scars in steel panels. The red paint on the hull also has streaks of rust.
The bulbous bow, which should be smooth for efficient sailing, is a patchwork of flat steel plates. It is due to be cut off, scrapped and replaced.
The rims of portholes are dark with rust and the yellow trails snake down to the huge letters that spell out Glen Sannox. What appears to be windows on the bridge are squares of black paint hastily added before the official launch by First Minister Nicola Sturgeon in 2017.
On the windows that have been fitted there is plastic protection peeling away, which flaps loudly in the harsh winter wind. It is the only sound from the ship, which floats silently on the Clyde at Port Glasgow, salt water lapping at the rusting hull.
There are no workers on the deck but the only sign of industry is the scaffolding on deck and at the stern. There is no welding or hammering. It is like a ghost ship. The second ferry, Vessel 802, looks like a raised wreck.
It sits quietly on the slipway, unseen from land but visible from the Clyde.
Again, there is no sign of workers, save for three people in bright-orange jackets who appeared to be holding a meeting at the port side.
Scaffolding creeps around the steel structure and bright lights illuminate the inside of the part-built ship – but there is nothing to see. No sparks flying, no clash of hydraulic hammers on rivets. It seems like a shipyard in stasis.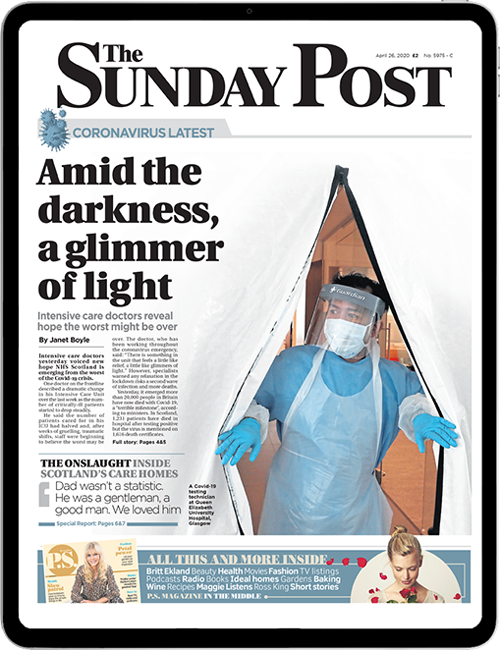 Enjoy the convenience of having The Sunday Post delivered as a digital ePaper straight to your smartphone, tablet or computer.
Subscribe for only £5.49 a month and enjoy all the benefits of the printed paper as a digital replica.
Subscribe