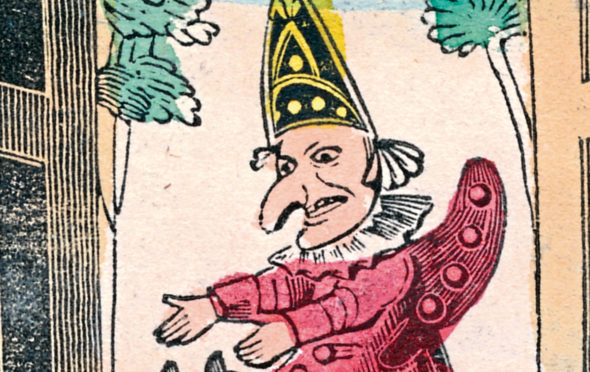 He has been terrifying us for nearly 360 years – but Mr Punch still wins more fans with each new generation.
As part of traditional Punch and Judy shows, the man with the beak-like nose, squawking bird and a decidedly violent streak is often so horrible we watch him through our fingers.
After all, it's not every popular star who puts babies through sausage machines, beats his wife with whatever's to hand and then persuades the hangman to kill himself.
Today, of course, Punch and Judy shows are usually watered down to suit young audiences and much of the horrid stuff that was acceptable centuries ago is gone.
It was on May 9 1622 that we first saw him in this country, in one of his early guises, at Covent Garden at the very start of the Restoration period.
Before King Charles II took the throne, Englishmen had lived through the Puritan era of Cromwell and any type of theatre deemed immoral was simply banned.
If Mr Punch's arrival seemed sudden, he had actually been around a long time already, in Italy.
These shows have their roots in 16th Century commedia dell'arte and Punch can be traced to the Pulcinella character, who himself had roots in Trickster and the Lord of Misrule.
In mythology, Trickster was a master of the dark arts, full of secret knowledge and always happy to play tricks, upset the norms of the day and disrupt everything and everyone.
The Lord of Misrule, known in Scotland as the Abbot of Misfortune, would be put in charge of drunken escapades or anything that upset prim and proper folks.
He was banned by Henry VIII, only to be reintroduced by later monarchs and then banned again.
Clearly, Pulcinella – anglicised to Punchinella and then simply Mr Punch – was a naughty chap and in the early shows with Judy could be downright nasty.
Puppeteer Pietro Gimonde, from Bologna, was in charge of that first show at Covent Garden, but the Punch we came to know was a bit more childlike and thankfully a bit less violent. He's also funny.
He usually has a menacing cudgel in his hand and often ends up murdering his missus or the Devil himself.
Samuel Pepys of diary fame saw one of the early shows and was very taken with it and around Europe, various nations had different names for essentially the same character, give or take a murder or two.
A gadget known as a swazzle or swatchel, sounding a bit like a kazoo, was used to give him his distinctive squawking sound and if anyone dares try a show without this sound, the experts get very hot under the collar and often claim that this is not a genuine Punch and Judy show.
With a lack of space, of course, it is often just a few people who do all the characters' voices and it can be quite a struggle getting that swazzle in and out of one's mouth fast enough, which can occasionally lead to an extra bit of unintended humour.
A bit of topicality can be thrown in, too, which leads to the need for mastering new voices and accents.
For instance, Second World War versions of these shows sometimes added a Hitler figure, who was mercilessly abused, of course and many a puppeteer had to put on his best German accent.
Back in the day, they even occasionally used a real dog, acting alongside the puppets, which sounds mind boggling now and must have been fantastic to see.
Not that dogs are the only animals to take part. The Crocodile, of course, has long been a vital part of any Punch and Judy worth its salt, while Hector the Horse has also been known to show up and add to the mayhem.
Judy, whose name was Joan in the originals, is obviously Punch's main foil, while Baby, Constable, Skeleton, Doctor and Joey the Clown are all regulars, all scary in their own way.
Scary enough that they have a name for it, pupaphobia.
Sigmund Freud knew a thing or two about the human mind and its deep fears and he reckoned that this terror of puppets is because they seem almost human, but not quite and in some of us this sparks a feeling of unease and revulsion.
Add to this the weird, shrill, threatening voices, the strange make-up, the fact that we can't see the hidden puppeteers and you begin to understand why some people – and not just children – can't bear to be near a Punch and Judy show.
It was meant to be adults-only for a long time and it was in Victorian times that the show was watered down a bit to suit a much younger audience.
The Devil and Pretty Polly, Punch's mistress, were often removed so as not to confuse young minds or leave them exposed to immorality.
However, the basic tale, of Judy leaving Baby with Punch, only for him to fail in looking after it – sometimes sitting on it, always neglecting it and being a bad father – remains the same.
Usually, too, he thumps a few characters during the show, yelling his infamous "That's the way to do it" as he belts his many enemies.
As the old-style marionettes gave way to modern glove puppets, this allowed single puppeteers to take their Punch and Judy shows on the road.
There are a lot of Punch and Judy puppeteers out there, all of them grateful for many centuries of the amazing Mr Punch, scary but simply unmissable.