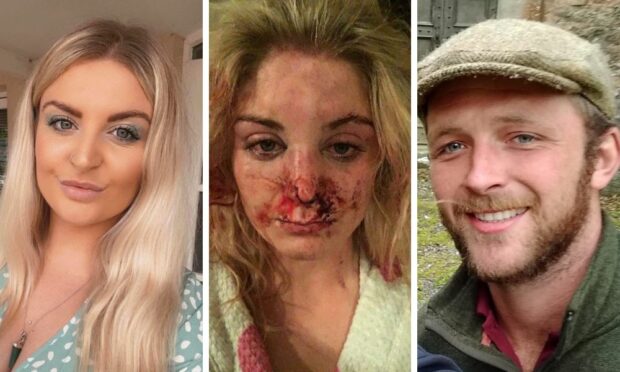 Carrie Davidson, beaten to a pulp by the three-time rapist who got just a year in jail for raping her, wants the public to see the reality of our justice system.
These stark images of her bloodied face, her terrified eyes, tell you far more than a million words could ever say about how victims like her feel let down.
Carrie took the brave decision to show just what triple rapist Ruaraidh McCartney did to her when he was almost 20 years old in a bid to expose what many regard as major flaws in new so-called "soft touch" sentencing for perpetrators under 25.
New guidelines, which came into effect in January 2022, state that rehabilitation should be a "primary consideration" when sentencing someone under the age of 25.
The baby-faced triple rapist beat Carrie into unconsciousness twice during a three-hour ordeal more than eight years ago, leaving her for dead in a bloodspattered room. Carrie believes her life was only saved because her anguished mother summoned police to rescue her.
'Monsters play the system'
In a stark warning to lawmakers, Carrie, a hairdresser from Comrie, in Perthshire, said: "Legislation designed to protect children from being stigmatised by crime committed when they are not old enough to understand is allowing monsters like McCartney to play the system. I want people to see for themselves the dangerous levels of violence someone that age can inflict. They need to see the life-long devastation they can cause to their victims.
"Politicians must look again at the new age guidance introduced last year so serious crimes like rape and high-level violence are excluded from the under-25 rule that attracts lesser sentences.
"I was with McCartney for eight years. We met at Crieff High school. I know how dangerous he is. Letting him off with just a one-year sentence for raping me won't even put a dent in his behaviour. In fact, I fear it will make him even more dangerous and manipulative because he will resent someone else telling him what to do in jail and will be brimming with anger by the time he gets out."
Carrie, who has bravely waived her right to anonymity, says she is determined to rebuild her life after falling for the farmhand she met when they were schoolkids.
McCartney, who comes from a prominent family in Comrie, has a stammer and a baby face that belies his hairtrigger temper and brutal violent rages.
Carrie said: "Looking back at the years I spent with him, I can see now that I was in love with someone who did not exist. I fell in love with a fairytale. The reality was a nightmare.
"He was violent and brutal, flying off the handle at the smallest thing. I was not the only one living in fear. He was wicked with our pets too. But I was not prepared for what he would do to them. Our dog was a young Border collie and McCartney was determined to train it.
"I used to love taking the dog for a walk when I came home from work. He was a lovely animal who would bark and jump up to greet me because he was so excited. One night I came home and there was no barking from the shed. No sound. Just silence.
"I went to look for him. His poor body was just lying there. I was so shocked I couldn't touch him and fell to the ground sobbing, waiting for McCartney to come home. McCartney angrily dismissed my upset by saying 'he just died this morning'.
"I was terrified to challenge him, but I felt deep down something was far from right. I later discovered McCartney boasting to pals that he had shot the dog. He thought it was funny. It disgusted me. He shot our ferret too.
"It bit him as he was handling it roughly. McCartney smashed the poor terrified animal in the face and broke its jaw. It couldn't eat with a broken jaw, so he shot it too."
Carrie said McCartney was a hard worker, but claimed he hid sickening animal cruelty from his employers. She said: "He went around a number of local farms and I once witnessed him repeatedly kicking a cow in the face. I was hysterical, begging him to stop. I was physically sick over what he did. He was a heartless savage.
"He shouldn't be anywhere near any living creature because he is such a danger. I truly believe he should be locked up in jail until he is no longer a danger to anyone or any animal. I'm no medical expert but, after eight years with him, I believe he needs psychiatric intervention for his behaviour."
'A violent fiend'
Carrie believes a sinister aspect to his character turned him into a violent fiend. She said: "Although he could turn on the charm when it suited him, McCartney was like a coiled spring. For every nice thing he did there would be a price paid in bruises or a punch.
"He was incredibly jealous, and that could escalate into violence very easily. He isolated me from my family and friends. He'd leave me with very little money even though he earned a lot more than I did. I can see now it was all about control, but when you are in that situation it's very hard to see clearly what is really going on."
Carrie said their relationship ended in a horrific three-hour bloodbath in September 2016 during which the vicious predator repeatedly choked her into unconsciousness, broke her nose and smashed her face.
She said: "After years of constant abuse, breaking up and getting back together, I decided I had had enough, and I told him I was done. We were over. I knew what he was capable of, and tried my best to be amicable so I could escape without being harmed. But he headbutted me in the face and broke my nose. McCartney went berserk. I still do not know how I managed to survive the attack, it was so brutal.
"He got me in a headlock and choked me into unconsciousness twice. He beat me to a pulp until I was unable to move. At one point he headbutted me in the face so hard, my nose was flattened and turned to the left. When I eventually saw the bloodied mess he left me in, I was hysterical. I was unrecognisable.
"Eventually he just left me lying amongst the blood while he went and smoked a joint."
The following morning Carrie said she was simply relieved to be alive after her ordeal. But she was horrified when McCartney decided he wanted to try to rape her. She said: "He had ripped off my clothes and, after what he had done, he looked me up and down. I'm sure he was going to rape me, but instead he swore about how bad I looked, and he dropped my almost lifeless body back on the bed. Even he was disgusted by the damage he had done."
Carrie was only rescued after her mother, desperate to check on her daughter's welfare, called the police, who eventually battered down the door and apprehended McCartney.
Carrie said: "He was so arrogant he was trying to attack my mother and threatened her, putting his fists up even as he was being led away by police. I was taken to hospital with awful injuries. It was so overwhelming, and I was so terrified that I told the police I could not initially face detailing rape, but I told them about the years of beatings.
"The last attack by McCartney was one of the most brutal he had subjected me to. At one point he was battering me while he had me in a tight headlock and I lost consciousness. I am still haunted by the feeling of waking up not knowing if I was dead or alive, trying to move my neck and the terrible crunching sound that caused as pain surged through my whole body. I still wake up from nightmares about that moment and can't believe I survived."
Instead of McCartney being held in jail, he was allowed out to torment and stalk Carrie. She claims McCartney took a sinister delight in brushing against her whenever he saw her in the small Perthshire town.
She said: "I was terrorised. I look back and don't know how I got through that terrible time. He knew how to instil that terror in me. But it did backfire on him after he touched me just to show he could still do what he liked to me.
"It hardened my heart and made me determined that I would report the rapes and abuse I suffered. I then informed the police I was ready to go court to tell everything he had done, including rapes. But the next thing I knew, McCartney had agreed to plead guilty to charges of domestic violence. There was no move to prosecute him for raping me at that time. That only happened when he attacked his third victim. For beating me within an inch of my life eight years ago, McCartney was sentenced to just 18 months in jail.
"That was little enough for what he did, but then the jail time was repeatedly cut in return for him attending rehabilitation. I don't think he served more than four months in jail.
"When he came out on a tag, he went on to meet his second victim. So much for rehabilitation. I feel very angry that the rapes he subjected me to were not dealt with back then. If they had been, there is a good chance he might not have done what he did to the other two women. I think about that often. It still makes me weep in anger and frustration."
KIRSTY STRICKLAND: Soft touch sentences for violent men are more than insulting – they're dangerous
Carrie, 29, continued: "As a hairdresser, I deal with the public every single day. I had to wear the marks McCartney left on me, so everyone saw them and knew what he had done. Although the bruises are long gone and the broken bones healed, I still have times of great despair. I find it very hard to trust anyone. I feel very let down by the criminal justice system.
"The turning point in all of this has been sitting watching what should have been justice, and being so let down by the criminal justice system. When the judge gave him just a year for raping me I wanted to scream at him and ask why he was being so blind. I decided then that I could no longer stay silent. I needed to speak up and show what is really happening in cases like this. I believe the public will be horrified."
---
The sentence is pathetic. He will rape again
McCartney's second victim, a primary school teacher who met him when he was out of jail on a "tag" for beating Carrie Davidson, warned he was so angry and in denial, she fears his next victim could be even more seriously harmed. She said: "He is an accomplished manipulator who I believe will simply continue to rape and beat any woman he meets in future.
"My fear is that the sentence he received is so pathetic, he will take that as an encouragement to keep behaving the way he does. It will do nothing to make him change. I predict he will go for even more vulnerable young women who will be easier targets. It scares me to think about it, but I believe he is so dangerous his next victim could end up with an even more serious risk to her life."
McCartney met the teacher in 2019. She says he spun her a "lot of lies" throughout their relationship and she had no inkling of his violent past until she became his second victim. The woman, who has relocated and rebuilt her life, said: "Offenders like McCartney are extremely dangerous individuals who will continue to hurt and abuse victims until they are stopped.
"They need to be jailed for a very long time until they are too old to be a danger. Age should never have been considered as a factor in sentencing a crime as serious as rape. McCartney has now been convicted of raping three women, and still there has been not a single shred of remorse or recognition that what he has done is wrong.
"He will come out of jail within a short space of time full of anger that he has been locked away for something he doesn't believe is wrong. The first thing he will do is look for his next victim, and I can't bear to think what all that anger will make him do."
McCartney's third victim was subjected to a harrowing attack that left her fleeing her Alloa home in September 2021. She was found rocking back and forth on a street pavement. The court heard he laughed when she told him he was being too rough with her and had begged him to stop.
After he refused, she pulled on some pyjamas, grabbed her phone and ran from the house before calling the police. Officers found her sitting on the pavement near her home, crying and so distressed she was unable to speak.
McCartney was arrested still inside her home, officers finding him in her bed. As McCartney was 27 at the time of the third attack, he received five years.
The National Procurator Fiscal for High Court Sexual Offences, Katrina Parkes, said: "McCartney's despicable behaviour over a number of years has caused untold trauma and pain to his victims.
"I would also urge any victims or witnesses of similar offending to come forward, report it and seek support."
---
This horrifying case raises more questions over whether sentencing guidelines are fit for purpose 
Rape campaigns and MSPs have called for tougher justice for sexual crimes, claiming dangerous men who prey on women and girls will be celebrating the sentencing guidelines for under-25s.
The guidelines state rehabilitation should be a "primary consideration" when sentencing someone under 25 and between January 2022, when the regulations were introduced, and December, around one in 11 offenders aged 24 and below received a custodial sentence. That compares to around one in eight in that age bracket beforehand.
Sandy Brindley, CEO of Rape Crisis Scotland, said: "While we understand the will to keep younger people out of the prison estate, for crimes as serious as rape a robust and meaningful sentence must be given. It's important both for survivors to have confidence that a report of rape will be handled seriously and in acting as a deterrent for potential perpetrators.
"No matter how long ago it happened, our helpline is there for people who have been affected by sexual violence, whenever they're ready to talk. Our trained support workers are available every evening from 5pm until midnight on 08088 010302. Support is also available over text, email and webchat."
Detective Inspector Forbes Wilson of Police Scotland described Ruaraidh McCartney as a "dangerous and predatory individual who has committed serious sexual offences against a number of women".
Sentencing judge Lord Summers said: "I decided that I should sentence Mr McCartney to a period of eight years' imprisonment." Cowardly McCartney did not show up in person for sentencing. Instead, he watched the proceedings via video link from Low Moss Prison. His defence, Tony Graham KC, revealed McCartney still did not accept he had done wrong, believing himself to the "victim" of a conspiracy.
He told Lord Summers: "You heard him giving evidence in the course of the trial and there is little I can say in mitigation regarding the convictions themselves, given they have been denied by Mr McCartney.
"Throughout this risk assessment there is continued reference to a lack of remorse and victim empathy and he believes he is the victim of a conspiracy. While incarcerated, he will have the opportunity to reflect on the nature of the crimes he has been convicted of and the lifestyle he was previously leading."
Scottish Conservative shadow justice secretary Russell Findlay said: "Yet another rapist will be celebrating these sentencing guidelines that have benefited a catalogue of dangerous men who prey on women and girls. These perverse guidelines seek to rationalise the worst types of criminality with no regard for victims and, while they remain in place, SNP politicians have no right to preach about tackling genderbased violence."
Scottish Labour justice spokesperson Pauline McNeill said "This horrifying case raises yet more questions about whether the current sentencing guidelines are fit for purpose. Abhorrent crimes such as rape must be punished properly and it is heartbreaking that victims here feel like justice has not been done. We urgently need a review."
---
If you, or someone you know, have been affected by any issues raised in this article, support and information is available from Rape Crisis Scotland. Samaritans can also be contacted – day or night, 365 days a year. You can call them for free on 116 123, email them at jo@samaritans.org ,or visit samaritans.org to find your nearest branch.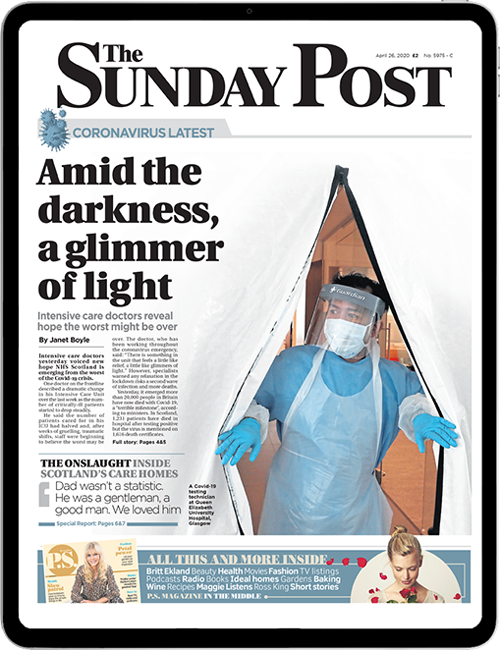 Enjoy the convenience of having The Sunday Post delivered as a digital ePaper straight to your smartphone, tablet or computer.
Subscribe for only £5.49 a month and enjoy all the benefits of the printed paper as a digital replica.
Subscribe