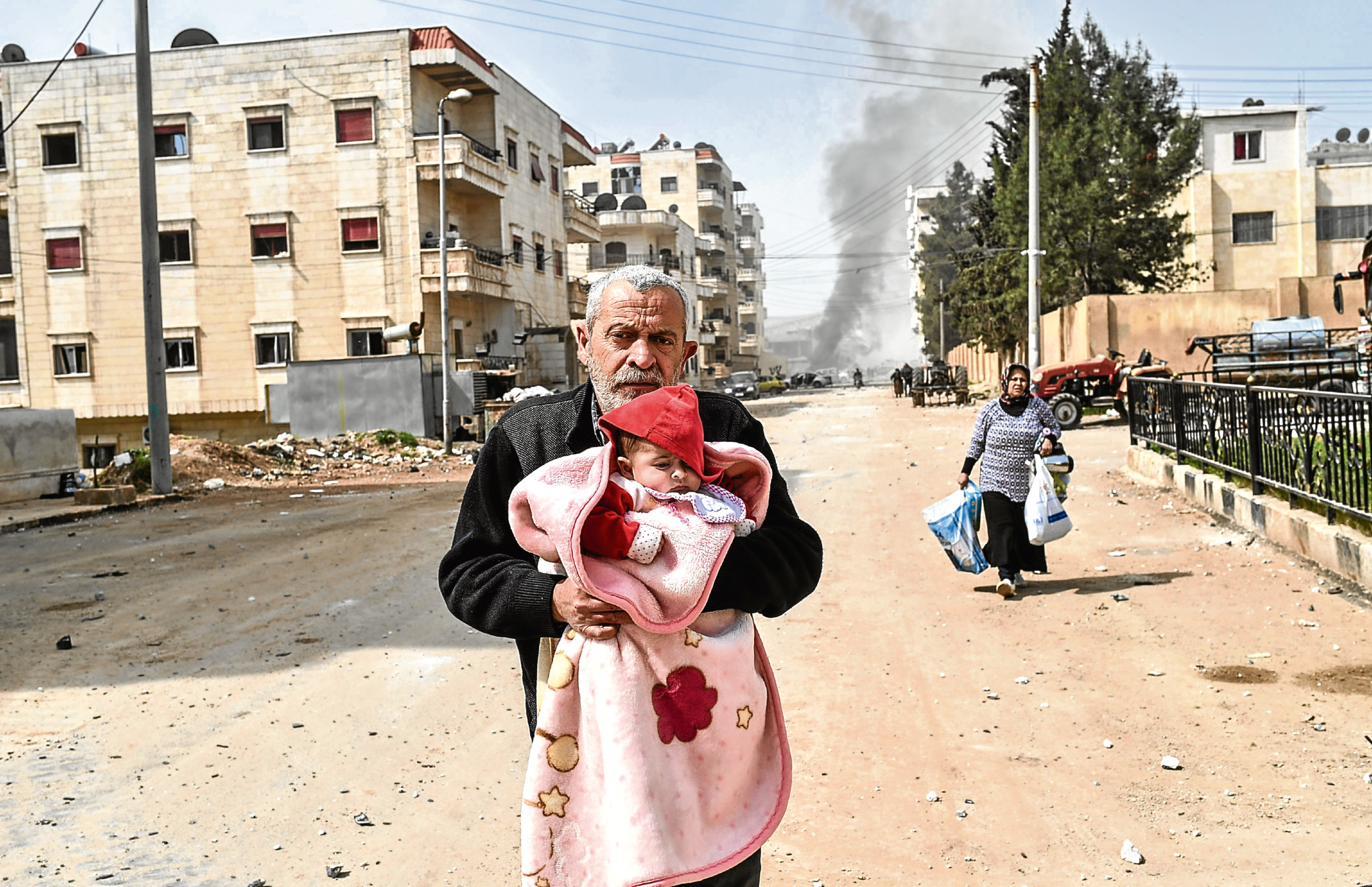 AN Italian arms firm making laser technology for the type of warplanes used by Turkey against the Kurds in Syria has been given £6 million by Scottish Enterprise, we can reveal.
The business support agency has handed millions to Leonardo MW, which has a factory in Edinburgh, and produces systems for F16 fighter jets.
The aircraft were used by the Turkish military to bomb the city of Afrin in north-east Syria, an offensive described by critics as ethnic cleansing.
The company received £6m from publicly-funded Scottish Enterprise despite being the ninth-largest arms multinational in the world, with sales worth nearly £7 billion in 2015.
The company's products include military helicopters, fighter jets, drones, missiles, naval guns, artillery and armoured combat vehicles. It has produced laser targeting systems in Edinburgh for Turkey's F16s.
---
The Briefing
Turkey began targeting Afrin in Syria on January 20 in a campaign codenamed Operation Olive Branch.
Hundreds of Kurds reportedly died and hundreds fled the city while an estimated 700,000 people were trapped after being surrounded by Turkish forces in an offensive condemned by Human Rights Watch.
A British woman fighting with a Kurdish armed unit was among the casualties. Anna Campbell, 26, from Lewes, East Sussex, died on March 15.
Turkey's aim is to clear Kurdish YPG fighters from the region as it claims the group is a threat and linked to the PKK, a Kurdish group inside Turkey proscribed as a terrorist organisation.
The offensive is believed to have been sparked by Turkish anger at backing for the YPG from the US.
---
Critics of the Afrin bombing have slammed Leonardo's arming of Turkey and accused both the Scottish and UK Governments of "complicity" in Turkey's war on the Kurds, a new front in war-torn Syria.
Reports have detailed the company's manufacturing of the laser systems in Scotland.
An executive told Defence Turkey magazine: "It's a Leonardo product made and designed in Edinburgh.
"We build 50 lasers a month in Edinburgh for the F16, F18, F35 for the target pods. We know how to build pointed trackers. We're world-leading."
Turkey launched an offensive against Afrin in north-east Syria, where the Kurdish militia is based. It claims the militia, the YPG, is a terrorist group with links to PKK, a banned group fighting for Kurdish autonomy inside Turkey.
In 2013 and 2014, Selex, a company merged into Leonardo, applied for export licences to Turkey covering countermeasures designed to destroy missiles before they hit targets.
Critics of the arms trade have called for a suspension of UK sales to Turkey and accused the Scottish Government of hypocrisy for questioning Britain's involvement in last weekend's missile strike on Syrian chemical weapon plants while allowing taxpayers' money to support companies selling arms into the war zone.
After the strikes last week, First Minister Nicola Sturgeon challenged Theresa May's decision, saying: "The question that the PM has not answered is how this action, taken without parliamentary approval, will halt their use or bring long-term peace (in Syria)."
But Ross Greer MSP, external affairs spokesperson for the Scottish Greens, said: "While the UK Government never hesitates to sell arms to the world's most brutal regimes, the Scottish Government never cease to declare their moral superiority. Yet again this has been exposed as a sham."
Andrew Smith of Campaign Against Arms Trade added: "By arming Turkish forces the UK has made itself complicit in the destruction they have brought to Afrin."
A spokesperson for the Kurdistan Solidarity Campaign said: "Those being killed in Afrin, not just Kurds but British citizens, are being killed with weapons produced around the world, with the assent of the international community."
Leonardo MW Ltd became operational last year. It brought together AgustaWestland, DRS Technologies UK, Finmeccanica UK and Selex ES under one name. The factory in Edinburgh was previously called Selex ES Ltd until the corporate makeover.
Green MSP Ross Greer: Why is an SNP Government so rhetorically opposed to the arms industry, supporting it with taxpayers' money?
A Scottish Government spokesperson said: "Support ranges from innovation and efficiency improvements, research and development support, to skills training for staff. We recognise the important role that aerospace, defence and marine engineering sectors play in Scotland's economy, and our aim is to create an environment in which sectors can continue to grow and prosper, particularly through diversification.
"Scottish Enterprise has supported Leonardo in Edinburgh to diversify into non-military markets.
"This includes supporting Leonardo to target commercial opportunities in homeland security, blue-light and civilian markets."
A spokesperson for Scottish Enterprise said: "We support businesses across Scotland. All aerospace, defence and marine projects supported by Scottish Enterprise show significant economic impact in return for funding, particularly in the safeguarding and creation of new jobs."
A spokesperson for Leonardo confirmed that lasers for F16 target pods, used to designate targets, are produced at its Edinburgh factory. "We do supply lasers into target pods which are then sold by our customers for F16s which, I think, does include Turkey."
Regarding applications for export licences by Selex ES, he said: "I can't go into exact details of what those are but I can say that we don't supply missiles, grenades or bombs to Turkey. When you apply for that export licence that's just the category, it doesn't mean you're applying to sell that particular product. So, under that, for example, we don't actually make any of those things except for countermeasures."
My brother, my mother, all my relatives are in Afrin. The situation is bad. Thousands of people are living wild
Marwan Chamo, 53, is a Kurd who runs a catering business in Glasgow where he lives with his wife and two children.
He is originally from Afrin in Syria where he studied law but became a UK citizen after getting refugee status. He arrived in the UK in 1995 and came to Scotland the following year.
He said: "My brother, my mother, all my relatives are in Afrin.
"The situation is very bad and Turkey is targeting people (Kurds) who come back to their houses.
"Thousands of people are living wild in the mountains. There is no shelter. No food, no nothing.
"And there is no care from the international community. It is very bad conditions – cold.
"The bombing has finished but what they (Turkey) are doing now is capturing people and stopping Kurds going back to their homes. There has been much destruction. Russia, Syria and Turkey have a plan to replace the Kurds in Afrin with Arabs, to change the demographics of the area.
"(Turkish president) Erdogan said Afrin was majority Arab but around 95% of its population was Kurdish. Only around 5% was Arab.
"Afrin is of strategic importance for Kurdistan. It is the gateway to the Mediterranean Sea for all Kurdistan. Afrin was under Kurdish control for six years and it was a peaceful area compared to other parts of Syria.
"Refugees came to Afrin from places like Damascus and Aleppo because it was safe.
"The Kurds are like the Scots and welcomed them as we are all Syrian.
"They were suffering and we have suffered so we made them welcome."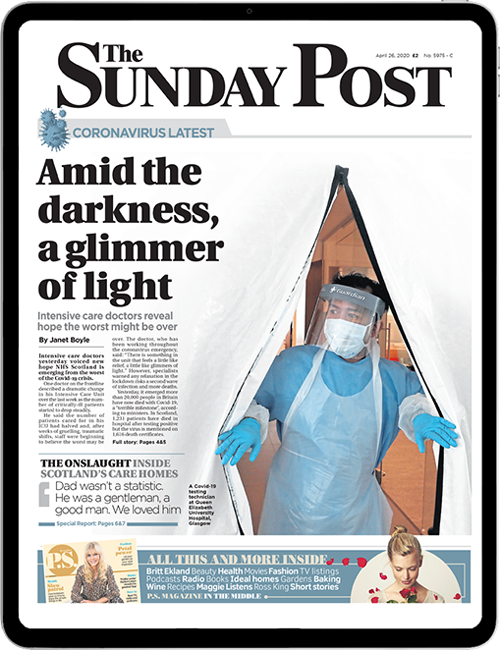 Enjoy the convenience of having The Sunday Post delivered as a digital ePaper straight to your smartphone, tablet or computer.
Subscribe for only £5.49 a month and enjoy all the benefits of the printed paper as a digital replica.
Subscribe